What makes Singapore, Singapore? And what makes Singapore home? @ Home, Truly, follow Nadine, and her Gong Gong (Mandarin for "grandfather") as they relive the highs, lows, and moments in between of Singapore's journey from its beginnings as a nation to today.
Each chapter in this digital experience is illustrated by a different artist, in their own inimitable style. Check back every month for updates as our story unfolds!
This experience is presented in collaboration with The Straits Times. This is the second chapter of the story, and it features Singapore's playscapes, past and present. Read on, or click here to explore other chapters!
We hope you stay a while, and make yourself at home, truly!
Play from Home
Hello, meet Nadine and her Gong Gong! Nadine is nine, and Gong Gong is… Well, he's much older than her, of course. Nadine has come to stay with him as her parents have to work for long hours during these unusual COVID-19 times.
Nadine loves her Gong Gong, but as they reach his home in Punggol, she feels anxious about being away from home. She is a little afraid of the dark – how will she sleep without her Appa's (Tamil for "father") bedtime stories, and without her favourite moon light?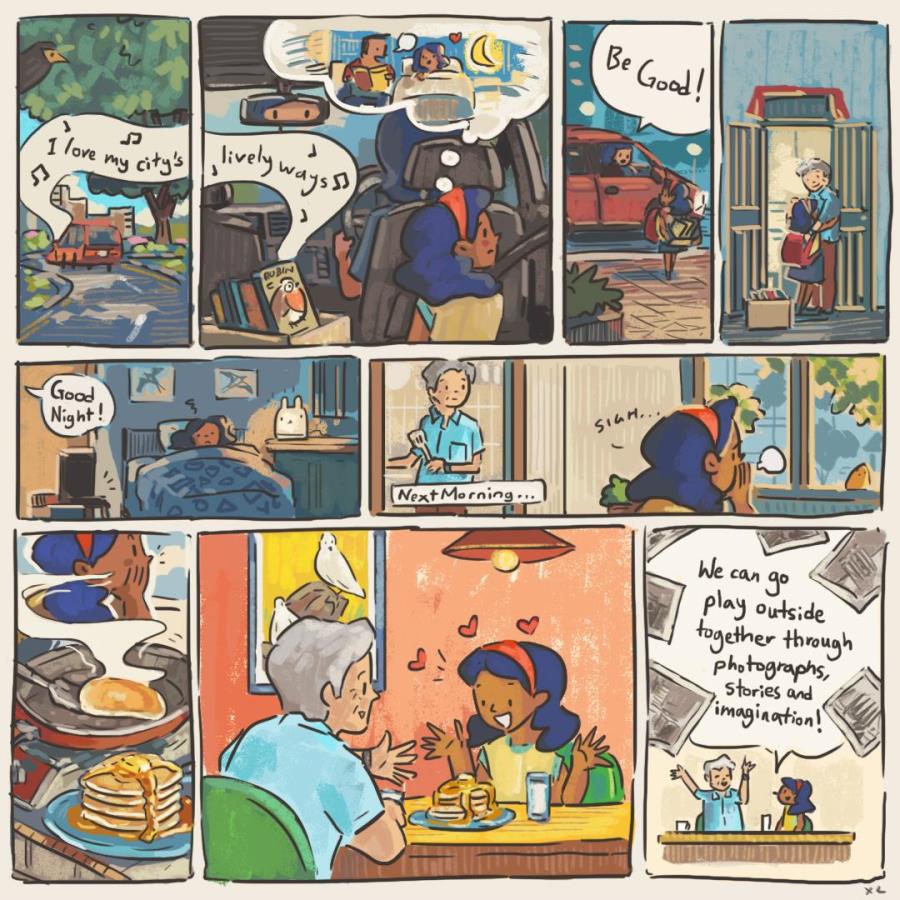 Gong Gong tells Nadine they can explore the world outside, indoors! "It's the doors of our minds we will open!", he exclaims.
Psst! This chapter's illustrator is Lee Xin Li, who uses illustration to explore Singapore's heritage, to connect with a home that he feels is rapidly changing. In his drawings, Xin Li juxtaposes layers of culture, history, architecture and nature with personal references to pop culture or childhood.
Once Upon a Punggol
Gong Gong tells Nadine to close her eyes. They're still in Punggol, but they're in the Punggol of years and years ago – when all these tall HDB flats were yet to be imagined, when Punggol had farms and was most famous for its seafood restaurants and… a zoo!
The "Singapore Zoo" was once located at Punggol. This public zoo and bird park was established in 1928 by Mr William Lawrence Soma Basapa, an estate owner, animal trader, and collector of exotic pets. At the zoo, there were orang utans, tapirs, crown pigeons, and a Bengal tiger named Apay, who was also Mr Basapa's favourite pet.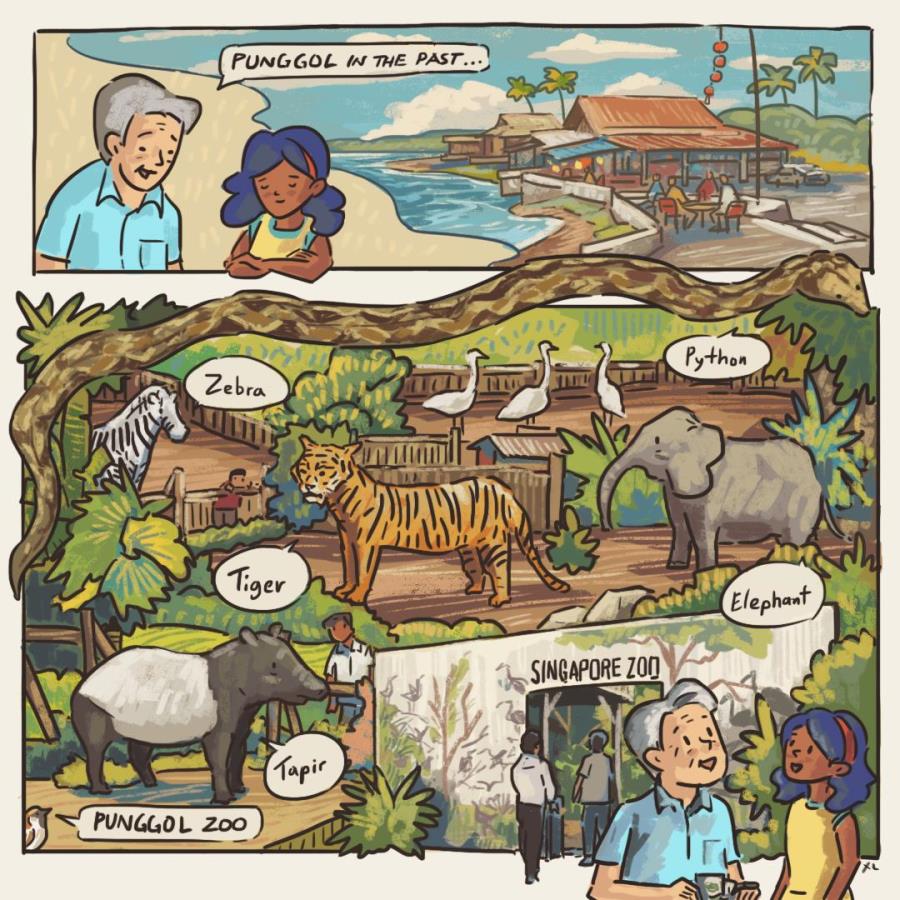 In The Lights of Singapore by Roland Braddell (1934), an early travel guide of sorts, a trip to this zoo is described as "one of the things that no visitor should omit; it has a personality entirely on its own"! This zoo closed down before the Japanese Occupation.
There was another zoo set up in Punggol in 1958, which closed in the 1980s. The entrance to this zoo, with the words "Singapore Zoo", is depicted in the illustration!
Before the land started to be developed for residential use in the 1970s, Punggol was far away from the city – and perhaps only close to the sea. Because of that, it was thought of as a recreational retreat, with seafood restaurants and water sports options. Visitors to some of the restaurants could eat freshly caught seafood from the surrounding waters!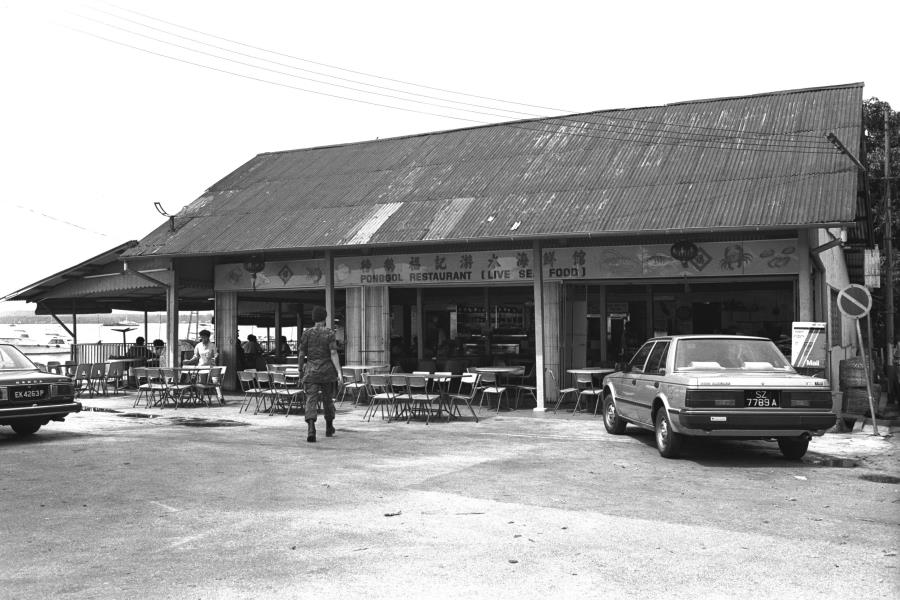 Photograph of seafood restaurant at the end of Punggol
Reproduction
1985
Courtesy of the National Archives of Singapore
Apart from the exotic animals at the zoo, there were other animals in Punggol – pigs. Pig farming was concentrated in Punggol from the 1970s. Traditional pig farms from all over the island were consolidated and resettled there. However, by November 1990, pig farms were completely phased out due to pollution and intensive use of land and water, and pork was instead imported.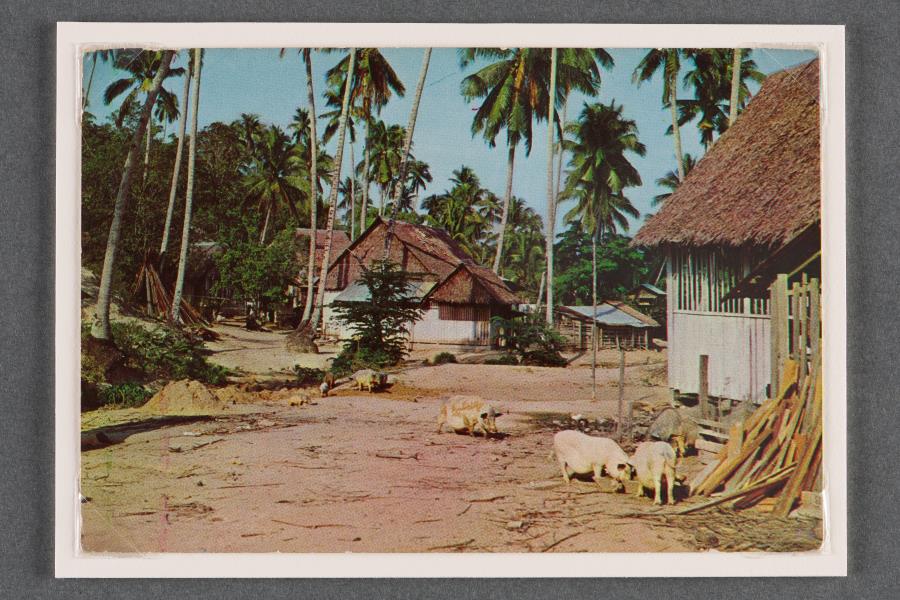 Photograph of a pig farm at Punggol
Singapore
c. 1970s
Paper
Collection of the National Museum of Singapore
Ask Someone! What do you like the most about your neighbourhood? What are the common sights, sounds and smells that you experience there?
It's a Great, Happy, New World
"…So you see, Nadine, sometimes we can go places without going out!" Gong Gong seems even more excited than Nadine is about this activity. "Nadine, how many worlds do we live in?" "Huh? Isn't there just one world?" Gong Gong has a gleam in his eye when he replies, "Did you know Singapore used to have three worlds? Gay World, New World, and Great World! They were amusement parks with cinemas and restaurants, before we had shopping malls."
"Your Po Po and I went on our very first date at Gay World! By that time, people were starting to have their own TV sets at home, and there were supermarkets sprouting all over the island. People stopped finding amusement parks amusing. But Po Po and I both thought Gay World was an interesting place with lots to explore!"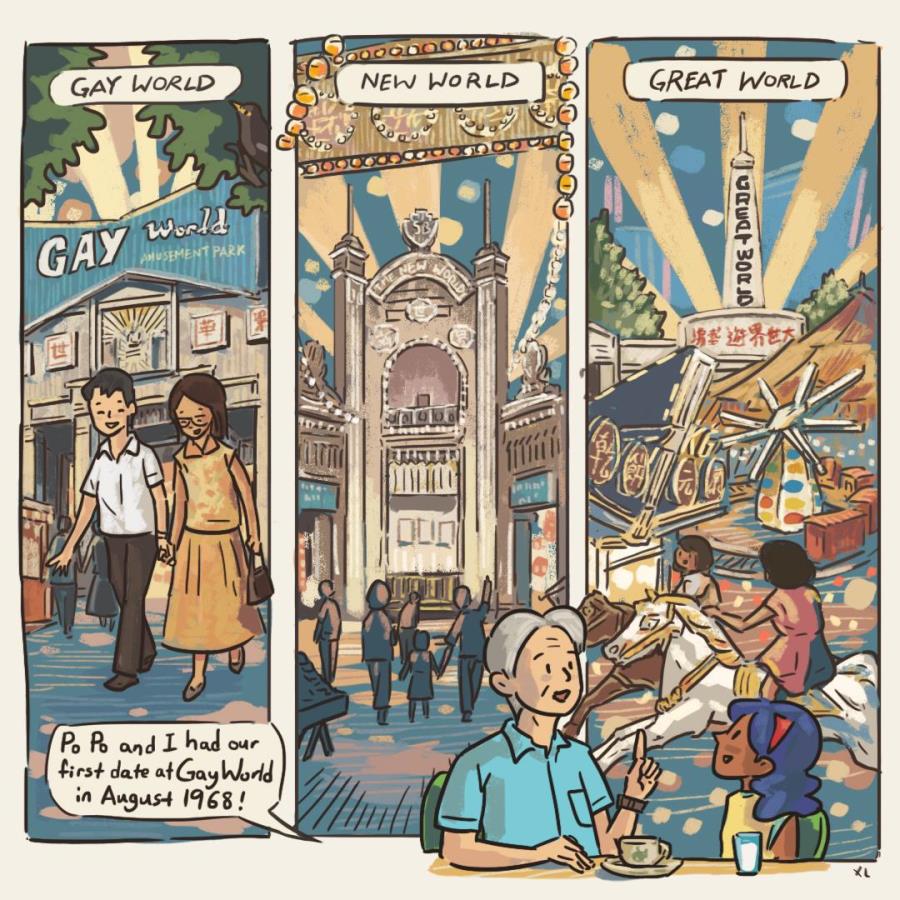 The "Worlds", built between the 1920s and 1930s, evolved through time and contained all sorts of amusing attractions – they had stadiums for sports events (like boxing matches), halls for dancing in, theatres for all kinds of plays and movies.
"During school days, we used to frequent the place. We paid about 10c for admission to go in… It was very entertaining, they had many, many amusements. Many things to see. They even had a café, a lot of cinemas, a lot of games. It was good to spend an evening there as a schoolboy because during that time, [there were not many entertainment outlets]." – Richard Woon Kai Yin, in an oral history recording by the National Archives of Singapore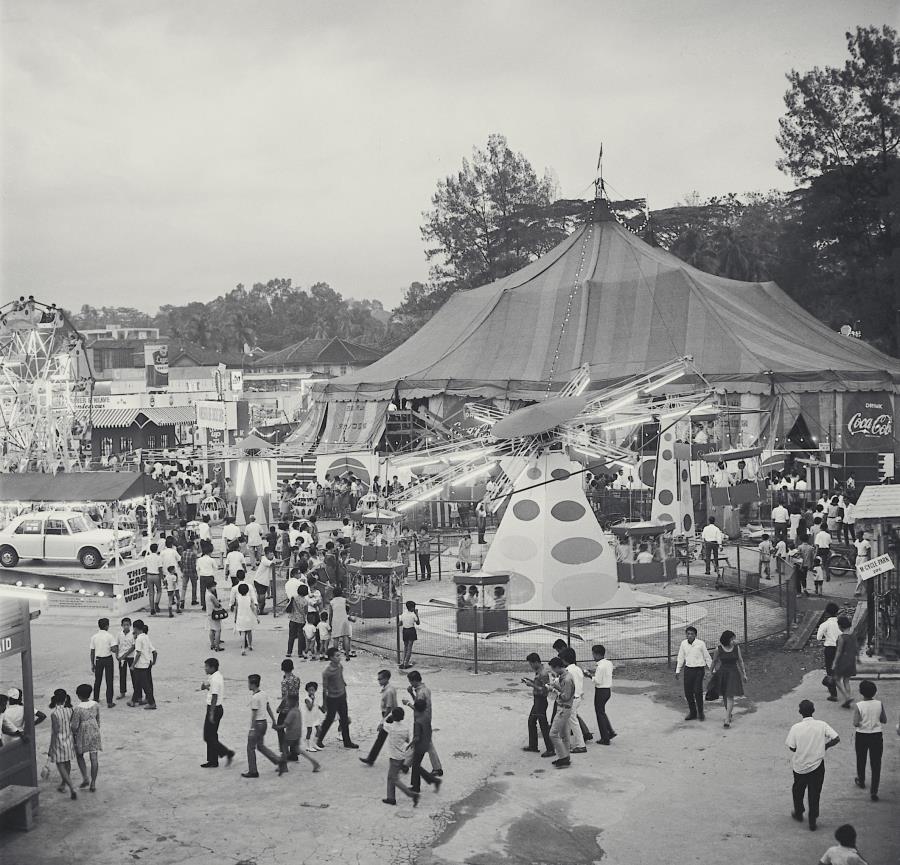 Photography of crowds at Great World amusement park during the Chinese New Year festival
Reproduction
17 February 1969
Courtesy of The Straits Times, Singapore Press Holdings
"[The ghost train ride was when] you sit in the train, then you go into the dark place, apartments, they have certain apartments. So certain time you reach certain place one ghost will come out. Then you reach another door, the door open, another funny funny ghost will come out, that kind of thing. So try and scare you off that kind of thing. It's all in darkness, they play with camera tricks and so on. So it was the most popular at the time." – Richard Woon Kai Yin, in an oral history recording by the National Archives of Singapore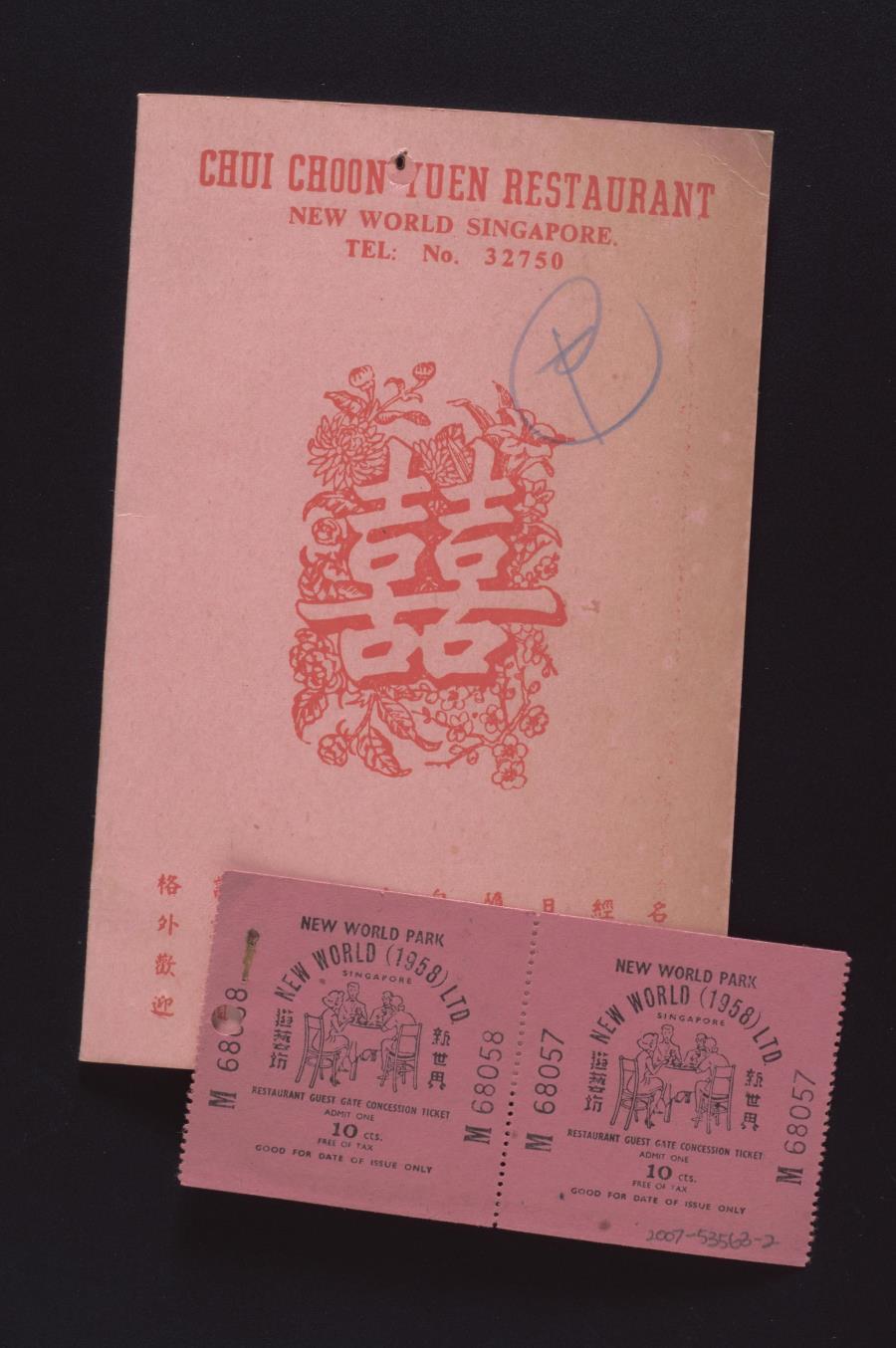 Wedding dinner invitation card and entrance tickets to New World Park
Singapore
c. 1950s - 1960s
Collection of the National Museum of Singapore
The Worlds were also used as venues for weddings, and pre-weddings events - like match-making!
"And that was a place where parents… get wives for their sons. They had matchmakers in those days… It's usually the matchmaker from the man's side goes around and finds out about the girl's side. Then they made an arrangement for the mother to take the girl to the Great World… and the man's side… gets to look only, not to talk or to meet. But the girl's side never knows anything about it until the actual day of the wedding, they get to see the bridegroom." – Margaret Tan Guek Neo, in an oral history recording by the National Archives of Singapore
Scroll through the images below to explore the Worlds!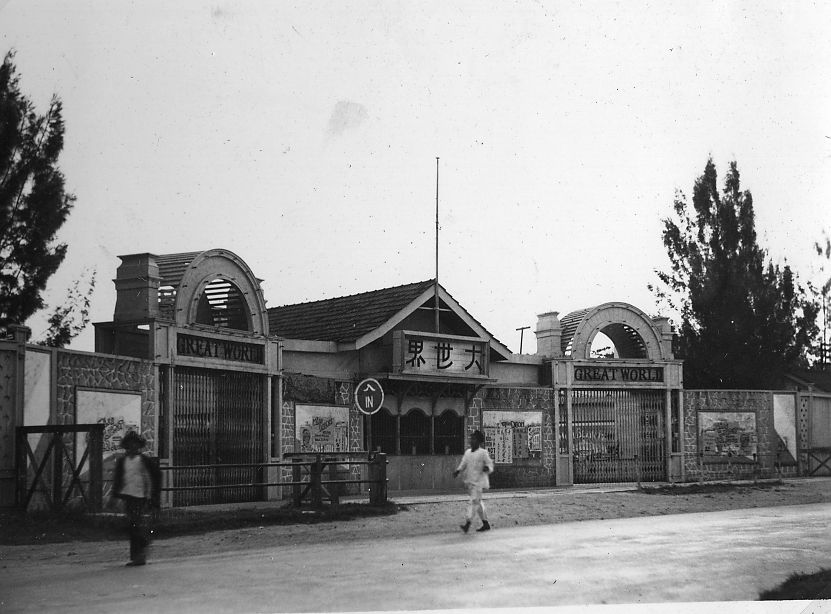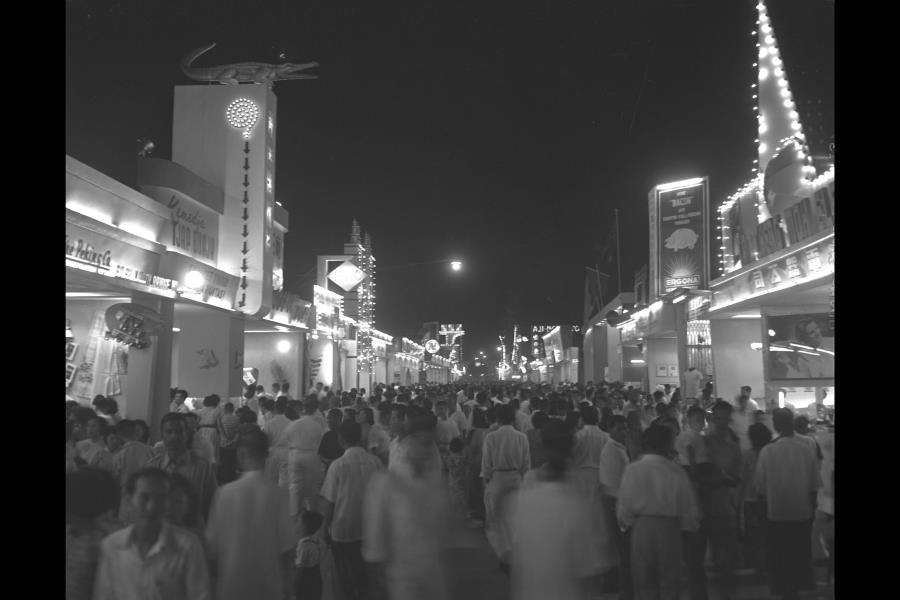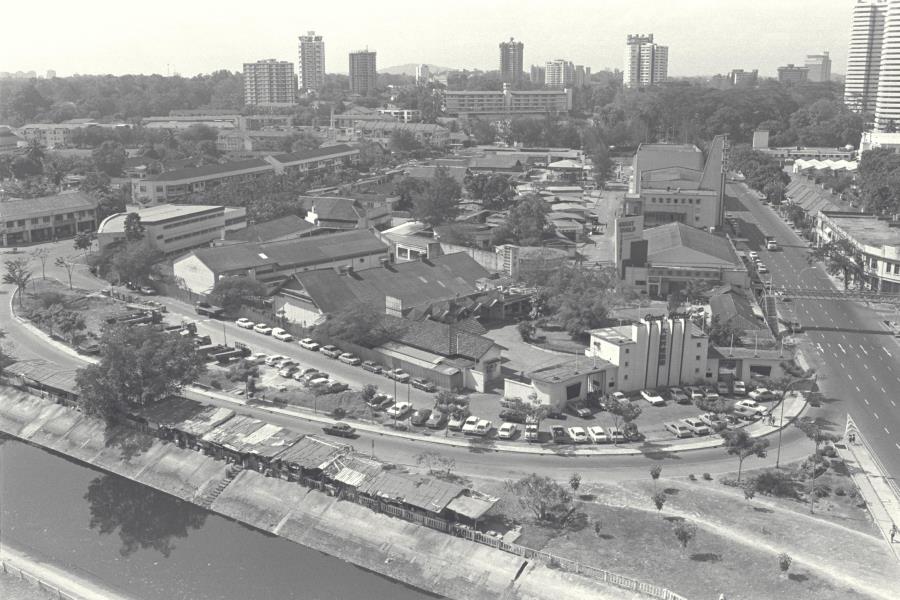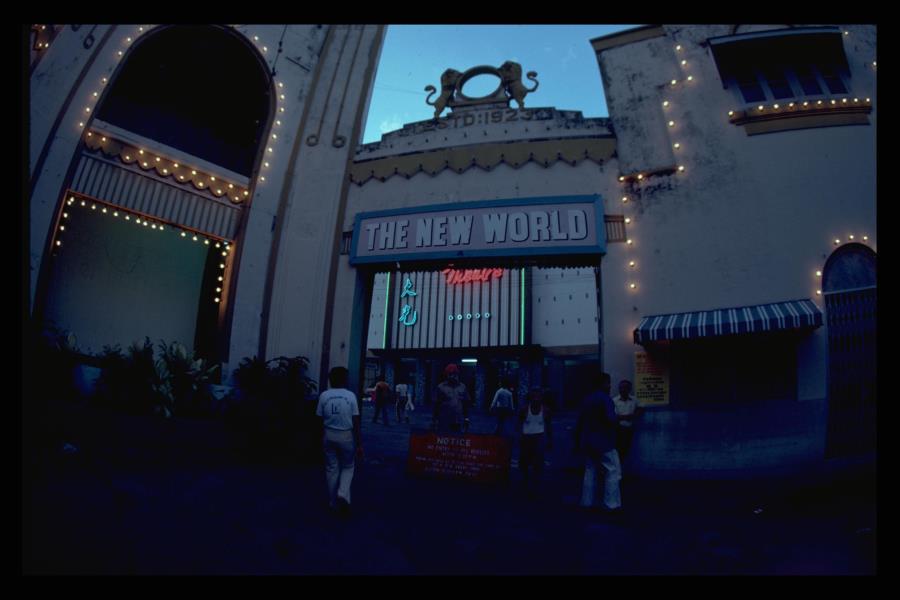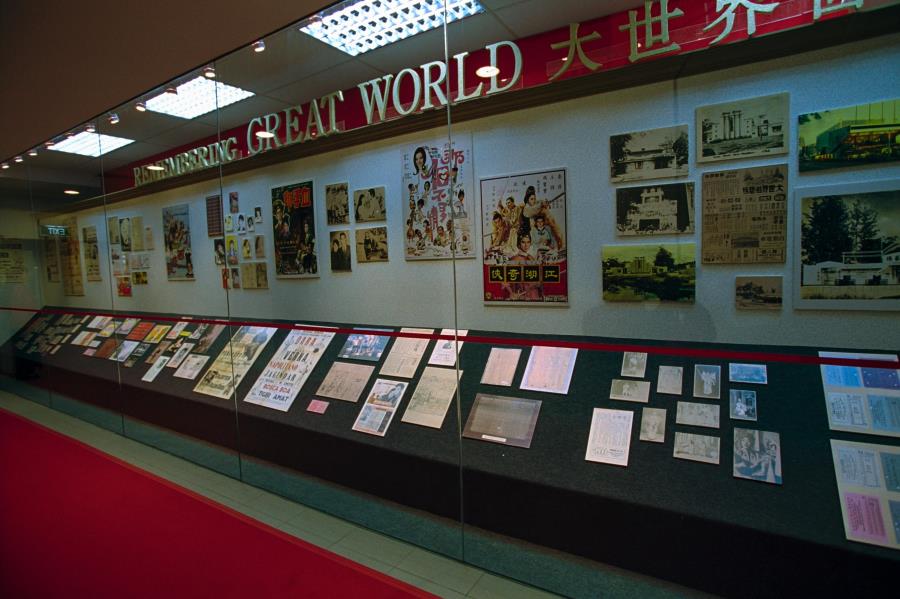 Everyday Play
There are smaller, but nonetheless significant, "worlds" for Singaporeans to play in today. Parks and playgrounds are planned close to homes, as social and educational spaces for children, and pockets of play amid the many high-rise estates in Singapore.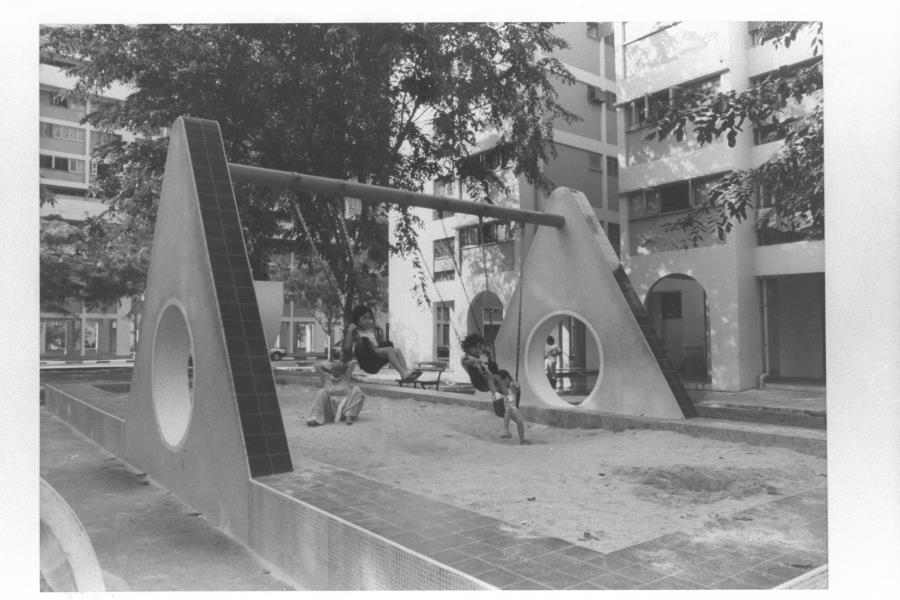 Photograph of a children's playground at Marine Parade
Reproduction
1980s
Paper
Marine Parade Community Centre Collection
Courtesy of the National Archives of Singapore
Some of the spaces Singaporeans treasured the most were the concrete-and-sand playgrounds built in the 1970s – many of which featured geometric designs, fruits, or animals (though the dragon could more accurately be called a mythological being).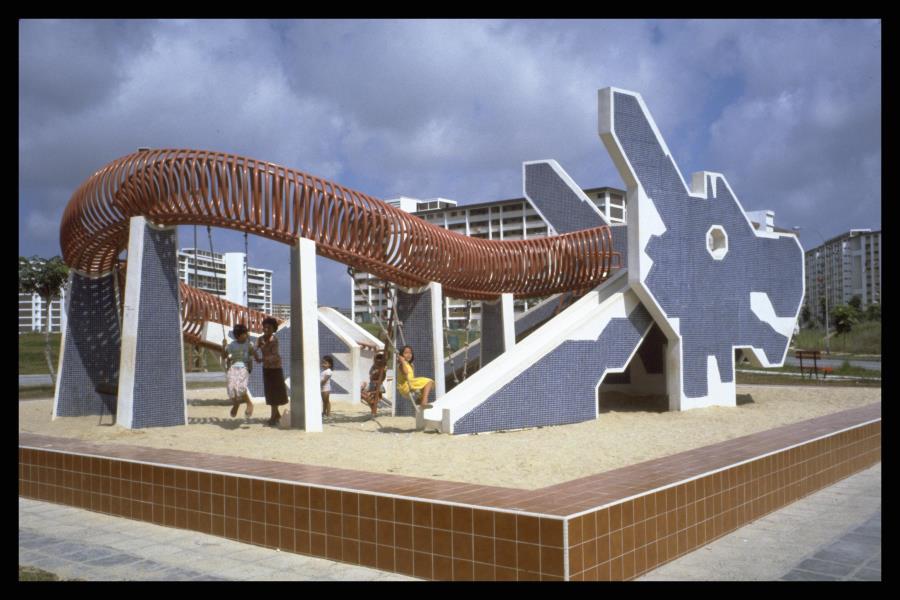 Photograph of a playground near Bedok Fitness Park
Reproduction
12 September 1982
Ministry of Information and the Arts Collection
Courtesy of the National Archives of Singapore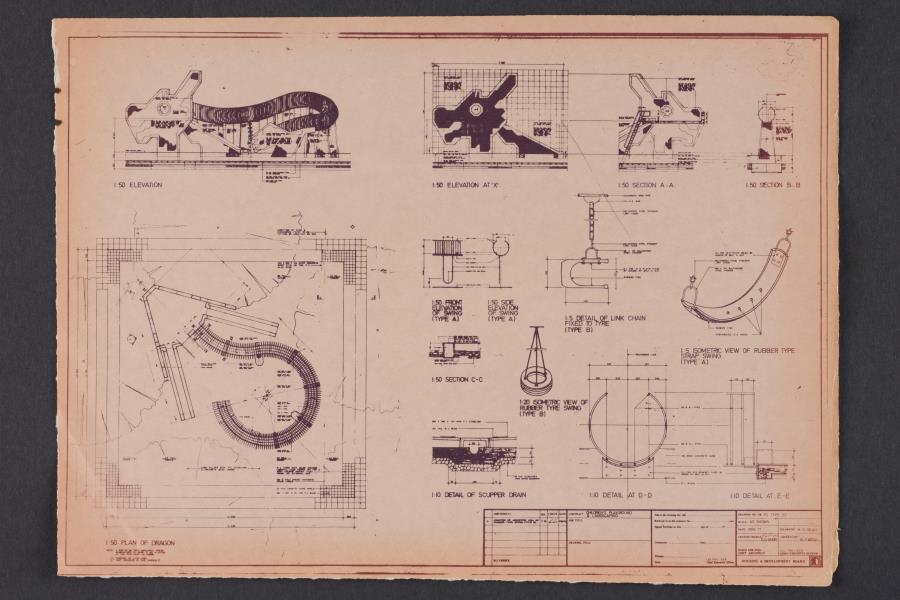 Plan for prototype of HDB dragon playground
Singapore
1970 - 1979
Paper
Courtesy of the Housing & Development Board
Collection of the National Museum of Singapore
This plan was drafted by Mr Khor Ean Ghee, the designer of the early playgrounds in Housing & Development Board (HDB) estates. Mr Khor drew inspiration from Singapore culture in his designs. On the dragon playground, he said:
"Asians can easily recognise dragons and phoenixes. It was not easy to combine the play with the shape of a phoenix, but I could design a dragon playground that allows for climbing and sliding while still keeping its shape." (Mosaic Memories, Justin Zhuang, 2012, The Singapore Memory Project, pp. 7 – 8)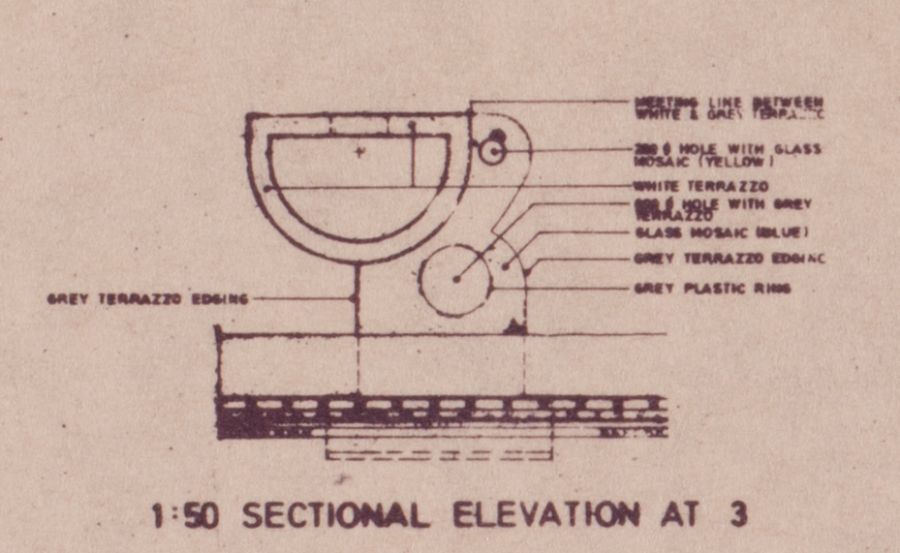 Pelican playground element in HDB playground prototype plan
Singapore
1970 - 1979
Paper
Courtesy of the Housing & Development Board
Collection of the National Museum of Singapore
From the 1990s, playgrounds in housing estates starting sporting new looks – colourful plastic slides and bouncy rubber mats were used instead, for safety and hygiene reasons. Adult fitness areas were also incorporated into playgrounds for children, to encourage family bonding.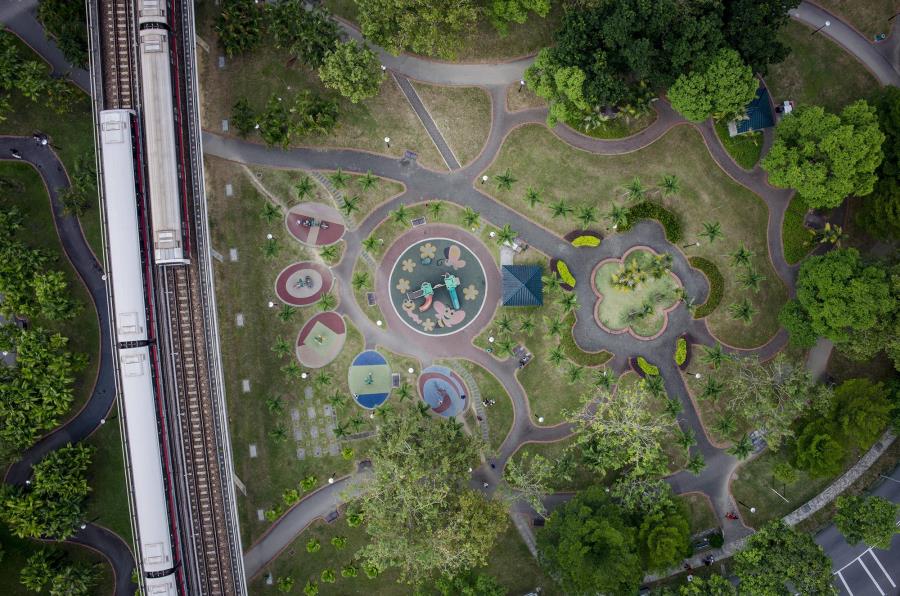 Aerial photograph of playground near Mass Rapid Transit (MRT) train tracks
The Play Project
2015
Courtesy of Chow and Lin
The Play Project, an aerial survey of 100 playgrounds across Singapore showed how ubiquitous "new" playgrounds seem ordinary – yet, each one has their own personality and story. Each is a part of their unique landscape and neighbourhood.
Photograph of wheelchair swing at Admiralty Park
2020
Courtesy of Justin Ho
Playgrounds in Singapore continue to evolve today, to suit changing needs and expectations. Some are "inclusive playgrounds", with features such as this swing that wheelchair users can enjoy.
Ask Someone!
Which is your favourite play space in Singapore, and why? (It could be a playground, a park, a shopping mall, a place in your home, anywhere!)
A Walk in the Park
Of course, there are even larger, and some quite exotic play-grounds. One such playscape is the Jurong Bird Park, which was officially opened on 3 January 1971. Some of the highlights in the park included a walk-in aviary and the Waterfall Aviary, with a 30.5-metre-high man-made waterfall and more than 600 free-flying birds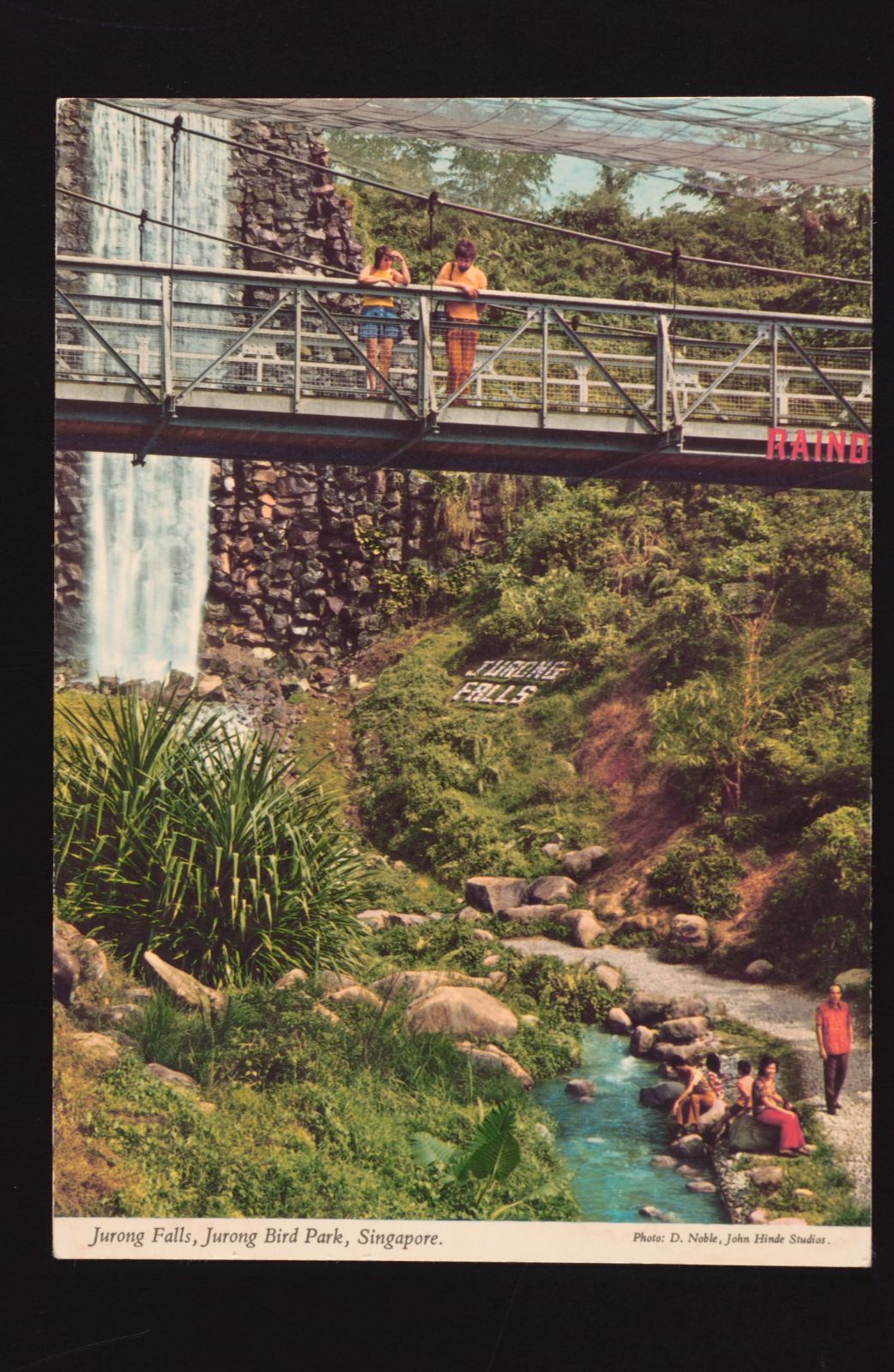 Postcard showing the waterfall aviary at Jurong Bird Park
c. 1970s
Copyright John Hinde Archive
Collection of the National Museum of Singapore
Jurong Bird Park, with its abundance of birds, is perhaps the best place to learn about collective nouns – it is home to a parliament of owls (and secretary birds), a flamboyance of flamingoes, colonies of gulls, a concentration of kingfishers, and many more. How would you describe a group of cockatoos?
The park was also one of the highlights on the itinerary when Queen Elizabeth II and the Duke of Edinburgh came on a state visit to Singapore in 1972. She is seen crossing the "Bridge of Eternity" in the photograph below.
When you're done reading this chapter, do click on our friendly Chatbird to play a quick game on Singapore's playscapes!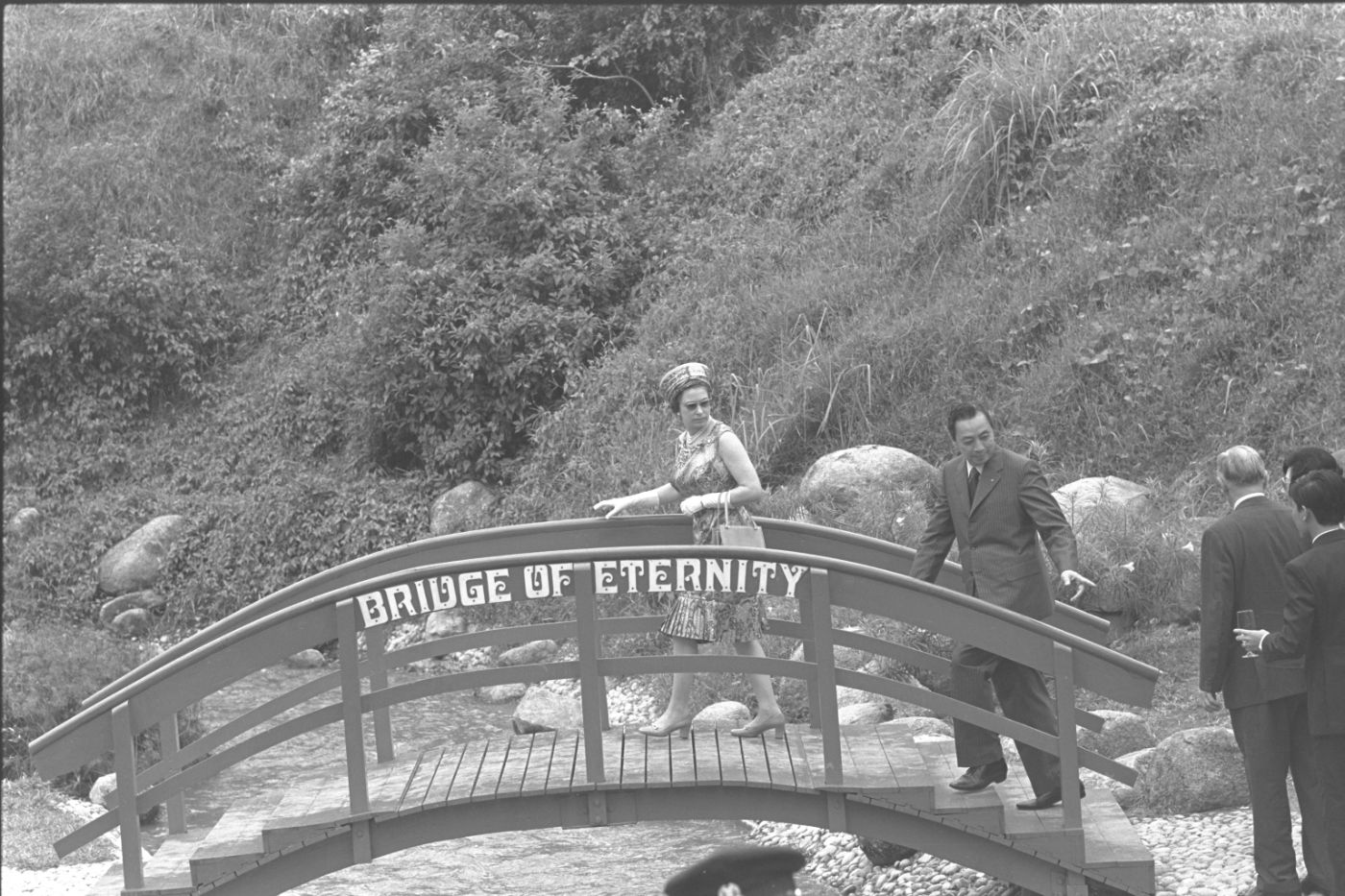 Photograph of Queen Elizabeth II at Jurong Bird Park
Reproduction
19 February 1972
Ministry of Information and the Arts Collection
Courtesy of the National Archives of Singapore
While Jurong Bird Park will be moving to Mandai by 2022, the Singapore Botanic Gardens – another beloved recreational space, will remain in its original location for posterity. Singapore's only UNESCO World Heritage Site, the Gardens, was inscribed in 2015 for its contributions to the global rubber industry (through the innovative and experimental work on rubber trees in the Gardens), and its preservation as a British tropical colonial garden.
The garden is not only world famous, it's also dear to the hearts of many Singaporeans, as a venue for the celebration of festive events and milestone events like wedding engagements and graduation photoshoots.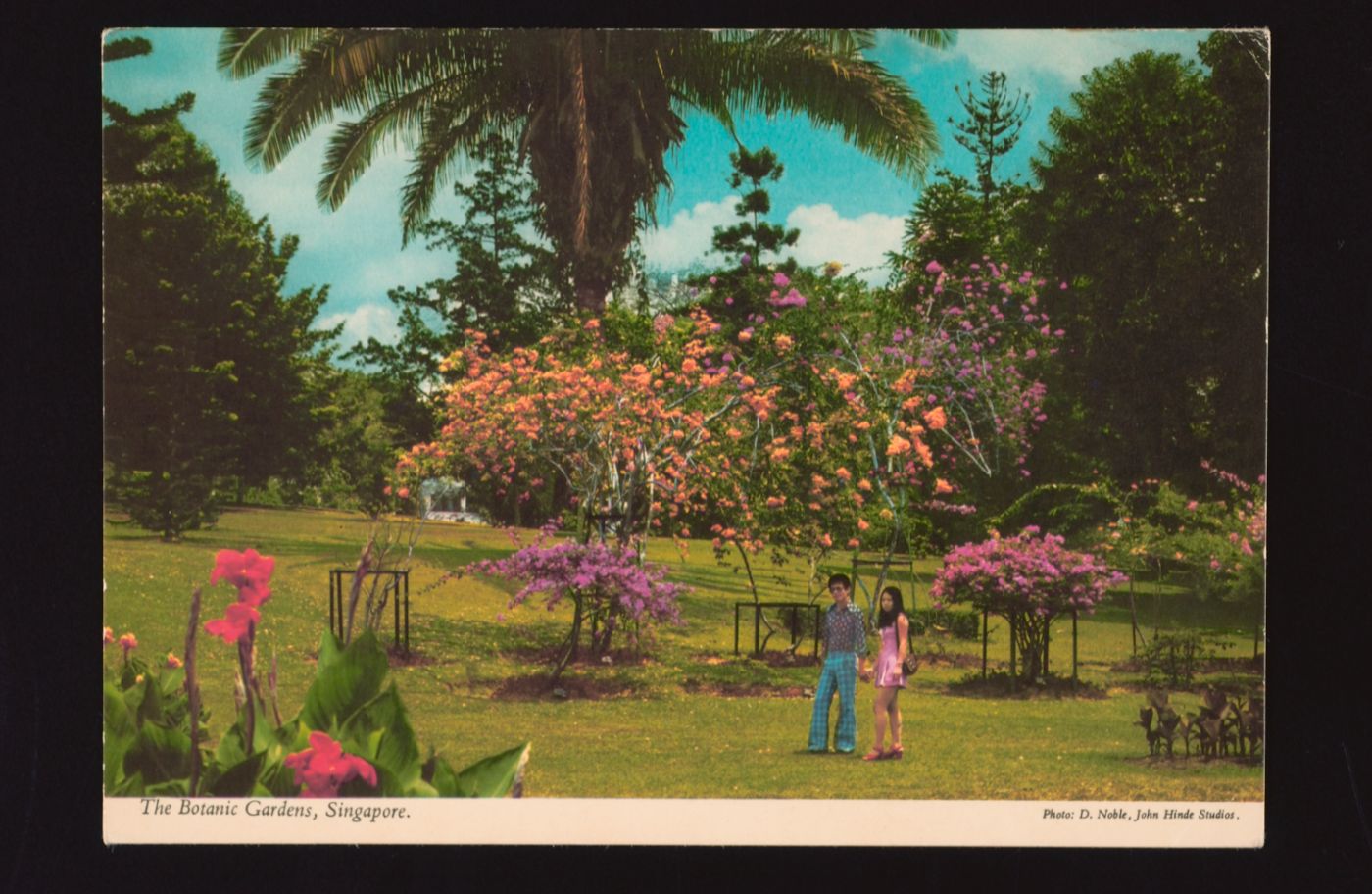 Postcard showing a couple at the Singapore Botanic Gardens
1960 – 1990
Paper
Copyright John Hinde Archive
Collection of the National Museum of Singapore
The Gardens has also had a complex relationship with monkeys through the years. Monkeys have been regarded as a nuisance, a tourist attraction, and were even once employed as workers!
"A lot of problems, the monkeys. For one thing, it was a tourist attraction. People used to come and feed, and then they became vicious because the numbers increased and I don't think there were enough tourists to feed the lot! They were attacking the tourists. Any time you walk into the Gardens with an orange or what, they'll come, just chase you and grab the orange." – Arthur George Alphonso, in an oral history recording by the National Archives of Singapore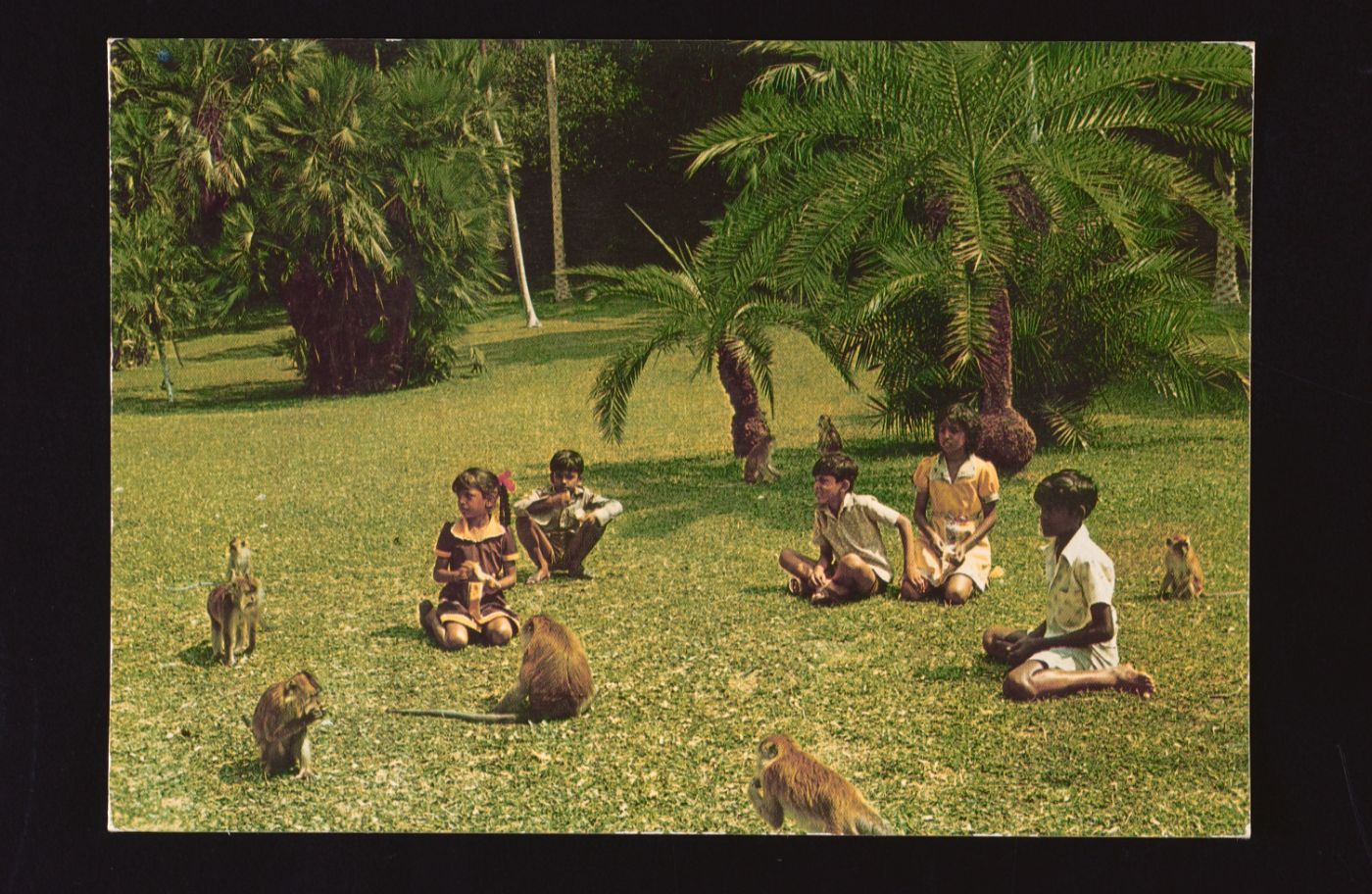 Postcard of children (and monkeys) playing at the Singapore Botanic Gardens
Undated
Paper
Collection of the National Museum of Singapore
Under the directorship of E.J.H. Corner in the 1930s, trained "botanical monkeys" (Pig-tailed Macaques) were employed to collect botanical specimens from tall, inaccessible trees in the tropical forest. They were paid in rice, bananas and raw eggs. This practice had stopped by the time of the Japanese Occupation in the early 1940s, and the monkeys at the Gardens after that never quite seemed to be able to work in the same way.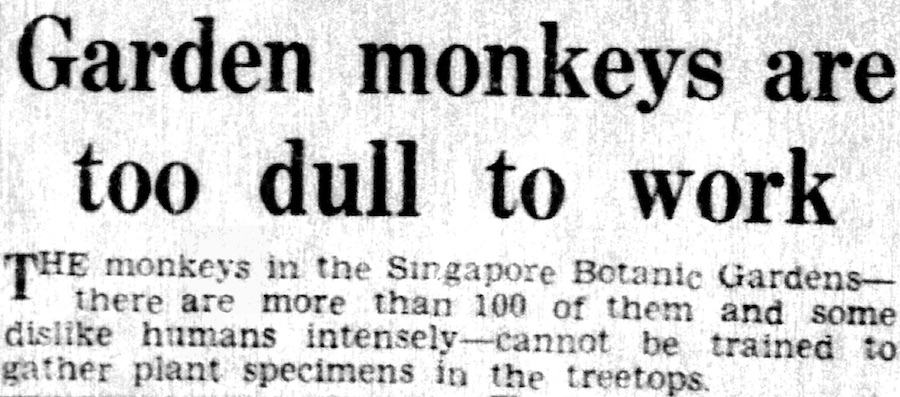 The Straits Times, 3 May 1957, p. 4. "Garden monkeys are too dull to work"
"Gong Gong, I love the Botanic Gardens! I like saying hello to the swans and the funny tree on our five-dollar note, and going for concerts and picnics with Appa and Mum!" "Oh, that reminds me, once your Po Po and I brought your mum to the Botanic Gardens…"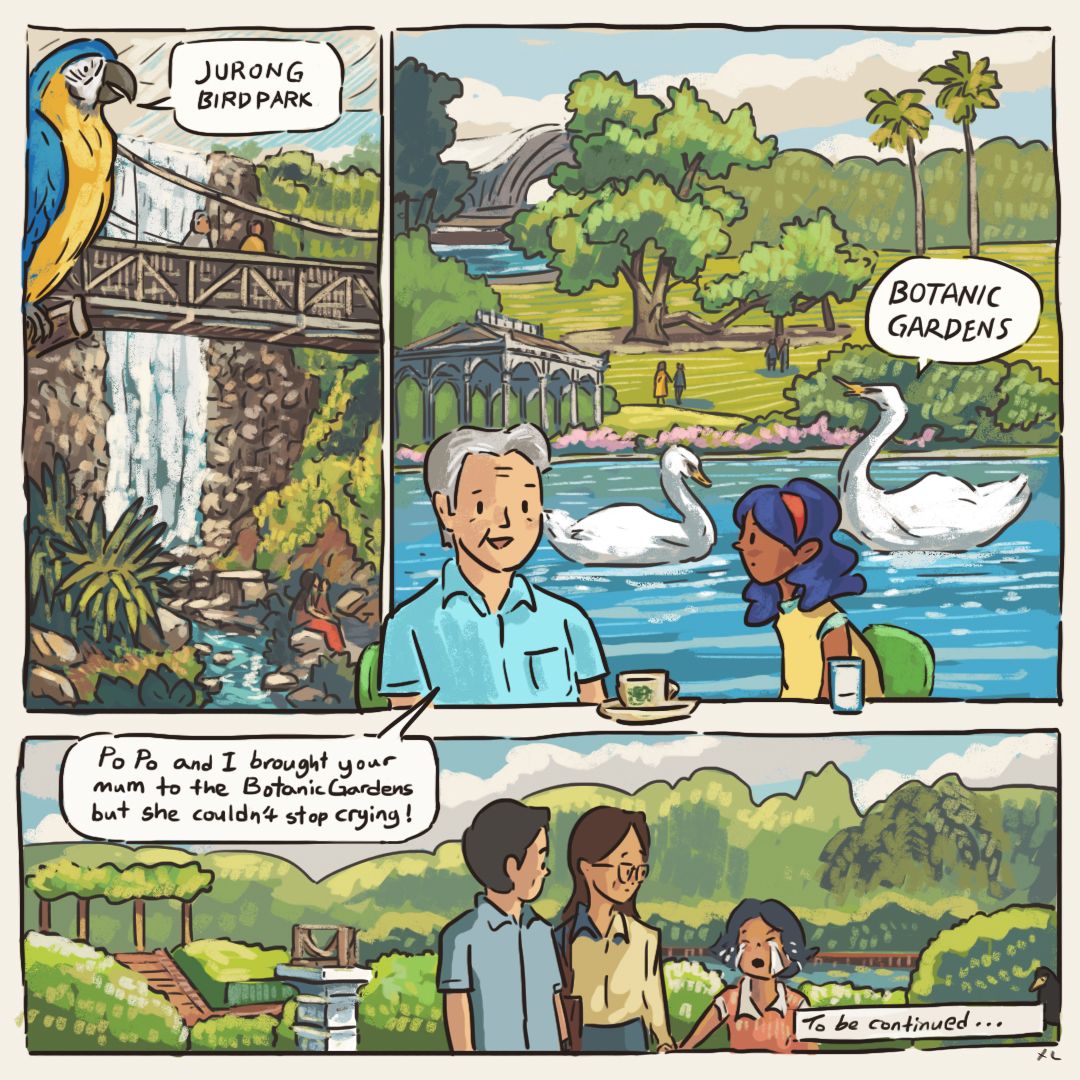 Why was Nadine's mum crying? Find out in Chapter Three, here, or click here to explore other chapters!
---
This was Chapter Two of the @ Home, Truly digital experience. We hope you enjoyed it! Visit us at Home, Truly: Growing Up with Singapore, 1950s to the Present at Exhibition Gallery 2, National Museum of Singapore (19 Dec 2020 – 29 Aug 2021) to see some of these artefacts in real life, and more!
@ Home, Truly is both a prelude and companion to the physical exhibition, and it covers similar themes, in a different format and through different perspectives and content. Click here to find out more about Home, Truly.