Maxwell Road Food Centre started as wet market in 1929 dealing mainly with fresh produce. Although it was planned for more than a decade earlier, works on the market started only in 1927. The land on which the market was built had once been a Chinese burial ground which was cleared in 1907. It was only in 1925 that the road next to the future market was laid and named Maxwell Road. It was from then that the intended edifice was called Maxwell Road Market. After the construction works of the main structure had been completed in mid-1928, a tender was then called for the installation of the market's stalls. The market opened for business in 1929.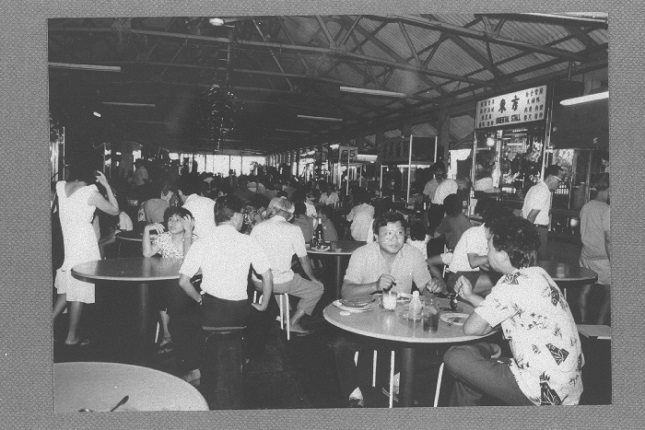 Maxwell Road Food Centre, 1980s
Courtesy of National Archives of Singapore
However, most of street hawkers intended to be relocated into the new market chose to remain outside the surrounding streets around the market where they did not have to pay any rental. This made situation difficult for those who had taken stalls within the market as they were unable to make any profit with keen competition from the itinerant street hawkers. By late 1929, the market became a "white elephant". In response, cooked food stalls and eating tables were added a year later. By the late 1930s, the market became a site where Teochew theatrical performances were staged during the annual Hungry Ghost Festivals.
The market remained open during the Japanese Occupation. Interestingly, in an attempt to draw hawkers to the market, the Japanese authorities reduced the rental charges on market stalls and controlled all items on sale. After World War II, Maxwell Road Market became one of the sites where the government had a "Family Restaurant" that sold cheap meals to thousands of poor and displaced. The Maxwell Market restaurant would be the first of a chain of restaurants selling meals at eight cents that the Singapore Social Welfare Department started across Town from December 1946. It also included a children feeding centre that provided free meals for two to six year olds.
The market underwent several significant changes in the post-war years. In January 1949, the municipality passed a rule that municipal markets could only sell perishable goods. All others vendors, like "bread and provision sellers and money changers", had to move out by April that year. Maxwell Road Market had two money changers at this time. Then, in 1951, when high food prices became a problem in Singapore, many vendors at Maxwell Road Market were found overcharging. The government implemented measures to control prices at markets facing this problem. In December 1951, the government appointed a firm, Madju Trading Company, to retail beef to markets at 20% below market prices. Maxwell Road Market was among the first three chosen market for this initiative.
Going into the 1960s, although there were ample spaces in 42 public markets, tens of thousands of street hawkers had still decided no remain on the streets. The government markets were at most, only 80% occupied. At Maxwell Road Market, only half the stalls had been taken up. Things only changed in the 1970s, following urban renewal processes in Town. In 1972, when the Telok Ayer Market underwent renovation to be converted into a food centre, 73 of its market produce stalls were relocated to Maxwell Road Market. While on one hand, this became the first time the market had been almost fully occupied, the transference of the market produce vendors to Maxwell Road Market also delayed its own journey towards becoming a food centre.
The first step towards becoming a food centre took place in 1986, when 70 street food hawkers who had been operating under a temporary zinc-and-roof structure along the back lanes around China Square were moved to Maxwell Road Market. They had been operating in the China Street area with makeshift open-aired stalls before being moved to China Square in 1979. Interestingly, these hawkers, the last of the back lane hawkers, had originated from the defunct private Erna Market (1946-48) in Chinatown. At Maxwell Road, they joined 22 other cooked food hawkers. Hence, Maxwell Road Market had been turned into a huge food centre by this time, albeit unplanned. Unfortunately, a couple of years later, all of them had to be moved again when Maxwell itself underwent its own major renovation and transformation.
In 1987, Maxwell Road Market was officially turned into a food centre. Since then, it has become a popular place for traditional Chinese foods.