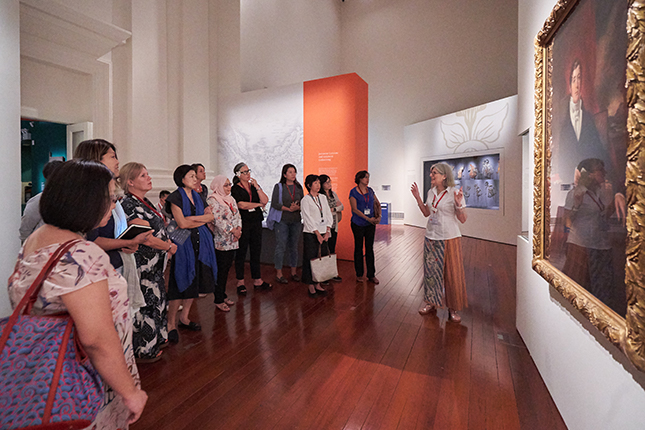 A volunteer guide with the Asian Civilisations Museum (ACM) and the Malay Heritage Centre (MHC), Darlene Kasten is meticulous, passionate, and endlessly knowledgeable. Aside from giving tours to the general public, she spends much of her time training new docents, being currently involved in the MHC training team as well as having previously co-led the training team at ACM.
A typical tour with Darlene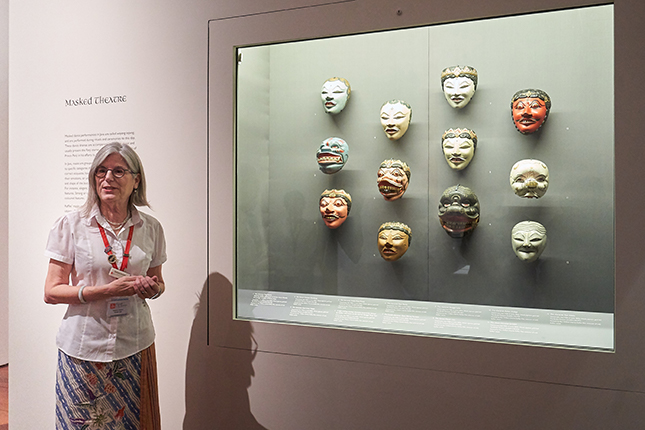 "We don't think of it that way," Darlene begins, "but Christianity is an Asian religion." Jesus, after all, was born, lived, preached, and died on the Asian continent. Yet, the "Christianity in Asia" exhibition which Darlene led visitors through at ACM is the only gallery in the world wholly dedicated to sacred Christian art in Asia.
Darlene deftly navigated through the artifacts, reciting incredible details surrounding the art works — their form, their histories — which she knows like the back of her hand. Visitors are enriched by Darlene's analysis of imagery and symbolism. They can see the Virgin Mary through the eyes of many Asian cultures: in Buddhist robes, donning royal Sri Lankan necklaces, standing upon crescent moons.
From ornate wardrobes and everyday tools to vastly different depictions of Christ across Asia, Darlene covers centuries. Reciting everything from memory, she enthusiastically tells rich and vivid stories that go beyond the museum labels.
While taking great care to point out minute intricacies, Darlene never loses sight of the bigger picture. She links each piece to the greater narrative arc about early Christianity in Asia, taking us through the religion's fascinating journey and evolution through the continent.
Following her interests
Darlene's particular passions often lead people to assume she studied anthropology, history or sociology. Imagine their surprise when Darlene reveals that she was a math and computer sciences major in college. Perhaps this explains her extremely systematic and meticulous approach to history.
Darlene has been doing volunteer work for 30 years. Her colourful experiences cover environmental organisations and conservation projects, from water issues in the US to animal conservation in South Africa.
Upon settling in Singapore in 2016, Darlene naturally gravitated towards similar volunteer projects. She worked with the Jane Goodall Institute and the People's Movement to Stop Haze, before turning her attention to her other passion: societies and culture.
Her love of learning about different cultures led her to apply to be a volunteer at the Malay Heritage Centre (MHC), where she began training within a few weeks of landing in Singapore. Her stint at MHC eventually led her to the Asian Civilisations Museum (ACM) and, the rest was history.
Always well prepared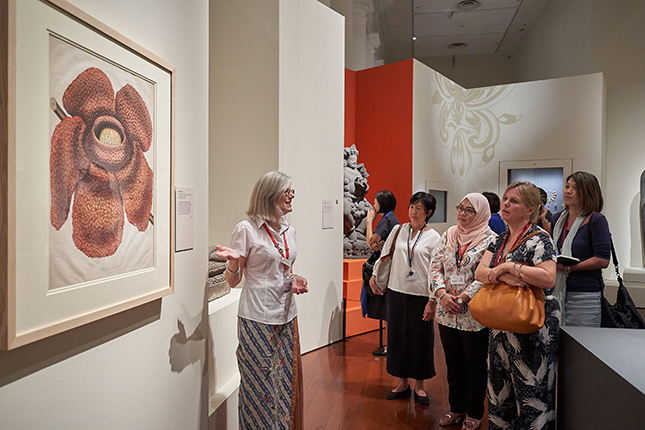 Darlene always checks on all the exhibits before her tours begin, with enough lead time to read up and prepare. The ACM, in particular, has been "a never-ending learning experience" for Darlene. As the museum constantly refreshes itself with new galleries and exhibitions, there is always new knowledge to be acquired.
"I am everybody's nightmare, especially as a travel companion!" jokes Darlene, when responding to observations about the independent research she does. An avid traveler, Darlene playfully describes how she "torments" fellow travelers by constantly bombarding them with information. Of course, we can be sure that they are all the better for it.
Besides being a talkative travel mate, Darlene shares another endearing "job hazard" that comes with practising her tour at home. She describes her son's first visit to MHC. She had arrived with him, excited to teach him all about Malay culture, only to find that he already had the information at his fingertips. "He gave me my own spiel!", she laughed. "I had simply practised my lines so much to him."
Offering fresh perspectives
As a non-Singaporean, Darlene is placed in a unique position to observe and scrutinise things that we Singaporeans take for granted. In her role at the Malay Heritage Museum, she offers fresh perspectives from beyond the racial dynamics locals have become familiar with. This frees her from any biases that we Singaporeans may have internalised over time, and allows museum visitors access to new and different ways of looking at our own country and history.
"It is very rewarding, especially when moving to a new country. Becoming a docent is a fast track to deeply understanding local culture," says Darlene. Furthermore, being a docent gives her an opportunity to actively participate in the retelling and sharing of culture. Despite having already been to several archaeological digs in South America, Europe, and South Africa, Darlene reveals that her job as a museum docent excites her more.
By Chew Wei Shan and Nurudin Sadali