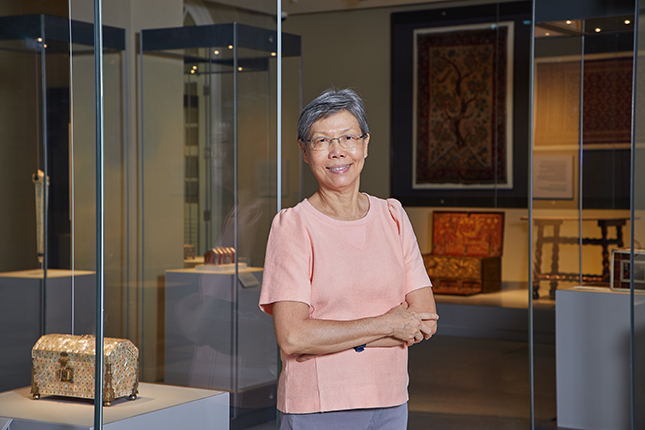 Whenever Dr Lien Wen Sze goes to the Asian Civilisations Museum (ACM), she is armed with a mind full of knowledge, and her friends and family in tow. The volunteer Mandarin Guide is on a mission to get more people to visit Singapore's museums, beginning from the one she has been conducting tours in for the last two years.
"I find this museum so wonderful," says the 69-year-old retiree about the ACM. "I come here once a week with different groups of friends. I take them around, and invite them for tea, of course!"
Wen Sze's love affair with ACM began after retiring as a food scientist at multinational food-and-beverage corporation Nestle. Not contented with just reading for pleasure, the bibliophile signed up to be a museum docent after chancing upon an open call for volunteers.
"Being a Singaporean, I feel the need to be more aware of our surrounding countries," she says. "Coming to the Asian Civilisations Museum gives me opportunities to learn with a focus, and a chance to share my knowledge."
Wen Sze was familiar with Chinese history. After all, she grew up the daughter of Chinese literary pioneer and Nanyang Siang Pau editor-in-chief, Lien Shih Sheng. In contrast, she knew very little about the histories and cultures of the rest of Asia until she started volunteering. From giving regular Mandarin tours of the ACM's permanent collection as well as past special exhibitions, such as Cities & Kings: Ancient Treasures from Myanmar and Christianity in Asia: Sacred Art and Visual Splendour, Wen Sze has come to understand the commonalities that bind this region. A recent discovery she made is how many capitals of Southeast Asia—Bangkok, Singapore, Jakarta, and Yangon—are located near the sea as this allowed their inhabitants to trade with others easily.
Meticulous preparation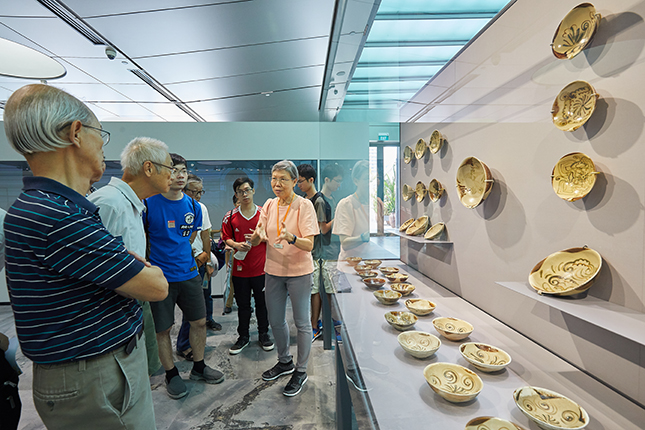 Every new exhibition at ACM gives Wen Sze the perfect excuse to buy books. This kickstarted a meticulous process of highlighting and footnoting, her method of identifying the building blocks for her historical tours. Wen Sze views history as a backdrop to our present. She believes the historical backdrop will help museum visitors understand the exhibited artefacts. For instance, visitors to the Joseon Korea: Court Treasures and City Life exhibition may be puzzled about why many of these artefacts from Korea are filled with Chinese characters. She explains to them that this is because the kingdom encouraged the spread of Chinese Confucian ideals and doctrines.
"If I just learn the artefacts without knowing the history, I'm not a good docent," she says. "Anybody can just read the panel texts; I feel I need to fill in and make the connections."
Such an analytical take on heritage stems from Wen Sze having a PhD in Chemistry and a post-graduate diploma in Business Administration. Working as a food scientist has also taught her to research in a methodical manner, and to be aware of histories and different cultures. Wen Sze has also contributed to food science education and training, having taught in universities in both Singapore and China. "Even when you develop a food product for a nation, you have to understand its culture," she explains.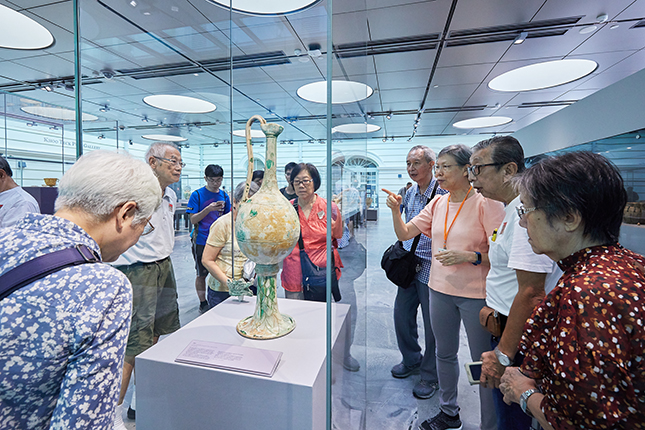 Despite having switched her devotion in life from science to heritage, Wen Sze says it has not only been easy but also a good change in lifestyle pace. Unlike the rapid changes in science and technology that required her to keep up with the latest developments, she enjoys how heritage moves slower as it is a "precipitation of culture". She adds with a laugh, "It won't go away. You can just add on and add on, so it is more rewarding especially for older people as we can't run that fast now."
In fact, this was hardly the case when I went on a tour led by Wen Sze. The bespectacled lady with a short crop of hair zipped through the exhibition of over 150 artefacts from South Korea's national museums, hardly breaking a sweat. Even though she is a Mandarin Guide, Wen Sze also gamely added English translations when some of her visitors asked for it. And, after walking and speaking for more than an hour, she was still ever ready to answer questions from visitors.
Beyond the fascinating artefacts in the museum, it is clear that Wen Sze is also energised by the interactions with visitors on her tours. One of her most memorable experiences was taking the Literature Nobel laureate Mo Yan on a private tour of ACM when he was in town. Despite it not being his first time, the Chinese novelist praised her for proving to him how good the museum's collection was.
"We have many good museums, and there are so many treasures in them," says Wen Sze. "That is why we must do our part to let visiting museums become a national pastime!"
By Justin Zhuang