Text by Priscilla Chua
BeMuse Volume 4 Issue 3 - Jun to Sep 2011
As the Singapore Economic Development Board (EDB) celebrated its 50th anniversary at the time of writing in 2011, it was also timely for Singaporeans to look back on the country's economic development, a critical block in the nation-building process over the past five decades. Behind the myriad of facts and figures that charted Singapore's growth – from a per capita GDP of SGD980 in the 1960s to a per capita GDP of SGD59,813 in 2011 – were challenges that brought out the foresight and pioneering spirit of Singapore's leaders.
Playing equally important roles were various actors in Singapore's society and economy. Workers and companies alike helped to steer Singapore towards economic success, and their stories took centre stage in the exhibition Transforming Landscapes, Improving Lives: 50 Years of Economic Development. Personal accounts and anecdotes in the form of artefacts and audio-visual productions were displayed throughout the exhibition, illustrating not only how lives and the physical and socio-economic landscape of Singapore have been transformed alongside her economic development, but also providing a glimpse into the future that Singapore is working towards.
A Pioneering Spirit
The year 1959 marked a milestone in Singapore's history, when she gained self-government from the British. But the economic reality then was such that there was little time for celebration. The fledging nation had to deal with massive unemployment, rapid population growth and labour unrest while having no natural resources, industrial infrastructure or a significant domestic market to speak of. The subsequent loss of the Common Market with Malaysia in 1965 and British withdrawal in 1971 also provided obstacles to economic progress. Despite these challenges, then Minister for Finance, Dr. Goh Keng Swee, guided Singapore towards economic stability during the first, trying years of nationhood. With the formation of the EDB in 1961, Singapore set off on the twin paths of industrialisation and investment promotion, as a 'can-do' and pioneering spirit characterised the foundational years of her growth.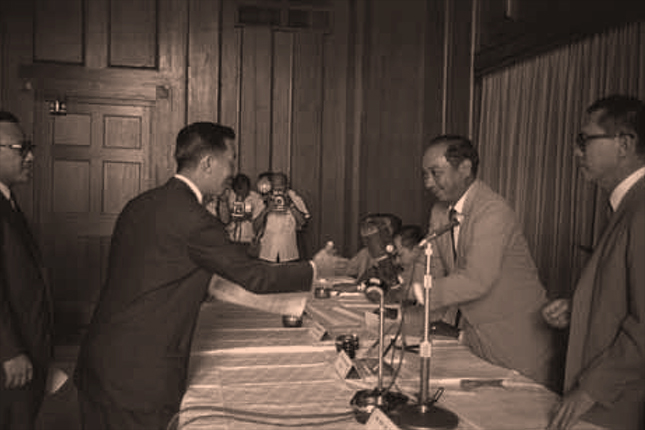 Dr. Goh Keng Swee presenting pioneer certificates at the Singapore Economic Development Board office in Fullerton Building, 1963.
MITA Collection, courtesy National Archives of Singapore.
Perhaps nothing epitomised the pioneering spirit better than Dr. Goh's proposal for Jurong Industrial Estate, which transformed a swamp into a self-sufficient industrial town in the 1960s. Initially dubbed 'Goh's Folly' as many doubted the feasibility of building an industrial town from scratch, Jurong Industrial Estate proved to be a success, attracting businesses to establish factories there, the first being National Iron & Steel Mills. Singapore's industrialisation programme was thus kick-started, and it was on Jurong Industrial Estate that labour-intensive factories manufacturing a wide range of products – including mosquito coils, joss sticks, sugar, textiles, plastic flowers and hair wigs – were set up, providing much-needed jobs.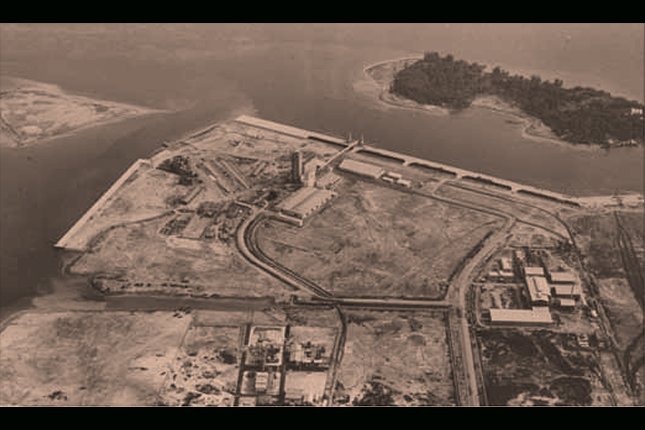 An aerial view of Jurong Industrial Estate under development, 1960s.
David Ng Collection, courtesy National Archives of Singapore.
One of the many companies that the EDB courted was Rollei, a world-renowned camera maker. Rollei's arrival in the early 1970s signalled the dawn of precision engineering in Singapore, a vital industry that propelled the country to the next level of economic development. Apart from creating jobs and bringing German production excellence to Singapore, Rollei also trained thousands of Singaporeans in precision engineering skills, laying the foundation for the rise of the electronics industry, which remains a mainstay of Singapore's manufacturing sector today.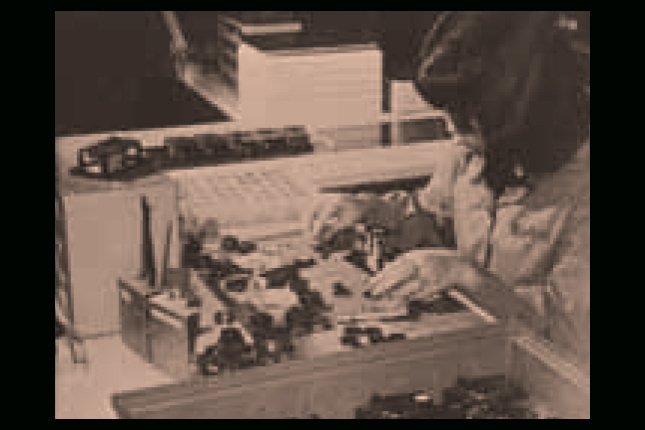 A Rollei operator at work, 1970s.
National Archives of Singapore.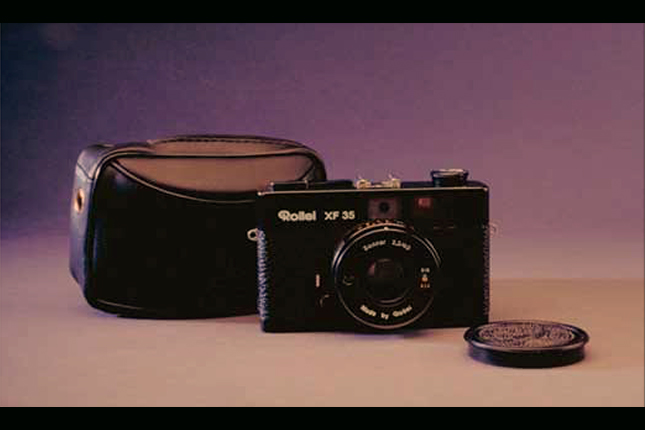 Black Rollei XF35 rangefinder camera made in Singapore, 1970s.
National Museum of Singapore Collection.
Besides acting as the intermediary between potential investors and the various government bodies, the EDB also awarded pioneer status to some companies, giving them an exemption from corporate taxes. Thanks to these industrialisation efforts and measures to develop and market Singapore as an ideal base for manufacturing, Singapore reached full employment by the late 1970s, with industries thriving and foreign investments pouring in.
The Transition Years
If the 1960s were the formative years and the 1970s a period of consolidation, the 1980s was a critical transition point. When the economy suddenly contracted by 1.7 percent in 1985, it was the first time since independence that Singapore had recorded negative growth. Former EDB chairman Chan Chin Bock called the 1985 recession an "emotional experience" which dealt Singapore a reality check after 20 years of continuous economic progress.
While global conditions such as the US slowdown played a part, the reasons for the 1985 recession were largely domestic. A loss of competitiveness due to rising operating and wage costs – especially in relation to the other countries in the region – and high Central Provident Fund (CPF) contribution rates all contributed to the country's first major downturn. That said, this crisis also showed the willingness of Singapore's leaders to take bold and innovative steps in restructuring the economy to meet new challenges. In light of a new phase in economic development where sole dependence on labour-intensive industries was no longer viable, Singapore sought a 'total business' concept, creating 'twin engines of growth' that placed a new emphasis on the services sector to complement the traditional stranglehold of the manufacturing arm. In 1986, the EDB established a Services Promotion Division to drive inbound investment promotion in 18 tradable service sectors.
A crucial factor that helped Singapore regain her cost competitiveness was the tripartite relationship between the government, employers and the trade unions. Drastic cost-cutting measures including a reduction of employers' CPF contributions and a wage restraint policy were successfully implemented without social unrest as they were endorsed by the trade unions. The concerted efforts to turn things around on all fronts paid off, as Singapore recovered from the recession in two years, and entered a new economic era confident of assuming the role of a global business city.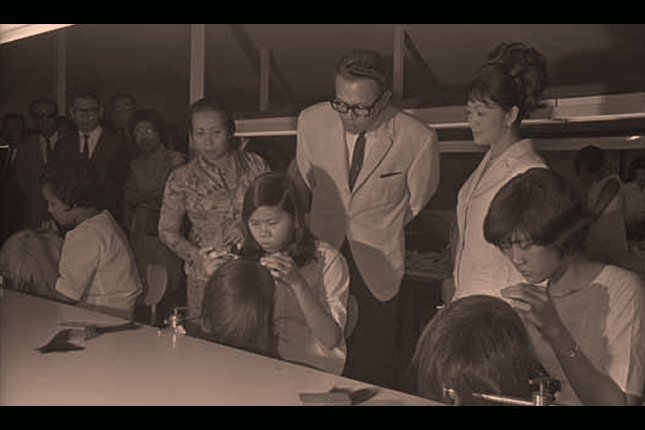 Then Minister for Social Affairs Othman Wok at the opening of Regency Wigs Limited in Jurong, 1969.
MITA Collection, courtesy National Archives of Singapore.
Becoming Future Ready
Since taking the first tentative steps towards industrialisation 50 years ago from 2011, Singapore has become an economy driven by capital, knowledge, talent and innovation. Despite fresh challenges from the rapidly changing global economy, Singapore remains well-positioned to move into the next stage of economic development. The same core attributes possessed by Singapore's economic pioneers when they guided the country to economic stability are helping to maintain Singapore's sustainability and competitiveness in the global market today.
In a world increasingly shaped by trends such as greater urbanisation, growing affluence and ageing populations, Singapore continues to promote an enterprising and conducive environment for companies to set up their headquarters, while providing good job opportunities to meet the aspirations of the population. Potential investors are often persuaded by ready access to a growing international and local pool of highly skilled talent as well as excellent infrastructure. Local companies are not left out either as the robust economic climate ensures a steady supply of opportunities for them to flourish. Indeed, Singapore has become the leading hub for a number of high technology and creative industries, including the biomedical science, aerospace, energy and chemical sectors, along with interactive and digital media. Jurong Island, for example, is home to almost a hundred global petroleum, petrochemical and specialty chemical firms.
There is little doubt that Singapore's economic development and achievements over the past five decades present an eventful chapter in the nation's history. The 'can-do' spirit, common vision and the strong cooperation between the EDB and other government agencies have been a galvanising force in the economy. And it is this same passion and guiding principles that will spearhead Singapore's development into the future.
Priscilla Chua is Assistant Curator, National Museum of Singapore.
References:
Chan, Chin Bock et al. Heart work: stories of how EDB steered the Singapore economy from 1961 into the 21st century. Singapore: Singapore Economic Board and EDB Society, c. 2002. Chew, Rosalind and Lim, Chong Yah, eds. Wages and wages policies: tripartism in Singapore. River Edge, N.J.: World Scientific, 1998. Lee, Kuan Yew. From Third World to First: the Singapore story: 1965-2000: Memoirs of Lee Kuan Yew. Singapore: Singapore Press Holdings: Times Editions, c. 2000. Low, Linda et al. Challenge and response: thirty years of the Economic Development Board. Singapore: Times Academic Press, 1993. Schein, Edgar H. Strategic pragmatism: the culture of Singapore's Economic Development Board. Cambridge, Mass.: MIT Press, c. 1996. Tan, Siok Sun.& Goh Keng Swee: a portrait. Singapore: Editions Didier Millet, 2007.