TL;DR
Few would know that Jurong, Singapore's manufacturing and IT hub, used to be a remote swamp just a few decades ago. This massive transformation tells a story of how vision, determination, and ingenuity, formed the cornerstones of one of the most ambitious projects of modern Singapore.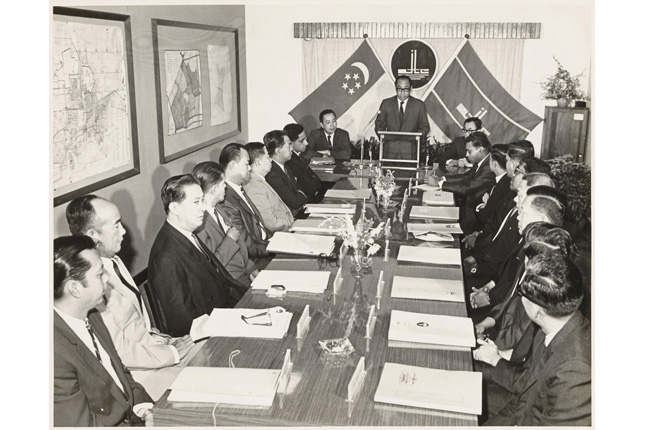 Dr Goh Keng Swee sharing his grand plan at the inaugural Jurong Town Corporation (JTC) Board Meeting. (June 1968. Image from National Archives Singapore)
Building factories on a crocodile-infested swamp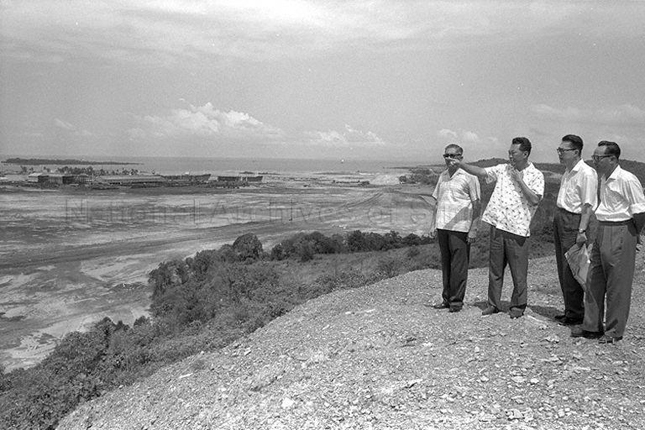 Former Prime Minister Lee Kuan Yew surveying the swampland that was to become Jurong Industrial Estate. (27 October 1962. Image from National Archives Singapore)
Like many of our uniquely Singapore stories, this one too, started with the humblest of beginnings. Let's turn the clock back by about 60 years, where what is known as Jurong today was just a swamp no one really paid any attention to. Except one man – our former Finance Minister Dr Goh Keng Swee.
The year was 1959, and the People's Action party (PAP) had just come into governance. Unemployment rate was at an all-time high of 14%, which meant that over 200,000 able-bodied adults were unable to find jobs.
The memories of the labour riot a few years ago were still fresh in the minds of many Singaporeans. Investors were scared of setting up new businesses, and there was still tension lingering in the hearts of the working class.
The PAP was eager to boost the economy of the nation, and that was when Dr Goh took a bold step forward.
Fun fact: The name Jurong came from the Malay word Jerong, or shark.
"Goh's Folly"
Dr Goh saw the small hills, mangrove swamps, and crocodile-infested rivers as a possible site for the country's industrial central. So in 1961, he instructed for the first land areas to be cleared to make way for construction of factories.
Singapore had no experience in manufacturing, the labour market was unstable, and to turn a swamp into an industrial estate needed huge investments.
Few believed in Dr Goh's vision and many even called it "Goh's Folly".
Of course, that did not turn him away from his mission. By 1963, the industrial estate was built and ready for production. However, investors and local businessmen were still unsure of whether this wild venture could work.
Besides a strong sense of determination, Goh had other cards up his sleeve. He knew that all the businesses needed was a little push, which came in the form of big incentives. They were offered:
ready-built factory spaces and infrastructure

generous tax incentives

promise of healthy worker-employee relations
That turned out to be his trump card. And with this, Jurong welcomed its first cornerstone, the National Iron and Steel Mills (NatSteel), which officially opened on 13 January 1964
One factory opening ceremony a day, every day, for 3 months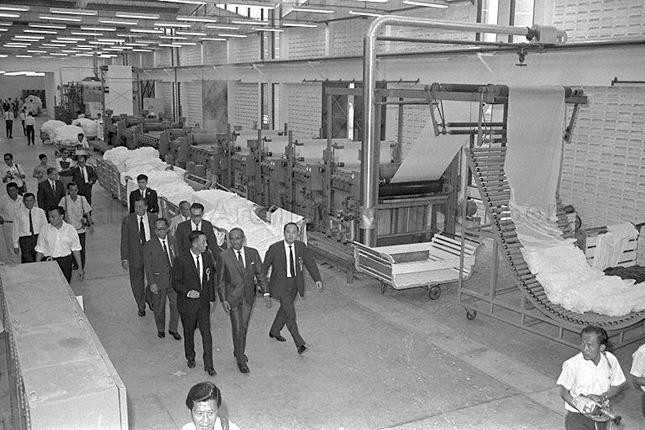 There wasn't a stronger declaration that Jurong was "open for business" than Dr Goh's plan of one opening ceremony a day for 3 months. (c. 1969. Image from National Archives Singapore)
With the help from the Economic Development Board (EDB), Dr Goh arranged for daily factory opening ceremonies with huge media coverage. He wanted the world to know that Jurong was officially open for business.
Nothing could be more of an inviting statement than one new factory opening every day, for a period of three months. This momentum picked up even more and in just a few years, Jurong Industrial Estate would go on to employ an additional 15,000 people annually.
"Goh's Folly" had now become "Goh's Glory".
Jurong was just too far away
Still true to some of our friends living in other parts of Singapore today, Jurong was then considered too far away from just about everything else on the island. Few wanted to set up their small businesses there, let alone live in the remote West.
This was when Jurong Town Corporation, more commonly known as JTC, came into the picture. The corporation took the surrounding areas of the industrial estate in 1968 and developed over 7,000 low-cost flats, while introducing bus services, clinics, retail areas, community centres, wet markets, food centres, sport facilities, and public parks and gardens.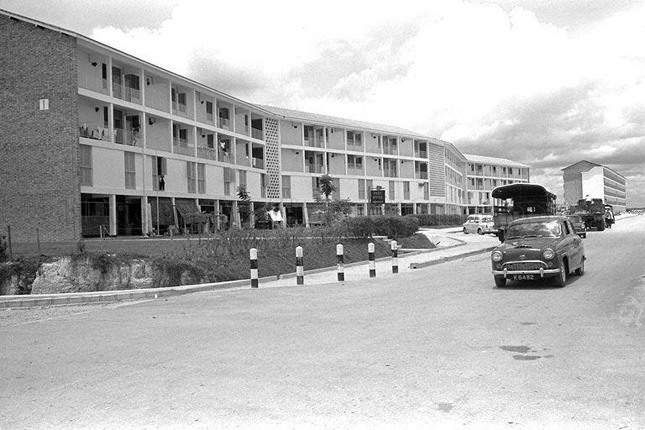 Over 7,000 of these low-cost flats were built to attract more people to live and work in Jurong. (c.1964. Image from Jurong Town Corporation)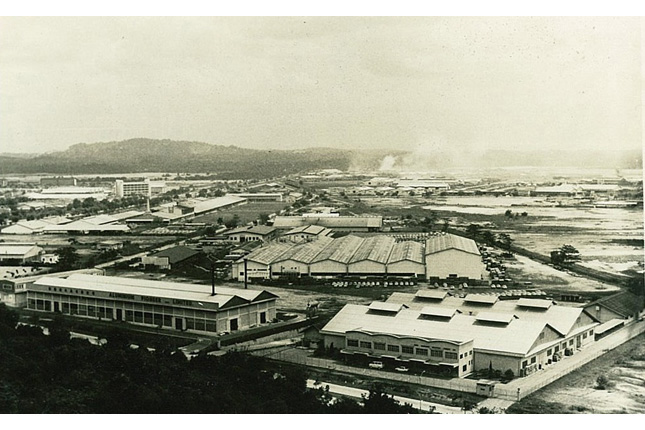 By 1969, Jurong Industrial Estate was home to 181 factories with a workforce of more than 20,000. Do you know someone who's working in Jurong today? What's their experience like? (c.1960s)
Jurong New Town became home to the scenic Singapore Chinese Garden, housing estates such as Taman Jurong, and grew into a residential area for over 20,000 families by 1976.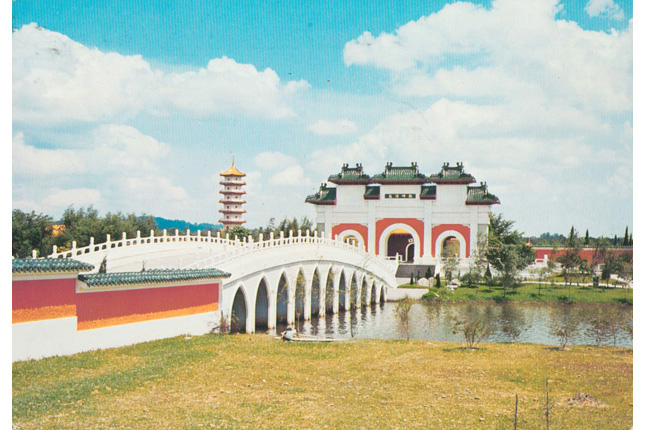 The Singapore Chinese Garden was developed as part of the plan to make Jurong more attractive to Singaporeans to live in. It is still visited by many families today. (c.1980s. Image from National Museum of Singapore)
Jurong's housing, which began with a modest 7,068 low-cost units in 1964, would soon grow to over 20,000 flats of varying designs and sizes by 1976, including the famous H-shaped block in Boon Lay Gardens.
Jurong – today, and beyond
Come nightfall, as our children head to bed, millions of dollars worth of materials and goods are being shipped in and out of Jurong Port. It's business-as-usual for technological powerhouses at the International Business Park with their round-the-clock operations.
From crocodile-infested swamps to a beacon for the future of industrial development, Jurong continues its ambitious journey and surges ahead into the new age of information technology. Under JTC, Jurong has also become home to the Jurong Innovation District, which hosts companies and manufacturers at the forefront of today's tech industries, and the Tuas Biomedical Park, a hub for major pharmaceutical, biotechnology, and medical technology firms.
Taking yet another bold step forward, Jurong looks to poise itself as a tourism and business central by 2026, complete with sprawling green of the Jurong Lake area, the new Science Centre, business incubators, and numerous world-class malls for tourists and locals alike.
A view of the Jurong estate today. (c. 2015. Image from (ghettosingapore.com)