National Language Class, Chua Mia Tee, Singapore, 1959, oil on canvas.
Gift of Equator Art Society, collection of National Gallery Singapore.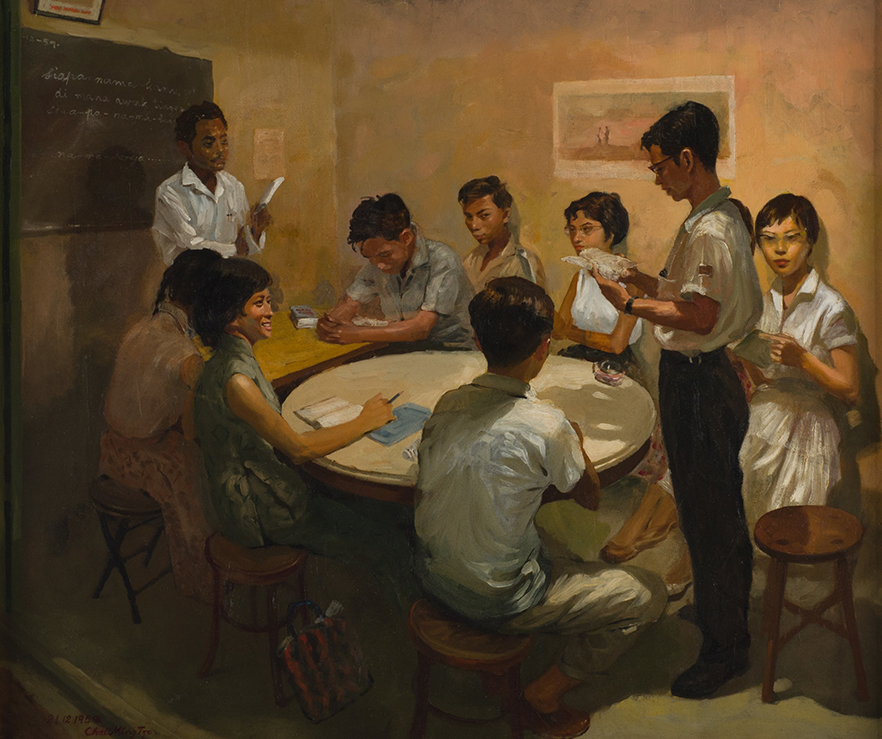 Born in 1931 in China, Chua Mia Tee is regarded for his realist portraitures and depictions of Singapore's changing urban and cultural landscape. Chua moved to Singapore in 1937, when he and his family fled the Sino-Japanese war. In 1947, he was a student at Chung Cheng High School, but left mid-way to pursue an art education at the Nanyang Academy of Fine Arts (NAFA), where he eventually graduated from in 1952. During his time at NAFA, Chua was the student of then-director Lim Hak Tai as well as Cheong Soo Pieng and See Hiang To. He sought to establish his practice through his pursuit of the 'real,' an interest that was cultivated by his encounters with European classical realism, Russian and Chinese social realist art. He was one of the founding members of the Equator Art Society (EAS) in 1956 and took part in its annual exhibitions until its dissolution in 1974.
One of Chua's most iconic images, National Language Class captures an important stage of Singapore's history. Painted in 1959 when Chua was a member of the Equator Art Society, this work is charged with nationalist sentiment and commemorates Singapore's long-awaited attainment of self-governance in the same year. National Language Class depicts a group of Chinese students learning Malay, the newly-designated national language of Singapore.
---
This is an extract from "The Singapore Story through 60 objects" written by Kennie Ting, Director, Asian Civilisations Museum and Peranakan Museum & Group Director of Museums, National Heritage Board. Research for this article is supported by National Gallery Singapore. This article was first published in Cultural Connections Volume IV 2019 by Culture Academy Singapore.