Text by Dr Nigel Taylor
Images courtesy of National Parks Board
BeMuse Volume 5 Issue 3 - Jul to Sep 2012
The Singapore Botanic Gardens (SBG), arguably the Republic's most important intact historic site, is living and growing in many ways.
In 2011/2012, SBG recorded more than four million visits, making it the world's most popular botanic gardens. On 13 April 2012, the gardens was conferred the inaugural International Garden Tourism – Garden of the Year Award by the Canadian Garden Tourism Council, for providing visitors with enjoyable and unforgettable world-class garden experiences.
SBG, however, is not just about numbers and awards. Its history is significant for Singapore, the Southeast Asian region, as well as the many individuals whose memories and daily experiences have been enriched by the gardens' green oasis.
The Beginning
SBG is sometimes claimed to have its origins dating from Sir Stamford Raffles' time in Singapore (1819 - 1823), but this is incorrect. Two early attempts to establish a botanic garden beside Fort Canning (formerly known as Government Hill) had failed.
The first, developed by Sir Stamford Raffles himself, was an initial success. It became an ambitious 19-hectare estate by 1823, focusing on the introduction of spices, especially nutmeg and cloves, and had effectively started off a lucrative trade for the island. The garden, however, was abandoned in 1829 due to the lack of official support.
In 1836, a small part of Sir Stamford Raffles' former garden was revived by an agri-horticultural society to focus on the lucrative nutmeg production business. But this was again abandoned a decade later when the crop's market value declined.
The present SBG's Tanglin site was a new start in November 1859. Led by the charismatic Hoo Ah Kay ('Whampoa'), another agri-horticultural society negotiated a land swap deal with the colonial government, acquiring 23 hectares of abandoned plantation. The land included a six-hectare block of intact rainforest, which is a key in situ (natural) conservation area today to protect a diverse range of species in their native habitats.
Further land swaps and acquisitions were made in 1866. Lawrence Niven, a local nutmeg planter of Scottish descent recruited in 1860 to develop the gardens, was thereafter provided with a colonial style bungalow (today's Burkill Hall) on a hill overlooking the entire site. This accommodation, completed in 1868, caused the agri-horticultural society to fall into debt. In 1874, the society petitioned for the colonial government to take over the site's management.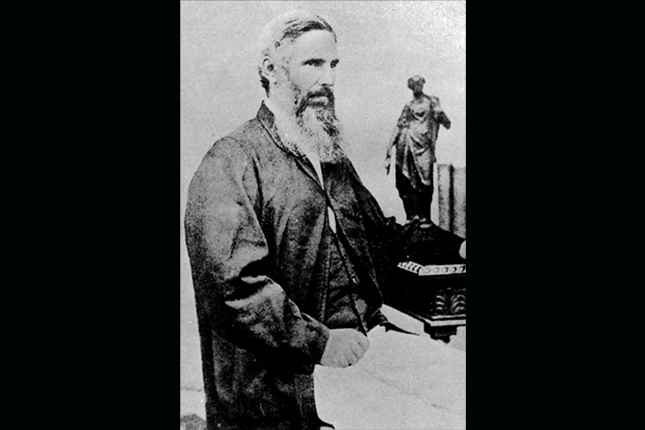 Lawrence Niven, a local nutmeg planter of Scottish descent.
Originally planned as a leisure garden and ornamental park exclusively for the agri-horticultural society's members, the garden grounds were not generally open to the public prior to 1875.
The handing over of the site's management to the colonial government marked a turning point for the gardens, with its purpose and accessibility changed in 1875. Specifically, it became a typical British colonial establishment, focusing on plant research and public recreation.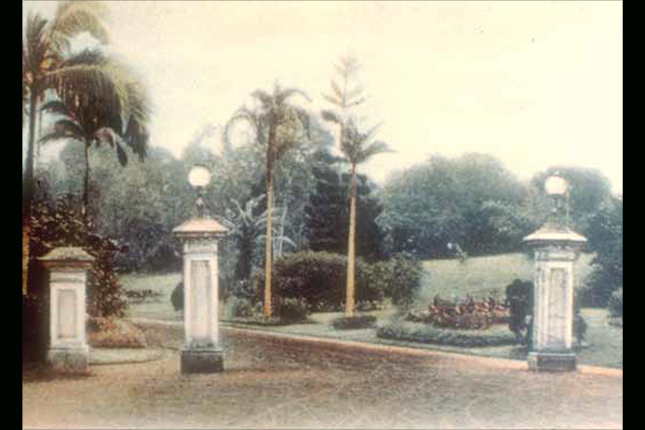 Main gate in 1890s.
Earliest Attractions
The Bandstand was one of the earliest attractions created in the SBG. First laid out in the early 1860s and situated at the highest point of the site at that time, it was a focal point of the gardens' original landscape design. The present octagonal structure was built in 1930, and was the stage for early evening performances by military bands for many years. While no longer used for music performances today, the Bandstand continues to be one of SBG's best-known features.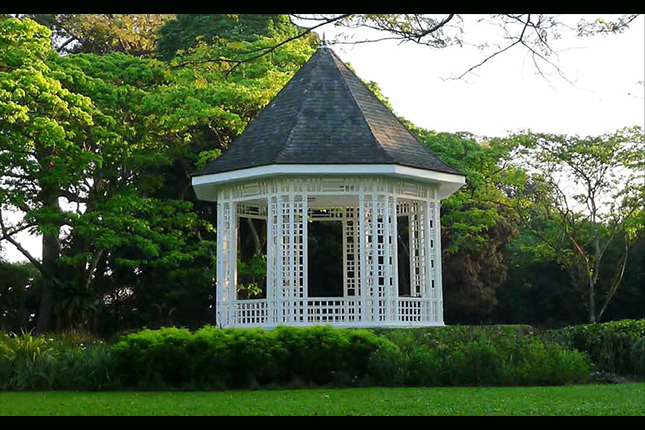 Bandstand built in 1930s.
The Swan Lake, added to the gardens in 1866, also continues to be a key feature in today's SBG. Its landmark island with the big clump of elegant
nibung
palms has become a timeless facet of the gardens' landscape. Besides offering scenic vistas, the lake serves as an important source of water supply for the gardens.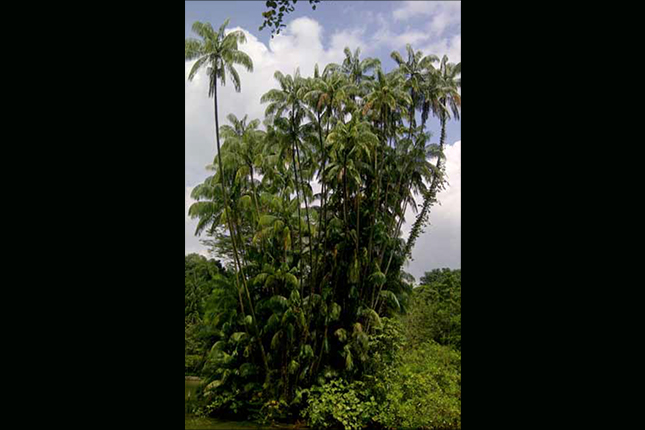 Nibung palm on island in Swan Lake.
The Palm Valley was developed in 1879 after the colonial government took over the site's management. Today's Palm Valley is home to more than 220 species of palms, and is perhaps the most strikingly beautiful element of SBG's landscape.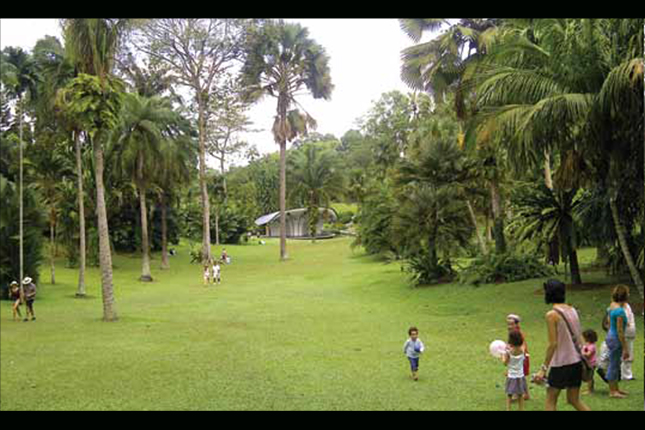 Palm Valley today.
SBG'S Former Administrators
The history and development of SBG is tightly intertwined with the history and efforts of its many dedicated administrators since the 19th century.
James Murton, SBG's first administrator under the colonial government's management, started the Herbarium, which laid the foundations for scientific research on flora in the Malay Peninsula and beyond. Today in 2011, the Singapore Herbarium is housed in an underground vault and provides a home to some 700,000 dried specimens, of which 8,000 are known as 'Types'. 'Type' specimens are reference points for accurate identification of plant species, making the Herbarium a place of pilgrimage for scientists from around the world. While the Herbarium is not for public access, some examples of herbarium specimens can be viewed by the general public at SBG's Library of Botany and Horticulture, Public Reference Centre.
In 1880, Nathaniel Cantley, SBG's second administrator under the colonial government's management, planted the first Rain Trees at SBG. The specimen at Nassim Gate today may be one of these originals. This Central American species of Rain Trees is now seen throughout Singapore, providing the much needed shade and relief in the country's hot tropical weather.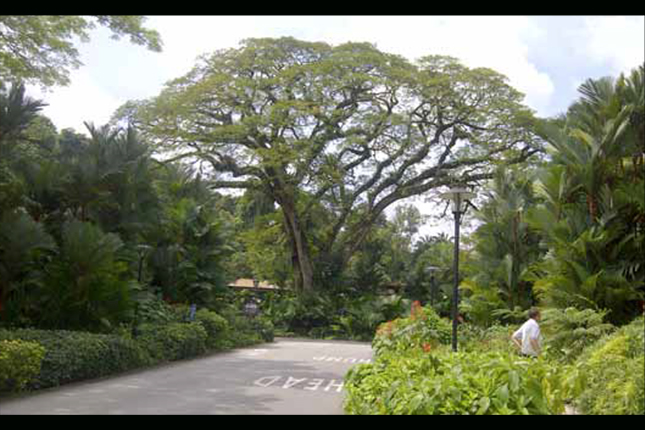 1882 Rain Tree at Nassim Gate.
Particularly notable was Henry Nicholas Ridley, who was appointed SBG's Director in 1888. Ridley was, by any measure, a truly exceptional individual. He worked tirelessly for 23 years and ushered SBG into the 20th century, which was the most productive period in the gardens' history. During the 1890s and early 1900s, Ridley devised successful propagation methods and discovered a way to harvest commercial quantities of rubber latex without harming or killing the trees. His name was synonymous with rubber as he had single-handedly convinced Straits Settlements' planters to plant the crop, transforming the region's agricultural economy with seeds produced in the SBG.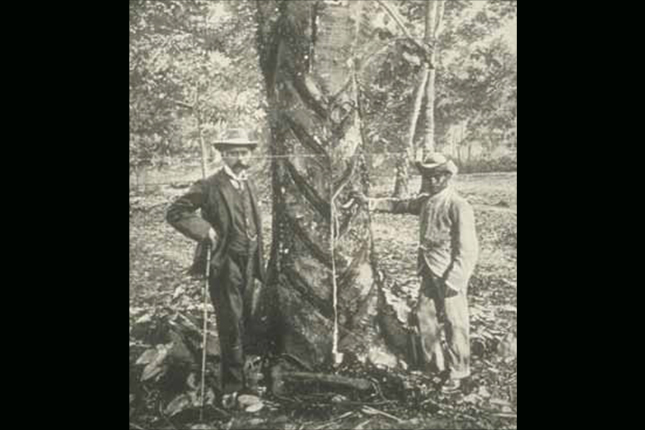 Henry Ridley with rubber tree.
Ridley also promoted oil palm, and some of his stock plants can still be seen today between the Healing Garden and the Garage at the SBG.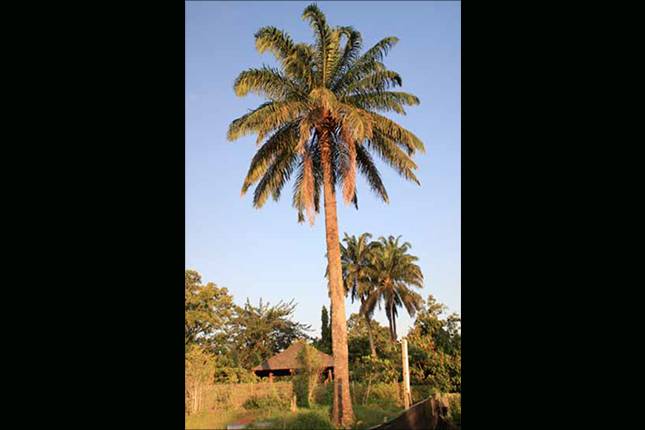 Historic oil palm in Singapore Botanic Gardens.
Like his predecessors, Ridley was interested in orchids. In 1893, he identified a new orchid hybrid and named it Vanda 'Miss Joaquim', which has subsequently become Singapore's national flower. Ridley also planted the sealing wax palms, now the brand logo of SBG and seen in many parts of the gardens.
Another notable SBG Director was Eric Holttum, who took charge in 1925. Holttum succeeded in developing a new segment of the horticulture industry. This time it was orchids, achieved in the laboratory instead of the plantation (with Holttum Hall being his laboratory). Today, Holttum's laboratory method is used universally for orchid propagation and the raising of hybrids. It has become a major industry in Southeast Asia, and one which the region is famous for.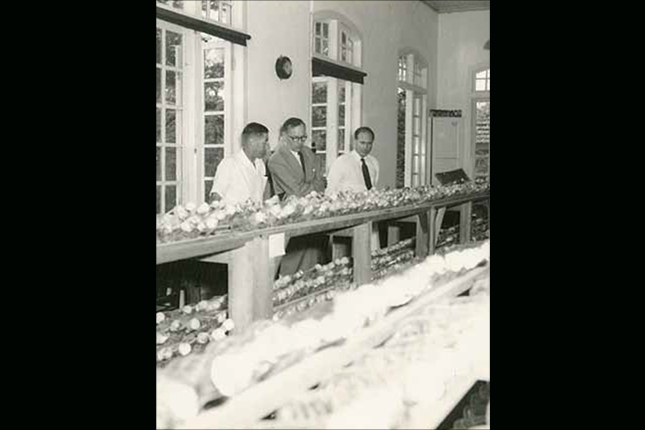 Holttum Hall 1958, orchid culture laboratory.
SBG since World War Two
While the SBG was left largely intact during the Japanese Occupation, an addition – though not well known – is the flight of brick steps down to the Plant House. The bricks and steps were constructed by prisoners of war, which were revisited by some Australian veterans in 1995.
Driven since 1956 by the ever popular naming of VIP orchids for foreign and local dignitaries, SBG has become a significant source of new hybrids. Outstanding hybrids have been cultivated in the gardens, which have received recognition worldwide. Today, around 1,000 hybridisations are carried out each year. Some examples of these can be seen in the VIP section of the National Orchid Garden beside Burkill Hall.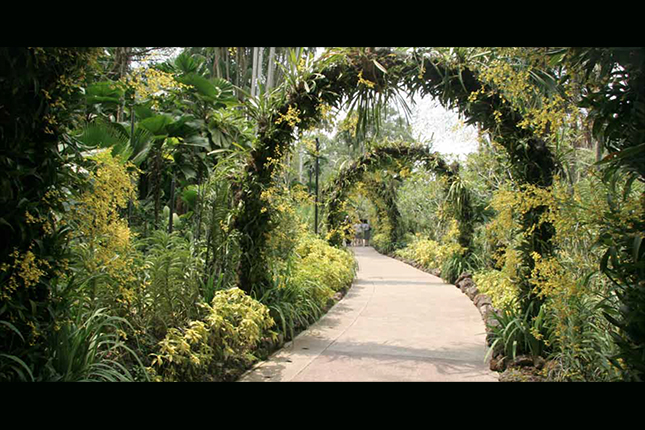 Arches of Golden Showers orchid, National Orchid Garden.
Photo by Graham Charles.
From the 1960s onward, former Prime Minister Lee Kuan Yew pushed forward his vision on the greening of Singapore. SBG took a central role in this process, experimenting with plants, training gardeners in horticulture and landscaping, and planting up parks and roadsides. The 'special park', however, continues to be SBG; not least from the 1990s when it was enhanced in many ways by the visionary Director, Dr Kiat Tan (Gardens by the Bay is his latest brainchild).
SBG's landscape is unrivalled for its beauty and timeless tranquillity, yet only 10 minutes' walk from Orchard Road. As Singapore progressed towards its 50th anniversary in 2015 and evolved from a 'Garden City' towards the vision of a 'City in a Garden', SBG was an anchor point given its rich colonial history and its many achievements.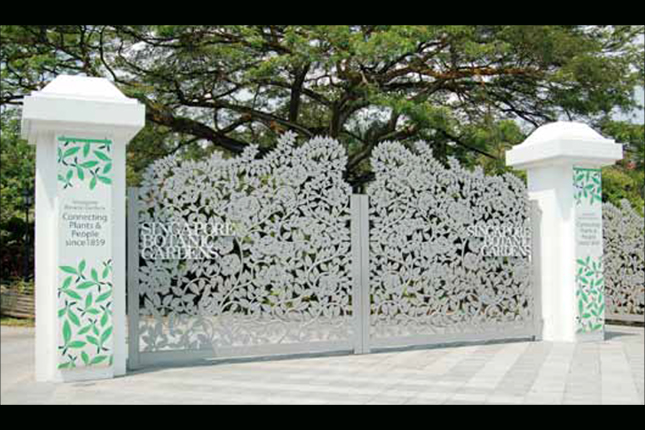 Main (Tanglin) Gate at Singapore Botanic Gardens today.
Dr Nigel Taylor is Director, Singapore Botanic Gardens.