Text by Wong Hong Suen
Be Muse Volume 5 Issue 4 - Oct to Dec 2012
MONUMENTAL WEDDINGS presented a collection of about 150 archival and contemporary wedding photographs taken at 32 of Singapore's national monuments from the early 20th century to the present. These fascinating and unique images capture more than just couples on their wedding day and their love stories - they also feature historic buildings which have earned a permanent position in the landscape of Singapore as preserved monuments. Taken at these monuments, the photographs have become artefacts that reveal not only changes in wedding fashions, venues and photography, but also certain sociological and cultural trends and developments.
Broadly organised into five main segments, the exhibition highlighted the characteristics of Early Wedding Photography in Singapore and the popularity of monuments as wedding venues; the origins and evolution of Mass Weddings on the island; the Ties that Bind monuments, communities and families together; and the distinct architectural features of the national monuments that serve as Monumental Backdrops for wedding photos. Monumental Love Stories, four short films shot on location at the monuments, rounded off the exhibition by giving visitors the opportunity to see heart-warming couples on-screen as they relate stories of their deep-felt commitment and love, while a fifth film provided an industry-insider's take on the history and development of wedding photography in Singapore.
The Early Beginnings of Wedding Photography in Singapore
Wedding Photography – Studio and Wedding Day
Wedding photography in Singapore before the second half of the 20th century consisted mostly of formal, posed indoor studio shots of the bride and bridegroom.
Actual day wedding pictures taken at the venue of the solemnisation or wedding reception were less common. Posed or candid, this was an option primarily for the privileged or prominent members of society who had the means to commission a photographer for the event itself.
A wide variety of locations could serve as the venue for a couple's solemnisation ceremony or wedding reception, even in the early days. All couples featured in this exhibition, however, shared one thing in common: their weddings and/or wedding receptions were held at buildings, institutions and places that have now been recognised as historical treasures and gazetted as national monuments.
Monuments as Wedding Witnesses: Places of Worship
In early Singapore, religious places of worship took on an important role as sites of social interaction and fellowship for newcomers to the island.
Religious buildings also served another important function. They were venues of choice to mark one of the most significant moments of their members' lives: their weddings. Families, together with the immediate community, would gather in these buildings to witness wedding customs and rituals being carried out and to give their blessings to the newly wedded couples.
Fashionable Affairs: Hotels and Commercial Venues
From notices and announcements published in local newspapers, it could be gathered that the custom of holding one's wedding reception at hotels such as Raffles Hotel and Goodwood Park Hotel started in Singapore in the early 1900s, and was especially popular amongst the expatriate community.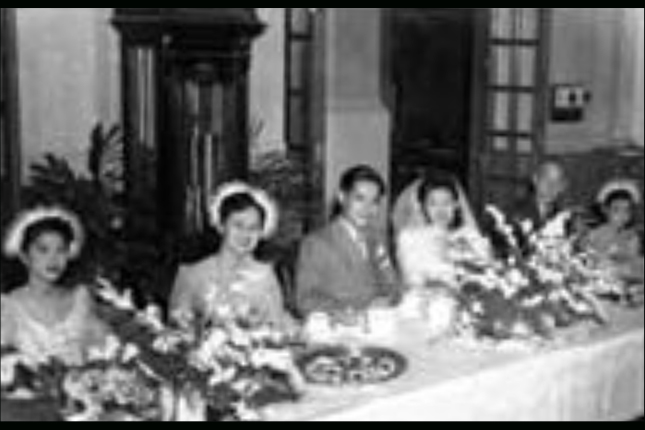 William Chong-Wah Chen and Betty Vivienne Won at the Raffles Hotel, 7 February 1948. The reception was held where the entrance lobby of the hotel facing Beach Road is today. The grandfather's clock in the background can still be found today at the hotel lobby.
Courtesy of William Chong-Wah Chen and Betty Vivienne Wong.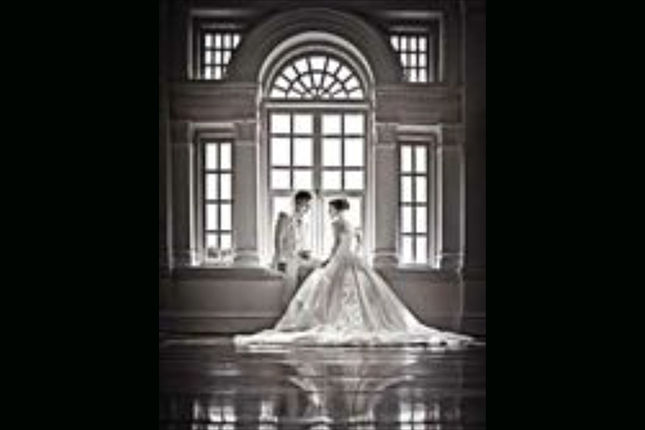 Gary Soon and Ashley Lee at the windows of the main building of Raffles Hotel facing Beach Road, 2011.
Courtesy of Ng Hui Kwang.
Notable personalities such as former Minister Mentor Lee Kuan Yew and his wife, Madam Kwa Geok Choo, held their wedding reception at the Raffles Hotel.
Another popular venue was the Former Victoria Theatre and Memorial Hall (today's Victoria Theatre and Concert Hall), which played host to wedding receptions of various ethnicities from the late 1930s to the late 1940s.
Institutions of Learning (and Weddings!)
In the early 20th century, the Peranakan Chinese community in Singapore publicly engaged in a discussion on the need to reform expensive and heavily ritualised Chinese wedding ceremonies. The view that traditional Chinese weddings were old-fashioned, and 'modern' forward-thinking Chinese should cast them off in favour of simplified 'reformed' weddings, was taken up by certain prominent members of the Chinese society.
Towards the 1920s and 1930s, such 'reformed' weddings were increasingly held at institutions of education and learning such as schools and libraries.
The concept of 'modern' education had taken root in Singapore and Mandarin began to replace Chinese dialects as the main medium of instruction in the 1900s. By 1939, there were 30,000 students enrolled in Chinese-language schools on the island. A popular motto during the 1920s and 1930s was: "Without Chinese education there can be no overseas Chinese". It was thus no coincidence that the same period saw numerous Chinese couples choosing to take photos in front of institutions of Chinese learning. It was their way of expressing their Chinese identity and aligning themselves with the values that modern schools such as Tao Nan exemplified. Tao Nan stood out as one of the first 'new style' Chinese primary schools. Opened in the early 1900s, it promoted Chinese culture and values, which differed from 19th-century privately funded schools that had no fixed curriculum.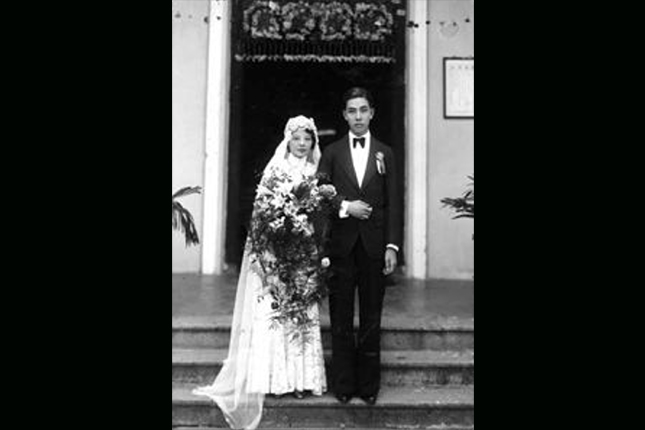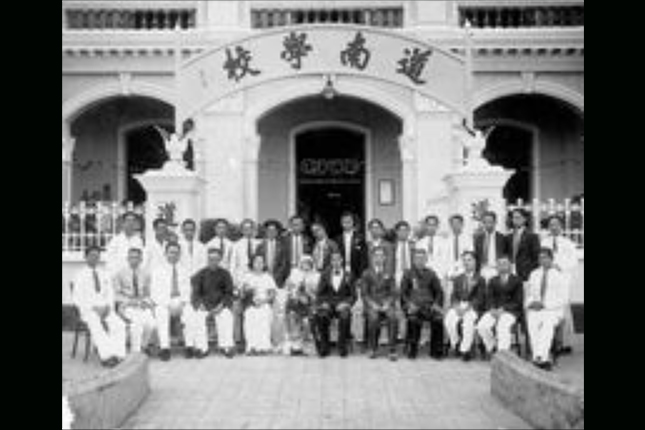 A wedding held at Former Tao Nan School (Peranakan Museum today), 1930s. Ang Chin Tiong was a student of the school while his bride Ong Cheong-Geok studied at Hua Chiao Girls School.
Courtesy of Kelvin Ang.
Mass Weddings at Monuments
The Move towards Mass Marriages
"Mass marriages are very wise in cases where the parties are not very wealthy... They are economical and convenient and it means young couples being able to begin their married life without making heavy expenditure. Mass marriages are customary in China but these are the first to be held in Singapore."
– Kao Ling Pai (Singapore Chinese Consul-General), "Ten Couples Wed at Great World", The Singapore Free Press and Mercantile Advertiser (1884 - 1942), 1 February 1937.
The first mass wedding ever held in Singapore took place at the Great World Amusement Park in 1937. The phenomenon of mass weddings in Singapore had its intellectual and ideological roots in Chiang Kai-Shek's New Life Movement, which was launched to halt the perceived material and spiritual 'degeneration' of the Chinese people. The reform movement emphasised (among other things) simplicity and frugality; traditional Chinese weddings, regarded as costly and extravagant, became a target of this reform.
Marrying En Masse: "Affordable Pomp and Ceremony" (1940s - 1960s)
The outbreak of World War Two and the ensuing Japanese Occupation put a temporary halt to mass weddings in Singapore. The practice restarted with much fanfare in the late 1940s as organisations such as the Mayfair Musical and Dramatic Association, the Chinese YMCA (Young Men's Christian Association) and Chinese clan associations including the Khek Community Guild and the Hokkien Huay Kuan took the lead in initiating and promoting mass weddings. Although such ceremonies were no longer associated with the New Life Movement, mass weddings nevertheless prevailed because the essence remained unchanged: it saved money.
>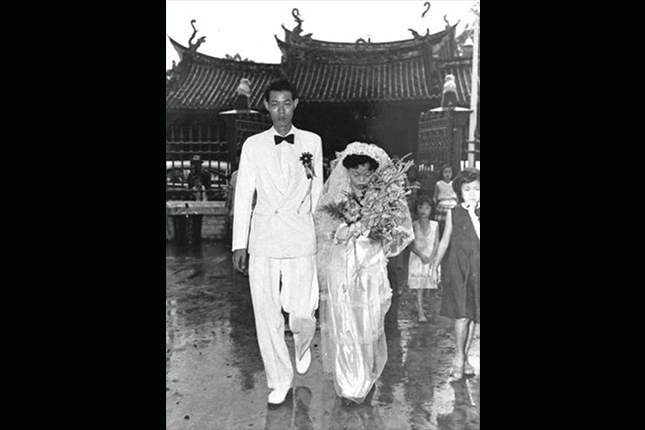 Couple arriving at the Hokkien Huay Kuan at Telok Ayer Street to participate in a mass wedding organised by the clan association, 1956. In the background is Thian Hock Keng.
Courtesy of the National Archives of Singapore.
Dramatically Different Demographics
Besides reasons of economy, mass weddings took off in the two decades after the war also because of the dramatic demographic changes on the island during that period. A distinctive feature of 19th-century Singapore was the huge disparity in its number of men and women, especially among the immigrant Chinese and Indian populations. By 1947, however, the imbalance in the Chinese community was much reduced with a ratio of 1,132 men to 1,000 women. With the numbers of Chinese men and women almost at par, opportunities to find a marital partner were much increased.
Between 1956 and 1960, the Hokkien Huay Kuan alone held a total of 17 mass weddings. The first involvement of the clan association in its members' weddings began with Tan Kim Ching, who took the lead to officiate weddings of Chinese couples during his tenure as president of the Hokkien Huay Kuan in the mid-19th century.
In 1969, Radio and Television Singapura organised a mass wedding ceremony at the Singapore Conference Hall as a publicity event for distribution and broadcasting overseas. It was the first of its kind and a precursor to the way mass weddings were marketed in the following two decades.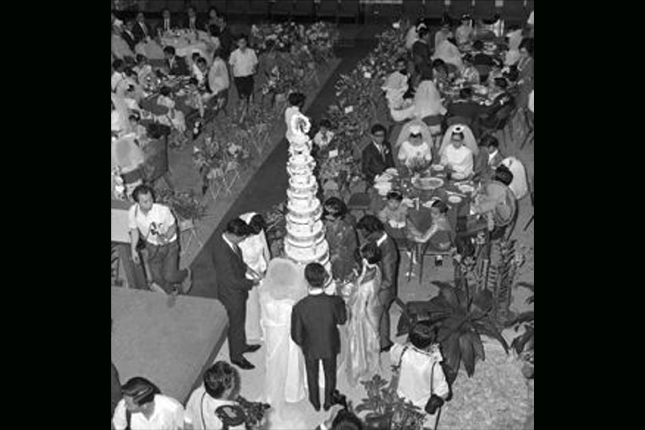 The first televised mass wedding in Singapore held at the Former Singapore Conference Hall and Trade Union House (Singapore Conference Hall today), 1969.
Courtesy of The Straits Times, Singapore Press Holdings Limited. Reprinted with permission.
Marketing the Mass Wedding (1970s - 1980s)
"Imagine a wedding with more than a thousand guests, followed by a dream holiday abroad – for which you pay a mere $3,000." – "I do... and so do we", The Straits Times, 3 April 1988.
The trend of mass weddings in Singapore continued in the 1970s and 1980s, although the driving force behind such events were by then tour operators and travel agencies such as Singapore Cultural and Entertainment Tours, Oxley Tours and Sino-America Tours. These operators often co-opted other relevant parties including the Social Development Section (SDS) and Singapore Airlines.
Mass weddings were packaged with honeymoon trips to attract a new set of consumers. Held at the Neptune Theatre Restaurant, Shangri-La Hotel and even the Tanjong Pagar Railway Station, these mass weddings were marketed as romantic and convenient alternatives, with the added advantage of a honeymoon abroad at affordable prices.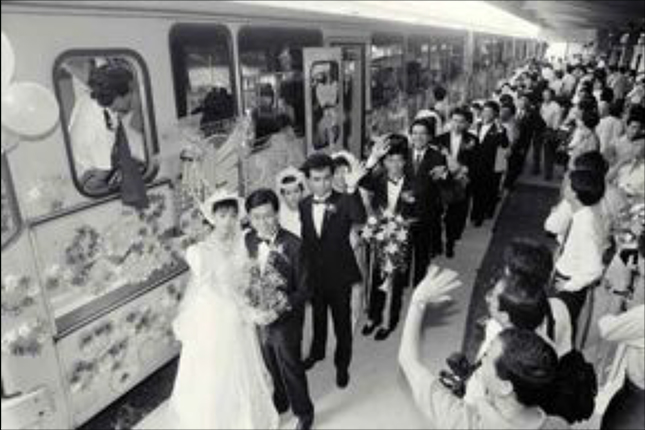 "Mass wedding couples have a 'rail' good time" (at Tanjong Pagar Railway Station) published in The Straits Times on 18 September 1989, p. 17. The Tanjong Pagar Railway Station was gazetted a National Monument in April 2011.
Courtesy of The Straits Times, Singapore Press Holdings Limited. Reprinted with permission.
Mass Weddings
Revived (2000s)
By the 1990s, mass weddings had largely disappeared from Singapore as a result of a vastly different socio-economic environment. Personalised, customised and individualistic weddings became the norm. Nevertheless, in recent years, mass weddings have seen a surprising revival in Singapore. Mostly held on unusual or 'auspicious' dates, these mass weddings are now unique rarities organised for a variety of reasons. For example, the 2008 mass wedding organised by the Hokkien Huay Kuan was an effort to highlight the history and involvement of the clan association in the practice of mass weddings in Singapore. In the same year, the Sultan Mosque Malay mass wedding was held to foster closer links between families and the com- munity. In addition, the Botanic Gardens held a mass wedding for 150 couples on the 'special' date of 20 September 2009 (or 20.09.2009) to celebrate its 150th anniversary, while the People's Association Family Life Section, in collaboration with Lianhe Zaobao and Sentosa Leisure Group, organised a mass wedding on 10 October 2010 (or 10.10.2010) to encourage more Singaporean couples to wed.
The Ties that Bind
Religious monuments in Singapore have been featured as backdrops in wedding photographs ever since wedding photography emerged from indoor studios to the outdoors. Many of these religious monuments were established in the 19th and early 20th centuries, when the diverse ethnic backgrounds of migrants resulted in the construction of churches, temples, mosques, synagogues and other religious buildings. Besides serving as places of worship, these buildings also supported networks and welfare organisations that sheltered migrants, provided financial aid and helped to improve the lives of their communities. Naturally, these prayer halls and sanctuaries have over the years witnessed countless wedding solemnisations and played host to numerous wedding receptions, thus securing the religious monuments' place in their worshippers' treasured wedding albums.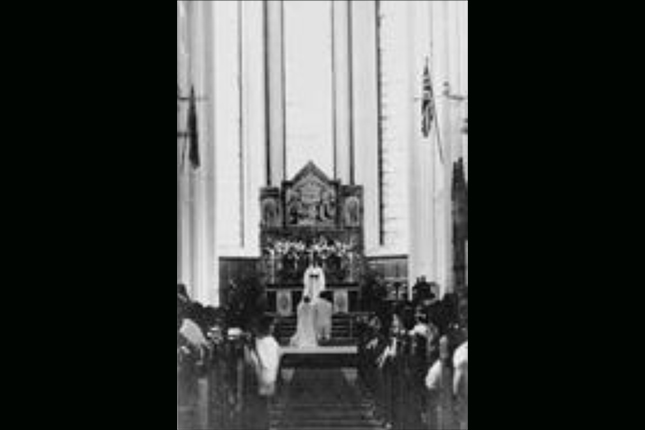 A wedding service conducted by D. D. Chelliah in St Andrew's Cathedral, 1950s.
Leaena Tambyah Collection, courtesy of National Archives of Singapore.
A Part of the Family – Sri Srinivasa Perumal Temple
For Chandra, the Sri Srinivasa Perumal Temple has a towering presence in his family history and childhood. His grandfather, P. Govindasamy Pillay, who established the PGP stores which sold sundries, spices and textiles, was the founder-member of the Indian Chamber of Commerce. Pillay contributed generously to the temple, especially to the building of the five-tiered gopuram or entrance tower completed in 1979. Realising that the Hindu community needed a communal space for wedding ceremonies and celebrations, Pillay also funded the building of the wedding hall, where Chandra's family and members of the Indian community have since held their weddings.
As a child, the temple served as a playground to Chandra and his siblings. He fondly remembers his mother taking them around the temple, sharing its stories and its various sculptures, paintings and decorative features.
Chandra now resides in the United Kingdom with his wife, Gail. When the couple decided to get married, they chose to return to Singapore to hold a traditional Hindu wedding ceremony at the Sri Srinivasa Perumal Temple. The temple remains a focal point for Chandra's family as they continue to actively worship and participate in the various festivals and activities held at the temple.
"Now that I'm living in the UK, it's really important to reconnect with the community in general when I come for my very short visits and the temple facilitates that. We come here in the evening and we're pretty sure that some of my relatives, friends are going to be here after work for prayers as well."
– Chandra.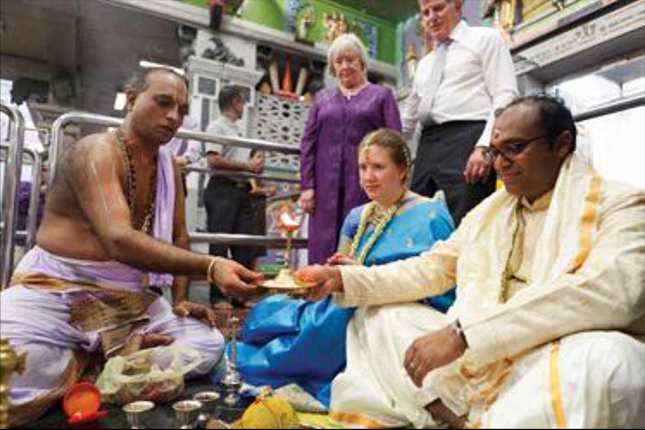 Chandra Sekar Ramanujan and Gail Hayward at Sri Srinivasa Perumal Temple, 23 November 2011.
Courtesy of Teo Sze Lee.
Since it was first built in 1855 as a simple brick building with a main hall, the Sri Srinivasa Perumal Temple has been an important religious centre for the Indian community in Serangoon – an area with a large concentration of Indian-run brick kilns and cattle farms in the 19th century that attracted numerous Indian migrant workers.
Gazetted as a national monument in 1978, the temple remains a focal point for the celebration of key Hindu festivals such as Brahmotsavan, Deepavali and Thaipusam.
Four Weddings and a Monument - Maghain Aboth Synagogue
Justin and Joelle were married on 20 March 2011 at the Maghain Aboth Synagogue. The synagogue has been an important witness to the weddings of four generations in Joelle's family. Her great-grandmother, grandmother and mother all exchanged their vows under the cloth canopy in the synagogue. This canopy or covering, known as the chuppah, is a symbol of the home the couple will build together. Many couples from the tight-knit Jewish community were also married under it. Joelle's family continues to worship at this synagogue and Joelle's father, Victor Sassoon, is President of the Jewish Welfare Board. Their family actively contributes to this monument and the Jewish community.
"The Maghain Aboth Synagogue is a place for communal activities and prayer for our Jewish community. It is the longest standing structure in our community, and the first place that brings the community together on a regular basis. The synagogue gives our community a sense of belonging and permanence and we hope that this will continue to be clearly communicated for future generations."
– Joelle
The Maghain Aboth Synagogue, the oldest synagogue in Southeast Asia, was established in 1878 to serve a growing Jewish population in Singapore.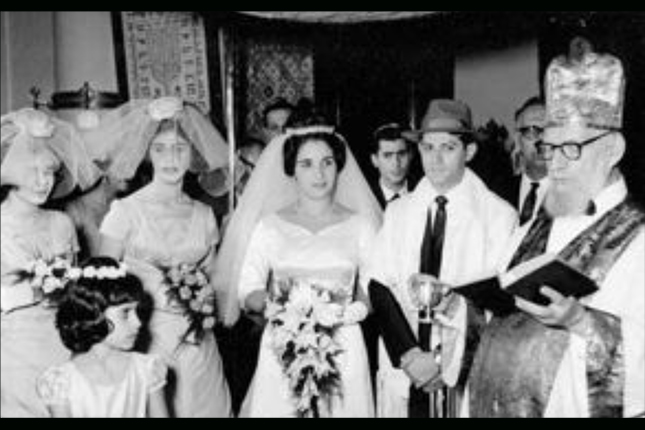 Frank and Mavis Benjamin at their wedding solemnization at the Maghain Aboth Synagogue, 1963. Frank Benjamin is the founder of FJ Benjamin Holdings Limited.
Courtesy of Frank and Mavis Benjamin.
Today, the synagogue continues to play an important role in the communal life of the local Jewish community, who gather at the synagogue to celebrate weddings and participate in religious festivals such as Yom Kippur and Simchat Torah.
A Call to Prayer and Love - Sultan Mosque
Shah and Syahidah's paths were destined to cross. They were both regular worshippers at the Sultan Mosque when they met at the Raffles Hotel where they worked.
Shah attended Friday prayers at the mosque where his mother was also a regular worshipper.
Syahidah went for prayers at the mosque, which has been an integral part of her life since she was a child. Her grand-mother, who came to Singapore from Indonesia, settled in Kampong Glam where she first began attending the mosque. It was to the mosque that her grandmother fled when the Maria Hertogh riots erupted. Two generations on, Syahidah's family continues to worship at the mosque.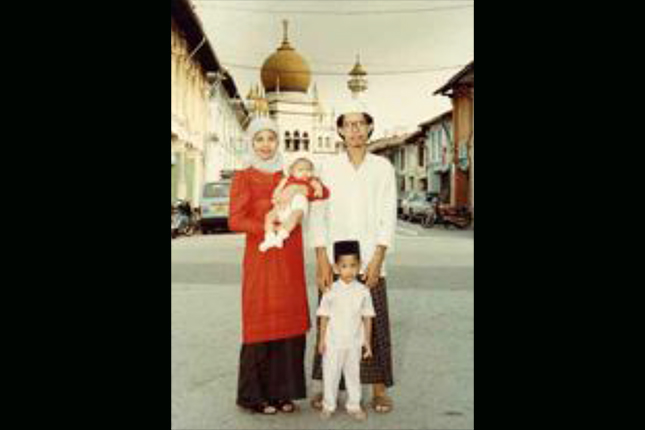 The bride seen as a babe in arms with her family in front of the Sultan Mosque, 1986.
Courtesy of Nur Syahidah Bte Mohd Zin and family.
For Shah and Syahidah, holding their wedding at Sultan Mosque was meaningful not only for themselves but also their families.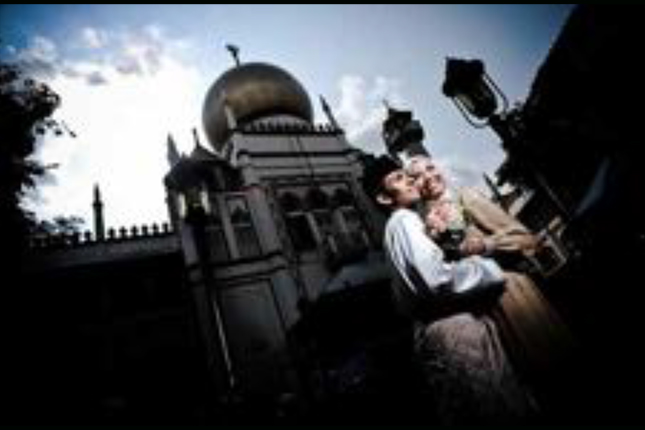 Mohammad Shah Bin Sulaiman and Nur Syahidah Bte Mohd Zin at the Sultan Mosque, 9 July 2011.
Courtesy of Khairuzamani Bin Mohamed Noor.
Today, the couple continues to frequent the mosque which remains the centre of their spiritual life, and they hope to bring their newborn daughter there as well.
Sultan Mosque took its name from Sultan Hussein (appointed by Sir Stamford Raffles as the Sultan of Singapore), who requested that a mosque be built near his Istana in Kampong Glam. The original mosque was a single-storey brick building with a double-tiered roof completed in 1826. The current mosque, designed by Swan and MacLaren, was completed in 1928 with its distinctive golden domes. Sultan Mosque continues to be an important centre of religious, cultural and social activities for Muslims.
Wong Hong Suen is Assistant Director, Research and Education, Preservation of Monuments Board. Research and Education Team: Sharon Low and Joyce Yip.
Monumental Backdrops
Rising sentiments have surged in recent years towards Singapore's past. A wave of nostalgia has swept the nation, perhaps triggered by the pace of urban renewal. Singapore's zest for modernisation and development led to a period of intense urban renewal, starting from the 1960s. As more and more buildings fell to the wrecking ball, familiar landscapes began to vanish, igniting public discussions on the emotional ties and social memories that places and buildings evoke as markers of identity and history; and consequently, the need for preservation and conservation.
With heritage at the forefront of public consciousness, 'vintage' has become fashionable and trendy. As buildings of great historical, architectural, social and cultural significance, Singapore's national monuments have seen a surge in popularity among couples caught up in this wave of nostalgia and in search of something unique and special for their wedding albums. Mostly designed and constructed in the 19th and early 20th centuries, these monuments often feature beautiful architectural elements such as sweeping staircases, intricate carvings and sculptures, towering classic columns, steeples and minarets, and majestic domes. Their distinctive façades and use of geometric shapes and sharp clean lines serve as beautiful and unique backdrops against which wedding couples are framed, injecting a sense of elegance and grandeur into their photos. Furthermore, as historic buildings that have withstood the test of time, these monuments convey a feeling of timelessness, lending gravitas to the wedding pictures and highlighting what couples aspire for their marriages.
These wedding photographs showcase archetypal wedding pictures taken at popular national monuments with interesting stories of the monuments as well as the couples' journey into marriage. They were contributed by couples who shared their stories and by photographers who shared their work.
Raffles Hotel
Did you know?
The main building of the Raffles Hotel was designed by Regent Alfred John Bidwell, a graduate of London's Architectural Association and a member of architectural firm, Swan and MacLaren. It was opened with great fanfare on 18 November 1899 and introduced innovations such as electrical lights and fans. Its magnificent façade of louvre, fanlight-arched windows facing the seafront greeted visitors en route to other destinations as well as globetrotters on around-the-world cruises made popular by the opening of the Suez Canal in 1869.
St Joseph's Church
Before they were an item, Jordan invited Candice to attend mass with him in St Joseph's Church. Candice immediately felt a special connection to the church and was eventually baptised into the Catholic faith. They are one of the few rare couples who married at the church as it ceased to be a parish with an active congregation in 1999. St Joseph's Church continues to be a focal point in the couple's lives as they and their families still faithfully serve and worship there.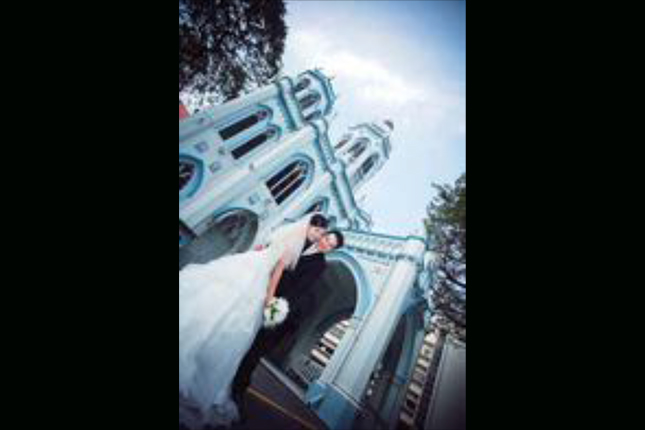 Jordan Ang and Candice Ng at St Joseph's Church, 2009.
Courtesy of Jordan Ang and Candice Ng.
Did you know?
St Joseph's Church stands out among the churches with its unique octagonal belfry tower. Its distinctive blue colour is associated with the city of Fatima, Portugal, where the Blessed Virgin Mary is believed to have appeared to three shepherd children in 1917.
City Hall
Did you know?
A distinguishing feature of City Hall is the row of 18 Corinthian columns that line the façade of the building. Some of Singapore's most pivotal historical moments had been staged on the spacious front steps of City Hall and within its chambers. It was the location where Admiral Lord Louis Mountbatten accepted the Japanese surrender from General Itagaki in 1945, where Singapore was conferred its city status in 1951 and where the new government of Singapore was sworn in after the island became self-governing in 1959. A countdown clock was installed at City Hall when Singapore became the first host nation for the inaugural Youth Olympic Games.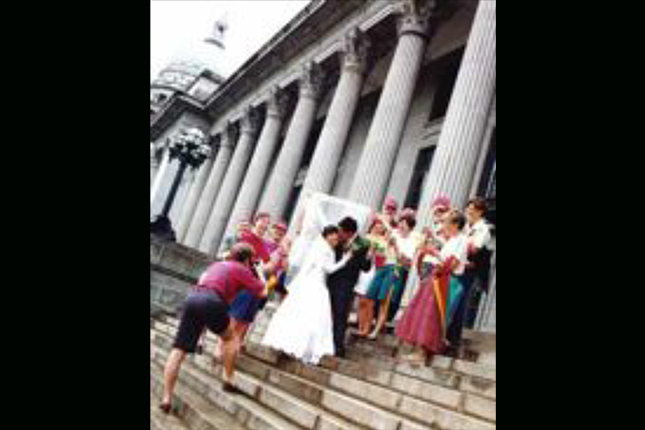 Wedding couple photographed by a group of tourists at the entrance steps of City Hall, c. 1990.
Courtesy of Matthew Tan.
Hajjah Fatimah Mosque
Did you know?
The Hajjah Fatimah Mosque has a beautiful onion-shaped dome with 12 lancet-shaped windows and decorative tiles that circle its interior. The classical onion-shaped dome represents a vertical relationship with heaven, and the sky-lights symbolise the source of light from above.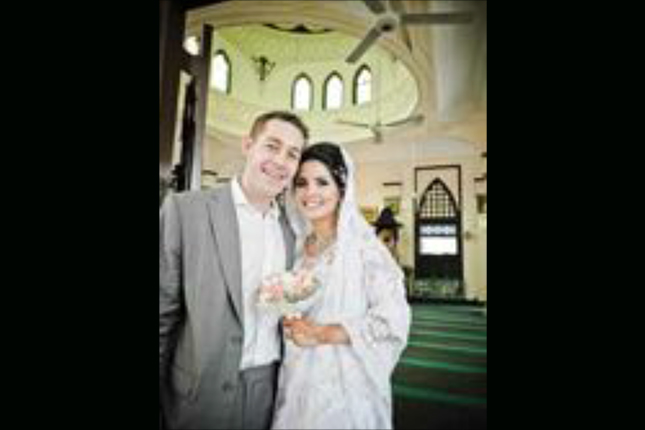 Dominic Lane and Mashita Mohamed Al-Johar at Hajjah Fatimah Mosque, 2010.
Courtesy of Khairuzamani Bin Mohamed Noor.
Raffles College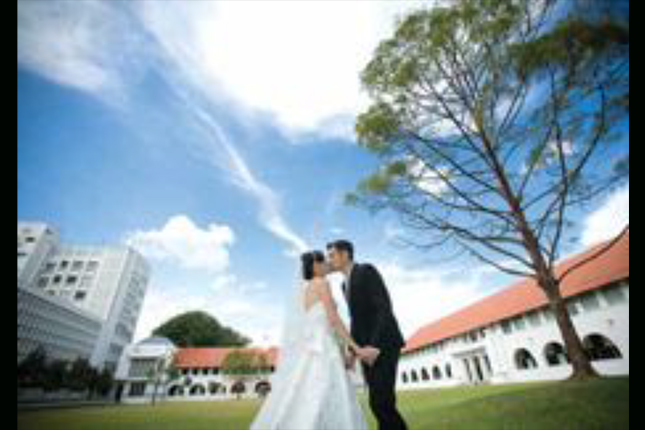 Charlie Yast and Gina Tjeng at the Upper Quadrangle at the Former Raffles College (today's National University of Singapore campus at Bukit Timah), 2010.
Courtesy of Charlie Yast and Gina Tjeng.
Charlie and Gina met during their first year in the Singapore Management University, previously located at the Former Raffles College (today's National University of Singapore campus at Bukit Timah). They attended classes at the Federal Building and played Frisbee in the Quadrangle. A year after they graduated, Charlie proposed to Gina at the Former Raffles College, and the couple decided to take their wedding pictures there to "immortalise those memories of (their) old campus".
Did you know?
The Former Raffles College was established in 1928 as a college for higher education in the arts and sciences and to commemorate the centenary of the founding of Singapore by Sir Stamford Raffles. It has an illustrious group of alumni that includes Dr Toh Chin Chye (Chairman of the People's Action Party from 1954 to 1981, Deputy Prime Minister and Cabinet Minister from 1959 to 1981), Dr Goh Keng Swee (former Deputy Prime Minister) and former Minister Mentor Lee Kuan Yew.
Former Chinese High School Clock Tower Building (Hwa Chong Institution Clock Tower today)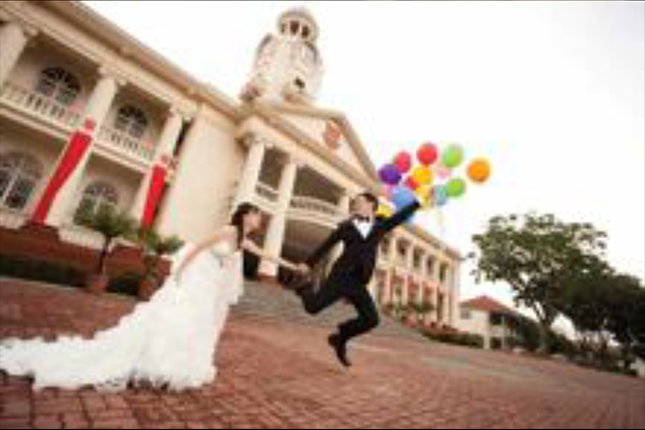 Chow Chiu Wai and Susan Soh at the Former Chinese High School Clock Tower Building (Hwa Chong Institution Clock Tower), 2012.
Courtesy of Chow Chiu Wai and Susan Soh.
Chiu Wai and Susan, both teachers at Hwa Chong Institution, chose to take their pre-wedding shots at the school where they first met and where their love blossomed.
Did you know?
The Former Chinese High School Clock Tower Building (today's Hwa Chong Institution Clock Tower) played an important role in the history of Singapore. It was used by Allied defenders as their headquarters during the Battle of Singapore and, subsequently, by the Imperial Japanese Army for the purpose of surveillance during the Japanese Occupation.
St Joseph's Institution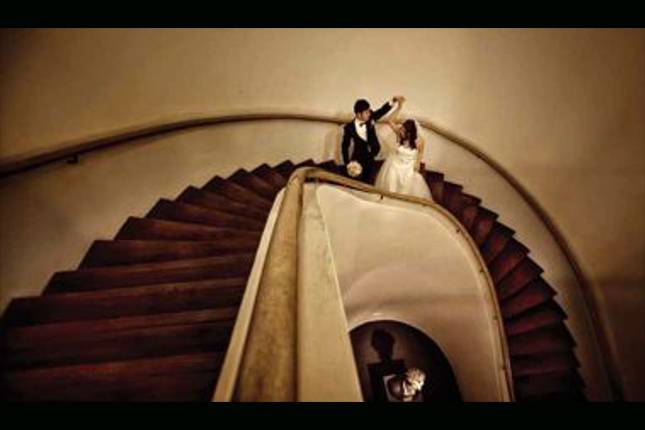 Casey Wai Jia Pink and Rowena Sootoo Yue Mei at the Former St Joseph's Institution (Singapore Art Museum today), 2011.
Rowena remembers visiting the Former St Joseph's Institution (today's Singapore Art Museum) on a school trip and has since admired the building's architecture. As her husband is Malaysian, getting married in a national monument was her special way of sharing her Singapore nationality and identity with him.
St George's Church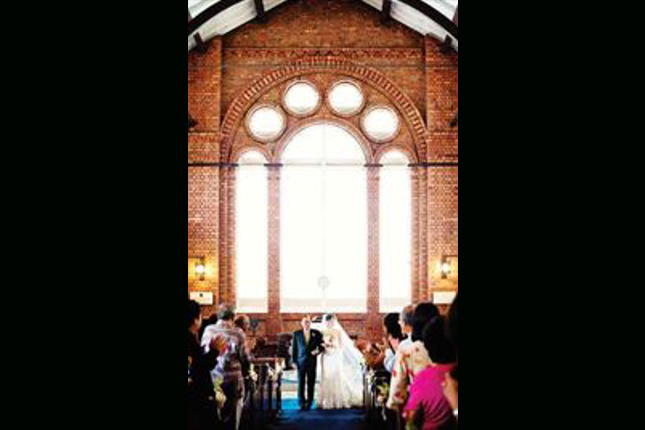 The bride Kristy Fong on the arm of her father who walked her down the aisle of St George's Church. The wedding of Mikaël Bonny and Kristy Fong, 3 September 2011.
Courtesy of Mindy Tan.
Did you know?
The north wall of St George's Church is dominated by a simple but starkly beautiful pattern of arched windows, with the largest central window highlighted by four circular windows on top with brick detailing. The church is named after St George, the patron saint of England. Legend has it that there was a dragon plaguing the city of Silene in Libya, demanding the sacrifice of young women. A knight by the name of St George fought and killed the dragon, an act he attributed to the power of the Christian God. In doing so, St George became the driving force behind the conversion of people to Christianity.
National Museum of Singapore
Roy Thian and Amy Ng at the National Museum of Singapore, 2011.
Courtesy of Raymond Phang.
Courtesy of Mindy Tan.
Did you know?
The National Museum of Singapore's magnificent dome is covered with distinctive zinc fish-scale tiles and decorative glass windows with floral and grid patterns, allowing sunlight to filter through.
Tanjong Pagar Railway Station
Luanne and Kevin met and bonded through a mutual love of motorcycle riding.
Kevin Wong and Luanne Tay in front of the 'Quick Baggage' store of the Tanjong Pagar Railway Station, 2010.
Courtesy of Bryan Foong.
The Tanjong Pagar Railway Station was a favourite rest stop between their frequent rides. As Luanne put it,
"Parking was free, dining was alfresco, and we could admire each others' steeds in between bites. What better way to fall in love?"
Did you know?
The Tanjong Pagar Railway Station and its tracks stood on land that belonged to Malaysia until recently. The Singapore Railway Transfer Ordinance of 1918, enacted when Singapore and Malaysia were still British colonies, had mandated that the Tanjong Pagar Railway Station (as well as the Bukit Timah Railway Station) be transferred to the Federated Malay States Government. The station was gazetted a national monument in April 2011.