TL;DR
Did you know that eight out of the eleven public holidays in Singapore are celebrations originating from our various religions and cultures1? Singapore today is known to be a colourful mix of cultures, faiths, and communities. Naturally, our festivals are a rich celebration of our multicultural heritage, as we get to indulge in the sights, sounds, and flavours from our diverse origins.
A migration of festivities
To truly understand how Singapore became such a melting pot of cultures, we have to go back two centuries to when the country was first established as a bustling trading hub of the region.
Singapore's special position on the world map naturally put it in the middle of many trade routes. Vessels from all over the world stopped here to resupply or trade. Immigrants from China, India, and the Malay Archipelago, among others, flocked here to seek greater fortunes.
After long, treacherous journeys by sea, many of our forefathers built places of worship along the coast at Telok Ayer Street. Temples, mosques, churches, and shrines were established for the immigrants to give thanks to their gods2 for providing them safe passage, and to ask for blessings in the new chapter of their lives. Telok Ayer Street is today the street with the most number of national monuments in Singapore. With the freedom to practise their faiths freely, our immigrants also brought with them the festivals celebrated by the Muslims, Hindus, and the Chinese – festivals that have grown to become the vibrant spectacles of modern Singapore.
Let's begin our festival journey with the first celebration of the year.
Pongal
Usually in: January, place of origin: India
A beautiful festival of offering thanks to nature, Pongal is traditionally a harvest festival originating from South India celebrated in the beginning of Thai, the tenth Tamil month. Cooked rice is traditionally offered to the deities to thank them for a bountiful harvest3.
The Pongal bazaar at Campbell Lane4 is where local Indians can find their favourite goodies and buy offerings such as the Indian sugar cane, ginger and turmeric plants, and devotional milk pots5.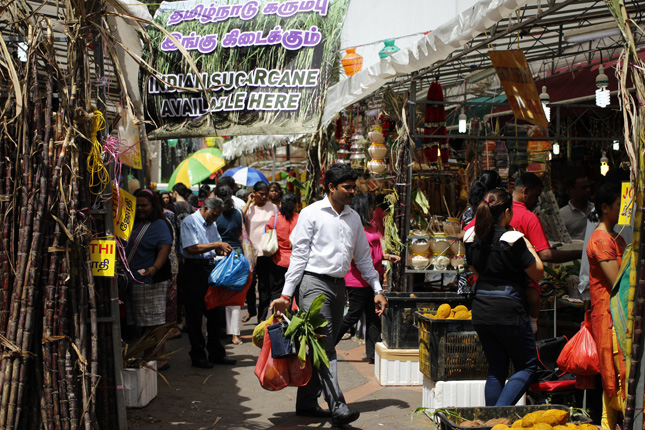 The Pongal bazaar is a feast of the senses and perfect for immersing yourself in the festival atmosphere. (c. 2015. Image from ghettosingapore.com)
Lunar New Year
Usually in: January or February, place of origin: China6
Squeezing through the crowds at the Chinatown night market7 in the month leading up to Lunar New Year is perhaps an experience every Singaporean Chinese gladly shares. Entire streets decorated in splashes of red and gold, massive light displays8, long queues outside popular bakwa (barbecued pork) stalls9, and street vendors loudly touting traditional goodies and introducing the latest flavours.10
Lunar New Year is the most anticipated festival among the local Chinese community. Celebrated on the first day of the Chinese Lunar Calendar, the entire fiesta lasts 15 days. On New Year's Eve, every Chinese, no matter which corner of the world they might be in, would return home to their family for a reunion dinner.11 After the meal, many families would gather around the TV to watch the countdown performance broadcasted from Chinatown.12
The following morning, everyone puts on new clothes to welcome new beginnings, and visit their relatives to exchange blessings13, never once taking a break from the mouth-watering pineapple tarts, and other festival snacks. This goes on for two weeks, punctuated by steamboat dinners, yusheng ceremony (raw fish salad tossing)14, and even more gatherings with friends and relatives.15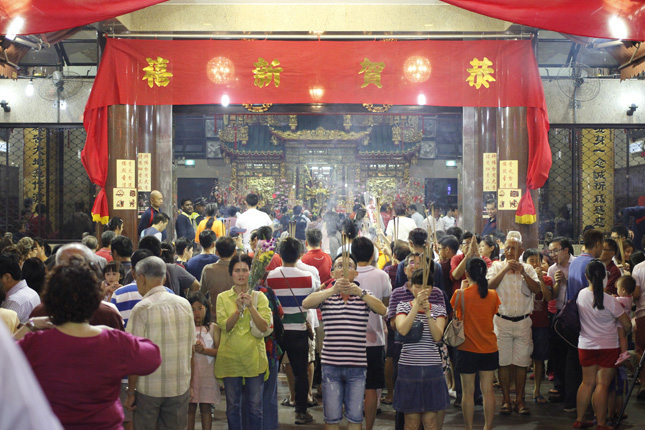 The Kwan Im Thong Hood Cho Temple is packed with devotees every Chinese New Year's Eve offering their prayers. Many believe that the first person to offer their incense will receive bountiful blessings during that year. (c. 2015. Image from ghettosingapore.com)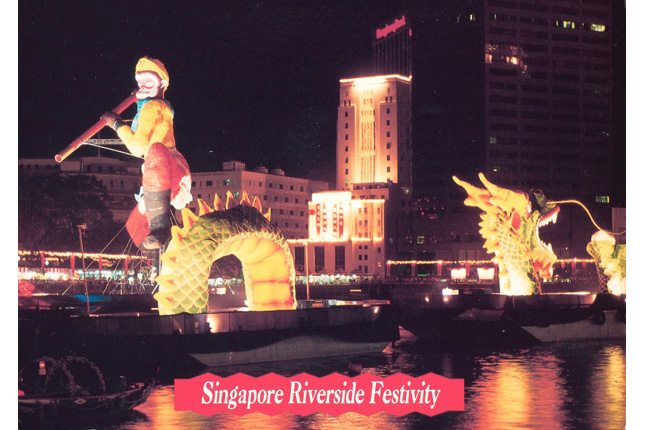 The River Hong Bao is a week-long extravaganza16 held every Chinese New Year along the Singapore River since 198717. This five-storey high Monkey God18 was the main attraction for the celebration of the Year of the Monkey. (c. 1992. Image from National Museum of Singapore)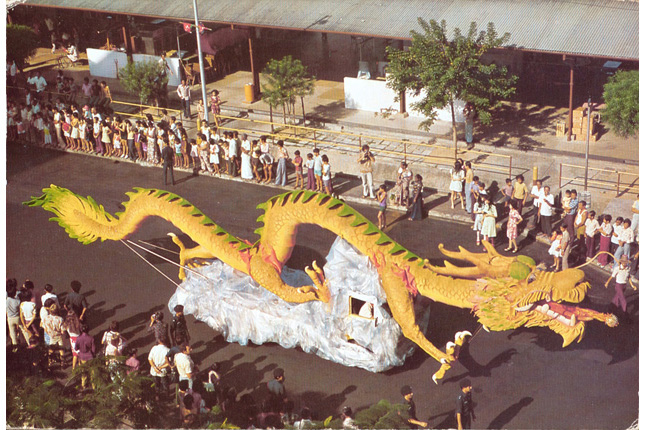 Since 197319, the Chingay Parade is an annual street festival participated by members of every ethnic community. The procession is a multi-sensory spectacle of floats representing different grassroots associations and communities. (c. 1970s–80s. Image from National Museum of Singapore)
Thaipusam
Usually in: January or February20, place of origin: India, religious roots: Hinduism
For Hindus, one of the most powerful ways of showing devotion to their deities takes place at the annual Thaipusam Festival. On the full-moon day in the month of Thai in the Tamil calendar, Hindus in Singapore commemorate the victory of Lord Subramaniam (also known as Lord Murugan) over the evil forces with a vel (spear), an element which has become the most recognisable part of the festival21.
The most pious believers pierce their bodies and faces with hundreds of needles from their kavadi22, a structure of at least 20 kg23 in weight that they carry, and walk barefoot for 3 to 4 km24 as an offering to the deity. This arduous walk of faith stretches from Sri Srinivasa Perumal Temple to Sri Thendayuthapani Temple. Devotees are usually cheered on by close friends and families, who walk together with them while carrying palkudam (devotional milk pots)25.
Thousands of bystanders offer additional encouragement along the route, starting on Serangoon Road and finishing Tank Road, eager to be part of the devotees' journey of devotion.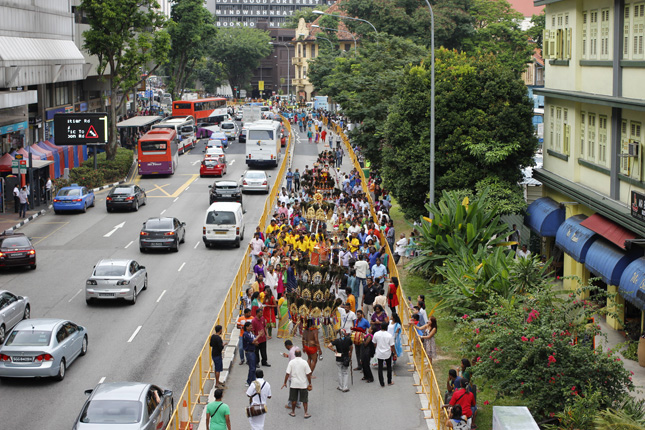 Only the most pious devotees carry the kavadi for this 4-km walk. Here is a shot from the procession along Selegie Road. (c. 2015. Image from ghettosingapore.com)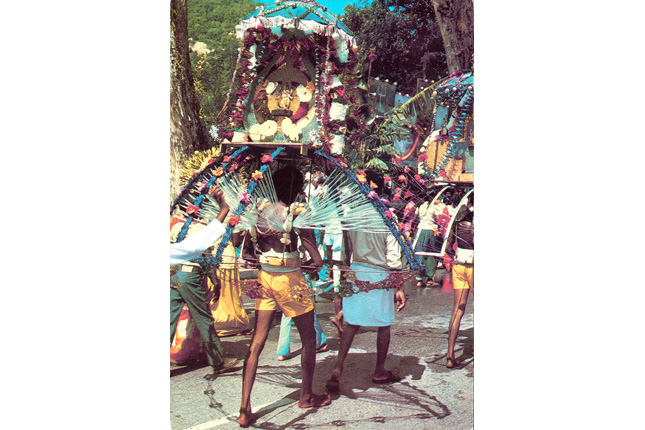 The kavadi is carried primarily with a belt and pierced to the body using hooks, needles and spikes. (c. 1970–1980s. Image from National Museum of Singapore)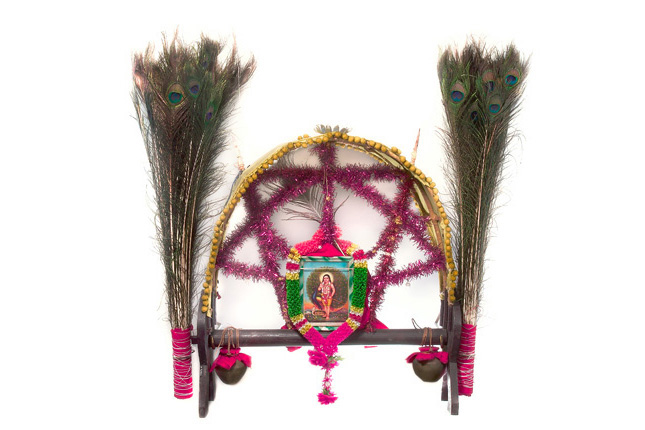 Kavadis are traditionally made of wood or steel, and adorned with peacock feathers, milk pots, flowers, and pictures of deities. (c. 20th century. Image from Asian Civilisations Museum)
Vesak Day
Usually in: May, place of origin: Nepal / Sri Lanka, religious roots: Buddhism
Buddhists from around the world honour Vesak Day as a commemoration to Buddha's birth and enlightenment. Celebrated on the full-moon day of May27, Buddhists come together to remind their communities of Buddha's teachings and to renew their resolutions of leading a life of morality, humility, and simplicity.28
Around Singapore, Buddhists visit temples and offer flowers, joss sticks, and prayers,29 while the more devout perform a "Three Steps, One Bow" ritual to express repentance. Monks also give talks about peace and happiness at temples, and how the 25-century-old teachings apply to the islander's fast-paced urban life.31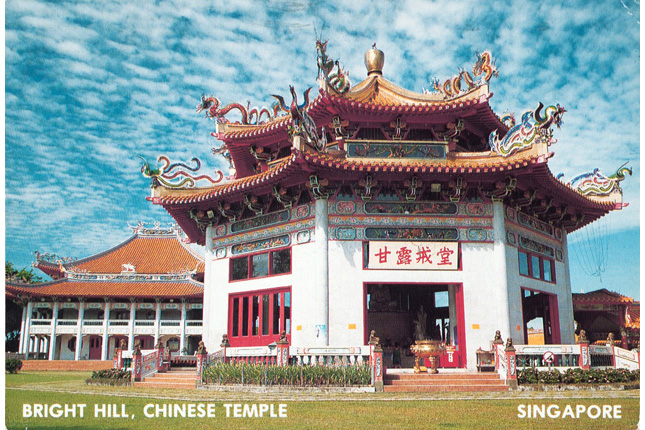 Kong Meng San Phor Kark See Monastery is well known for the "Three Steps, One Bow" ritual performed by its devotees on the eve of Vesak Day every year.
Hari Raya Puasa
Place of origin: Middle East, religious roots: Islam
Hari Raya Puasa, also known as Hari Raya Aidilfitri, is the celebration of the end of Ramadan, the islamic month of fasting and prayer. On the first day of Syawal, or the tenth month of the Islamic calendar, the Muslim community gathers to bond, feast, and to celebrate. As families come together32, the younger generation would take turns to kiss the hand of their elders as a sign of respect, while asking them for forgiveness.33 A beautiful practice common in Southeast Asia, families would put on the same colours when they go out visiting to show their unity.34
The Hari Raya Light-up at Geylang Serai is one of the biggest highlights of the festival, with miles of brightly lit stalls selling a wide variety of Malay culinary delights, gifts, and clothes at the Ramadan bazaar.
During Hari Raya Puasa, we get to indulge in the famous beef rendang (spicy beef stew), ketupat (rice cakes wrapped in coconut leaves), and lontong (rice cakes with coconut gravy). And of course, the celebration isn't complete without the delicious kueh (sweets) and biscuits, which are must-haves for every family.35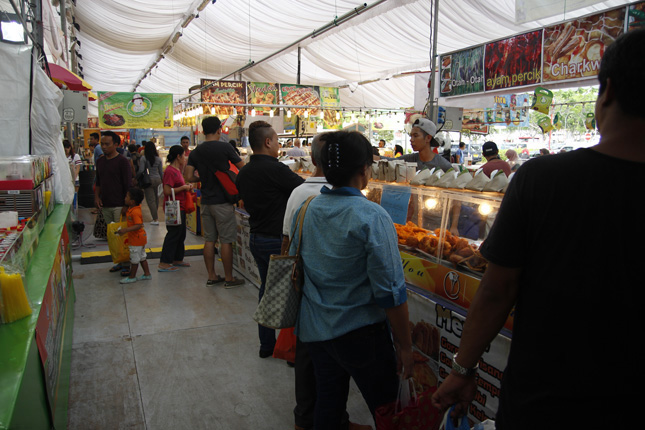 The Ramadan Bazaar at Geylang Serai. (c. 2015. Image from ghettosingapore.com)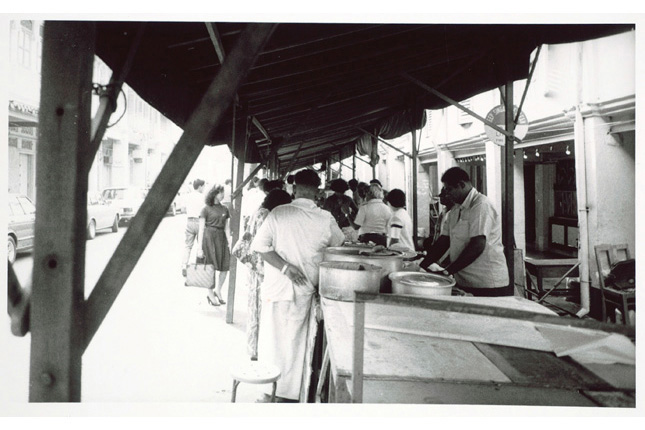 Bussorah street is also the place to enjoy the local Malay culinary delights at temporary food stalls during Ramadan. (c. 1982. Image from National Museum of Singapore)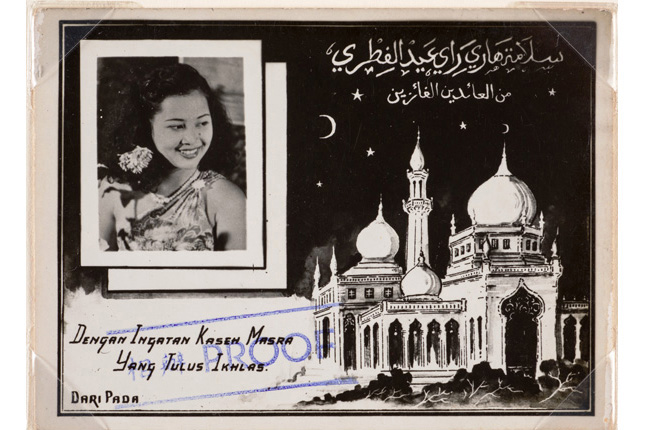 A Hari Raya Aidilfitri greeting card featuring famous Malay actress Mariam. The successful actress starred in many films including Aloha (1950), Aladdin (1952), and Abu Hasan Penchuri (1955). (c. 1960s. Image from National Museum of Singapore)
Hari Raya Haji
Place of origin: Middle East, religious roots: Islam
A sacred festival of sacrifice and sharing, Hari Raya Haji marks the end of Haj37, or the annual pilgrimage to Mecca. Muslims across Singapore gather in mosques for prayers while the Korban ritual is performed. Lambs and sheep are sacrificed and the meat will be distributed to the poor and needy. This symbolic ritual honours Prophet Ibrahim's devotion in offering his own flesh and blood as a sacrifice to Allah.38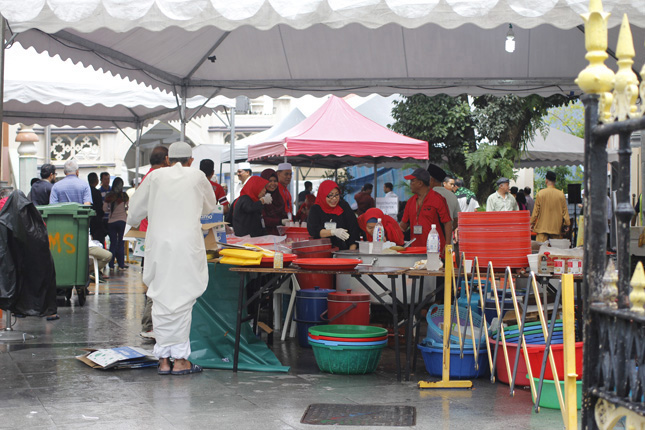 An occasion of sharing and giving, devotees help to distribute meat to the needy on Hari Raya Haji at Sultan Mosque. (c. 2013. Image from ghettosingapore.com)
Mid-Autumn Festival
Usually in: September or October39, place of origin: China
Also called the Lantern Festival among the local Chinese community40, Mid-Autumn Festival is celebrated on the full moon (fifteenth day) of the eighth month of the Chinese lunar calendar.41 Giant lantern displays are put up in Chinatown throughout the month to mark this special occasion.42 On this evening, children parade the streets with their own lanterns while adults come together to eat mooncakes and appreciate what they believe to be the roundest and brightest moon of the year.43
Every year, local bakeries and restaurants use this occasion to come up with creative twists to the traditional mooncake, infusing popular flavours such as durian, strawberry, and even truffles.44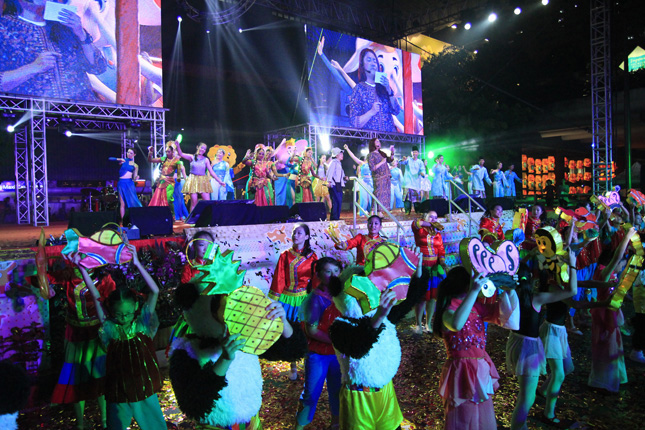 Chinatown is also home to the annual Mid-Autumn Light-Up Ceremony. This is a shot from the finale performance in 2015. (c. 2015. Image from ghettosingapore.com)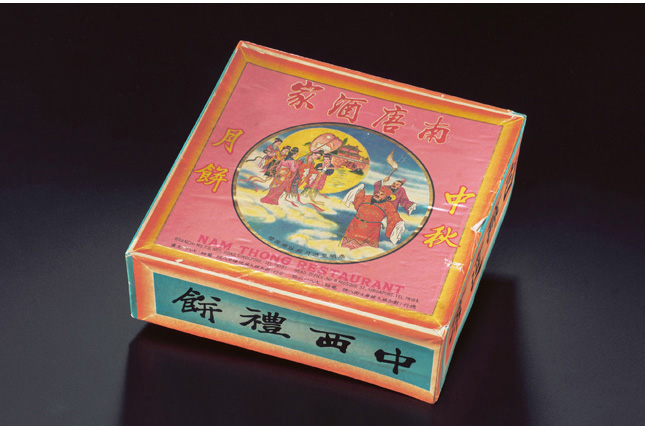 The mooncake, a traditional Chinese pastry eaten during Mid-Autumn Festival, usually comes in exquisite boxes such as this. This packaging came from Nam Thong Restaurant and features an illustration of "Emperor Tang Ming visiting the Moon Palace". (c. mid-20th century. Image from National Museum of Singapore)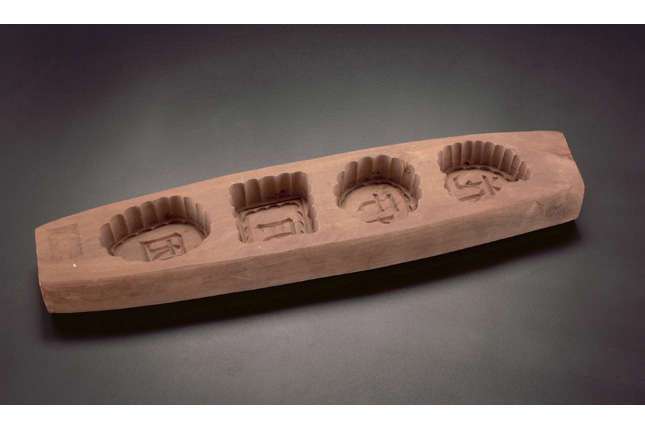 This mooncake mould is made of hardwood. The four motifs seen her are the Chinese characters for 花好月圆, signifying a beautiful time of flowers blossoming under the full moon. (c. 1970s. Image from National Museum of Singapore)
Deepavali
Usually in: October or November, place of origin: India, religious roots: Hindusim
The Festival of Lights is one of the most important festivals for Hindus.45 This day is a celebration of the victory of Lord Krishna over King Narakasura, the triumph of good over evil, and light conquering darkness.46
Little India bursts into life with hundreds of metres of decorative lighting, bazaars, and celebratory activities, as devotees flock to the temples to offer their prayers.47 Follow the scent of floral garlands and incense as you browse through the colourful stalls filled with traditional snacks, embroidered sari (traditional Indian womenswear), and thousands of bangles.48
The Sri Mariamman Temple, the oldest Hindu temple in Singapore49, also hosts a fiery spectacle a week leading up to Deepavali. Here, you can join thousands of devotees as they walk on burning charcoal as a tribute to the goddess Sri Drowpathai Amman.50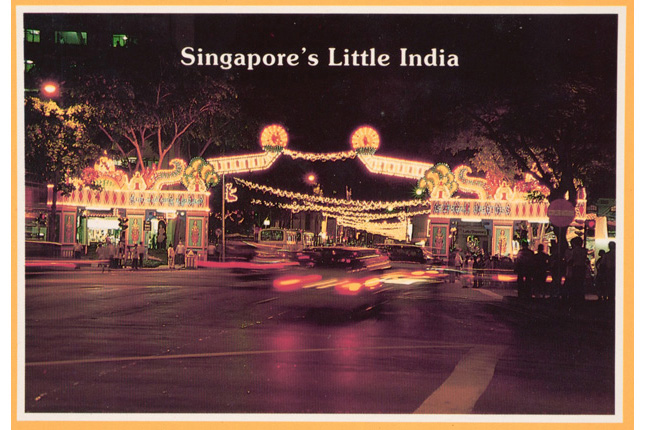 Deepavali in Singapore's Little India has always been a brightly lit and colourful event. (c1980s. Image from National Museum of Singapore)
Christmas
Falls on: 25 December, place of origin: Rome, religious roots: Christianity
In December every year, malls along Orchard Road showcase their themed decorations and Christmas trees, turning the entire shopping street into a parade of lights.51 Our tropical Christmas is celebrated by most as an occasion to indulge in our favourite hobbies – eating and shopping. Christmas menus pop up in every restaurant and our retail outlets lure in shoppers with Christmas sales and promotions.52
For the Christians in Singapore, the season of sharing brings the community together in churches for prayers and midnight masses. Traditional Christmas meals take on a creative local twist, infused with our favourite spices such as ginger, chilli, and even curry.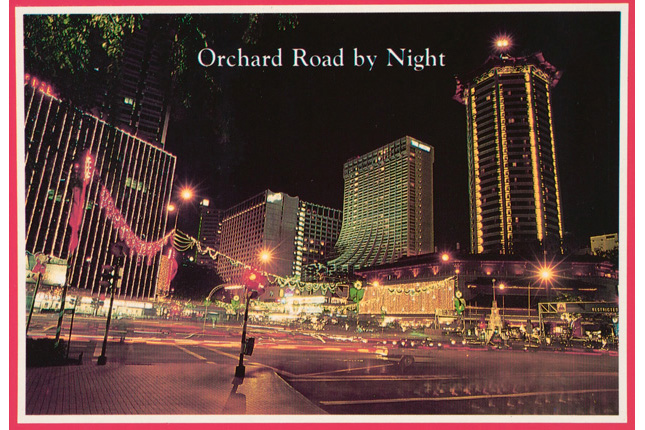 When night falls, that's when the real show on Orchard Road begins. Over the years, the Christmas decorations have gotten increasingly creative and magnificent. (c. mid 1980s. Image from National Museum of Singapore)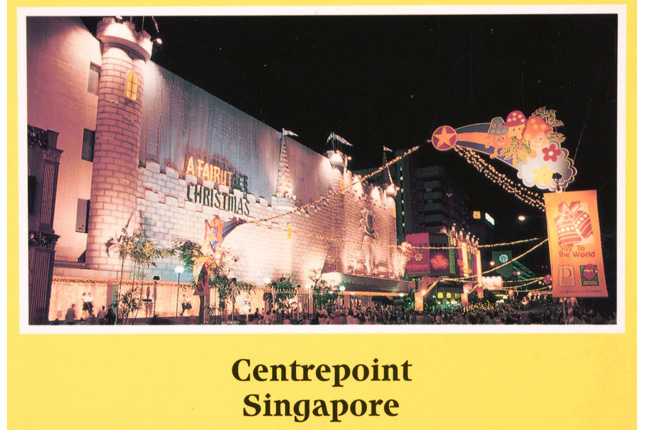 Centrepoint is always one of the malls that boast the most spectacular decorations. (c.mid–late-1980s. Image from National Museum of Singapore)