Edmund William Barker, better known as E.W. Barker (b. 1 December 1920, Singapore - d. 12 April 2001), was one of the prominent members of the 'Old Guard' that led Singapore from its early days of Independence. For 25 years, he served as the Minister of Law on top of other portfolios that included Home Affairs, National Development, Science and Technology, Labour, and Environment.
Minister for Law E W Barker visiting Kallang Gas Works in 1964. (Image from National Archives of Singapore)
Early Years
A gifted sportsman from young, Barker began his education at Serangoon English School and Raffles Institution, excelling not only in his studies, but representing the school in an array of sports that included badminton, cricket, soccer, rugby and hockey. In 1946, he gained the prestigious Queen's Scholarship and went on to study at St. Catherine's College, Cambridge University, where he graduated with honours in 1948.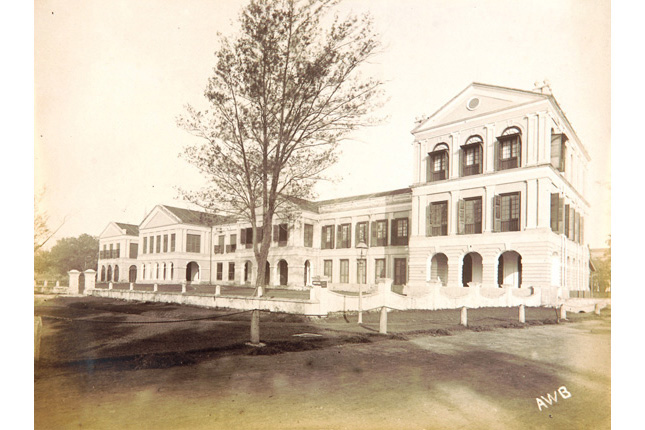 Formerly located along Bras Basah Road where Raffles City is today, Raffles Institution was first established back in 1823 by none other than the founder of Singapore, Sir Stamford Raffles. (c.1920)
Career & Accomplishments
From 1952 to 1964, E.W. Barker practiced law in Singapore before he entered into politics, where he was elected as the Member of Parliament (MP) for Tanglin, a seat he held for 25 years without any contest through six elections before stepping down from office in 1988.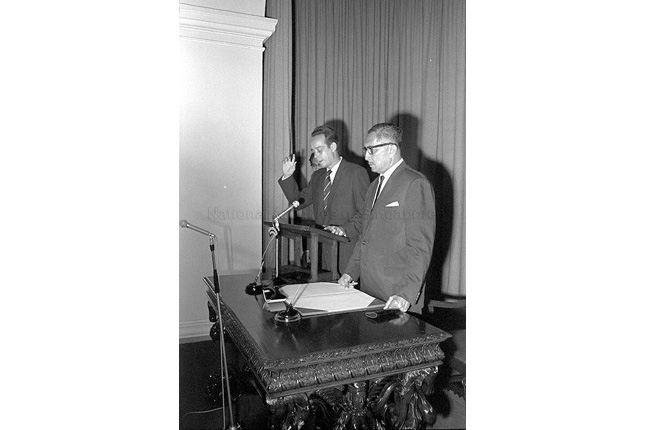 Swearing-in of Minister for Law E. W. Barker at Istana Negara in the presence of Yang Di-Pertuan Negara of Singapore, Yusof Bin Ishak (c.1964. Image from National Archives of Singapore)
Throughout his political career, Barker was also appointed the Speaker of the Legislative Assembly (22 Oct 1963 - 30 Oct 1964) and was one of the longest serving Ministers for Law in the Commonwealth.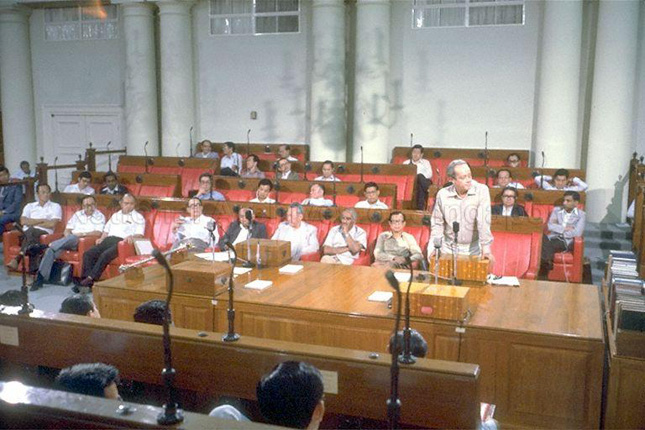 Law Minister E. W. Barker speaking at a Parliament sitting in 1981. (c.1981. Image from National Archives of Singapore)
Besides being a more than capable minister and leader of the house, Barker was also constantly raising the bar for Singapore's sports scene, acting as an administrator and leader during Singapore's early days of self-governance. He motioned for the construction of the National Stadium, persuading the Government to allocate land and financial resources for it, and was also the President of the Singapore National Olympic Council (SNOC) from 1970 to 1990. Barker was also part of the main organising committee that saw Singapore successfully host the 12th and 17th Southeast Asian Games, and for his contributions, he was awarded the Olympic Order (Silver) by the International Olympic Committee in 1985 and the Distinguished Service Award of the USA Sports Academy in 1983.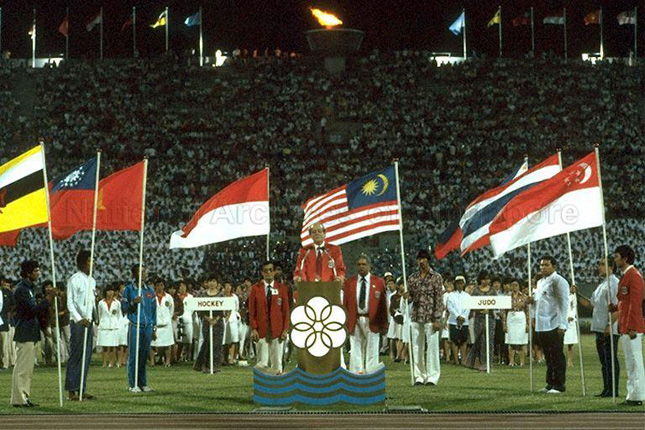 E. W. Barker giving a speech at the Closing Ceremony of the 12th Southeast Asian (SEA) Games, of which he was the SEA Games Federation Council President alongside his portfolio of Minister for Law and Labour. (c.1983. Media Image No.: 19980006938 – 0103. Image from National Archives of Singapore)
Later Years
In recognition of his contributions to Singapore's sports scene, there are numerous sports related scholarships and programmes dedicated to Barker, including the E.W. Barker Scholarship (Nanyang Technological University), E. W. Professorship (National Institute of Education) and the EW Barker Institute of Sports that was founded in 2011 to serve as the hub for sports-related scholarship, teaching and practice at Raffles Institution.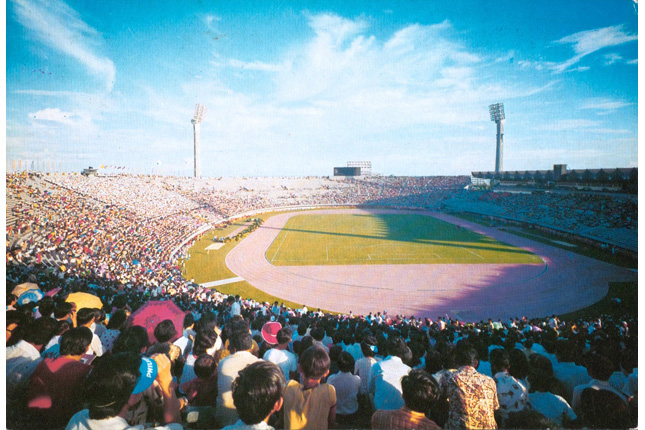 E.W. Barker was very much instrumental in the construction of the National Stadium that would go on to not only host key sporting events like the 7th Southeast Asian Peninsular (SEAP) Games in September 1973, but also the site of many memorable National Day Parades. (c. 1970s-1980s)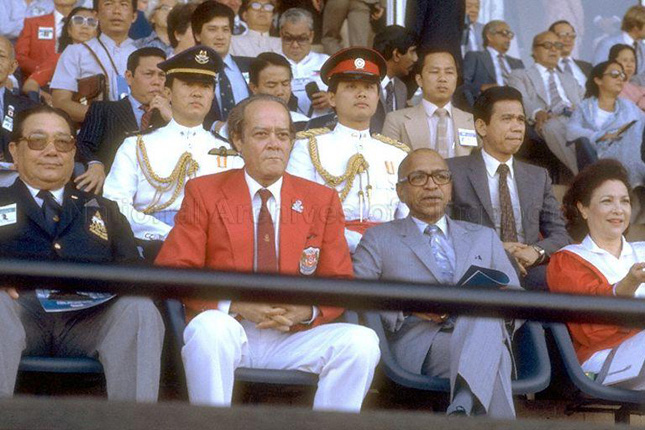 E. W. Barker sits alongside Singapore President Devan Nair (in grey suit) watching the 1983 Southeast Asian Games football final between Singapore and Thailand at the National Stadium (Image from National Archives of Singapore)