Text by Iskander bin Mydin, Deputy Director (Curation & Collections), National Museum of Singapore
Images: National Museum of Singapore
BeMuse Volume 3 Issue 4 - Oct to Dec 2010
Gifts are an integral part of human interaction. Throughout recorded time, gifts have been given and exchanged in varied situations and transactions. At the highest level of societal interaction, official gifts or State gifts comprise a unique category of gifts. They are symbolic artefacts and the presentation and exchange of gifts among the parties involved in the process shapes the nature of relationships that develop between them. In this exhibition presented by the National Museum of Singapore from 22 September 2010 to 9 January 2011, a selection of 50 State Gifts from the collection of the President's Office at the Istana were being displayed for public viewing for the first time in the museum.
The State Gifts exhibited covered the period from 1962 to 2009 and encompassed the terms of office of the six Presidents of Singapore since independence. The Presidents in their capacity as Head of State received these gifts from foreign leaders or their representatives from countries with which Singapore had diplomatic ties. The gifts were formally presented on occasions such as official State visits or courtesy calls made by foreign dignitaries on the Singapore President or during the President's state visits to foreign countries. These gifts now in the collection of the President's Office have, over time, become a symbolic legacy of the diplomatic contacts established between the Singapore Presidency and its foreign counterparts.
The Singapore Presidency
The Singapore Presidency came into existence as a symbolic and ceremonial institution following Singapore's independence in 1965. In the early years of independence, the President became a national symbol both locally as well as in the international arena. At the national level, he symbolised the form and ceremony of constitutional government in Singapore as seen in his formal opening of Parliament and delivery of the Opening Address. In the international arena, he became a symbolic manifestation of the new nation's identity and values in his interaction with representatives of sovereign nations.
A significant development in the evolution of the Singapore Presidency took place in 1991 when Parliament passed a Constitutional amendment to create an Elected Presidency with custodial powers. Since then, the President has been elected by citizens to a six-year term of office and given veto power over the national reserves and key appointments in the civil service.
Over the years, the Singapore Presidency has grown from a largely ceremonial role to one with an element of independence by virtue of veto powers as defined in the Constitution and vested in the President. In retrospect, the Singapore Presidency has also been shaped by the personal character and stature of its respective incumbents. This can be seen, for example, in the public usage of the term "the people's President" to highlight the close symbolic link that has emerged between the Presidency and the citizenry.
The President – An Overview
Encik Yusof Ishak (1910 to 1970)
Encik Yusof bin Ishak was the first President and served from 9 August 1965 to 23 November 1970. Born in Perak on 12 August 1910 and of Minangkabau descent, he was educated in the former Victoria Bridge School and Raffles Institution in Singapore, and then went into journalism. He rose to become the first Managing Director of the newspaper Utusan Melayu in 1939. After World War 2, he continued in journalism until 1959, when he entered public office.
When Singapore attained self-government on 3 December 1959, Encik Yusof Ishak became the first Malayan-born Yang di Pertuan Negara. After Singapore's separation from Malaysia in 1965, he became President of the newly independent country. In this respect, his role reflected the transitional stages by which Singapore evolved into an independent nation.
As President, Encik Yusof Ishak was determined not to play a wholly ceremonial role and toured many constituencies in order to have direct contact with the people. He also emphasised the new nation's multicultural identity in the aftermath of the failed merger with Malaysia. On the regional and international level, he regarded his role as one that could showcase Singapore's determination to succeed as an independent nation. He died in office on 23 November 1970.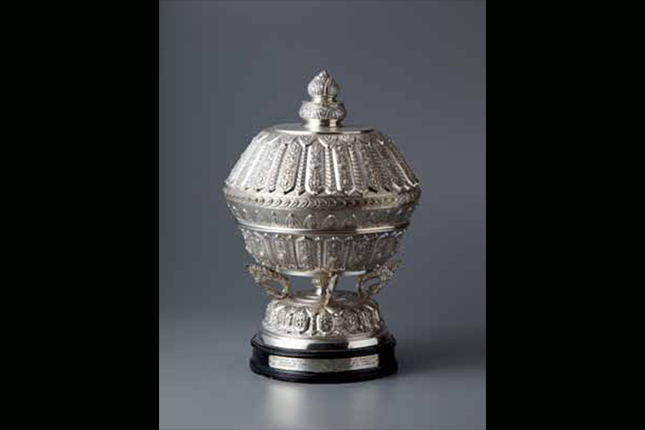 Silver Punch Bowl with Black Stand
The oldest artefact on display, this silver and wood punch bowl is a gift by His Royal Highness Prince Norodom Sihanouk of Cambodia to the late Encik Yusof Bin Ishak in 1962.
Dr Benjamin Henry Sheares (1907 to 1981)
Dr Benjamin Henry Sheares was the second President and served from 2 January 1971 to 12 May 1981. He was born in Singapore on 12 August 1907 and was educated at, among other schools, Raffles Institution and the King Edward VII College of Medicine. He began a career in obstetrics and gynaecology, and rose to become Professor of Obstetrics and Gynaecology at the University of Malaya in Singapore in 1950. After retiring, he went into private practice, having built up an international reputation in his field. It was during this period that he was appointed as President.
Less than a fortnight after assuming his new role, Dr Sheares was thrust into receiving the Heads of Commonwealth delegations arriving in Singapore for the first-ever Commonwealth Conference held in Singapore. He went on to serve two terms of office. Those who knew him noted his readiness to read and ponder over a range of topical subjects when preparing himself for meetings and discussions with foreign dignitaries. He died on 12 May 1981, during the tenth year of his presidency.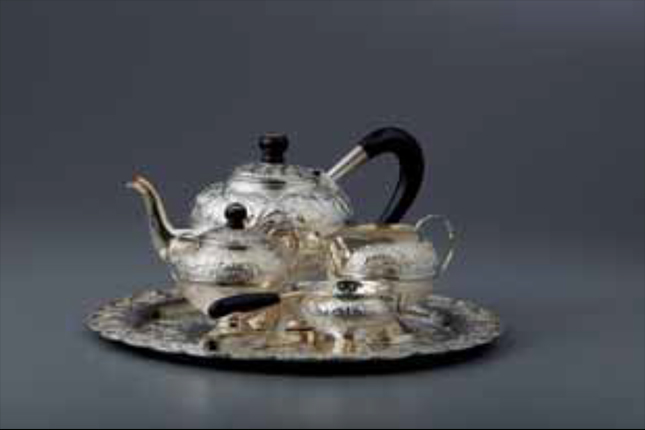 Silver Tea Set
The late Dr Benjamin Henry Sheares was presented this silver tea set by the late Tun Abdul Razak Bin Hussein Al-Haj, Malaysia's second Prime Minister.
Mr C V Devan Nair (1923 to 2005)
Mr C V Devan Nair was the third President and served from 24 October 1981 to 28 March 1985. He was born in Malacca on 5 August 1923 and was educated at Rangoon Road Primary School and Victoria School in Singapore. He became a teacher, and in 1949, the General Secretary of the Singapore Teachers' Union. Although he was detained for extended periods by the British colonial authorities due to his anti-colonial activities, he continued to be a prominent trade union leader. He became the first Secretary-General of the National Trade Union Congress and later, its President in 1979. Mr Nair was elected as Member of Parliament for Anson in a by-election in 1979. He resigned in 1981 to become President. He resigned from the Presidency in 1985 due to health reasons. He died on 7 December 2005.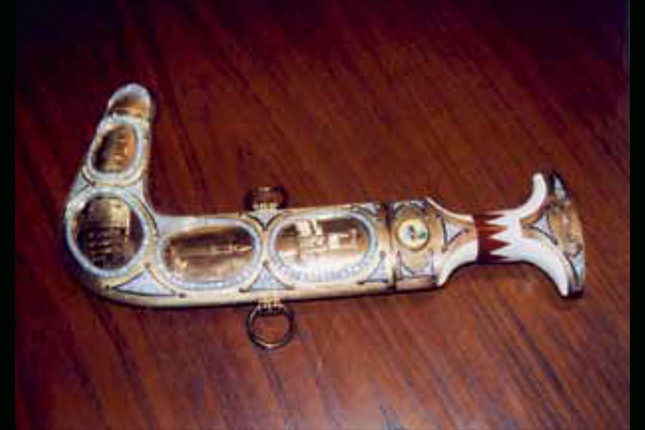 Dagger from Oman presented to the late C V Devan Nair
Courtesy of Janadas and Janamitra Devan, Trustees of the Mr and Mrs C V Devan Nair Trust.
Dr Wee Kim Wee (1915 to 2005)
Dr. Wee Kim Wee was the fourth President and served from 2 September 1985 to 1 September 1993. He was born in Singapore on 4 November 1915 and was educated at Pearl's Hill School and Raffles Institution, which he left in 1930 to join the Straits Times as a clerk. In 1941 he went on to join the United Press Association (UPA) until the Japanese invasion. At the end of the Japanese Occupation in 1945, he rejoined the UPA. In 1959, he joined the Straits Times as Deputy Editor (Singapore) heading the editorial department.
When Dr Wee was nearing retirement, he was appointed Singapore's High Commissioner to Malaysia in 1973 and subsequently served as Singapore's Ambassador to Japan and Korea. He had a range of experience in public service as well as in community work by the time he became President in 1985. He was in office in 1991 when the constitutional amendments for an Elected Presidency came into effect, hence becoming the first incumbent to hold the new constitutionally-vested veto powers. He died on 2 May 2005.
MR Ong Teng Cheong (1936 to 2002)
Mr Ong Teng Cheong was the fifth President and served from 2 September 1993 to 1 September 1999. He was born in Singapore on 22 January 1936 and was educated in Chong Cheng Primary School, the Chinese High School and at the University of Adelaide. He also obtained a post-graduate degree of Master of Civic Design (Town Planning) from the University of Liverpool in 1967. Following this, he joined the Planning Department of the Ministry of National Development.
In September 1971, Mr Ong resigned from the civil service to set up his own practice. His community work led to a political career. In 1972, he was elected as Member of Parliament for Kim Keat constituency, a position he retained for 20 years. In 1975, he was appointed to his first political office as Senior Minister of State for Communications, culminating in 1985 with his appointment as Second Deputy Prime Minister. Between November 1990 and August 1993, he was Deputy Prime Minister. He resigned from his government positions in August 1993 to stand for the Presidential Elections and was sworn in as Singapore's first Elected President on 1 September 1993. He passed away on 8 February 2002.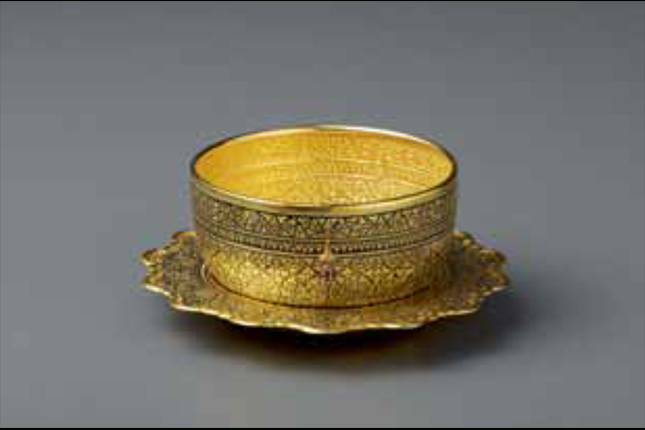 Nielloware Bowl with Plate
Her Royal Highness Princess Maha Chakri Sirindhorn of Thailand presented this nielloware ornament to the late Mr Ong Teng Cheong in 1999.
Mr S R Nathan
Mr S R Nathan was the sixth President beginning his service from 1 September 1999 to 31 August 2011. He was born in Singapore on 3 July 1924 and was educated at, among other schools, Victoria School and the University of Malaya in Singapore, where he graduated with a Diploma in Social Studies (Distinction) in 1954. He joined the civil service the following year, beginning as a medical social worker and, over a long career, rose to various leading positions, retiring as Permanent Secretary at the Ministry of Foreign Affairs. He was made Executive Chairman of the Straits Times Press (1975) Ltd in 1982 and also held directorships in several companies.
In 1988, Mr Nathan was appointed Singapore's High Commissioner to Malaysia, and in 1990, Singapore's Ambassador to the United States, where he served until 1996. Upon his return to Singapore, he was made Ambassador-at-Large and concurrently Director of the Institute of Defence and Strategic Studies at Nanyang Technological University. He resigned from these positions to stand for the Presidential Elections and was sworn in as President on 1 September 1999 for a six-year term. He was re-elected for a second term on 1 September 2005, and passed away on 22 August 2016.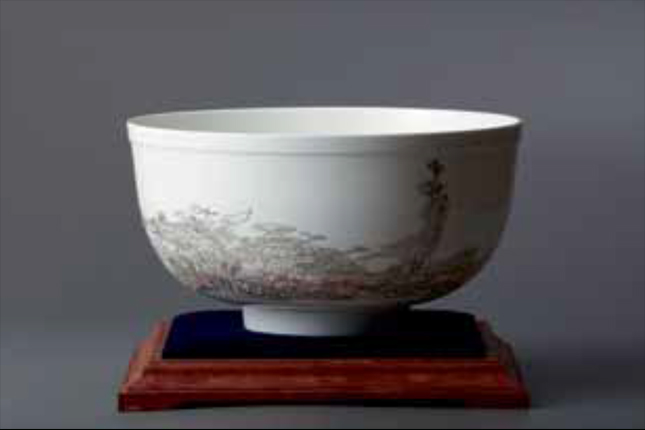 Porcelain Bowl
President S R Nathan was presented this bowl as a gift by President Hu Jintao of the People's Republic of China in 2009.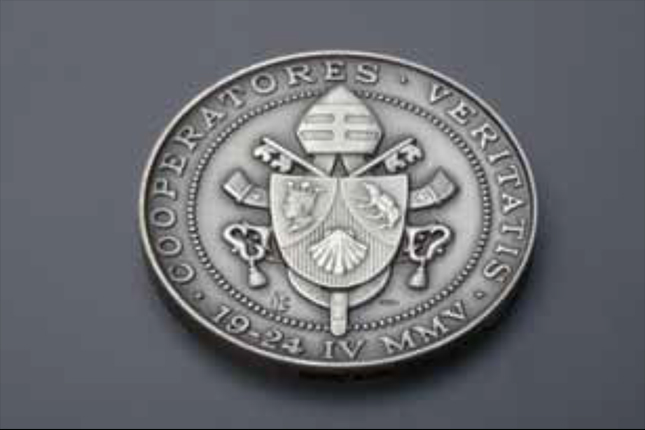 Silver Medal of Pope
His Eminence Cardinal Renato Raffaele Martino presented the Silver Medal of Pope to President S R Nathan in 2006.
State Gifts and Diplomacy
In the first decades of the twentieth century, a French sociologist by the name of Marcel Mauss (1872-1950) wrote The Gift which became a classic work and is still in print. This work has profoundly helped to shape our understanding of the nature and function of gifts. Mauss based his observations on a study of pre-colonial Polynesian as well as Pacific/North American tribes.
According to Mauss, the process of gift-giving in these societies carried with it a mutually binding obligation to receive and to reciprocate. Gift-giving facilitated a circulation of desired commodities as well as symbolic capital in its various forms to flow among the participating tribes, thus linking them closely together. In other words, the gift contributed to human solidarity and this formed the basis of Mauss' social theory of the gift.
Extending this conceptual understanding of the gift to the realm of the State, we find that the presentation and exchange of State gifts was a long-established tradition among sovereign kingdoms and countries. For example, Egyptian pharaohs presented gifts to their neighbours, the Hittite rulers, who were linked to them by peace and defence pacts as well as by dynastic marriages.
Although the presentation of State Gifts often took place in a situation of normative mutual equality among the involved parties, this was not always the case in the past. For example, the Imperial Chinese court regarded foreign ambassadorial missions bearing official gifts as "tribute missions", implying a submissive allegiance on the part of the foreign countries. Another example of a sovereign-vassal context of gift-giving was the Siamese court receiving gifts of the bunga emas (golden flowers) from the kingdoms of Kedah, Kelantan and Terengganu on the Malay Peninsula in the 18th-19th centuries.
However, in the contemporary world of international relations, the presentation and exchange of official gifts is shaped by norms of cultivating mutually beneficial diplomatic ties and friendships among sovereign nations.
Criteria for State Gift
State gifts are viewed as unique by the parties presenting or exchanging such gifts. The exchange is regarded as affirming a mutual relationship that symbolically links the giver and the recipient.
State gifts are also associated with a certain prestige and status reflecting the position of the giver as well as of the recipient. The prestige of such gifts is determined by the ascribed, intrinsic value of the gift in the society or country of the giver, such as its conspicuousness and its rarity, or the type of material such as gold, silver, diamonds and precious stones. Other factors that contribute to the value of the gift include its cultural, artistic motifs and symbols grounded in the history and heritage of the country, and its ceremonial significance. These factors help to position the gift as an appropriate object to be presented at the highest levels of state authority.
The official gifts that are displayed in the exhibition illustrate this range of criteria. As official gifts are representational objects and thus multifaceted, these criteria should be viewed in terms of a holistic combination contributing to the significance of the gift. Some examples include:
Gold and Silver Nielloware Cigarette Box – Thailand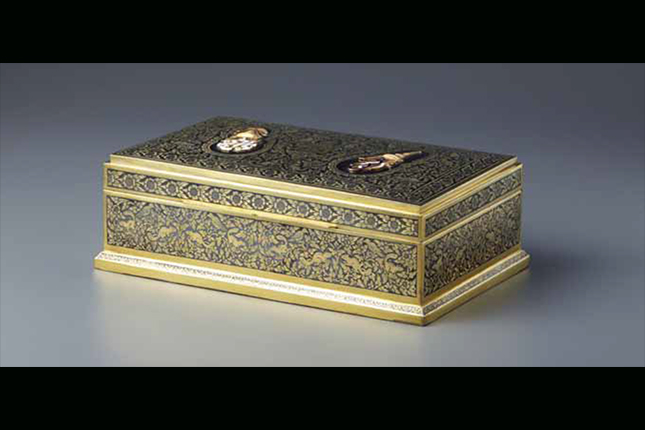 This gift was presented by His Majesty King Bhumibol and Her Majesty Queen Sirikit to President Nathan, 17 January 2005. President Nathan was on a state visit to Thailand from 17-21 January 2005 at the invitation of the King of Thailand. This was the first state visit to Thailand by a Singapore President.
Nielloware is a prominent and unique decorative object in the history of Thai traditional crafts. Niello is a metal alloy comprising sulphides of silver, copper and lead that is applied as a decorative inlay and results in colours ranging from blue-grey to rich black. The alloy is applied after the object is crafted with silver and gold, and with designs and images on the base metal. Nielloware was associated with power and authority. As such, it became a tradition for Thai monarchs to present nielloware objects as gifts to foreign dignitaries.
Marble Octagonal Box – India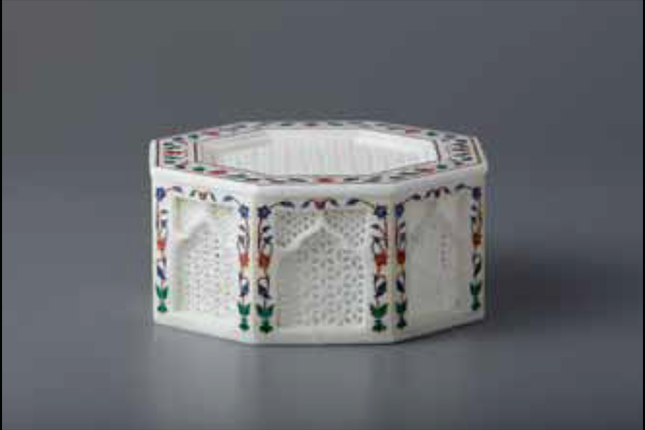 This gift was presented by President Dr Avul Pakir Jainulabdeen Abdul Kalam to President Nathan, 1 February 2006. President Abdul Kalam called on President Nathan at the Istana during his state visit to Singapore from 1-2 February 2006. As part of the visit, President Kalam delivered the 27th Singapore Lecture, "Evolution of Enlightened Societies on our Planet", on 1 February 2006.
Indian marble inlay work was prominent during the Mughal period and continues till today. A brass plate with oral or geometric designs would be placed over the marble and the pattern drawn onto it, after which the marble was carved accordingly. Inlay work consisted of inserting polished semi- precious and precious stones into the marble, and further polishing the surface and edges of the marble.
Octagonal Silverware – Brunei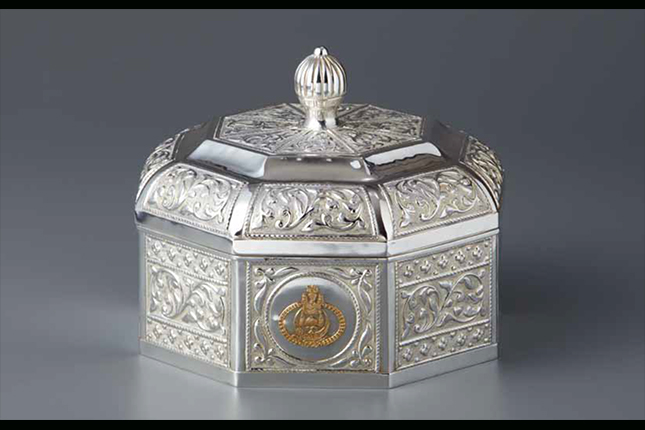 This gift was presented by Sultan Hassanal Bolkiah to President Nathan on 27 February 2003. The Sultan and Her Majesty The Raja Isteri called on President Nathan at the Istana during the Sultan's second state visit to Singapore from 27 February to 1 March 2003.
This receptacle, known as a calapa, is made of silver and crafted with attractive designs and motifs. The main body of this octagonal calapa normally contains several small receptacles which are used to keep betel leaf, areca nuts, gambier and lime and kalakati (areca nut cutter). The calapa is used in important and special occasions such as weddings, coming of age ceremonies and other festivities.
Tombac Bowl – Turkey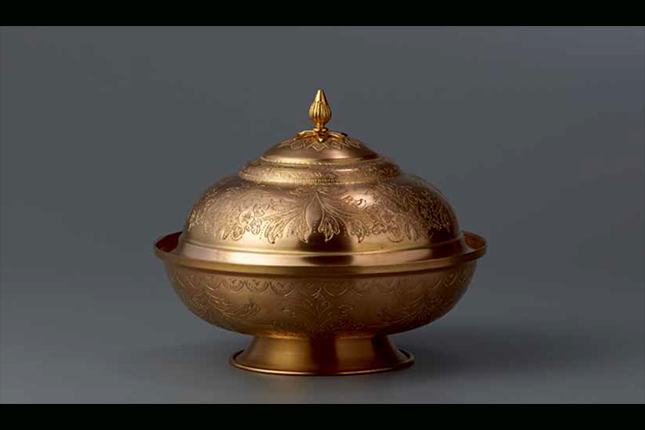 This gift was presented by President Dr Abdullah Gul to President Nathan, 8 June 2009. President Nathan made a state visit to Turkey from 8 to 14 June 2009.
The term tombac refers to articles made of copper or a copper alloy plated with a gold-mercury mixture. It is an enduring method of copper plating where the gold dissolved in mercury penetrates the pores of the copper utensil. It is still practised in its traditional form in Turkey.
Arabian Dagger – Bahrain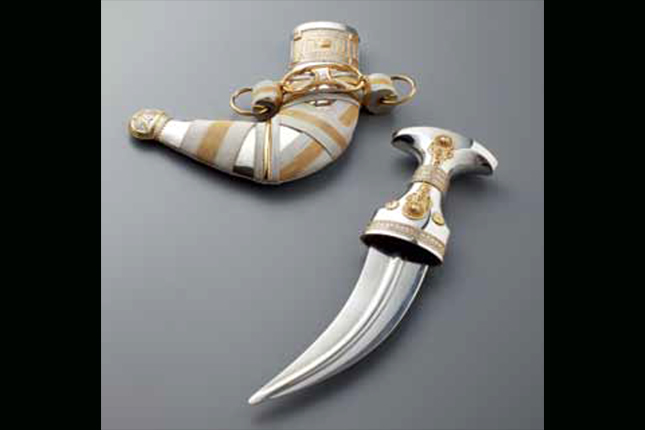 This gift was presented by Crown Prince HRH Shaik Salman bin Hamad Al Khalifa to President Nathan on 27 March 2000.
The Crown Prince called on President Nathan at the Istana on 27 March 2000 during his official visit to Singapore from 27- 28 March 2000. This was the Crown Prince's first official visit to Singapore. The gold-layered khanjar (curved dagger) with a steel blade is a ceremonial ornament that is part of male attire at weddings, formal dinners or important civic events.
Silver Dagger – Jordan
This gift was presented by King Abdullah II Bin Al Hussein to President Nathan on 3 March 2006. His Majesty King Abdullah II called on President Nathan at the Istana during his working visit to Singapore on 3 March 2006.
The silver khanjar (curved dagger) with steel blade is a ceremonial ornament that is part of male attire at weddings, formal dinners or important civic events.
Conclusion
State gifts are different from other types of gifts as they are presented in the international arena at the highest level of state authority and so help to facilitate a measure of international diplomacy and relations among sovereign countries. As stylistic works of craftsmanship and meaning, they are invested with an "emotional geography" that can help contribute to cross-cultural appreciation. State Gifts are meant to be enduring symbols in the sense that over the passage of time, they serve as a collective reminder of a nation's legacy of interaction and cultivation of ties with the international community.
References
• Appadurai, Arjun, ed.
The social life of things: Commodities in cultural perspective
. Cambridge: Cambridge University Press, 1988.
• Chew, Melanie.
A Biography of President Yusof bin Ishak
. Singapore: SNP Publishing, 1999.
• Mauss, Marcel.
The Gift
. London and New York: Routledge Classics, 2005.
• Ng, Tisa. Ong Teng Cheong: Planner, Politician, President. Singapore: Editions Didier Millet in association with Singapore Heritage Society, 2005.