TL;DR
The year was 1956. The authorities, having started clamping down more heavily on leftist activities, were deregistering subversive organisations such as the Singapore Chinese Middle Schools Students' Union1 and arresting agitators.2
These measures drew the ire of thousands of Chinese middle school students who, started sit-ins which later erupted into protests on the streets of Singapore. The violent clashes, in what became known as the Chinese Middle School Riots, took the lives of 13 and injured 123.3
Communism unwelcome on Singapore's shores
Why the harsh stance on the part of the Singapore government?
At the time, communism was known to be oppressive and disruptive. Among other things, communist countries tended to suppress freedom of religion and civil rights. Millions of lives were lost under these brutal regimes.4 Many governments were thus averse to communism.
Singapore was no different. The authorities here leapt into action when communism came knocking on the island's door in the 1950s. By then, a good number of Chinese in Malaya had taken a shine to it.5 Wary of foreign influences filtering downstream, the authorities acted to address the uptake.6 They believed communism could very easily destabilise the island which was still recovering from the bitter wounds of World War II.7
Purging pro-communist organisations
Lim Yew Hock succeeded David Marshall as chief minister in 1956,8 and he made it his priority to stem the threat of communism and tighten Singapore's internal security.9 Some 300 activists and 10 organisations including the Singapore Chinese Middle Schools Students' Union, Singapore Women's Association and the Chinese Musical Gong Society, were banned that very year for their pro-communist stances and activities.10
The Singapore Chinese Middle Schools Students' Union in particular was charged for indoctrinating and intimidating its students, and for getting involved in political activities outside its licensed scope.
Protests erupt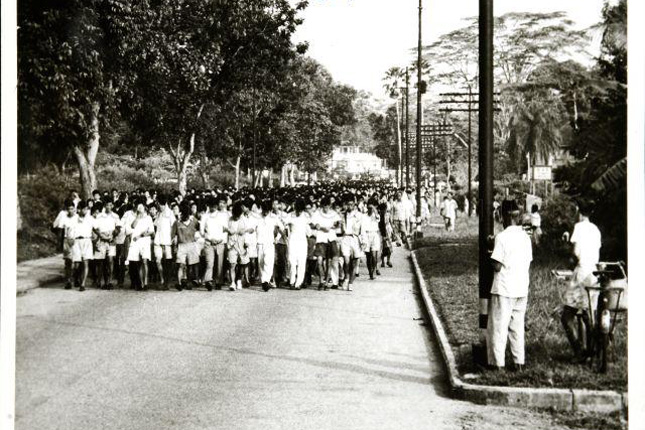 Arms linked, students march along a road to protest the government's decision to disband Chinese organisations it believed was pro-communist. (c1956. Image from The National Archives, United Kingdom.)
The government's arrests and bans sparked sit-ins among 3,000 students from Chung Cheng High School and Chinese High School on 25 September. In a show of solidarity, their counterparts at Nanyang Girls' School, Nan Chiau Girls' High School, Chung Hwa Girls' High School and Yoke Eng High School gathered for protest meetings.11 At this point, students were by and large adhering to government requirements which prohibited lingering on campuses between the hours of 7.30pm and 7.30am.12
They however reacted fiercely when the government undertook harsher measures to quell the communist threat. The authorities had on 10 October, expelled 142 students, fired two teachers and issued warnings to seven other educators.13 Enraged student protestors from Chung Cheng High School and Chinese High School took control of their school grounds, hung up anti-government posters in defiance, and actively condemned the government's actions.
Two days later, the government ordered the temporary closure of schools. Emboldened by moral and material support from groups such as the Singapore Farmers' Association, bus workers, and Nanyang University undergraduates,14 students stood their ground and remained encamped in their schools.
On 22 and 23 October, the same group of students rallied peers in other Chinese middle schools to skip class.15
A violent showdown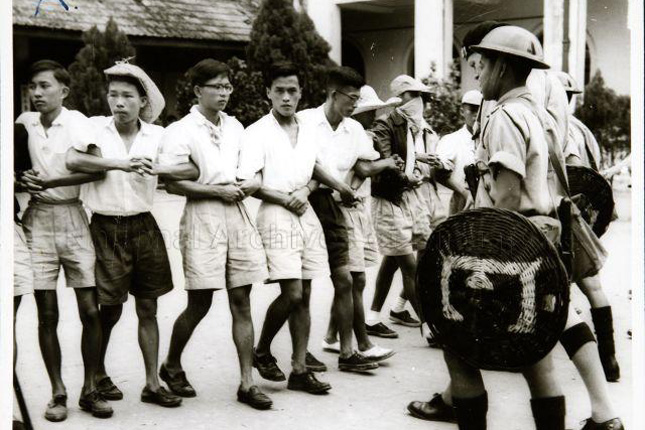 Police officers were activated to clear Chinese High School of students who had barricaded themselves in the compound. (c1956. Image from the National Archives, United Kingdom.)
In an attempt to put an end to the protests, the chief minister went on television and radio to instruct parents to take their children home by 8pm on 25 October.16 This was not entirely effective.17
That night, crowds comprising concerned parents, bus conductors, workers, and students from other schools gathered at both protest sites.18
Protestors attacked uniformed officers, torched and overturned police cars and damaged other vehicles. Soon after, riots broke out across the island. The government reacted by imposing an emergency curfew from 12.21 a.m. to 6 a.m. on 26 October. During these hours, the police evicted encamped students using tear gas.19
On 27 October, the police raided the headquarters of pro-communist unions and arrested 219 people.20 Among them were union leaders Fong Swee Suan, Lim Chin Siong,21 C.V. Devan Nair,22 Sidney Woodhull23 and James Puthucheary.24
Order restored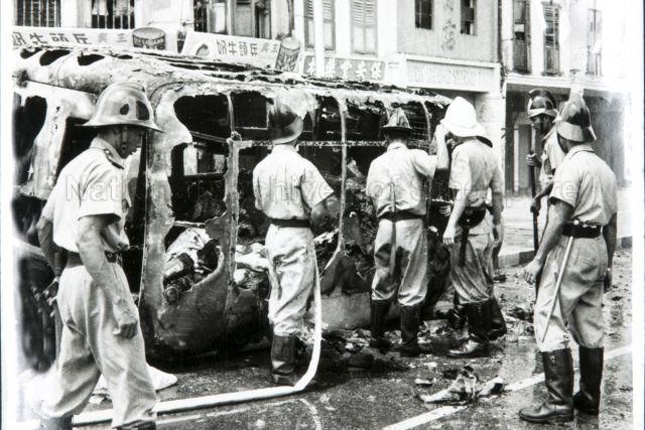 The nationwide violence resulted in property damage, numerous casualties and the deaths of 13 people. (c1956. Image from The National Archives, United Kingdom.)
Order was finally restored on 28 October. By this time, 13 had died and 123 were injured.25 A total of 101 vehicles were wrecked while several buildings and 31 vehicles were burnt.26
The police ended up detaining more than 2,000 people for rioting, breaking curfew, disrupting public security, and other offences.
A few weeks later, on 13 November 1956, the schools involved in the riots resumed classes as per normal27 – fears of a communist takeover finally put to rest.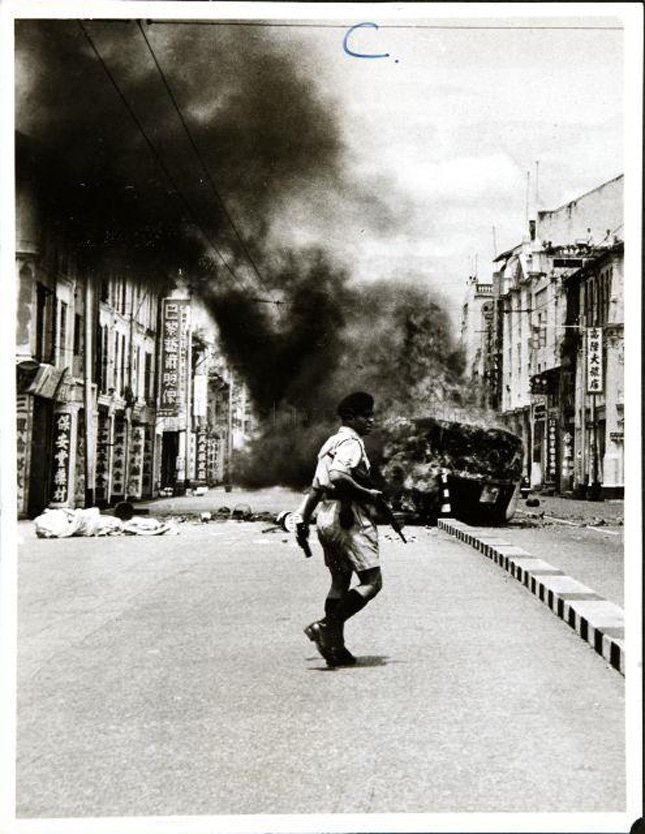 Police in the foreground with a burning vehicle in the background. (c1956. Image from The National Archives, United Kingdom.)