"You will enjoy learning about Singapore's history and change your own history!" This is what Yoshie Osawa was told when she moved to Singapore in 1992. And, she found it to be true, especially when she became a docent here.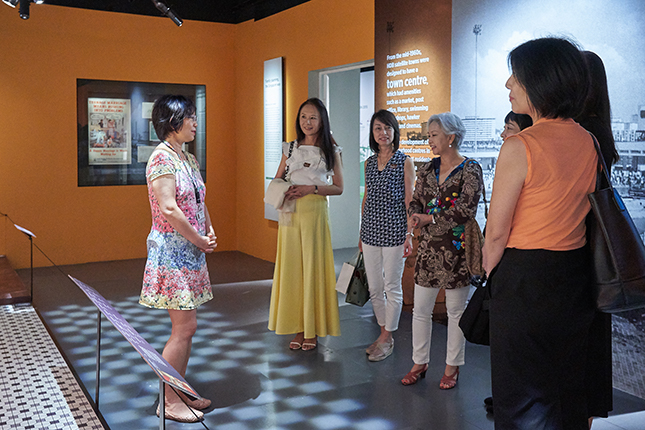 Yoshie moved to Singapore when she married a Singaporean. Through one of the oldest docent groups in Singapore, Yoshie began to learn a great deal about Singapore's history. The Japanese Docents (JD) group was formed in 1981. When you enter the National Museum of Singapore (NMS), you may notice that many of the captions with Japanese translations are done by the JD. Japanese tours are also conducted at the Museum. Yoshie guides mainly at the National Museum and also at the Singapore Arts Museum, Peranakan Museum, and the Singapore Musical Box Museum.
How it started
What started Yoshie on this journey of studying Singapore's history was a visit she made with her friend who was guiding at the Asian Civilisations Museum. The exhibition was "Journey of Faith: Art and History from the Vatican Collection". Her friend was able to talk about the artefacts and exhibits even though she was not a Catholic. Yoshie was so impressed that she decided to become a docent. After two to three months of training, Yoshie started guiding in 2006. The Japanese docents organise their own training by having the senior docents undertake the mentoring and training of newly enrolled ones. Yoshie also did the Japanese-related tours in Singapore as a part of the National Heritage Festival.
Yoshie has met a relative of Singapore's earliest Japanese resident who lived in the Upper Wilkie Road house that was known as Osborne House at Emily Hill. The house was bought by a Singapore-based Japanese, Jukichi Ikeda. His nephew's daughter, who is 83-year-old Miyoko Sato (Yoshida), visited the home she lived in last as a 5-year-old. The photographers and media gathered to meet her when she came to Singapore after having left it at such an early age. It was a pivotal moment for many, including Yoshie. Miyoko's photos are exhibited at "Witness To War: Remembering 1942" at NMS in 2017. Some of the photos were donated to the National Archive.
Yoshie feels that Singapore and the National Heritage Board (NHB) have been extremely kind to allow for these memories to be kept alive. Mamoru Shinozaki, whose photo hangs at the National Museum, is considered the "Oskar Schindler of Singapore" during the war. He is more famous in Singapore than in Japan. Early this year, Shinozaki's relative visited NMS. His relatives did not know about Mamoru Shinozaki's fame in Singapore. For the Japanese docents, it is an exciting and important story to tell.
Japanese docents
According to Yoshie, the JD group is grateful to the National Heritage Board for allowing them to do Japanese tours. As a people, they love to learn about the history and culture of the places they move to. Yoshie highlights this point and says "Many Japanese join the museum as volunteers and totally immerse themselves so deep in the learning. They study everything about Singapore and learn so much. And, among ourselves we all have a common interest. Everybody enjoys guiding."
The Singapore Musical Box Museum and Japan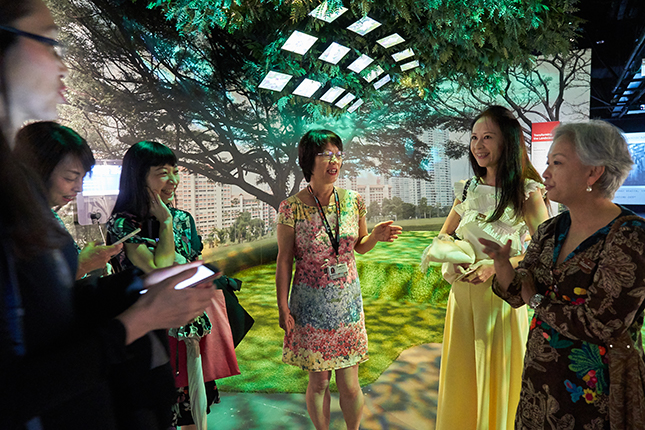 Yoshie started to guide at another museum two years ago — the Singapore Musical Box Museum. Naoto Orui is its founder. Half of them are from the U.K. The museum aims to share the historical background of the musical boxes and how they made their way to Singapore. While there is usually someone to operate the musical boxes, Yoshie enjoys guiding at this very special museum. Yoshie points out that the museum staff who operate the instruments speak English, Japanese, and Chinese. Yoshie herself speaks both English and Japanese. She has learnt Mandarin but does not speak it as well as she would like to.
Yoshie, unlike many of the other Japanese docents, will remain in Singapore well into the future. Most of the other docents are wives of expatriate husbands and may move on after two or three years. Yoshie, on the other hand, will continue to be here. Singapore is her home.
By Shobi Pereira