While they may not look like it, many of the traditional trades in Singapore, from traditional Coffee powder grinders to Street barbers were early entrepreneurs who helped lay the foundation for the rise of modern craftsmen such as tailors with their bespoke suits, or baristas and their artisanal coffee.
Watch: A Traditional Coffee Powder Grinder
Mr Tan Boon Hong and his son, Mr Tan Peck Ho are some of the last traditional coffee powder grinders left in Singapore. Their shop, Lam Yeo Coffee Powder, has been around since 1959.

Watch: An Encounter with a Street Barber
Street barbers such as Lee Yong Tong, who has been in the trade for more than 50 years are now very much a rarity that cater to a small but loyal following.
Many of these traditional trades arose in the early days of Singapore's history as a means of survival. Though some were undoubtedly influenced from skills and cultures adapted from their respective homelands, a majority were developed to meet the needs of a rapidly increasing population and changing society.
Traditional trades and the craftsmen that practice it were visible in all sectors of Singapore's socio-economic landscape ranging from food and trade, to lifestyle and entertainment. Though many of these craftsmen and their trades have since vanished, their ability to adapt their skills and businesses to the changing landscape till this day is a testament to their continued ingenuity and perseverance.
The Craftsmen
Before the days of street art and computer graphic design, hand-painted movie posters were all the rage, especially during the era of Singapore's Golden Age of Cinema. Hand-drawn movie poster painters like Ang Hao Sai, who first became an apprentice in a poster studio in 1963, were in great demand to help churn out promotional posters for films produced by the likes of Cathay Keris and Shaw Brothers' Studio. Although Ang closed his studio in 1987, he has reinvented his business and has continued in his craft till today.
Mr Ang Hao Sai first became an apprentice at a poster studio in 1963 at a time of Singapore's Golden Age in Cinema. His own studio had to close down in 1987 but he has since reinvented himself to meet the demands of a modern society.
On a more personal note, Letter writers such as Mr. Thangaraju, who first came to Singapore from South India in 1951, provided an affordable means of communication between immigrants and their families back home at a time when long-distance phone calls and formal education were a rarity. For him, his own experience as an immigrant undoubtedly helped to lend a sense of empathy to the letters he wrote. Letter writing slowly died out in the 1970s due to lack of clients and improving education in Singapore.
The story of Singapore's infrastructure would not be complete without the contributions of Samsui women such as Ms Ng Moey Chye. Along with many others who hailed from the sanshui (Samsui in Cantonese) region in China, she would carry heavy loads of bricks and construction material to-and-fro work sites between Chinatown and Collyer Quay, while donning the iconic red headscarf that ensured their visibility at work sites while storing their personal belongings all at once.
On the domestic front, Urut ladies, or Malay midwifes, such as Madam Runtia Binte Murtono played an important role in helping new mothers through their first few months after delivering by conducting traditional post-natal rituals. This included urut, a traditional massage technique handed down by word of mouth from generation to generation.
Still holding strong
While many traditional trades and craftsmen have since retired or developed into other trades, a good few such as the Bumboat operators of Pulau Ubin, Traditional confectioneries and Second-hand book sellers continue to provide daily necessities and services to a small but grateful audience. Their contribution to Singapore's rich cultural heritage and entrepreneurial spirit is an invaluable asset that contributes not just to the socio-economic makeup of our society, but the identity of Singapore as nation.
Watch: The Boat Operators of Pulau Ubin
For boat operators like Jie Gao Cai, life on the seas started way back when he was just 14 years old as a crew members on board one of the bumboats. He received his manning license at the age of 18 and has been a boat operator ever since.
Watch: A Traditional Teochew Confectionary
For family businesses like Gin Thye Cake Maker who have been around since 1964, the attention to ingredients, recipes and techniques help ensure that customers get only the freshest and most delicious confections.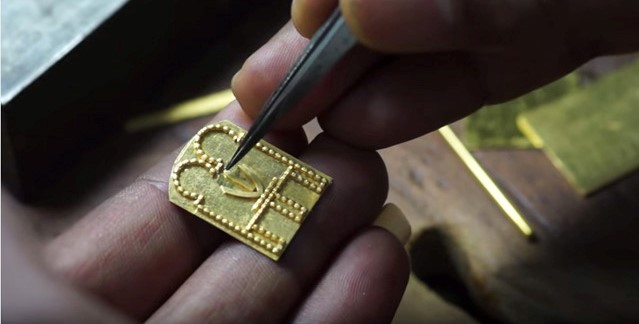 Goldsmiths were a common sight along Buffalo Road during the 1960s. Many stores would create an array of traditional Indian jewellery worn by many Indian brides during their wedding day. Watch a goldsmith craft a 'M Thali' with Perumal Motif here.