This story was first published in Trading Stories: Conversations with Six Pioneering Tradesmen at National Museum of Singapore that was exhibited from 15 March till 23 June 2013.
---
Murugaian s/o Ratnaswami Asari – Goldsmith
He saw the potential of the goldsmith trade and decided to train to become a goldsmith. He worked hard and saved up to start his own goldsmith shop, Indian Jewellers. Although a stroke has affected his movement, the 72-year old has not allowed his condition to slow him down. He started his second shop RMP Jewellers & Goldsmith in 2009, and still remains active in the business.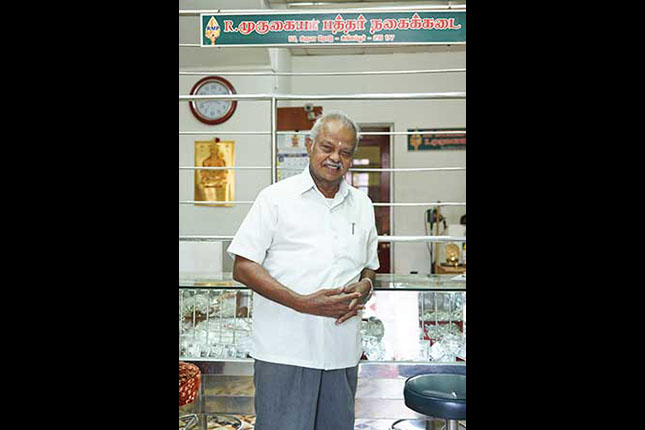 Mr. Murugaian was just 16 years old when he left South India for Singapore in 1957, to work as an apprentice under a master goldsmith.
Through hard work and determination, Murugaian established RMP Jewellers & Goldsmith located in Little India. The shop is testament of his dedication to a lifetime of traditional jewellery-making - first in the workshops of master goldsmiths and later, at Murugaian's own premises. In the 1950s, large numbers of Indian goldsmiths arrived in Singapore and turned the area around Buffalo Road into a hub for traditional jewellery. Discerning Chinese ladies as well as Indian families desiring customized jewellery for wedding ceremonies counted amongst their regular customers.
Now too old and frail to make the jewellery himself, Murugaian oversees two craftsmen who create customised necklaces, bracelets, armlets, rings and hair ornaments for long-time customers. Today, RMP Jewellers & Goldsmith is one of the two makers of handcrafted jewellery left in Little India.
---
Educators Guide & Activity Sheet
About the Exhibition
Trading Stories: Conversations with Six Pioneering Tradesmen draws on firsthand accounts of six tradesmen and community contributions to provide fresh insights on old trades of Singapore. In spotlighting the lives of six individuals and placing their contemporary accounts at the heart of storytelling, the exhibition's approach presents old trades as practiced and the tradesman's story as a history of negotiating change in modern Singapore.
A community exhibition presented by the National Heritage Board, Trading Stories also showcases the memories, personal photographs and memorabilia of Singaporeans who have come together to contribute their stories. This exhibition is as much a tribute to the fortitude and entrepreneurial courage of Singapore's older workforce, as it is an acknowledging nod to the many experiences and voices that make up the fabric of the Singapore Story.