Before the advent of television and the glittering thoroughfares of Orchard, many looked to other avenues of amusement to entertain themselves. From the 1920s to the early 1990s, Singapore's nightlife was filled with the sights and sounds of revellers enjoying themselves at its amusement parks. An era of variety shows, risqué cabaret dances, Hokkien and Malay troupe performances, rickety rides, and wrestling matches, these parks captivated both adults and children alike. Today's glitzy amusement parks court relatively tamer acts, but the amusement parks of yesteryear defined and set the tone for them.
New World Amusement Park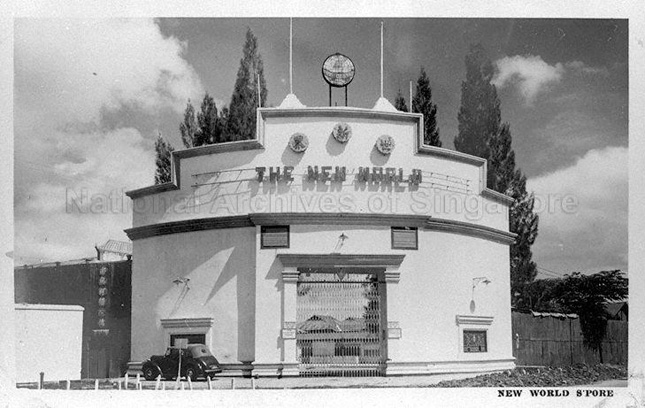 The New World at Jalan Besar | c. 1950 | NAS: Wong Kwan Collection, courtesy of National Archives of Singapore
Singapore's earliest amusement park was set up by Straits Chinese brothers and businessmen, Ong Boon Tat and Ong Peng Hock in 1923. Riding on the coattails of the previously successful Malaya-Borneo exhibition that had attracted 300,000 visitors with its Ferris wheel and carousel, international trade fair, cinemas, football matches and cultural performances, the brothers established New World amusement park along the area bounded by Jalan Besar , Kitchener Road, Serangoon Road and Petain Road.
Within a decade, the park acquired a reputation for its boxing contests, opera performances and cabaret shows . In the 1930s, the park was completely bought over by the Shaw Brothers who had an initial stake in the park. The end of the war revived the park when it introduced striptease as part of its attractions.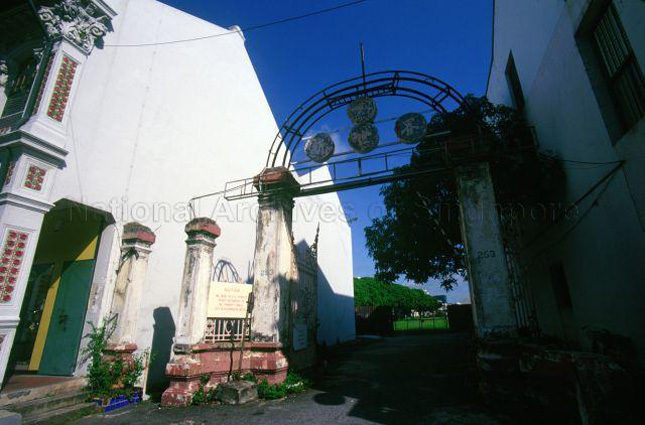 Gates to "New World" Amusement Park at Jalan Besar, opposite Plumer Road | c.2000s| Peter Lamb Collection, courtesy of National Archives of Singapore
By the 1960s, however, New World could no longer compete with the arrival of shopping malls and television, and slowly faded from Singapore's entertainment scene. It finally closed in 1987 when the Shaw Organisation sold the land for commercial development. Today, City Square mall, a condominium and a park sit on the amusement park's old grounds. Only New World's original entrance gate remains standing today.
Great World Amusement Park
Gates to "New World" Amusement Park at Jalan Besar, opposite Plumer Road | c.2000s| Peter Lamb Collection, courtesy of National Archives of Singapore
The second "world" to open was Great World amusement park in 1931 – its owner, Lim Choon Yung – a relative of philanthropist Lee Kong Chian. Sitting on the crossroads of Kim Seng, River Valley and Zion Road , the park boasted live shows, travelling circuses, Shanghainese and Cantonese operas, Malay Bangsawan theatre , boxing matches, as well as a zoo and a coloured water fountain.
Despite its patronage of society's upper classes and British servicemen, business soon became lacklustre, impelling Lee Choon Yung to sell his land and park to the Shaw Brothers in 1941. Soon after, World War II descended on the region and the Japanese Occupation saw the transformation of the park into a prison for Australian POWs, and later, a gambling den.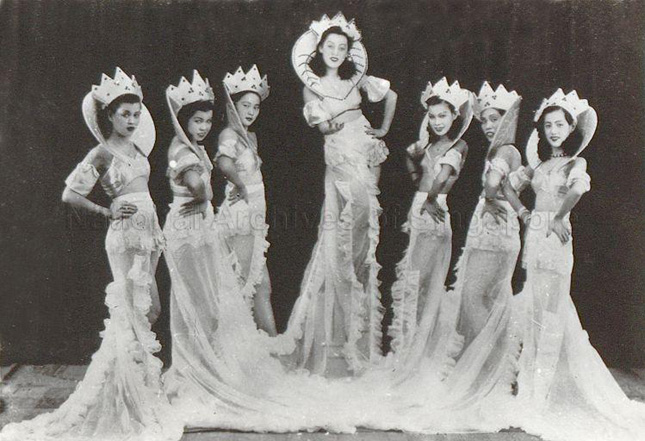 Cabaret girls at Great World Amusement Park | c.1945 | Courtesy of National Archives of Singapore
The end of the Occupation allowed Great World to return to its former glory in a bigger way: with carnival rides like carousels and Ferris wheels, the installing of fountains, and revue shows. During its heyday, the park was said to enjoy attendances of up to 50,000 a night . Also facing rival entertainment, Great World saw declining visitors till its closure in 1964. The Shaw Foundation sold the park to a property developer who eventually constructed the present Great World City Shopping Centre.
Gay World Amusement Park (Happy World)
Initially christened Happy World in 1936, but later renamed in 1964, Gay World was the third and last of the "World" parks troika to open in 1937. Owned by George Lee Geok Eng – a businessman – it occupied a 10 acre plot of land at the junction of Geylang Road and Mountbatten Road. Similar to the two other parks, Gay World also had the conventional food stalls, open air cinemas, game booths, and performances that catered to families with children.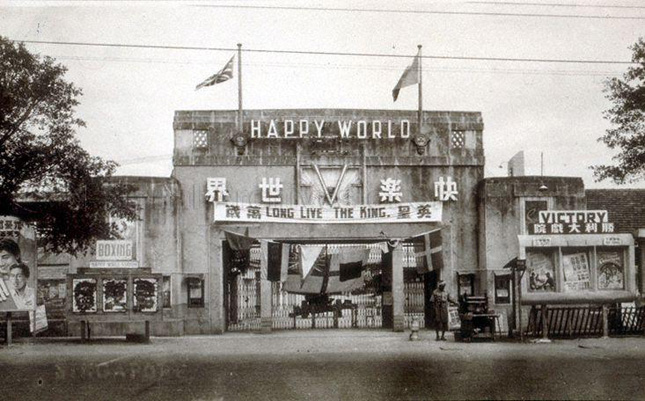 View of Happy World amusement park located between Geylang Road and Mountbatten Road | c.1940s | Lim Kheng Chye Collection, courtesy of National Archives of Singapore
But what set the park apart was the sheer immensity of its premises to accommodate a covered stadium of 7000-capacity that could play host to boxing matches and sports competitions ; an oval-shaped cabaret hall; theatres for Chinese, Malay and Tamil shows; and an open-air cinema that could seat 300. New World's trajectory, however, also headed in the same direction as its other two counterparts: after its post war recovery as a gambling den, patrons continued to throng the park until new entertainment options cropped up, stealing away customers.
Within a span of nearly three decades, Gay World was also ravaged by fire nearly seven times, maiming several of its main attractions. In 2000, the premises' tenants were given notice to vacate. The Gay World indoor stadium, renamed Geylang Indoor Stadium and managed by the Singapore Sports Council, continued to operate at the site until its 2001 demolition alongside the park.
Wonderland Amusement Park
As the popularity of the 'three worlds' waned, Wonderland Amusement Park blossomed. Opening in 1969 at Kallang, it was built on reclaimed land that shared boundaries with the old Kallang Airport. Along with being an entertainment venue for children and adults, the park also played host to plenty of festival and corporate events such as 'Family Day'.
Wonderland was known for its popular cup-and-saucer carousel that let carnival-goers sit in giant spinning cups for a dizzy ride. Emblazoned with Ovaltine advertisements about cocoa-flavoured beverage , the cups allowed thrill-seekers to spin faster by twisting a wheel in the centre of the cup.
With its colourful umbrellas , kiddie train rides and rollercoasters, Wonderland was a place for children of the 70s to spend many of their halcyon childhood days. By 1988 however, due to a frequent unavailability of amusement rides, the park ceased its operations. The land the park sat on was developed into the present day open air car park serving Kallang Indoor Stadium.
Big Splash Theme Park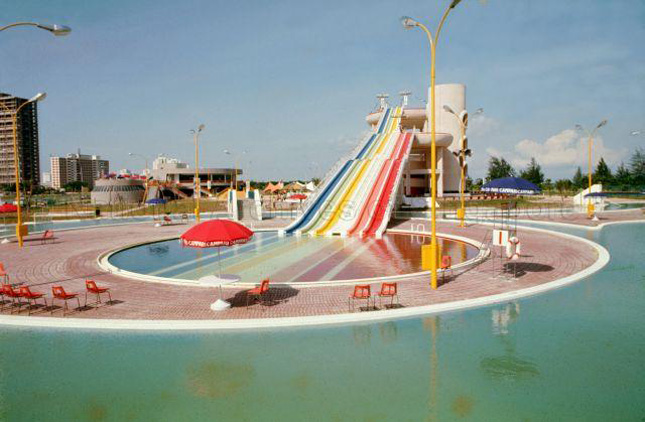 Big Splash Complex at East Coast Park | c.1980-1999 | Akitek Tenggara Collection, courtesy of National Archives of Singapore
Big Splash, the legendary waterpark at East Coast Park, was well known for its towering rainbow coloured slides. Opened in 1977, it featured an 85-metre long water slide that claimed to be the highest and longest in the world at that time. The largest pool was reported to be able to accommodate 1,380 people and all the other pools in the complex were filled with sea water and had sandy bottoms to simulate the impression of a beach. Other than its slide attraction, Big Splash also featured other facilities like an open-air theatre, a restaurant, food kiosks, and an arcade. Despite its initial success, the park's popularity began to decline at the turn of the century.
Slides at Big Splash | c.1990 | Singapore Tourist Promotion Board Collection, courtesy of National Archives of Singapore
In 2002, the park closed for a four-month facelift, later reopening with new facilities such as a bicycle kiosk and a dive school. In 2006, it closed for further development, reopening two years later in 2008 with the water slides dismantled and the rest of the compound refurbished into a dining and lifestyle destination. At present, the park now known as Playground at Big Splash, is home to a smorgasbord of dining options instead – from fast food outlets and casual cafes, to posh restaurants and bars, alongside an inline skating school, mini-golf course and gym.
By Gayathiri Chandramohan