VOC dish, Japan, Arita, late 17th century, porcelain. Collection of Asian Civilisations Museum.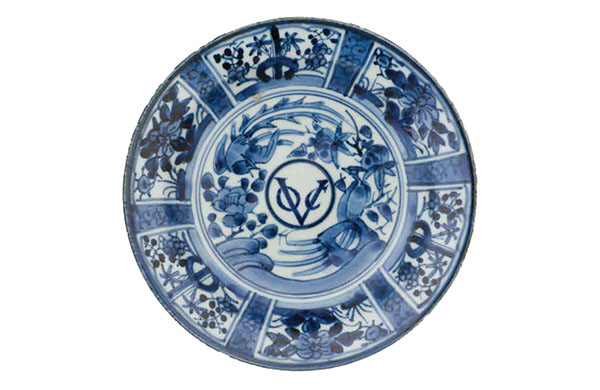 The Portuguese arrived in Asia from 1509 onwards, establishing trading settlements in Goa, Melaka, Macau and Nagasaki. By the mid-1600s, the Dutch would eclipse the Portuguese, taking over Melaka and Nagasaki, and establishing their Eastern headquarters at Batavia (today's Jakarta). The Dutch Vereenigde Oost Indische Compagnie (VOC), or "United East India Company" reigned supreme in Southeast Asia for 200 years until they were challenged by the British East India Company in the early 1800s from their headquarters in Singapore. From Batavia, the VOC would re-export luxury goods from China and Japan, such as this porcelain export-ware dish.
The underglaze-blue decoration of this dish centres on the VOC monogram, which is circled by the long tails of two phoenixes. Alternating panels on the rim of peonies and bamboo are a characteristic of kraakware, the earliest form of Chinese export-ware to be made for the West. Porcelain ware was commissioned from kilns in Arita, Japan, by the VOC in a period where production in China was disrupted by rebellions at the end of the Ming dynasty. These dishes were then exported via the port city of Nagasaki, where they would be taken to Batavia for onward exporting to Europe. Monogrammed dishes such as these were reserved for use by officers of the Company and were therefore not frequently ordered.
---
This is an extract from "The Singapore Story through 60 objects" written by Kennie Ting, Director, Asian Civilisations Museum and Peranakan Museum & Group Director of Museums, National Heritage Board. This article was first published in Cultural Connections Volume IV 2019 by Culture Academy Singapore.