Shrine with Sumatinatha, the fifth Jain Tirthankara, Gujarat or Kathyawar, India, 13th century, bronze inlaid with silver and copper.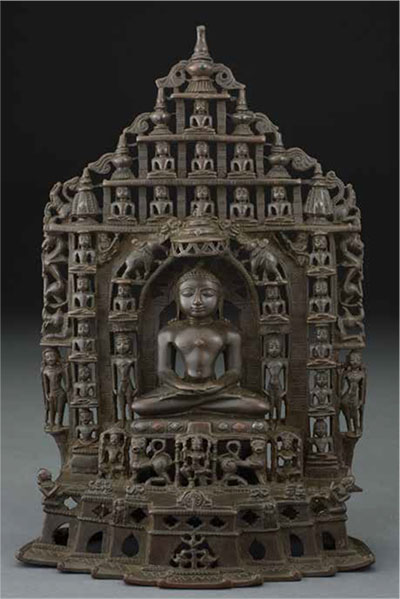 Jains revere twenty-four Jinas, who have attained a state of bliss and transcendence. Jina means "liberator" or "conqueror". They help all creatures to liberate their souls from the confines of the body. Jinas are also called "river crossers" or "forders" (tirthankaras), because they have been released from the eternal cycle of rebirth.
This shrine contains a central image of Sumatinatha, the fifth Jain Tirthankara, identified by geese on the throne. He is believed to possess miraculous powers to fulfil the wishes of pilgrims. He is surrounded by the other twenty-three Jinas.
The naked Jinas indicate that the patrons of the temple for which this shrine was made were devoted to the Digambara sect. An inscription dates this to Singh-Samvat 150, which translates as 1263 AD. The Singh-Samvat dating system was used exclusively in Gujarat and the Kathyawar peninsula until the 14th century.
Jains arrived in Singapore in the early 1900s from India. Today they number around 700, with 95% of the community originating from Gujarat. The Singapore Jain Religious Society was established in 1972 with its premises at 18 Jalan Yasin.
---
This is an extract from "The Singapore Story through 60 objects" written by Kennie Ting, Director, Asian Civilisations Museum and Peranakan Museum & Group Director of Museums, National Heritage Board. This article was first published in Cultural Connections Volume IV 2019 by Culture Academy Singapore.