Production still, Sumpah Pontianak (1958, Cathay-Keris Films),
directed by B.N. Rao.
Courtesy of Asian Film Archive and Wong Han Min.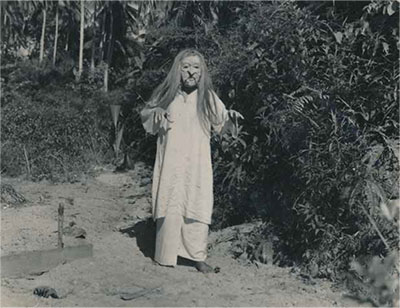 Pontianak (1957) by Cathay-Keris marked the birth of Malay horror films as a genre during the golden era of Singapore cinema. The first multi-lingual film, Pontianak, was initially released in both Bahasa Melayu and Mandarin, and later dubbed into Cantonese and English for overseas audiences. Its success at the box office inspired the creation of many other horror films about other figures from Malay mythology. Pontianak, of which no existing films has been found as yet, was followed by two equally successful sequels, Dendam Pontianak (Revenge of the Pontianak) in 1957 and Sumpah Pontianak (Curse of the Pontianak) in 1958. As the first two films are regarded to be lost, the production still featured here comes from Sumpah Pontianak.
The Pontianak trilogy was also a cross-cultural production. The Cathay-Keris film studio was founded and helmed by Chinese business magnate and philanthropist Loke Wan Tho and Chinese Managing Director Ho Ah Loke; the films were directed by successful Indian film director, Balakrishna Narayana Rao, or B. N. Rao, and starred movie star Maria Menado. Menado's real name was Liesbet Dotulong and she was an extremely popular actress in Malaya and Singapore in the 1950s and '60s. Her role in the Pontianak trilogy catapulted her to fame.
The surviving 91 films of the Cathay-Keris Malay Classics Collection have been preserved by the Asian Film Archive since 2007. This collection was successfully inscribed by the Asian Film Archive's nomination into UNESCO's Memory of the World Asia-Pacific Register in 2014 and is currently the only Singapore inscription in the Memory of the World Register. The Memory of the World Register is the UNESCO World Heritage Site equivalent for documentary heritage.
---
This is an extract from "The Singapore Story through 60 objects" written by Kennie Ting, Director, Asian Civilisations Museum and Peranakan Museum & Group Director of Museums, National Heritage Board. This article was first published in Cultural Connections Volume IV 2019 by Culture Academy Singapore.