Chesed-El Synagogue, Singapore, c. early 20th century, photograph.
Collection of National Museum of Singapore.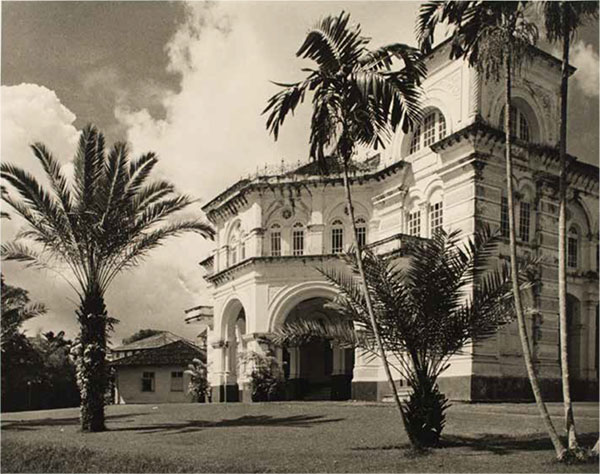 Chesed-El Synagogue on Oxley Rise is one of two synagogues in Singapore, the other being Maghain Aboth Synagogue on Waterloo Street. Completed in 1905, it was designed by R. A. J. Bidwell of the architectural firm, Swan & MacLaren. Designed in the late Renaissance style, its façade is ornate with floral plasterwork, continuous corniches and heavy ornamentation. The synagogue is fronted by a three-arched porte-cochère (carriage porch), as can be seen in the photograph here. Classical architectural features such as arches and Corinthian columns, as well as large arched windows, are repeated throughout the building.
The first Jews arrived in Singapore not long after Sir Thomas Stamford Raffles. Most of them were Sephardic Jews from Baghdad and were businessmen involved in trade. The first synagogue was built at Boat Quay at Synagogue Street, though the synagogue itself doesn't stand there anymore. As the community grew, a larger Maghain Aboth synagogue was built at Waterloo Street.
Chesed-El was built by local Jewish leader Manasseh Meyer to cater to a further expanding Jewish community. It was built on his sprawling, private Belle Vue estate. Chesed-El means "Bountiful Mercy and Goodness of God" in Hebrew. Chesed-El and Maghain Aboth Synagogues were both gazetted as national monuments in 1998. Managed by the Jewish Welfare Board today, they are open for certain festivals and for community activities throughout the year.
---
This is an extract from "The Singapore Story through 60 objects" written by Kennie Ting, Director, Asian Civilisations Museum and Peranakan Museum & Group Director of Museums, National Heritage Board. This article was first published in Cultural Connections Volume IV 2019 by Culture Academy Singapore.