Record of the 1819 Treaty of Friendship and Alliance, Singapore, 1841, ink on paper.
Collection of the National Archives of Singapore.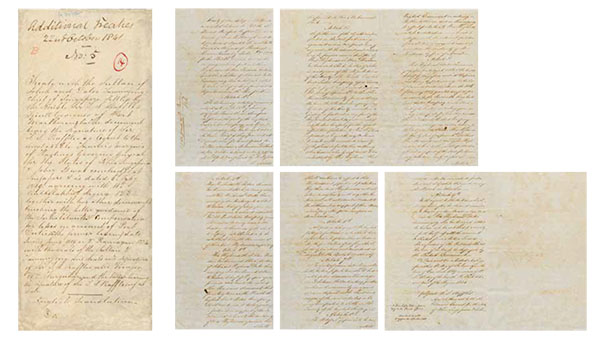 The Treaty of Friendship and Alliance was signed on 6 February 1819 by Sir Thomas Stamford Raffles, representing the British East India Company (EIC) and Singapore's Malay rulers, Sultan Hussein and the Temenggong Abdul Rahman. The treaty granted the British EIC the exclusive right to establish a 'factory', or trading post on Singapore island in exchange for monetary compensation and British military protection for the Malay rulers. Singapore's modern legal development has been traced to this treaty which is regarded as the first agreement signed that marked the start of the British era.
Under the terms of the treaty, the British trading post (covering roughly the area from Kampong Glam to Chinatown) would be jointly administered by the British and the Malay rulers. The rest of Singapore and its surrounding islands and waters outside the trading post remained under the sovereign control of the Malay rulers. The treaty's 7th article concerning the administration of local justice noted that the method of doing so would "in a great measure depend on the Laws and Usages of the various tribes who may be expected to settle in the vicinity of the English Factory". The pragmatic concession to balance English practices with local customs set a precedent and became a hallmark of British administration in colonial Singapore.
The treaty was written in English and Jawi with text in both languages presented side by side. The document on display is an 1841 copy of the treaty in English. It is part of the Straits Settlements Records collection originally deposited by the British Colonial Government's Colonial Secretary's Office at the Raffles Museum and Library in 1938. This collection was subsequently transferred to the National Archives of Singapore when the institution was established in 1968.
---
This is an extract from "The Singapore Story through 60 objects" written by Kennie Ting, Director, Asian Civilisations Museum and Peranakan Museum & Group Director of Museums, National Heritage Board. This article was first published in Cultural Connections Volume IV 2019 by Culture Academy Singapore.
---
Explore this 360 video from BALIKSG that imagines the day of the signing of the Treaty of Friendship and Alliance
Developed by the National Heritage Board, BALIKSG brings you on an immersive journey back in time along the Singapore River and around Fort Canning Hill. In this app, you will encounter historical characters, discover stories and places, and revisit significant events in Singapore's history through the latest augmented reality technology.