Boschbrand (Forest Fire), Raden Saleh, Indonesia, 1849, oil on canvas.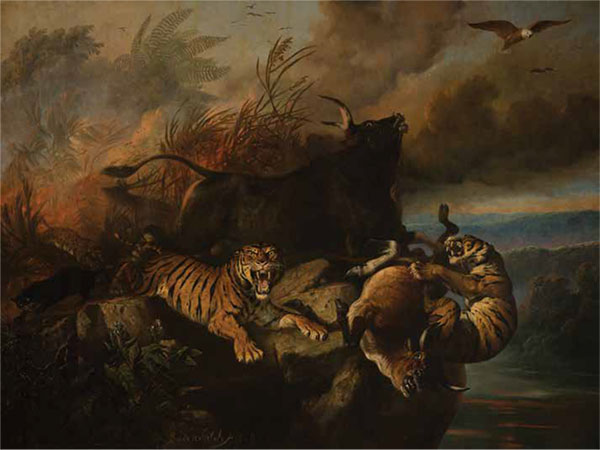 Raden Saleh (1807 or 1811–1880) is regarded as one of the most important 19th century artists from Java. Hailed as the "father of modern Indonesian painting", he is known for his Orientalist landscape and animal hunt paintings that are full of energy and emotion. He was born in Semarang to an aristocratic Javanese family and grew up in a very privileged household. Later, he would move to Europe, where he continued to perfect his art and where he attracted patronage from the European elite.
Forest Fire is an immense composition showing animals chased by flames to the edge of a precipice. This relentless and tragic tale of life and death is powerfully narrated through the vivid depiction of the animals and the dramatic use of light and dark on a monumental scale. Painted during the last years of Raden Saleh's long sojourn in Europe, and the largest known example of the artist's oeuvre, the work manifests his technical mastery of the oil medium, realism, and the language of European Romanticism. The painting was gifted by Raden Saleh to King Willem III of the Netherlands in 1850. A year later, in 1851, the king bestowed the title of "Schilder des Konings" ("King's Painter") upon him.
Contemporary readings of Raden Saleh's oeuvre tend to point out the uneasy tension between his being Javanese, and his specialising in painting what are essentially romanticised European imaginings of Asian landscapes.
---
This is an extract from "The Singapore Story through 60 objects" written by Kennie Ting, Director, Asian Civilisations Museum and Peranakan Museum & Group Director of Museums, National Heritage Board. Research for this article is supported by National Gallery Singapore. This article was first published in Cultural Connections Volume IV 2019 by Culture Academy Singapore.