Zhangjiajie, Wu Guanzhong, China, 1997, Chinese ink and colour on paper.
Gift of the artist, collection of National Gallery Singapore.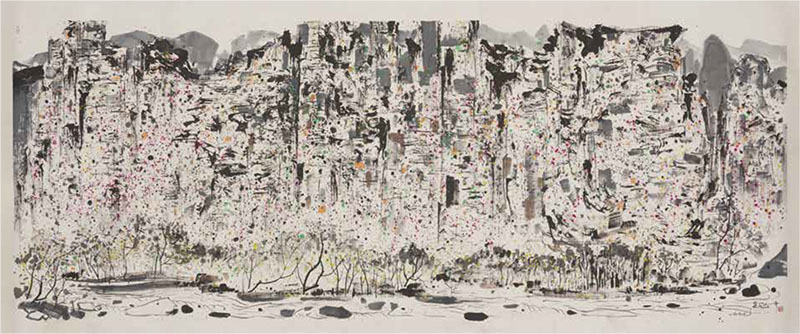 Wu Guanzhong is one of the most significant artists of 20th century China. Born in Yixing, Jiangsu Province, in 1919, Wu studied at the Hangzhou National College of Art in 1936. He was trained in oil and ink painting, and graduated from the academy in 1942. From 1947 to 1950, he travelled to Paris to study at the Ecole Nationale Supérieure des Beaux-Arts on a government scholarship. In 2008, Wu donated to Singapore's National Collection 113 oil and ink paintings. This was the largest group donation Wu has made to a public institution. Singapore's collection of Wu Guanzhong now totals 129 pieces and spans through six decades of his artistic career.
Zhangjiajie (张家界) is the largest artwork by Wu Guanzhong in our National Collection. It depicts a majestic view of the towering jagged sandstone columns unique to this protected forest park, set behind a flowing river. Specks of magenta, orange and yellow-green cover the coarse sharp edges of the mountains, suggesting the arrival of either spring or autumn.
Wu Guanzhong first visited this area in Autumn 1979 while he was exploring the Hunan province, in search of beauty and capturing it in outdoor paintings and sketches. He encountered several villagers who all recommended him to visit a scenic landscape that is worthy of painting and would surely wow the world. Following the given directions, Wu stumbled into this earthly paradise. In 1982, the area was recognised as China's first national forest park and named Zhangjiajie National Forest Park. A decade later, in 1992, the park was officially recognised as a UNESCO World Heritage Site.
---
This is an extract from "The Singapore Story through 60 objects" written by Kennie Ting, Director, Asian Civilisations Museum and Peranakan Museum & Group Director of Museums, National Heritage Board. Research for this article is supported by National Gallery Singapore. This article was first published in Cultural Connections Volume IV 2019 by Culture Academy Singapore.