Interplay Between Traditions and Contemporary Forms: #2 Jawi and Arabic Forms, Iskander Jalil, Singapore, 2002, ceramic/stoneware with oxide/ glazes.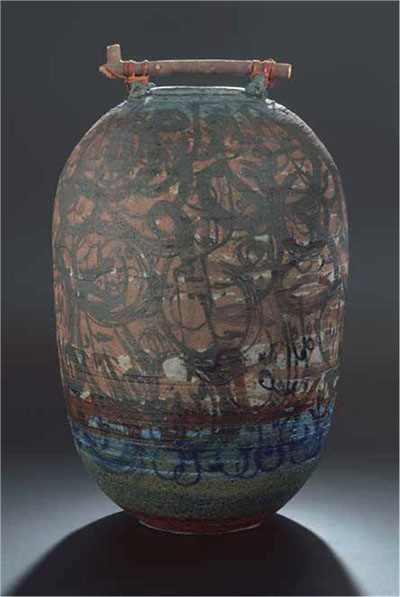 Born in 1940 in Singapore, Iskandar Jalil is acknowledged as one of Singapore's most significant artists in the practice of ceramic art. Iskandar was originally trained as a mathematics and science teacher. His turning point came when the Colombo Plan scholarship enabled him to study at the Tajimi City Pottery Design and Technical Centre in Japan in 1972, which cultivated in the artist, deeply-held attitudes and techniques for dealing with the discipline.
Travel has also offered Iskandar another source of aesthetic ideas, colours and motifs. His use of Jawi script as well as floral, geometrical and calligraphic motifs that appear on the surfaces of his ceramic works reveal influences from across Southeast Asia and Japan. Material culture from the region such as batik textiles and Jawi script have also been translated by Iskandar into patterns that are both meaningful and aesthetic. In 1988, Isakandar was awarded the Cultural Medallion, Singapore's highest accolade for artistic excellence and contributions to the arts.
---
This is an extract from "The Singapore Story through 60 objects" written by Kennie Ting, Director, Asian Civilisations Museum and Peranakan Museum & Group Director of Museums, National Heritage Board. This article was first published in Cultural Connections Volume IV 2019 by Culture Academy Singapore.