TL;DR
P Ramlee was an actor, singer, songwriter and director whose star shone brightly during the golden age of Malay films, earning him fans in Singapore, Malaysia and Indonesia. The entertainer died at 44 from a heart attack but by then had acted in 66 films, directed 35, and composed 250 songs.1 His popularity stemmed from his ability to reflect the issues and concerns of his time, offering viewers a mirror to examine themselves and their place in a changing world.
Watch: Roots.SG Presents: The Golden Era P. Ramlee
An early interest in music
P. Ramlee (22 March 1929 - 29 May 1973) was born Teuku Zakaria to a Penang-born woman and a sailor from Aceh, Indonesia.
He grew up in Penang where he studied at Sekolah Melayu Kampung Jawa (Kampung Jawa Malay School), the Francis Light English School, as well as the Penang Free School. The name Ramlee had been used to register him for classes.
Ramlee much preferred music to school. When the Japanese invasion disrupted his school life, Ramlee, then 13, pounced at the chance to focus more on it. Over the course of the war, he picked up the basics of music, joined his village band, Teruna Sekampung, and even learned how to sing in Japanese.2 After the war concluded, he signed up for lessons to read musical notations.
At 16, a more confident Ramlee participated in a singing competition organised by Penang Radio for contestants in North Malaya. He participated in the contest three years in a row before emerging top on his third attempt in 1947.3 It was during this period that he added the initial initial "P." (for "Puteh") to his name.
As luck would have it, Ramlee was talent-spotted by B. S. Rajhans, a director working with Shaw Brothers, while singing at a keroncong show in Penang in 1948.4 He was invited to join the studio's Malay Film Productions arm to record songs for soundtracks and lip-synching actors. Ramlee accepted the offer, leaving Penang for Singapore with his violin in 1949. As part of his audition, he sang his first composition Azizah, after an unfulfilled romance,5 at a studio located on Jalan Ampas off Balestier Road.6
Multi-hyphenate showbiz legend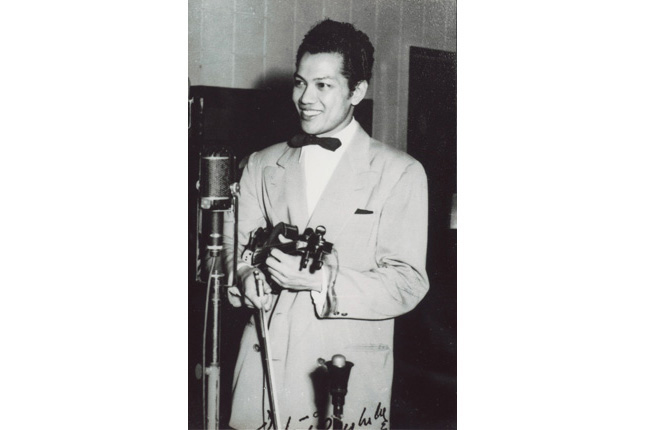 The award-winning multi-hyphenate entertainer P. Ramlee in the 1960s. (Image from the National Museum of Singapore)
During his early days with the studio, Ramlee took on work as a clapper boy and assistant cameraman, attesting to his down-to-earth nature.7 The Shaws, however, could tell that he had star power and did not keep him in the wings for long. Ramlee, after all, was a rare talent who could sing beautifully and act well. In 1950, he made his debut as a leading man in the films Bakti (Devotion) and Takdir Ilahi (Will of God, 1950).
Audiences were captivated by the charismatic actor, particularly for his ability to represent tensions between kampung and urban life.8 Known for his ability to pack movie theatres, Ramlee was reportedly paid $30,000 per film and had his fair share of super fans.9, 10
During a brief lull in his career, Ramlee spent some time in Johor Bahru, Malaya before rejoining the Shaws' Malay Film Productions to star in Penghidupan (Life) which was released in May 1951. He was also involved in a string of other films.
When he was 26, the Shaws gave Ramlee his directorial break. The appointment was a significant milestone for Malay film as it helped the industry break away from the influence of Indian cinema.11 Malay movies had up till that point been directed by Indian directors.12
Ramlee proved to be as talented a director as he was an actor. His various directorial efforts, many of which dealt with universal themes,13 earned him regional acclaim. Run Run Shaw, the co-founder of Shaw Studio, had a fairly close working relationship with Ramlee, and the pair were said to have attended film festivals together.14
Ramlee's best known works might have been Huah Tuah (1956), Musang Berjanggut (The Bearded Fox, 1959) and Madu Tiga (The Three Wives, 1964),15 but it was his comedic roles, such as in the series Bujang Lapok where he delighted audiences as a happy-go-lucky bachelor, or in Labu dan Labi (1962) where he played a bumbling servant, which endeared him the most to audiences.16
Ramlee, who married thrice in his lifetime, also tried his hand at directing theatrical productions. Kachip Mas (1961), for instance, was one such production which ran at Victoria Theatre as well as amusement parks Happy World and New World.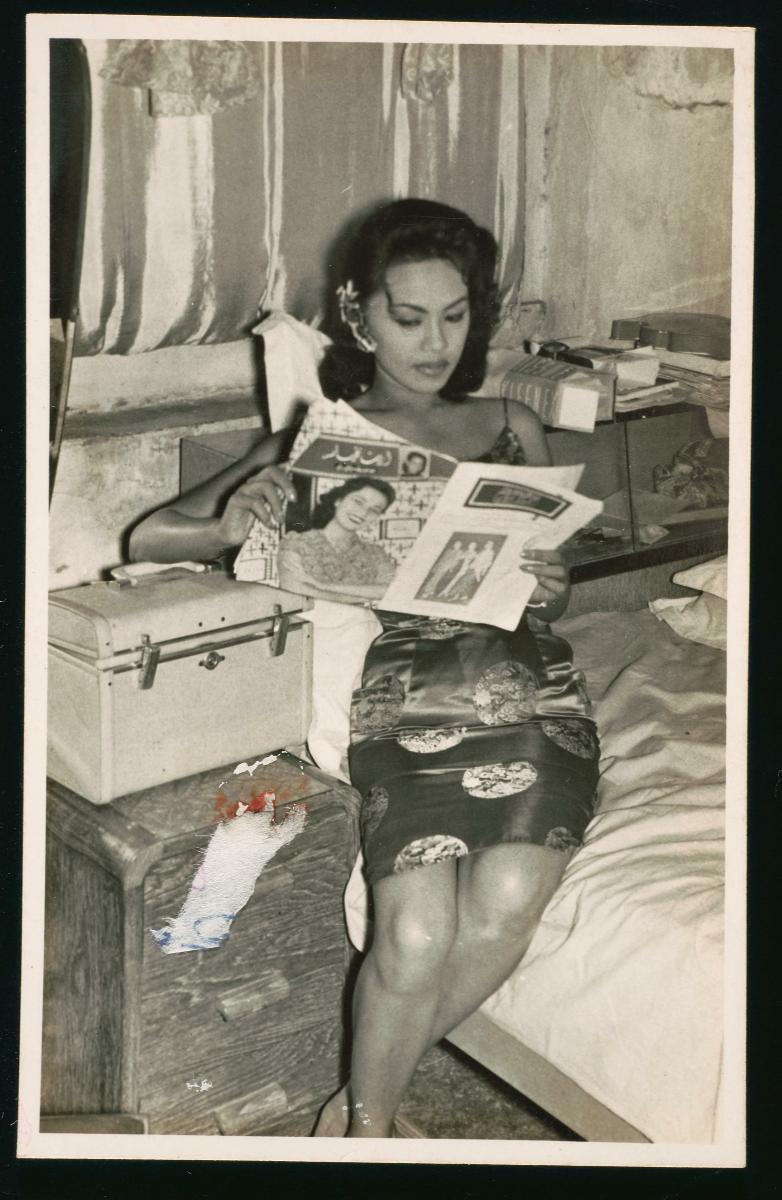 P. Ramlee's third wife, singer-actress Salmah binti Ismail whose stage name was Saloma.
In 1964, Ramlee joined the Shaws' Merdeka Film Productions in Malaysia where he made a number of films before the studio wound down in 1977.17
Away from the big screen, Ramlee's talents as a vocalist were sought after by recording companies such as Hemsley & Co., and His Master's Voice (HMV). At Hemsley & Co., Ramlee's composition Azizah took flight, earning him an honorarium. Meanwhile, the region's airwaves were graced by Ramlee's melodic vocals via Radio Malaya broadcasts as part of his involvement with HMV.18
A laser disc of P. Ramlee's famous songs. Ramlee's musical repertoire ranged from jazz to joget. (Image from the National Museum of Singapore)19
Remembering the showman
The prolific showman's life was cut short after suffering from a heart attack at 44. He was buried at the Jalan Ampang Muslim Cemetery in Kuala Lumpur, Malaysia.
Halls, museums and buildings have been named in his honour. For instance, Caunter Hall, the road he was born on in Penang, was renamed Jalan P. Ramlee. The kampung house he grew up in was also restored. In Malaysia, two memorials have been dedicated to the late star.
In 1990, Ramlee was posthumously conferred the honorific title of Tan Sri.