TL;DR
As one of the taller buildings in Singapore at the time, the red-bricked MacDonald House at 40A Orchard Road became the target of terrorists.1 at the height of Konfrontasi (confrontation).2 On 10 March 1965, two rogue Indonesian marines detonated an 11kg bomb at the building, killing three and injuring 33.3 It was one of 37 attacks.4 which unraveled during a period where Indonesia, led by President Sukarno, strongly opposed the formation of Malaysia.5
A post-war icon and a symbol of confidence in the future
Following the Japanese surrender in 1945, Singapore worked to rebuild and rise from the ashes. Completed in 1949, MacDonald House was a building which exemplified the nation's hope and confidence in the future.6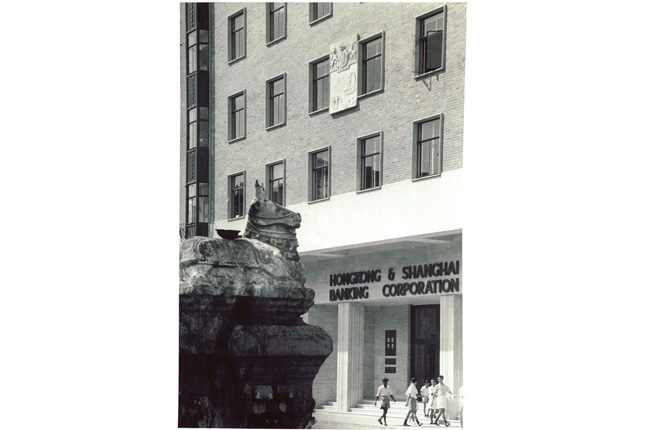 Besides the northeast, the Japanese also swiftly repaired the bombed causeway to allow more troops to enter Singapore. (Image from National Archives of Singapore)
Standing at 10-storeys, it was one of the tallest buildings in Singapore at the time.7 It was also the first office building to be fully air-conditioned. It attracted prominent international banks as tenants.8
The structure was designed by Reginald Eyre of Palmer and Turner, and named after Malcolm MacDonald, a well-loved British commissioner general for Southeast Asia from 1948 to 1955.9
No ordinary Wednesday
10 March 1965 started as a run-off-the-mill work day for the 150 Hongkong and Shanghai Banking Corporation (HSBC) employees based at MacDonald House.10 Like any other afternoon, staff had shut down the business at 3pm and were in the process of closing accounts.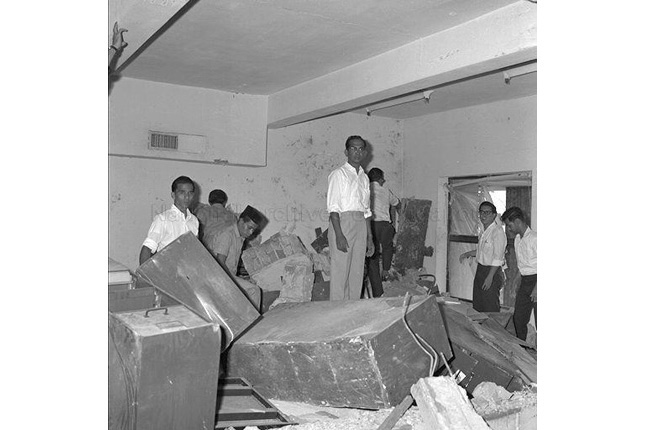 Interior damage of the MacDonald House as a result of the use of nitroglycerin explosives.
Unfortunately, just seven minutes later, a deafening explosion ripped through the building. The inner walls of the mezzanine floor absorbed the blast's force as did the building's pillars. Windows within a 90m radius of the explosion shattered and cars parked outside the building also suffered damage.11 Dazed bank staff and passersby scrambled to safety. Several were not so lucky. Three people – filing clerk Juliet Goh, 23; private secretary Suzie Choo, 36; and driver Yasin Kesit, 43 – who had been sitting outside the building died that day.12 Another 33 were injured.
Survivors such as Reverend Kenny Yeo, who was 23 at the time of the incident, have been vocal in speaking out against acts of terror. Sharing about the horror he experienced, Yeo said he had been walking by when the bomb exploded. He recalled: "My eyeball was blown out of its socket, and I had approximately 366 stitches."
An explosive confrontation
Investigations led rather quickly to the arrests of Osman bin Haji Mohamed Ali and Harun bin Said – Indonesian marine commandos in their 20s. Dressed as civilians, they had left nitroglycerin explosives near the lift lobby of the building's mezzanine floor.13
The act of terrorism was roundly condemned by then Deputy Prime Minister Toh Chin Chye as a "senseless act of cruelty".14 The marines were subsequently hanged on 17 October 1968.
The MacDonald House bombing wasn't the only attack launched on Singapore. Between 1963 and 1966, more startling attacks protesting Singapore's merger with Malaya were sprung on the island.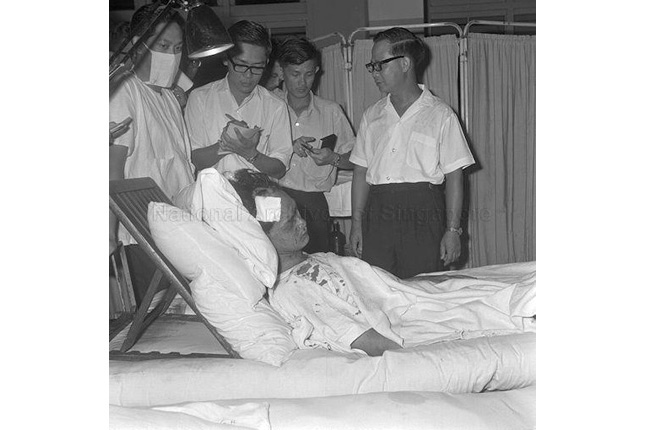 Deputy Prime Minister Dr Toh Chin Chye, who labelled the attacks as a "senseless act of cruelty", is seen visiting victims of the MaDonald House bomb explosion on 10 March 1965. (c.1965. Image from National Archives of Singapore)

No longer the victim
Today, following some rounds of renovation, there is little evidence of the tragedy that struck MacDonald House. It is occupied by tenants such as global advertising conglomerate McCann Worldgroup and beauty and wellness empire Expressions International, among other enterprises.
In 2003, MacDonald House was gazetted as a national monument. In 2015, five decades to the day of the bombing, a memorial was unveiled at Dhoby Ghaut Green which pays tribute to the victims of the tragedy and honours veteran soldiers and volunteers who defended Singapore during the tumultuous Konfrontasi era.15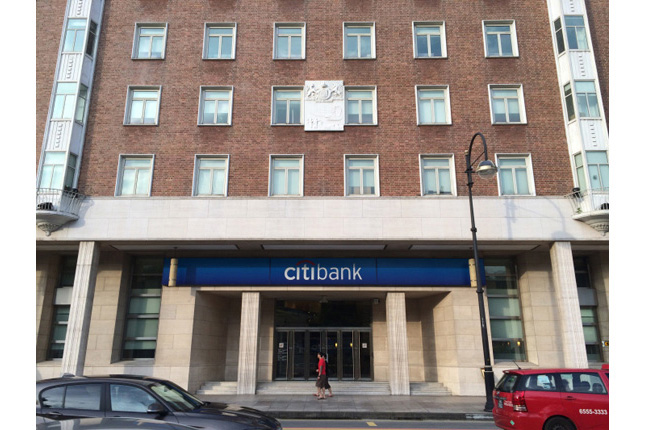 Today the MacDonald House remains as the last remaining brick structure in the Orchard Road area. It was gazetted as a National Monument in 2003 and is now home to its main tenants CitiBank and McCann Worldgroup.(c.2013. Image from lionraw.com)
Members of the Singapore Armed Forces Veterans League (SAFVL) at the Confrontation Memorial Ceremony at MacDonald House on March 2014. (c.2014. Image from National Archives of Singapore)