TL;DR
Natural heritage can be found everywhere around us here in Singapore - even in our own backyards! This article explores how HortPark, as a one-stop gardening resource hub, advances gardening and green landscaping initiatives that remain valiant efforts at the green agenda and preserving Singapore's natural heritage!
Text by Neo Yu Zhe (NTU History Programme)
When we think of some of Singapore's nature reserves and parks, we often think of popular locations like the Singapore Botanic Gardens and Bukit Timah Nature Reserve. With over 400 parks and four nature reserves in Singapore managed by National Parks Board (NParks), parks like HortPark remain less known to Singaporeans. For this article, I have had the pleasure of interviewing HortPark's Director, Shirley Ling, and Deputy Director, Lim Jin Hong, who provided interesting insights. While all parks and nature reserves contribute to Singapore's green agenda, this article is interested in HortPark's role in conserving and promoting Singapore's natural heritage and biodiversity.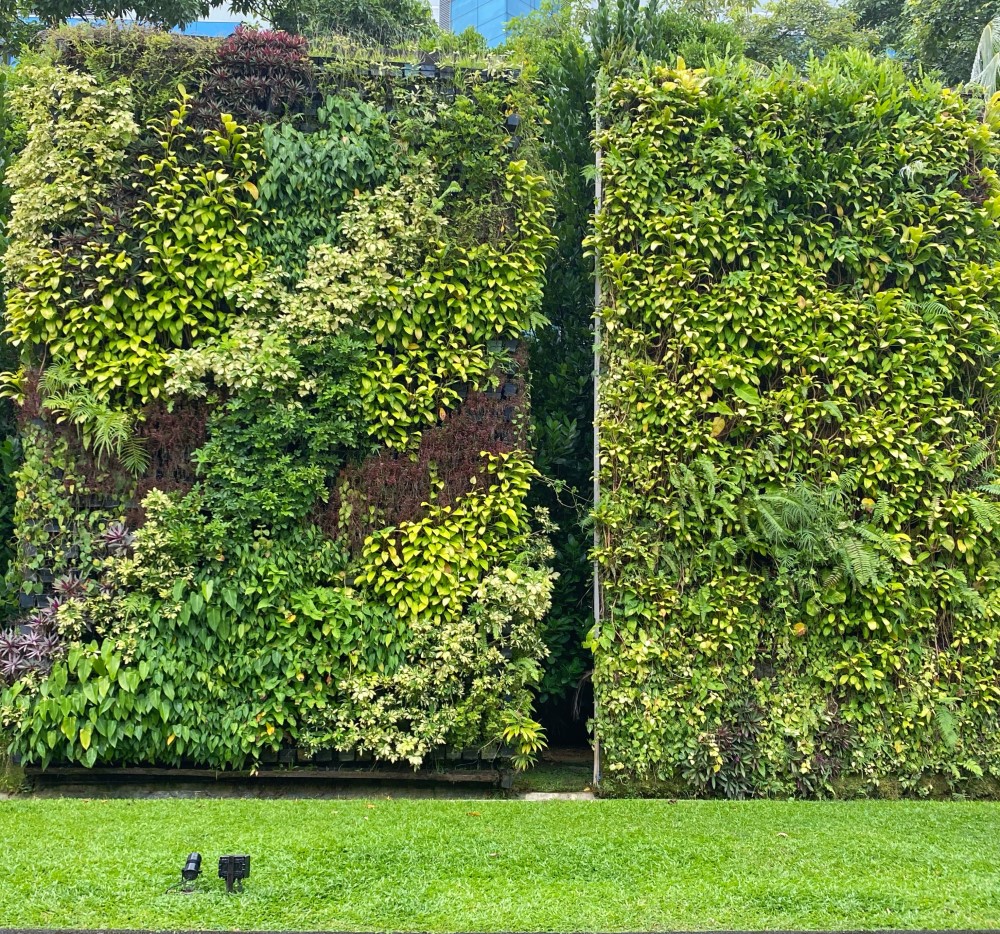 Two of HortPark's famous Green Wall installations featuring various green wall systems developed since 2008, 2022.
Located near the Southern Ridges, HortPark first opened its gates to the public on 10th May 2008. With the ideation process that started in the early 2000s, HortPark is "a one-stop gardening resource hub" that NParks envisioned as a space unique from all the other parks and nature reserves in Singapore had in the 2000s.1 Chiefly, HortPark provides the gardening and landscaping communities and industries space for research and design and a blank canvas for showcases. Moreover, as a destination park, HortPark is replete with amenities for the public too. Whether one has a passion for gardening or simply there to enjoy the natural environment, HortPark has it all. According to Ling and Lim, natural heritage in HortPark's eyes is synonymous with horticulture.2 One of the key ways HortPark has contributed to preserving Singapore's natural heritage is by promoting the importance of our natural environment and biodiversity.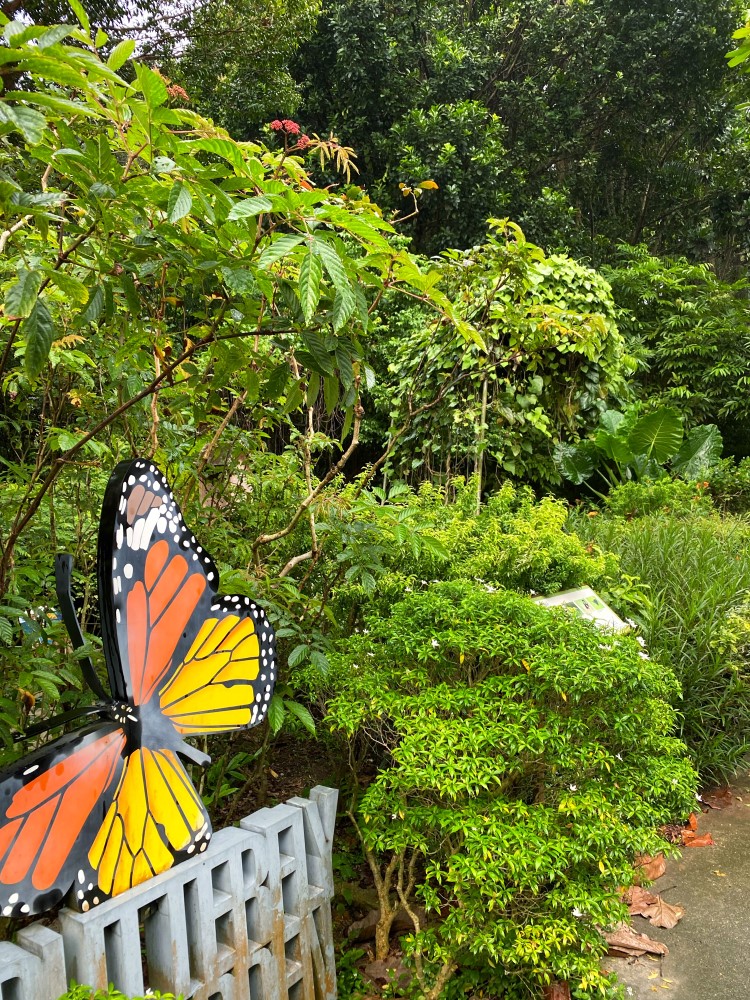 Butterfly Garden @ HortPark. Pro-tip: Head to HortPark early in the morning to catch the butterflies in action, 2022.
HortPark's butterfly garden is an excellent example. An installation that initially started as an enclosure gradually expanded into an open concept garden. By planting plant species that attract butterflies, the butterfly garden became a prototypal garden for HortPark's butterfly outreach programmes to schools and other gardens around the island. Through outreach efforts like "Save The Common Bird Wing", HortPark has contributed to the conservation of butterflies and, in doing so, also attracted other species that makeup Singapore's natural ecosystems. Consequently, endangered and once thought extinct butterflies have been spotted again in Singapore. Importantly, Ling and Lim stress HortPark's overall efforts culminates in its critical role in advocating for greenery as a whole – understanding that whatever that is within greenery comes with it – to its audience.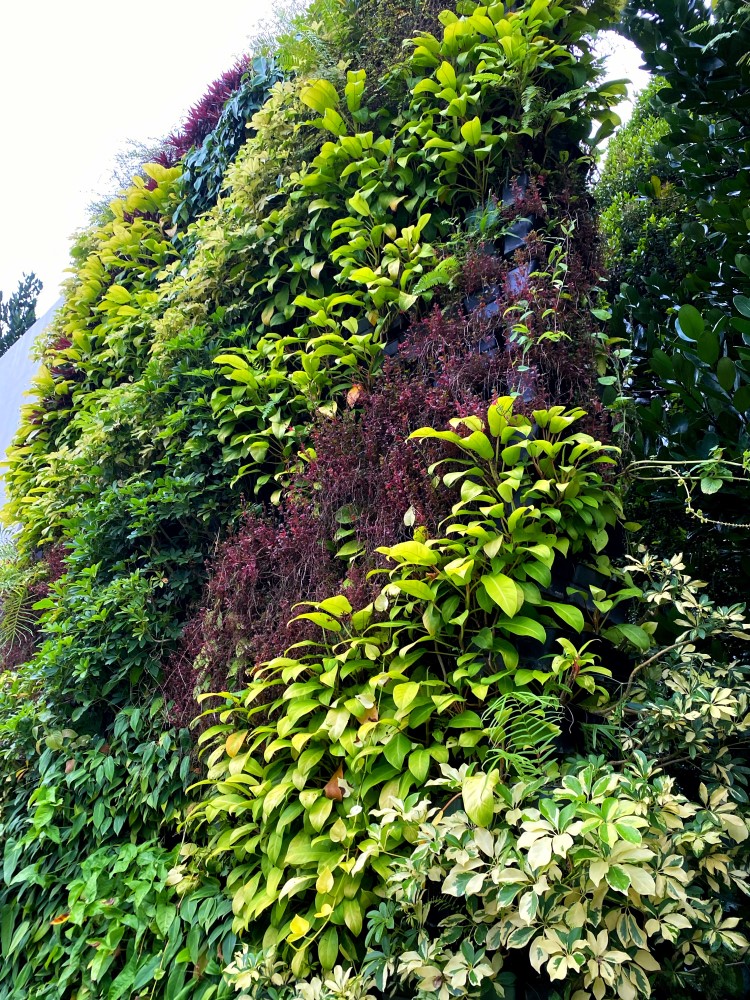 Closeup of one of the Green Walls installations that provide inspirations for home gardeners and industry partners alike, 2022.
As a hub for gardening and landscaping, HortPark facilitates horticulture innovation.3 As a facilitator, HortPark provides stakeholders with spaces to research, design, and innovate. The Green Walls installations were originally intended for research when HortPark first opened. In the early 2010s, Green Walls were uncommon and mostly unheard of in Singapore. As such, HortPark provided a space to showcase the uses, viability, and aesthetics of Green Walls to industry partners. Various companies used this space to research suitable plant types and systems for Singapore's environment. As Green Walls started to gain traction and became more widely used, HortPark subsequently rented out these Green Wall spaces to various landscape companies to showcase their Green Walls to the public. Of course, apart from Green Walls, HortPark also has other showcase spaces like raised gardening planter spaces (Vegepod) and aquaponics systems. Thus at HortPark, innovation brings forth urban promotion of our natural heritage.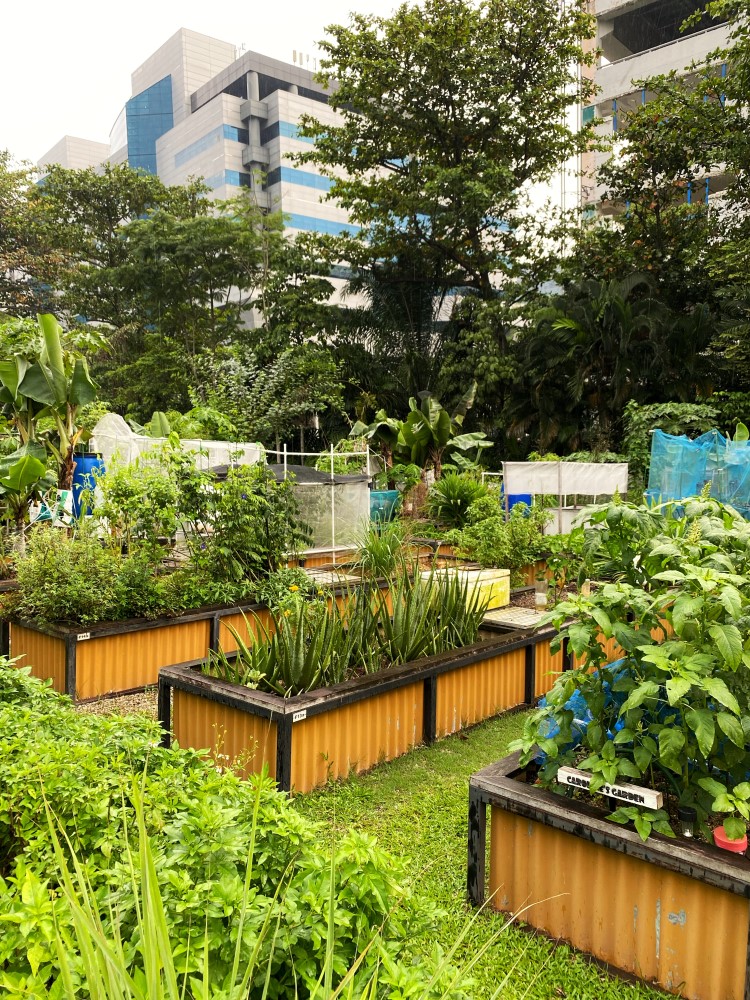 Allotment Garden in HortPark where enthusiasts are allotted a plot of gardening space to embark on their gardening endeavours, 2022.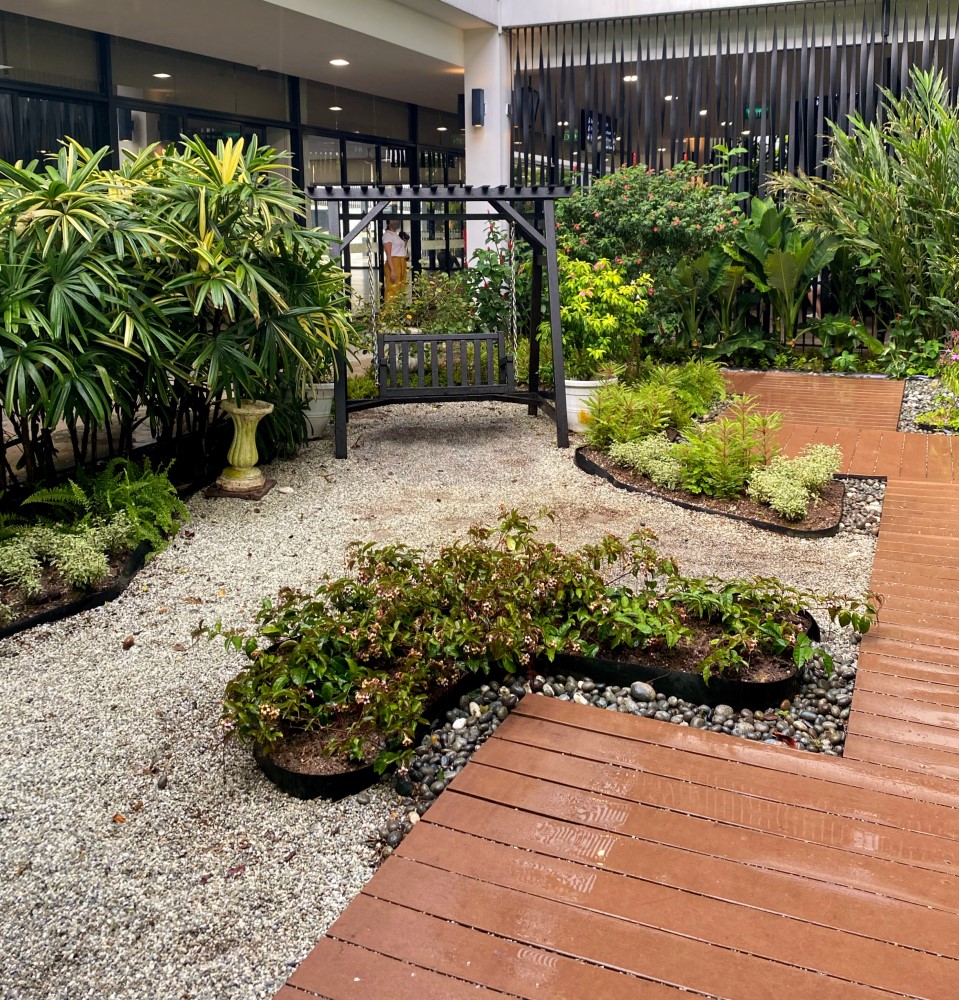 The English Garden – one of HortPark's many themed gardens to provide gardeners and landscapers with inspiration, 2022.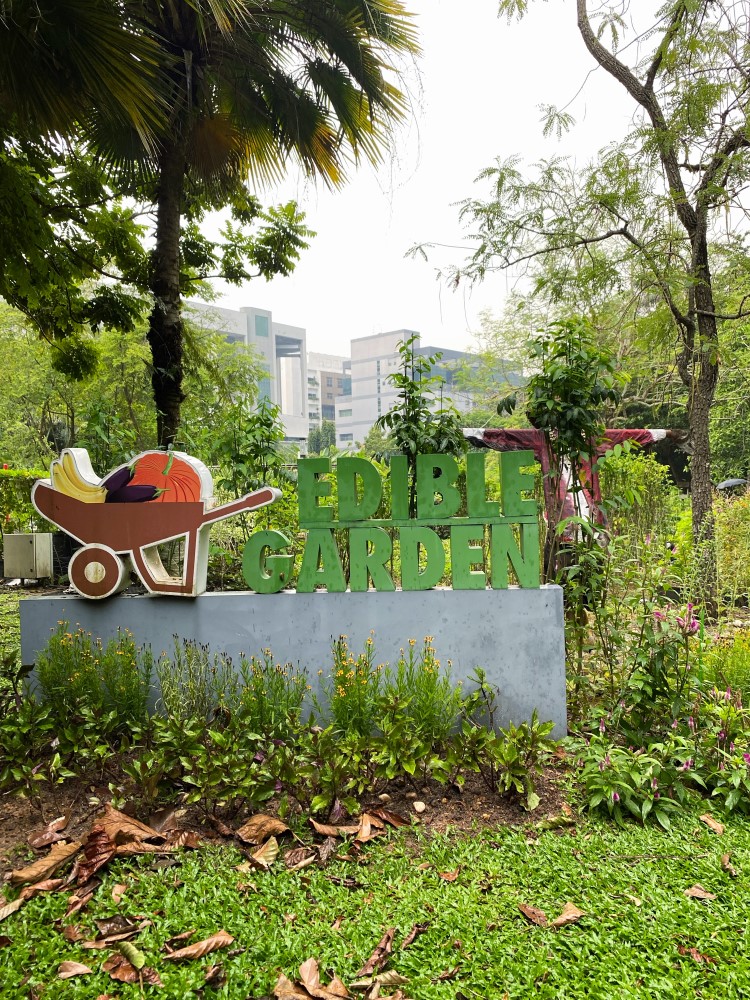 The Edible Garden – another themed gardens that provide visitors with the many types of edible plants they can plant, 2022.
Apart from providing spaces for industry partners and companies, HortPark also features spaces to inspire the general public and gardening and landscape enthusiasts with creative ideas to develop their gardens at home. With over twenty small themed gardens like the edible garden and companion planting garden, each garden provides people with ideas on the endless possibilities of home-style gardening. HortPark even features a sizeable allotment garden (featured above) for gardening enthusiasts to showcase their green talents! At this juncture, I questioned if small actions like planting a few edible plants in the comfort of our homes would have any significant impacts on the preservation of greenery in Singapore. For Shirley and Jin Hong, though these may be small actions, they believe that they are necessary "baby steps" that would nurture Singaporean's passion and love for greenery and green spaces.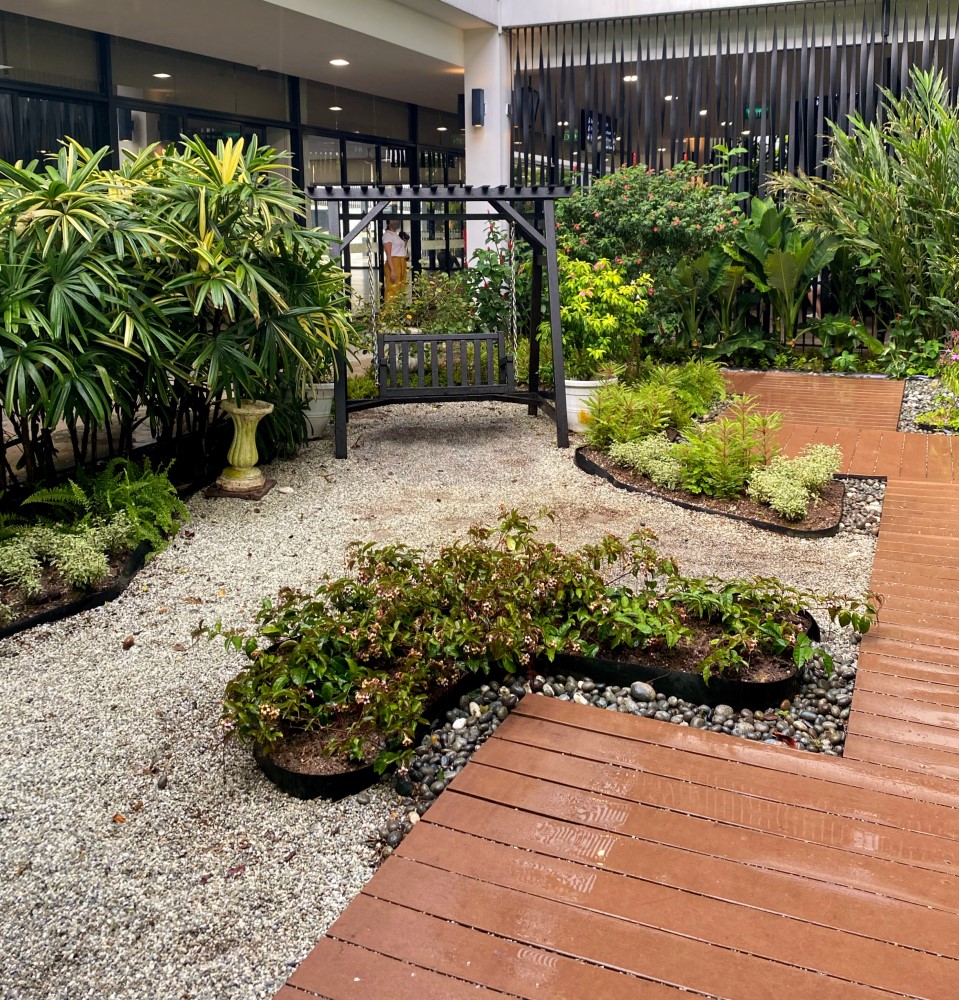 My Backyard Kitchen Garden showcases plants suitable to transform a kitchen into a backyard kitchen, 2022.
While Shirley and Jin Hong, acknowledge that HortPark may not have a very obvious or direct impact compared to bigger spaces like nature reserves or the botanic gardens, HortPark's focus on gardening and green landscaping are valiant efforts in fighting for the green agenda. By communicating this intention in its direct engagement with its primary target audience – the gardening and landscape communities and industries as well as anyone interested – HortPark takes on a key role in conserving and promoting the nation's natural heritage and biodiversity. If you have a chance, head down to HortPark to enjoy its themed gardens. Perhaps along the way, you would receive some gardening inspiration and landscape designs that would contribute to Singapore's transformation into City in Nature!
About Partner
Yu Zhe is a Year 2 History Undergraduate at Nanyang Technological University. In his free time, he enjoys taking long walks with his friends and savour the sights and sounds nature has to offer. During rainy days, he loves to curl up on the couch with a cup of warm tea and a good book! In school, he is the Financial Controller of the NTU History Club – check them out on Instagram (@ntu.history) and Twitter (@ntuhistorysc)
This article was developed for Singapore Heritage Fest 2022
References
"HortPark - the Gardening Hub," National Parks Board, January 27, 2022, https://www.nparks.gov.sg/gardens-parks-and-nature/parks-and-nature-reserves/hortpark.
According to the department of Horticulture, Michigan State University, horticulture refers to the "science and art of the development, sustainable production, marketing and use of high-value, intensively cultivated food and ornamental plants." "What Is Horticulture? A Modern Applied Plant Science!," Department of Horticulture, College of Agriculture and Natural Resources, Michigan State University , accessed February 14, 2022, https://www.canr.msu.edu/hrt/about-us/horticulture_is.
Ling and Lim refers horticulture innovation to the different application of horticulture in different contexts.