During the 1920s and 1930s, bus services were mainly provided by small seven-seater motor buses known as "mosquito buses". These buses plied rural areas which were poorly served by other means of transport (e.g. trams and trolleybuses within the city area) at the time.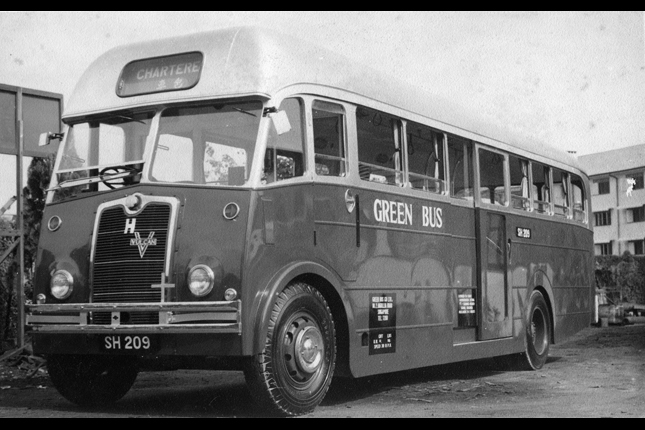 A close-up of one of the buses owned and operated by Green Bus Company. (Photograph courtesy of Patrick Ong)
They were popular with the working classes because they were cheap and faster than omnibuses and trolleybuses. Other modes of transport available included rickshaws and light hackney carriages.
In 1921, the registrar of vehicles reported that there were 147 mosquito buses in operation and by 1929, the figure had risen to 456 although it was likely that there was a significant number of unlicensed operators.
By 1935, there were a total of 10 "mosquito bus" companies that provided such bus services and one of these companies was the Green Bus Company. The other bus companies included Keppel Bus Company, Soon Lee Bus Company and Ngo Hock Bus Company.
Back then, the local bus companies were mainly owned and operated by the Hock Ching (Fu Qing) dialect group from East Fujian Province. These bus companies were also commonly and collectively known as the "Chinese bus companies".
The Green Bus Company was formerly known as Rochor Bus Co. and established in 1935 by Ong Kim Hock's brothers and other partners with a fleet of about 35 buses.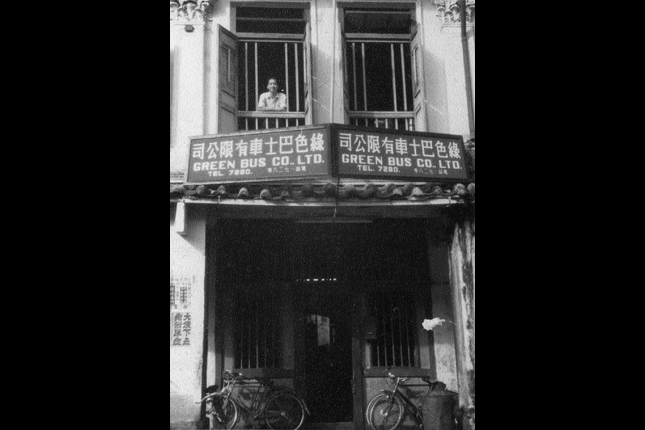 The office of Green Bus Company at Queen Street. (Photograph courtesy of Patrick Ong)
The wives of the founders of Green Bus Company who were in charge of the financial operations of the bus company. (Photograph courtesy of Patrick Ong)
In addition, these early private bus companies used to have their respective bus terminals and depots. The Green Bus Company's terminal was located at 2 Angullia Road (Queen Street) and its workshop was located at Bukit Timah Road.
More specifically, the bus terminal for Green Bus Service No. 5 was located at the former Princess Elizabeth Estate at the junction of Elizabeth Drive, Lorong Kemunchup (now Jalan Kemunchup) and Jalan Zamrud. (Note: The bus terminal was demolished in the 1990s although the roads still remain.)
During the 1950s, the Green Bus Company was operating the following routes: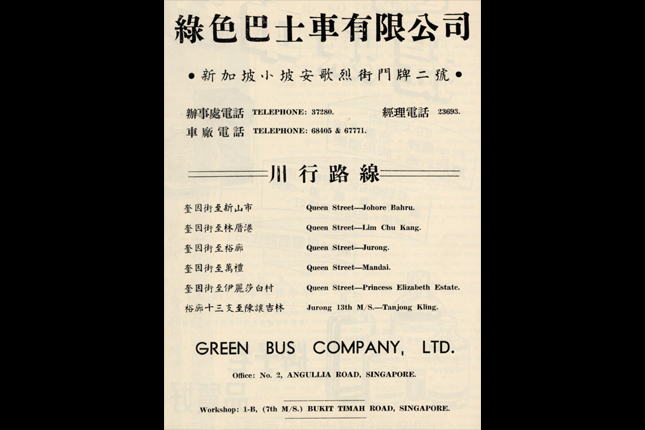 a. Bus No. 1 Queen Street to Johore Bahru
b. Bus No. 2 Queen Street to Lim Chu Kang
c. Bus No. 3 Queen Street to Jurong
d. Bus No. 4 Queen Street to Mandai
e. Bus No. 5 Queen Street to Princess Elizabeth Estate
f. Bus No. 6 Jurong 13th mile to Tanjong Kling
The No. 5 bus route started at Queens Street in Rochor and covered Bukit Timah Road, Upper Bukit Timah Road, Hillview Avenue before ending at Princess Elizabeth Estate.
During the Japanese Occupation, all transport assets were seized and almost all bus services were halted. After World War II, the Chinese companies regained their transport assets and continued operating in their respective districts.
On 1 May 1950, Green Bus Company announced the acquisition of new Vulcan omnibuses, The commencement of its Singapore-Johore bus routes as well as the opening of a new S$100,000 garage and workshop at Bukit Timah.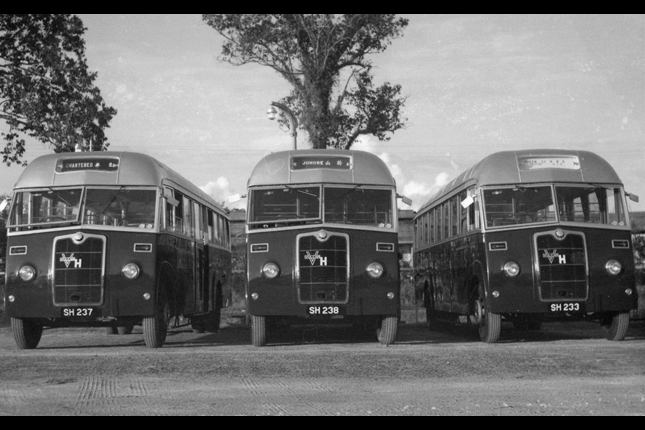 A fleet of buses owned and operated by Green Bus Company. (Photograph courtesy of Patrick Ong)
Throughout the 1950s, there were a number of incidents involving Green Bus Company which were reported in the press.
These incidents included a bus catching fire at the Green Bus Company's Queen Street bus terminal at 2 Angullia Road (off Queen Street) on 3 November 1953 as well as a bus plunging into the Bukit Timah Canal near the 7th mile Bukit Timah Road on 12 November 1953. In addition, workers from Green Bus Company were also involved in a strike during the labour unrest in the 1950s-early 1960s.
During the post-war period, there were a total of 11 bus companies providing bus services all across the island. The main municipal trolleybus operator was the British-owned Singapore Traction Company (STC) which plied routes in the city area.
The bus services for the remaining areas of Singapore were provided by the 10 Chinese bus companies, each covering a part of the rural and fringe areas of the island.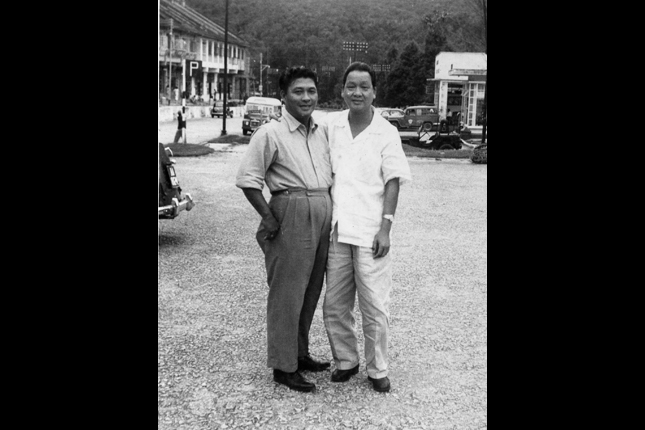 The owner of Green Bus Company, Mr. Ong Cheng Siang (standing on the right), grandfather to Mr. Patrick Ong, with his friend. (Photograph courtesy of Patrick Ong)
On 27 April 1960, Mr Ong Cheng Siang, the 44 year old owner of Green Bus Company, was kidnapped after a dinner at Great World. He was held captive in an underground cell somewhere on the east coast of Singapore and released after 9 days following the payment of a substantial ransom. He was reported to have been thrown out of the kidnappers' car at Amber Road where he proceeded to hail a cab back to his motor-workshop at Rochor Canal Road.
In April 1971, the 10 Chinese private bus companies were merged to form three large public bus companies. All existing bus routes operated by the bus operators were rationalised and reorganised to avoid duplication of routes.
Amalgamated Bus Company (ABC) Ltd covered the western parts of Singapore, Associated Bus Services (ABS) Pte Ltd covered the eastern parts of Singapore and United Bus Company (UBC) covered the northern parts of Singapore while Singapore Traction Co. (STC) continued to cover the central parts of Singapore. The buses for each company were assigned a standardised colour: ABC buses were royal blue, ABS buses were red, UBC Ltd buses were yellow and STC buses were green.
As part of the merger, Green Bus Company merged with other Chinese "mosquito bus" companies to form the United Bus Company (UBC) and the No. 5 bus route was renamed as UBC Service 173 and extended to start from New Bridge Road and covered Orchard Road.
However, the amalgamation of the Chinese bus companies did not succeed and by 1973, the government stepped in to re-organise the bus system and established the Singapore Bus Services (SBS). SBS was subsequently renamed SBS Transit in 2001 when it became a bi-modal bus and rail operator.
Copyright of National Heritage Board