Pioneer leader and top sportsman, Edmund William Barker (1 December 1920-12 April 2001) was a strong advocate for sports. Among other things, he worked to ensure the National Stadium, an important stage for local athletes and a defining landmark for Singapore's sports scene, was completed in time for the 1973 Southeast Asian Games.1
His other notable contributions include drafting the documents for Singapore's separation from Malaysia in 1965, and serving as the principal actor in the last round of talks with the Malaysians. 2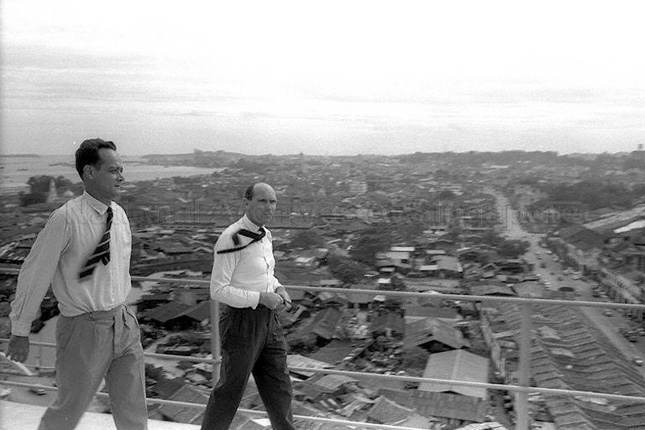 E W Barker (left) visiting Kallang Gas Works in 1964 as Minister for Law — his first appointment in Lee Kuan Yew's cabinet. (Image from the National Archives of Singapore)
An all-rounder
Barker was charismatic and athletic, serving as head prefect and football team captain at Raffles Institution. There, he befriended individuals such as Lee Kuan Yew.
At Raffles College, he represented the school in a broad range of sports such as badminton, cricket, soccer, rugby and hockey, playing with future leaders of Malaysia like Tun Abdul Razak along the way.4
Barker later won the highly sought-after Queen's Scholarship which he used to pursue law at Cambridge University. He graduated in 1951.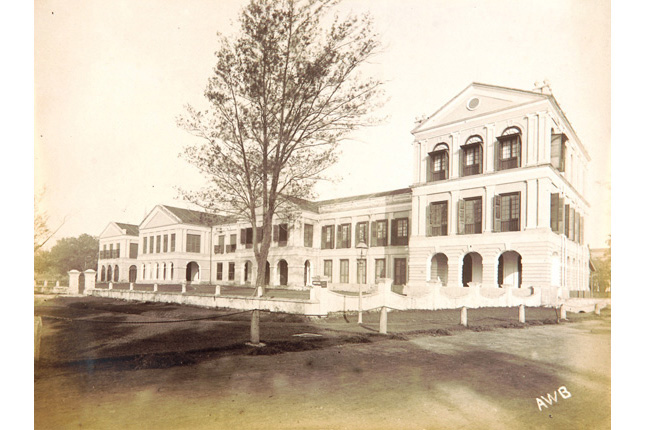 Raffles Institution was established in 1823. It was originally sited at Bras Basah Road, where Raffles City Shopping Centre stands today. (c.1920)
Career & accomplishments
In 1963, Lee invited Barker, who had been practising law,5 to enter politics. He agreed out of a feeling of attachment and loyalty to Singapore.6 Barker won a seat in Tanglin during the general election the same year. He went on to serve unopposed in the constituency until his retirement from politics in 1988.7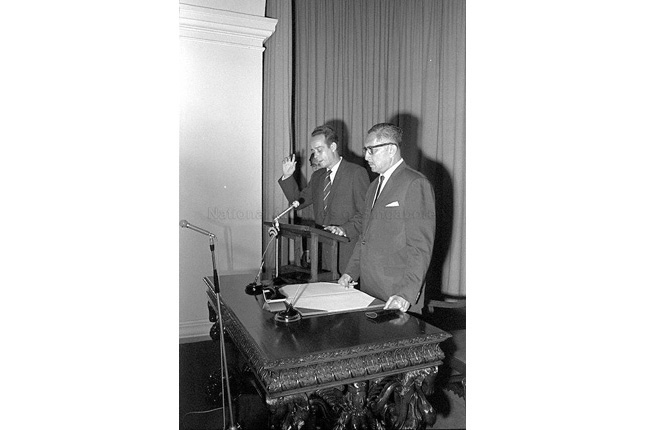 Swearing-in of Minister for Law E. W. Barker at Istana Negara in the presence of Yang Di-Pertuan Negara of Singapore, Yusof Bin Ishak (c.1964. Image from National Archives of Singapore)
Barker played an important role in Singapore's separation from Malaysia in 1965. Tasked to draw up the legal documents, he spent 10 days on the drafts. He also travelled to Kuala Lumpur with Minister of Finance Goh Keng Swee to finalise the deal with the Malaysians.8
Records credit Barker for his friendships with Deputy Prime Minister Tun Razak and Attorney-General Kadir Yusof as having helped mitigate some of the friction.9
Although Barker was the first on the Singapore side to sign the agreement just some time after midnight on 7 August 1965, he left space for his senior colleagues to add their names to the top of the treaty.10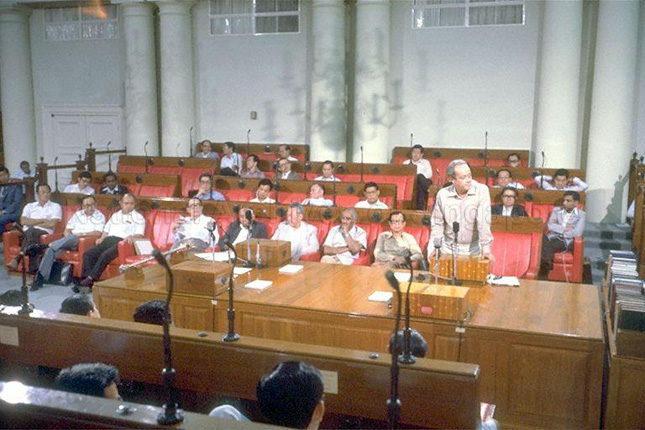 Law Minister E. W. Barker speaking at a Parliament sitting in 1981. (c.1981. Image from National Archives of Singapore)
While he never held a sports-related position in cabinet — having handled portfolios in Law, Home Affairs, National Development, Science and Technology, and Environment —11 Barker's contributions to Singapore sports were significant nonetheless. For instance, he persuaded the government to allocate land and money12 for the construction of the National Stadium,13 and as President of the Singapore National Olympic Council from 1970 to 1990, was part of the main organising committee which secured Singapore's role as host for two editions of the Southeast Asian Games.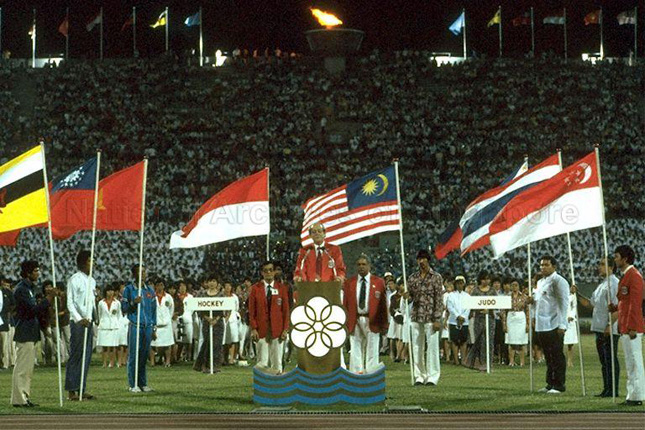 E. W. Barker giving a speech at the Closing Ceremony of the 12th Southeast Asian (SEA) Games, of which he was the SEA Games Federation Council President alongside his portfolio of Minister for Law and Labour. (c.1983. Media Image No.: 19980006938 – 0103. Image from National Archives of Singapore)
Over the course of his 25-year career in politics, Barker was responsible for putting an end to the jury system; spearheading the Preservation of Monuments Act; and kickstarting the Golden Mile endeavour where a stretch running from Beach Road to Kallang was developed for city living.
Accolades Aplenty
For his contributions, Barker was noticed by global bodies such as the International Olympic Committee, which awarded him the Olympic Order (Silver) in 1985 for advancing Olympic values.14
In 1990, he was honoured by the Singapore government with the Order of Nila Utama (First Class).
Numerous sports-related scholarships and programmes at institutions such as Nanyang Technological University have been named after him. In 2011, his alma mater, Raffles Institution, set up the E. W. Barker Institute of Sports to support career athletes.15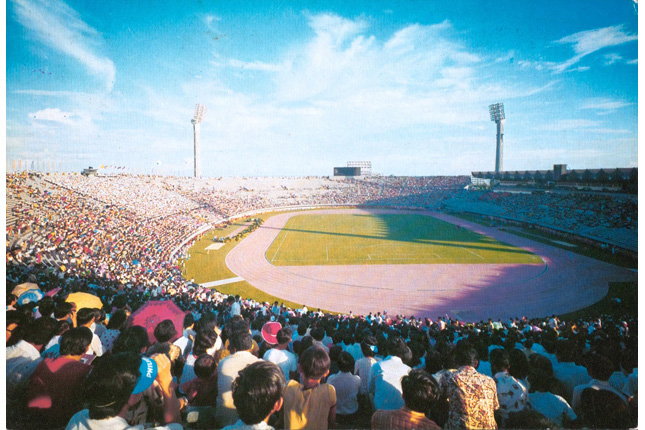 E.W. Barker was very much instrumental in the construction of the National Stadium that would go on to not only host key sporting events like the 7th Southeast Asian Peninsular (SEAP) Games in September 1973, but also the site of many memorable National Day Parades. (c. 1970s-1980s)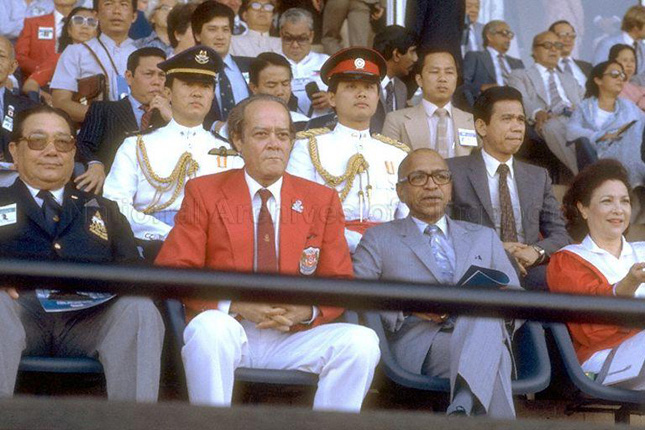 E. W. Barker sits alongside Singapore President Devan Nair (in grey suit) watching the 1983 Southeast Asian Games football final between Singapore and Thailand at the National Stadium (Image from National Archives of Singapore)