As part of their Cinema Reclaimed season for Singapore Heritage Fest, which is themed around travel and tourism in films made in Singapore, researchers and writers Ben Slater and Toh Hun Ping have put together a map of key locations from the films from their film selection.
Text by Ben Slater and Toh Hun Ping
National Theatre
Address: River Valley Road, Fort Canning Park
Designed to commemorate Singapore's attainment of self-government in 1959, the building of the National Theatre was funded substantially by public contributions until its completion in 1964. The open-air theatre, which could seat an audience of more than 3,400, became a popular venue for large-scale performances, concerts, conferences, university convocations and the annual National Day rallies (1966-1982). It was a much beloved destination for friends and family outings, many well-remembered with photographs of themselves with the iconic five-pointed frontage and the crescent-shaped bowl fountain. In film, the theatre was also a frequent backdrop for characters visiting from overseas, such as in Crazy Bumpkins in Singapore 阿牛下南洋 (1976), where local comedic double Wang Sha and Ye Feng, in their roles, lingered around the fountain to think of ways to feed a found baby. It had also served as a key location for films such as Kaseh Ibu (1965) and Ninaithale Inikkum (1979). The theatre was demolished in 1986 after it was deemed structurally unsafe.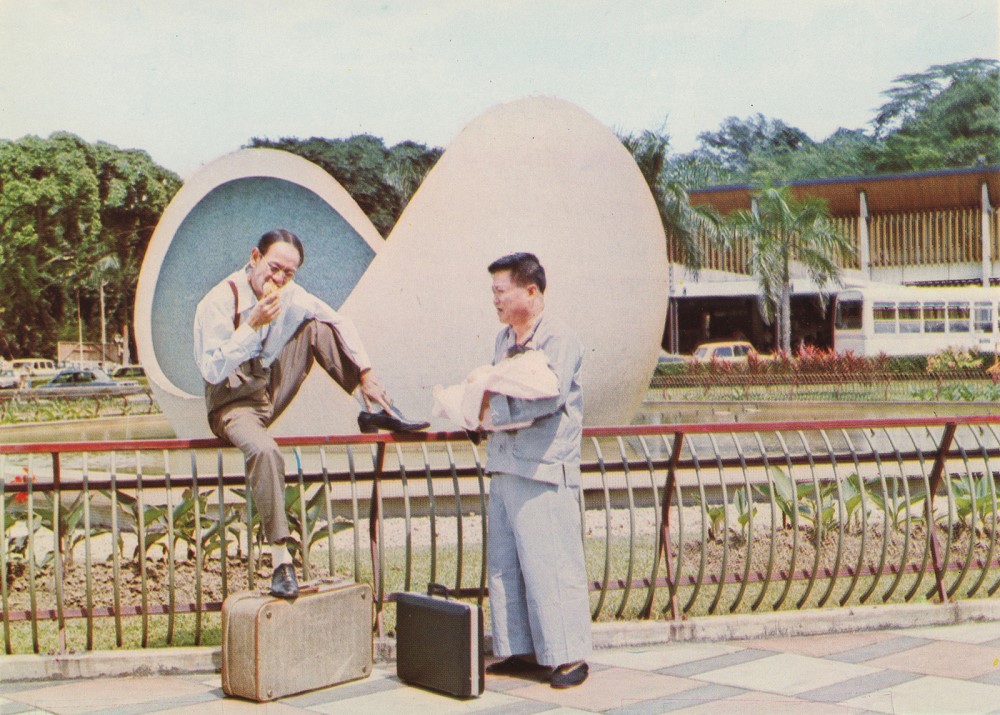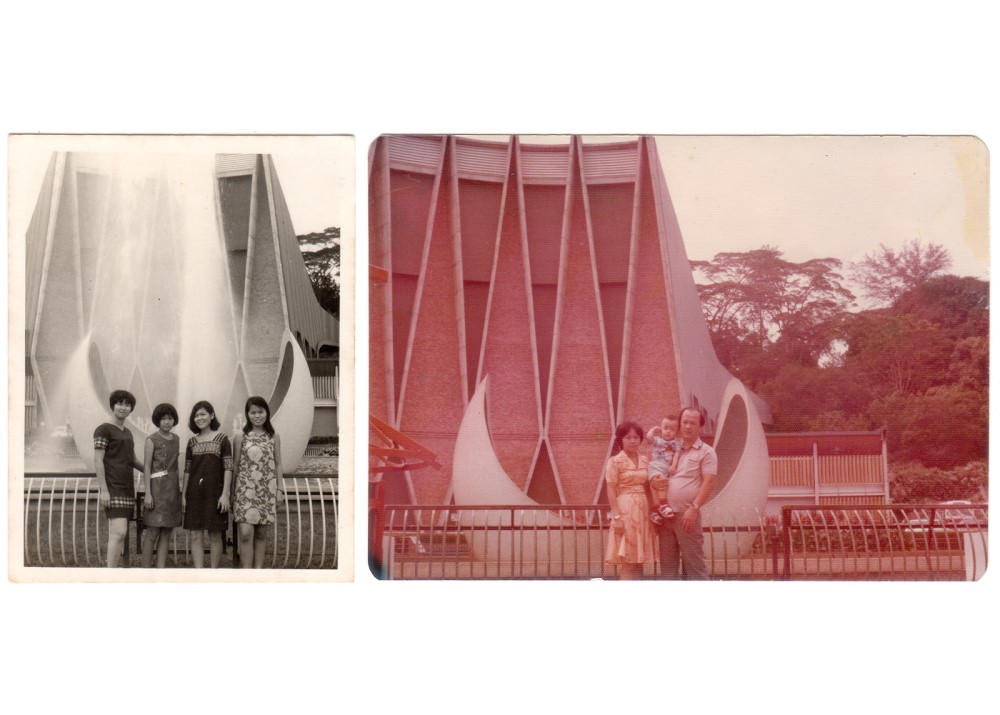 Former Satay Club
Address: Connaught Drive, Esplanade
The former Satay Club at the Esplanade was named after one of Singapore's favourite dishes 'satay' – sticks of grilled skewered meat served with spicy peanut sauce. This hawker establishment had roots in a thoroughfare near the Alhambra and Marlborough cinemas along Beach Road in the late 1940s, before it was relocated to the Esplanade in 1971. Built as an open-air food centre, the Satay Club became a famous hotspot, with locals and tourists alike, to soak in the evening sea breeze while relishing the eponymous street food and other popular hawker dishes. Filming crews from Hong Kong and Taiwan also found the waterfront venue an attractive location for films with stories of travel, such as Crazy Bumpkins in Singapore 阿牛下南洋 (1976) and Where The Sea Gull Flies 海鸥飞处 (1974). Key scenes from local martial arts film Ring of Fury 血指环 (1973) were also shot there. The Satay Club closed in 1994 to make way for Esplanade Theatres on the Bay and the Nicoll Highway extension.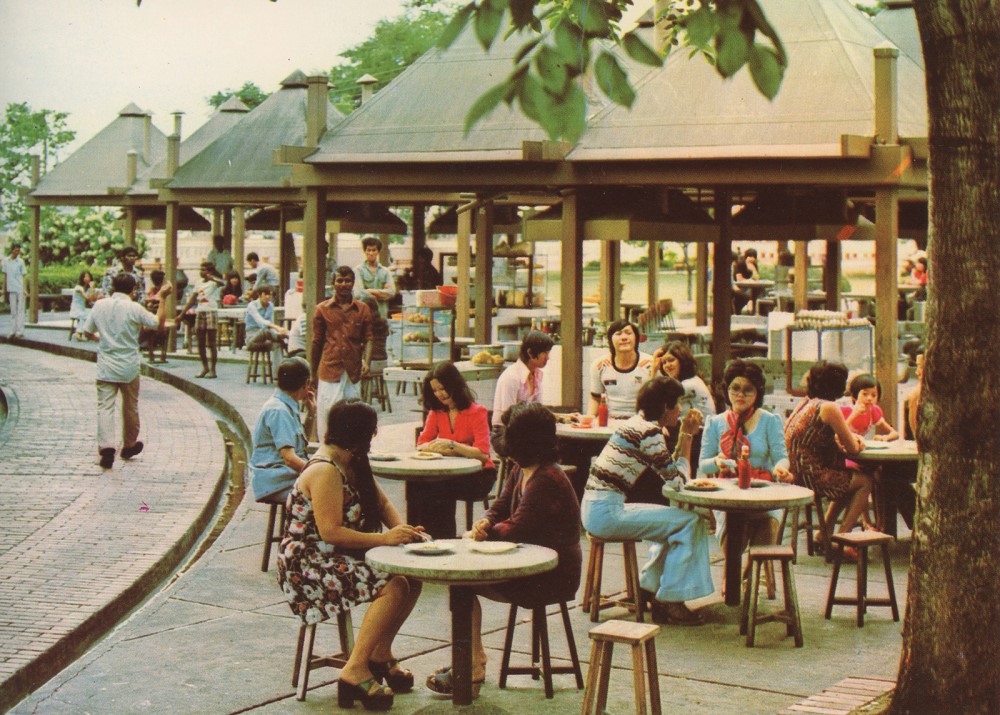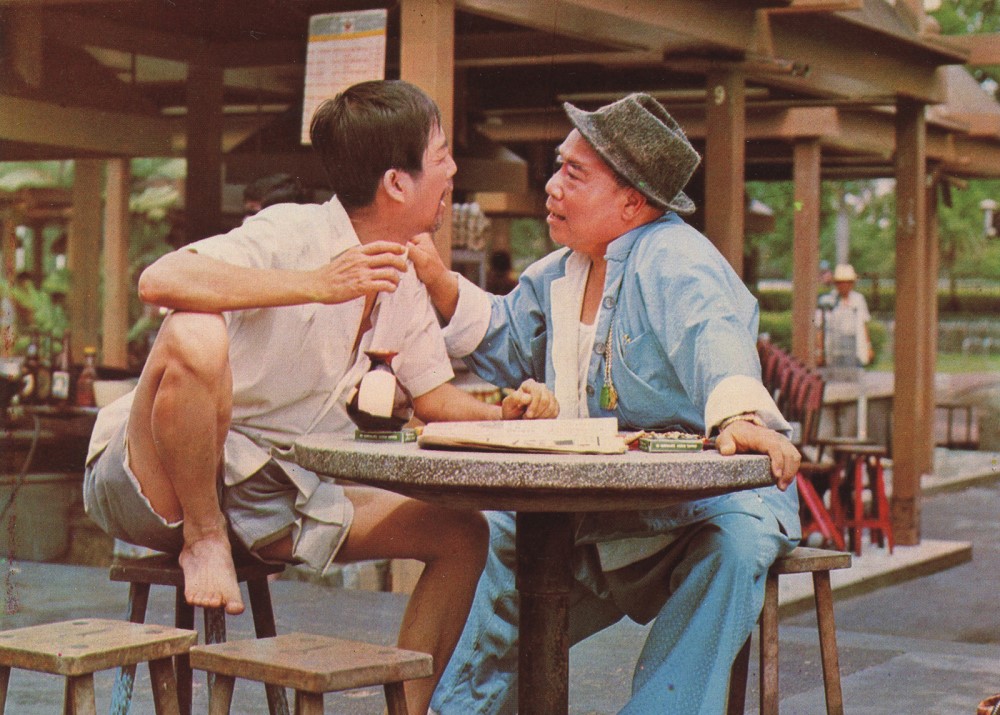 Siong Lim Temple (Lian Shan Shuang Lin Monastery 莲山双林寺)
Address: 184, Jalan Toa Payoh
The Siong Lim Temple is a Buddhist monastery founded in 1898 and built on the land of a Hokkien merchant, Low Kim Pong with the help of his father-in-law Yeo Poon Seng. The idea to build the temple was conceived after Low and his son both dreamed of a sacred man and meeting a group of monks and nuns led by Venerable Xian Hui, who became the monastery's founding abbot. Over the decades, the temple gained renown among local worshippers, pilgrims and travellers alike, and came to be listed regularly in guidebooks of Singapore. Numerous filmmakers also paid cinematic homage to the spiritually revered place. As early as 1925, German travel film The Flight Around the World , the first fiction feature to be partly shot on location in Singapore, showed many areas of the temple complex, capturing pre-WW2 images of the architecture before a major restoration in the 1950s; these included the entrance Hall of Heavenly Kings, where local comedic double Wang Sha and Ye Feng also performed for the film Crazy Bumpkins in Singapore (1976), in their roles as fortune-tellers.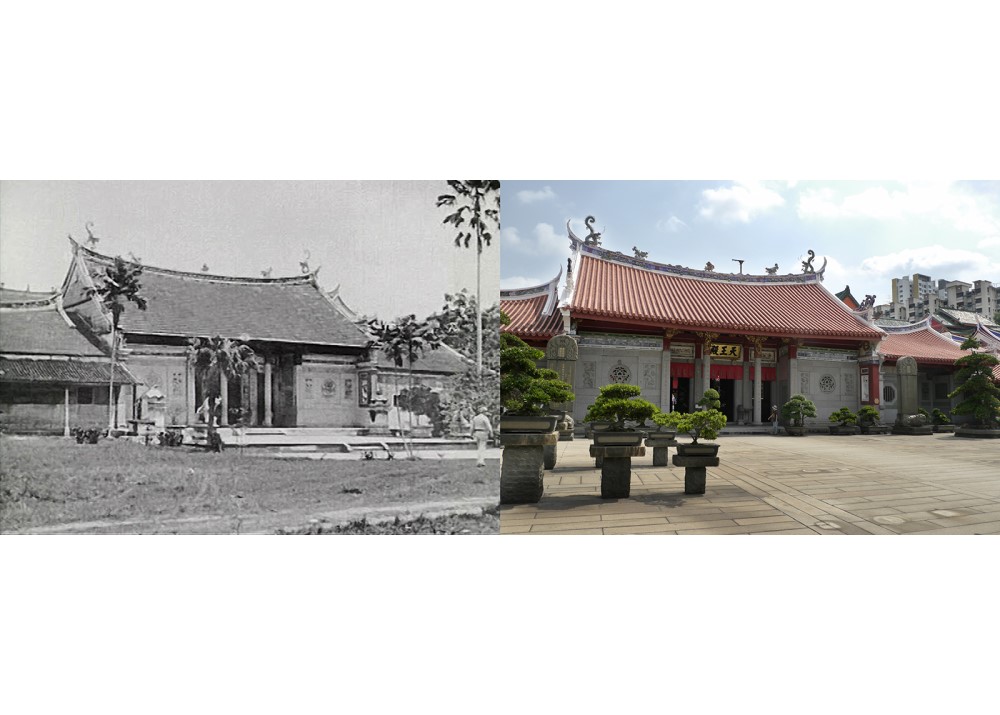 Former Cathay Building
Address: Dhoby Ghaut
When completed in 1941, the Cathay Building was Singapore and Malaya's first-ever skyscraper, featuring sixteen storeys of luxurious suites, with a double-storey penthouse that was home to Loke Wan Tho, head of the Cathay Organisation which commissioned the building. Designed by architect Frank Brewer in the Art Deco style, the flagship at Dhoby Ghaut had under its roof the Cathay Cinema, Cathay Restaurant and Cathay Hotel (converted from the suites in 1954). The classic architecture and setting inspired many filmmakers from the 1950s to '60s to locate part of their narratives in and around the skyscraper, including those of the Cathay-Keris studio, the local filmmaking arm of Cathay Organisation. In Rasa Sayang Eh (1959), as star performer Wahid Satay flies into Singapore, his flight passed over the skyscraper. A travelling magician-villain falls to his death from the roof of the building in Sumpitan Rachun (1961), as did Mat Sentol in Mat Bond (1967; a spoof spy film), who magically survives the fall and even does a flying-fox descent across its façade. The Cathay Hotel, its lobby and rooms, also received a notable location cameo in French espionage thriller Five Ashore in Singapore (1967). Fast forward to 2006, after a major redevelopment of the aging building, it reopened as The Cathay.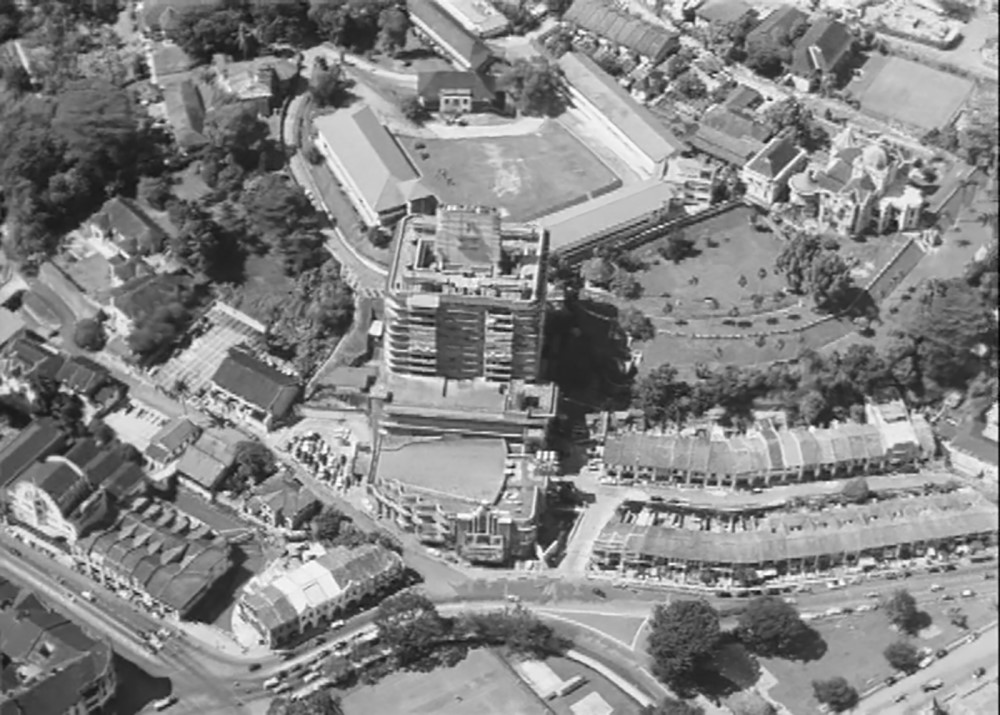 Singapore Cable Car, Mount Faber
Address: 109 Mount Faber Road
Conceived in 1968 as part of a tourism masterplan the Singapore Cable Car finally opened in 1974 after years of development and testing and was an immediate hit with locals and visitors. The gondola lift system initially linked a station on Mount Faber (Singapore's second highest peak after Bukit Timah Hill, originally Telok Blangah Hill) with a single station on Sentosa, on a loop made up of 43 cabins that – in those days – had doors that had to manually opened at either end. The Cable Car first made its appearance in feature films when it was used as a means of escape, from some heavies, by superspy Cleo (Doris Yong) in They Call Her… Cleopatra Wong in 1978. It was only logical that when Hawaii Five-O came to Singapore that same year that they would film a daring chase and fight scene on the Cable Car, probably modelled on a set-piece from On Her Majesty's Secret Service (1969), starring George Lazenby as James Bond, who incidentally played a bad guy in the same episode of Hawaii Five-O. Today the Cable Car still leaves from Mount Faber but now stops at Harbourfront and at three stations on Sentosa, and the doors open and close automatically.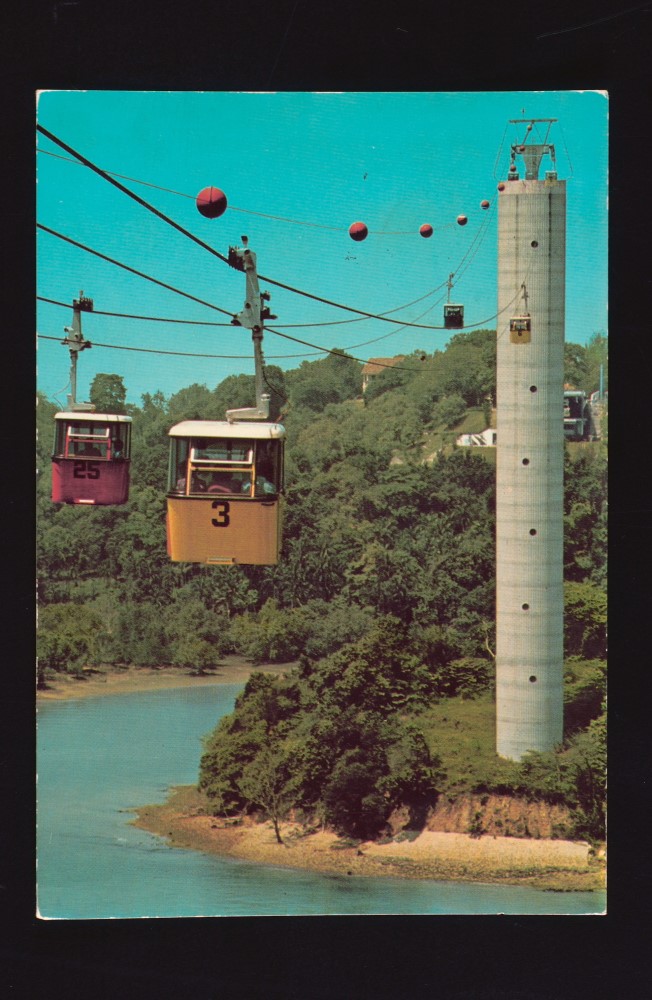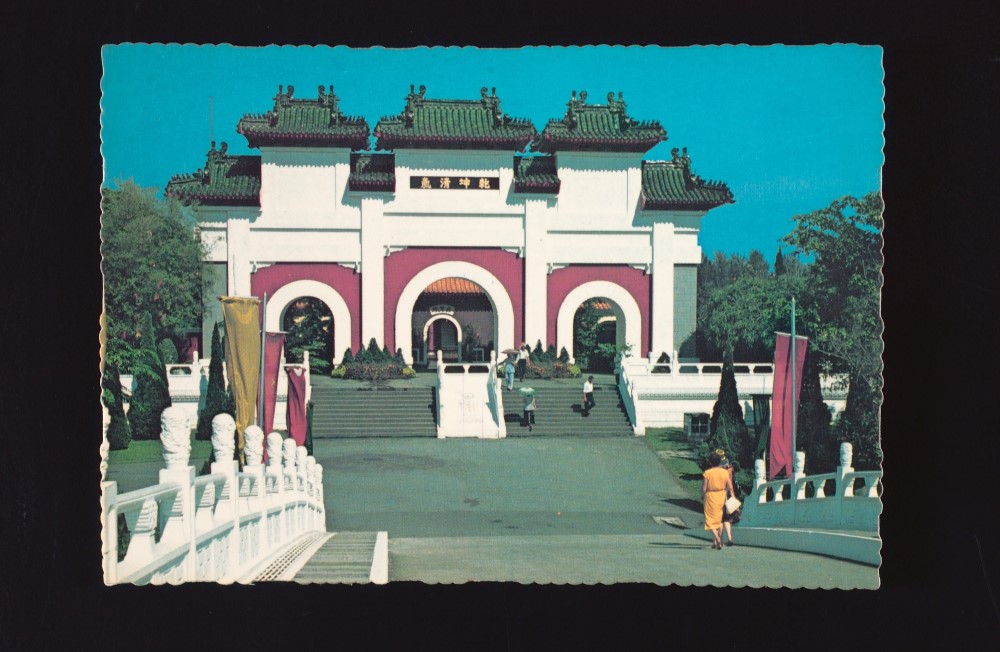 Chinese Garden
Address: Boon Lay Way
In the late 1960s Jurong Town Council made plans to repurpose a mangrove swamp along the Jurong river into Jurong Park, a green belt for civic use, which was finally opened to the public in 1975. The plan was to create set of contrasting and connected 'gardens' (now called Jurong Lake Gardens), with the Chinese Garden as the centrepiece. Designed by Yu Yuen-Chen, a Taiwanese architect, the Chinese Garden was intended to emulate northern Chinese Imperial gardens, including a Rainbow Bridge based on the arched bridge at the Summer Palace in Beijing. This bridge was first seen on film in They Call Her… Cleopatra Wong in 1978 during a scene where superspy Cleo (Doris Yong) escapes from an army of villains. The year that film was released it was a key location in the Singapore episodes of Hawaii Five-O , when renegade American soldier Sandover (Barry Bostwick) is supposed to be reunited with his wife (Victoria Principle), a meeting disrupted by supercop Steve McGarrett (Jack Lord). No doubt both sets of filmmakers were attracted by the bridge's dramatic and picturesque arches, although it makes little sense for any of the characters to head this far to the west of Singapore!
Raffles Hotel
Address: Beach Road
While Raffles Hotel is one of Singapore's truly iconic buildings, what's less well-known is that by the time it appeared in movies in the 1960s it was past its prime. The Golden Era, of the 1920s and 30s (whenby it was visited by luminaries like Noel Coward and Somerset Maugham) was over for the Sarkies Brothers legendary hostelry. The hotel's charms had reportedly faded, and its crumbling entrance was under reconstruction when it was a key location for the British-American film Pretty Polly (1966), an adaptation of Noel Coward's Singapore-set novella and a star vehicle for Hayley Mills, nevertheless it maintained a timeless, colonial glamour. Over a decade later the lobby area is the meeting point for the two villains of the Singapore episodes of Hawaii Five-O , played by George Lazenby and Barry Bostwick, and that same year it would be used for scenes in Saint Jack , which show the Palm Court, a tiny elevator and one of the rooms. In the 1980s it was visited by David Bowie in the documentary Ricochet and was repurposed into the office of evil capitalist Nicoll Williamson in the TV movie Passion Flower . In 2018, after years of upgrading, reconstruction and having changed hands several times, it was a meeting point between the beautiful lovers of Crazy Rich Asians. Who knows which fictional characters will meet there next?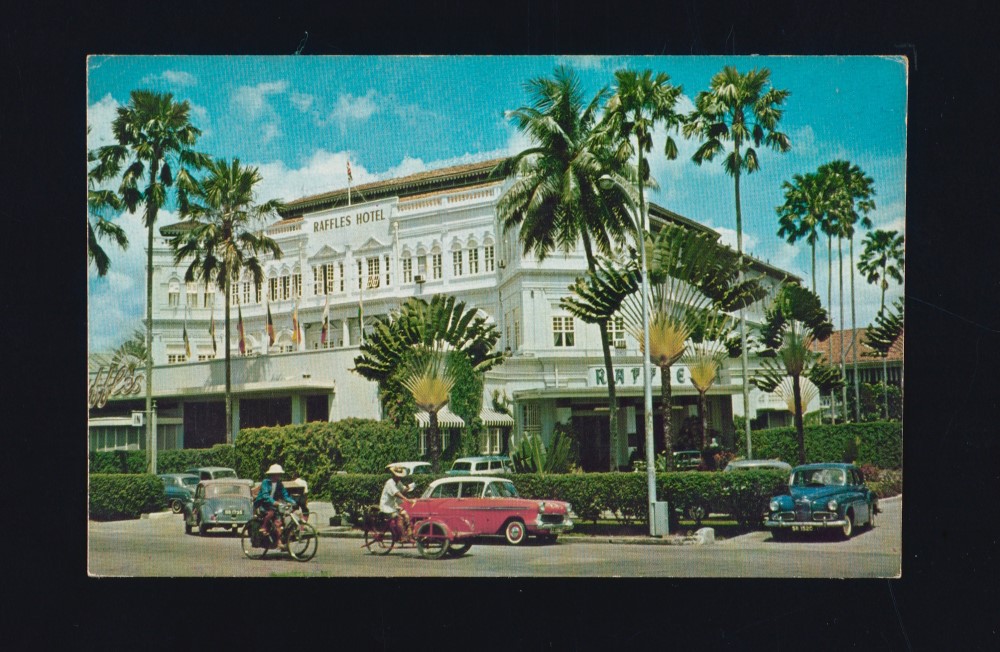 About Partner
Researchers Ben Slater (author of Kinda Hot: The Making of Saint Jack in Singapore) and Toh Hun Ping (SG Film Hunter) collaborate to present the second edition of the Cinema Reclaimed programme entitled Temptations of Travel, in partnership and collaboration with the Asian Film Archive.
The article was developed for Singapore Heritage Fest 2022