For millennia, the performing arts have been a medium for people to express, examine and redefine their culture and heritage. Since Nam Hwa Opera's earliest days as a group of amateurs brought together by a love of Teochew opera, this spirit of cultural exploration and critical inquiry has been evident.
Watch: Stewards of Intangible Cultural Heritage Award - Nam Hwa
Ahead of their debut public performance in 1963, the amateur opera enthusiasts had few resources to lean on. Inventively, the performers sought out screenings of the 1962 Teochew opera movie Chen San and Wu Niang, diligently studying the expressions and interactions of characters, including the eponymous lovelorn couple.
Today, after decades of advancing its operatic craft and building itself as an institution, Nam Hwa has established itself as one of Singapore's premier performing arts companies, with a prolific opera troupe, a Teochew music ensemble, a talent development programme and a cultural research centre under its umbrella.
From its amateur roots to its current roles, what lay behind this consistent attention to detail, this drive to master the fundamentals of chang (singing), nian (reciting) and zuo (acting)? What motivated the performers over the years to absorb the unspoken but myriad range of emotions expressed by the movements of the shui xiu (water sleeves) and other aesthetic elements?
The elements of Teochew opera, from plots to characterisations and performance language, from lyrics and dialogue to set design, speak volumes of the values of generations past. These values include filial piety, loyalty, justice, and the responsibilities and bonds individuals have and maintain within society.
"Roots are important for building up a person's character by inculcating values, and if you want to keep these values, then the preservation of art forms is key", says Nam Hwa's president Toh Lim Mok.
Mastering the art of Singaporean Teochew opera
Dedication to the craft and cultural transmission of Teochew opera has been a vital strand in Nam Hwa's DNA over the past half-century. For decades, the company moved to professionalise its craft and operations by regularly engaging with directors, performers and trainers from foreign troupes. The expertise of and exchange with foreign practitioners, as well as Nam Hwa's travels to perform in China, South Korea and Cambodia among other countries, means that the company has absorbed and reflected a wide range of operatic styles.
Along with other local groups, Nam Hwa was also part of the evolution of a Singaporean style of Teochew opera, which has made it different from its Chao Shan origins. While sustaining traditional Chinese values and customs, the practice of Teochew opera here has also organically assimilated influences from the island's multicultural society.
Determined to engage audiences of different generations and cultural perspectives, Nam Hwa has set traditional stories in modern environments, such as Jin Hua Sending Her Husband Off, a classic tale given a twist with contemporary outfits and familiar accessories such as passports and handbags.
Stories with local narratives, themes and settings, including Match-making at the Five-foot Way and Voyage to Nanyang, have also delighted audiences. Other innovations such as collaborations with Chinese orchestras and experiments with zhe zi xi (excerpt operas) are all closely tied to the company's philosophy of keeping Teochew opera and culture alive by remaining connected and relevant to the community.
From the opera stage to the Teochew world
Nam Hwa's well-regarded talent development programme, helmed by opera professionals, also provides different performing pathways and platforms for student performers. Young talents are introduced to the art form through engagements with schools, nurtured through acting, singing and music classes, and given opportunities to shine on the Nam Hwa Blazes platform, a series of free public performances.
One such talent, 17-year-old Tan Wei Tian, says: "I love Teochew opera because it's a very magical, and fascinating art form. There are many messages and stories to tell from the performances…and I think that our future generations should be able to get to know Teochew opera to have a deeper understanding of their roots and embrace their traditions."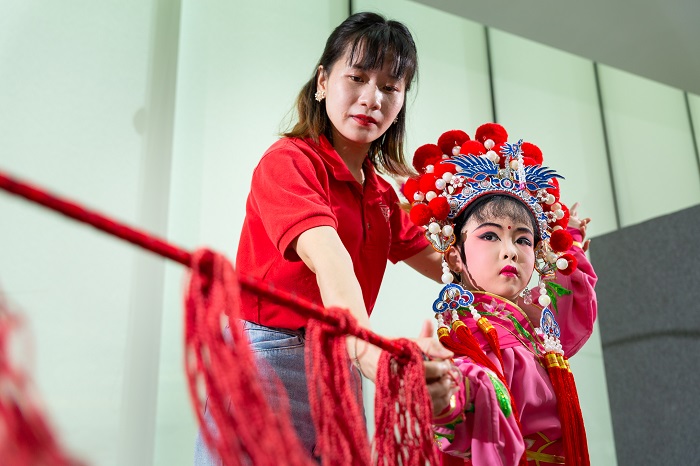 A Nam Hwa Opera instructor guiding a young learner through fundamental movements in Teochew opera performances, 2020. Courtesy of National Heritage Board.
Tan's passion for the art form has taken her in front of audiences in Singapore, Malaysia, Cambodia and China, including at a TEDxSingapore event, and led to her being named as an ambassador for a Singapore Tourism Board campaign.
Nam Hwa's programmes and workshops extend to the community and amateur circles. Nam Hwa also offers introductory classes for children and adults in acting, dance and vocal fundamentals, stage makeup, the Teochew language, musical performance. To encourage intergenerational learning and exchange, drama courses designed for parents and children to participate in together are also offered.
Beyond training performers and musicians, and giving them platforms to showcase their virtuosity, the company has also established the Yeo Khee Lim Teochew Culture Research Centre. The centre explores the manifold aspects of Teochew opera and the broader cultural heritage it draws upon through a collection of publications, Teochew opera songs digitised from vinyl records, and works produced by Teochew artists.
Established to promote deeper and wider understanding of the Teochew culture among the public, the centre also collaborates with academia and supports further research and documentation through publishing, academic forums, exhibitions and research scholarships.