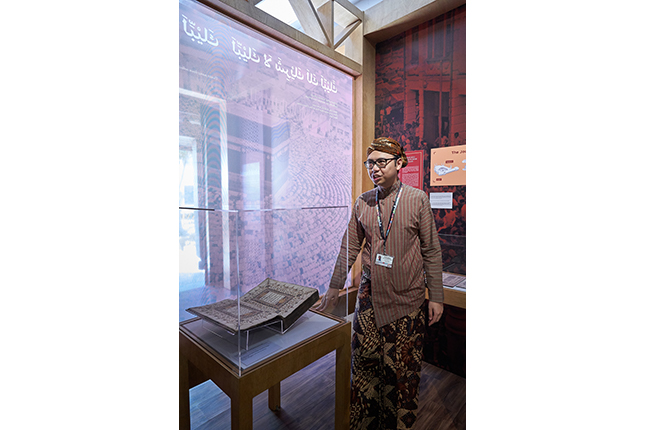 A songkok (a cap widely worn by Muslim males), a checked sarong (a tube of cloth worn around the waist by Malay Muslims), and a silky blue shirt .
A blangkon (a batik headdress worn by Javanese men), a batik sarong and a surjan (a long sleeved Javanese jacket which is often made from a striped fabric known as lurik) — this is what 26-year-old Muhammad Hafiz bin Rashid refers to as his "default attire".
Sometimes his friends do not recognise him when he is not in this traditional attire. This young man takes pride in being an ethnic Malay, and it is a new-found phase in his life. The trigger for this came when he was a Polytechnic student. He went to the Malay Heritage Centre (MHC) for an exhibition on "Ilham Alham" which is about the medicinal qualities of plants. The outcome was a hunger to explore his roots. It led to him becoming a docent at MHC.
Becoming a docent
Hafiz became a frequent visitor to the MHC. His visits to the MHC were noticed by a staff member who, in turn, suggested that he volunteer as a guide. He jumped at the idea because with that would come training and a chance to learn more about his own roots. "It helped me to learn more about my own heritage which I was not really aware of previously," said Hafiz. He became one of its youngest guides.
Hafiz is quick to point out that many people assume that, as a Malay, he would be better informed than most about his own heritage. He says that going to the museum makes you appreciate your own culture and heritage a lot more.
The rigorous two- to three-month training that he underwent to become a guide was also a huge plus. He used to have a huge gap in knowledge about his ethnic heritage. During docent training, he had the best of knowledge-providers. They were from Nanyang Technological University (NTU) and National University of Singapore (NUS). Hafiz recalls, "They told us about the history of Kampong Glam as well as certain cultural practices — the significance of the history, its origins, its influences — it's really something that wasn't taught in schools."
A deeper appreciation of the Malay culture and heritage has grown for Hafiz as a result of becoming a guide.
Building on history
The visitors Hafiz meets while guiding is also another way for this full-time library officer to top-up on his knowledge. Take, for instance, Nenek Hasnah ("nenek" is Malay for granny). It was an instagramable-moment when the two met. In fact, it is now part of Hafiz's instagram stories.
Nenek Hasnah was visiting MHC with her daughter. While taking her through the first gallery on the map of the Malay world, Nenek Hasnah started to speak of her personal experiences. Born of a Javanese mother and a Malay father, she made the treacherous journey with her family to Singapore. Their ship caught fire at the coast of Pulau Buaya and eventually they had no choice but to jump into the sea. Clearly, she survived and settled in Arab Street (then known as Kampong Java). She remembers the Arab Street of old very well, including her neighbours.
Hafiz keeps in touch with his new-found friend and uses her stories in his guided tours.
Tracing their Malay roots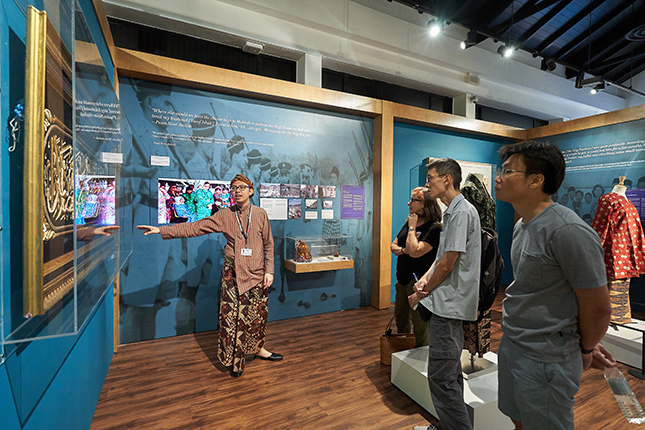 Hafiz has had interesting encounters with overseas Malays. He has a great deal of respect for them because they have come a great distance to trace their ancestry. Those are times Hafiz is also grateful for the opportunity of being a guide. "At least they leave the place enriched by that extra piece of knowledge that I was able to impart," he says.
For the local visitor, he likes giving them extra knowledge and he also likes the fact that he might be "peeling away the misconceptions" as well.
Visitors come from all over the world. Once he had the unexpected privilege of guiding Cape Malays from Capetown, South Africa. Hafiz had nothing but admiration for them — travelling all this way to discover their roots. He felt humbled and had a strong sense of responsibility to share all that he knows about this region and the Malays. In the same vein, Hafiz had a healthy exchange with the Cape Malays about their lives in South Africa and what it was like living through the apartheid era.
These visitors have made a deep impression on him. Thanks to the MHC visitors from far away, it has now become his dream to, in turn, visit his own family's hometown — in Bawean island, Indonesia.
Growing as a docent
One great takeaway for Hafiz is that there is a great deal of mixing in Singapore with the other cultures and he gets to see the bigger picture.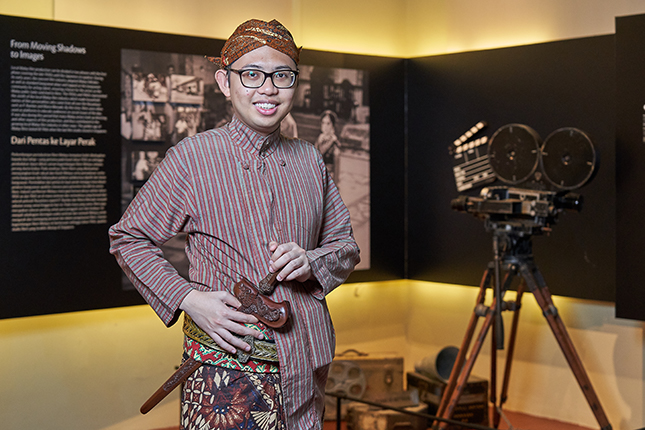 To illustrate his point, he referred to his checked sarong. In this part of the world, it is a common design. But, he then highlights the fact that it was Indian traders who brought such designs to South East Asia in the first place.
To illustrate his point, he referred to his batik sarong. The motif on the sarong is known as tambal. He then explained that the tambal motif itself is a patchwork of different batik motifs - some of which are derived from Indian mythology such as the mythical Garuda, the bird mount of the Hindu god Vishnu.
He does not stop at appreciating such interlinks between cultures. Hafiz is now learning a new regional language — Kristang spoken by the local Portuguese-Eurasians. "It's a melange of Malay and Portuguese and also some of the other languages such as Chinese dialects and even Indian languages."
For this young Malay Singaporean, being a docent is far more than guiding at MHC — he is on his own journey to discover his roots and pass on his cultural heritage.
By Shobi Pereira