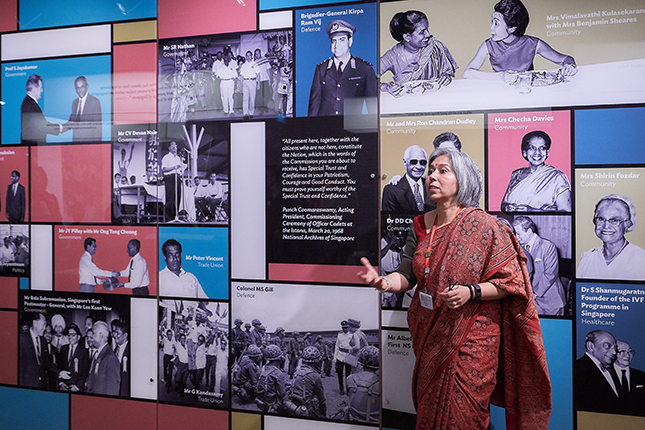 A permanent exhibition at the Indian Heritage Centre (IHC) is titled "Indians In Singapore — Past and Present". Talking about it to groups of visitors to the IHC may be daunting at times. But, 49-year-old Jyoti Ramesh sees it as part of learning about, living and transmitting history. All of these have been happening for her as a docent at IHC for the past 4 years.
Learning on the job
As Jyoti went through the months of rigorous training with Friends of the Museums (FOM), she understood the docent's ideals of being "engaging and informative". Jyoti is quick to add that she is by no means a repository of all IHC information either.
There are times when a challenging question is thrown at her like a curveball. She remembers a visitor asking why David Marshall was not featured at the IHC. Jyoti's response was first to ask the lady what prompted the question and secondly to do extensive research and reading in her own free time. She found that, indeed, David Marshall did have some family connections in India. They were Baghdadi Jews from Iraq. If the question crops up again, Jyoti will be better prepared to talk about it. For docents, the learning journey never ceases.
As a docent, Jyoti feels connected to Singapore — both the new and the old. She says that when you join a heritage institution like the IHC, "you will then understand the struggles of migrant communities." This, she feels, is vital for those who arrive on Singapore's shores as expatriates and who are initially not connected with the community. Volunteering as a docent can help turn that situation around. "I don't stop learning. I don't stop making the connections… I look at it (history) with different eyes," says Jyoti.
Constantly connecting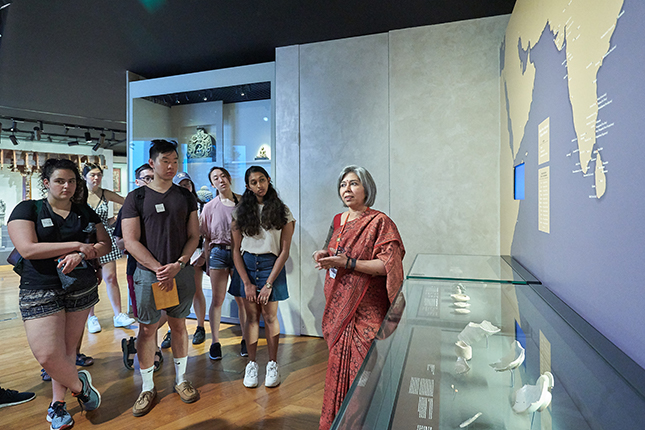 Jyoti feels she had an advantage in adjusting to Singapore when she first came here. She speaks Tamil. So, as a docent, when Tamils share their stories of Singapore with her, she is able to encourage them to elaborate. These conversations become part of her own learning journey.
She walks the talk, sometimes literally. Jyoti has been known to go to Abdul Rahim's shop on Upper Dickson Road to tell him that a photograph displayed at the IHC looked like that of his shop from days of old. She persuaded the two brothers to visit IHC. Such neighbourhood connections matter as they inspire storytelling about how early migrants arrived by ship in Singapore on board the S.S Rajula, the State of Madras or the MV Chidambaram.
The conversations with visitors to the IHC and on the Indian Heritage trail are what drive Jyoti to keep learning about the artefacts as she connects the past, present, and future for Singaporeans and tourists alike.
"It starts with the history back some 2,000 years ago, but it continues to how migrants brought with them their culture, and why they came and what it has done to Singapore as we see it today," says Jyoti. And, as classes of school children visit the IHC week after week, Jyoti feels she is helping the modern-day Indian Singaporean child to connect and think about their heritage here.
A love for sharing history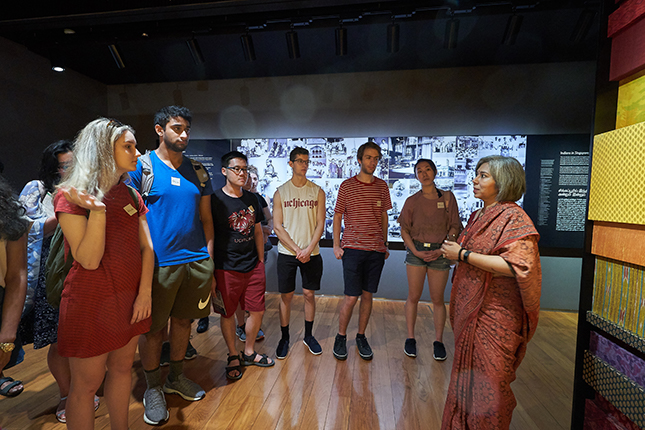 Jyoti was from Chennai, Tamil Nadu, and has a basic degree in Economics and an MBA (Finance) as well. She has worked not only in New Delhi but also in London and Hong Kong before moving to Singapore in 2007. As she is winding down her own business, she is immersing herself far more in the world of a docent. For her, it has been a natural progression as her two children have become older.
Jyoti says, "I love sharing connections. I love connecting the past with the present, and across countries in the past. I love connecting kids to their past, and telling them how relevant it still is." It should come as no surprise that this docent's mother was also her History and Civics teacher in school. She laughs and admits that she did not love history at that time as it meant mugging, exams, and homework. But, because her father was a Railway Officer, her family lived in some of the most historical cities in various parts of India. You might start to wonder whether a love for sharing history has somehow seeped into her DNA.
By Shobi Pereira