TL;DR
In this special column highlighting artefacts from the diverse National Collection, four conservators and one conservation scientist from the Heritage Conservation Centre share with us an artefact that speaks to them and the conservation process required for each unique item.
MUSESG Volume 14 Issue 1 – July 2021
Text by Jane Tan, Assistant Conservator (Paper)
Read the full MUSE SG Vol 14. Issue 1
Kampong Pasir Panjang (1965) from the National Gallery Collection is a watercolour drawing by Idris Mohamed Ali (1944–). Idris began painting at the age of 10. Unable to afford formal art training, he learnt from books, observation, practice and a brief tutelage under pioneer Malay artist, S. Mahdar. Famous for his watercolour landscapes and street scenes, Idris's drawings of old Singapore serve as important historical documents. This work depicts Kampong Pasir Panjang (Pasir Panjang Village), which no longer exists today.
The watercolour drawing Kampong Pasir Panjang (1965) by artist Idris Mohamed Ali. Kampong Pasir Panjang, Singapore, 1965, Collection of National Gallery Singapore
The watercolour drawing was found fully adhered to a piece of backing paper with glue and secured to a non-archival matboard using our favourite household repair item—the adhesive tape. This disastrous combination prevented the drawing from expanding and contracting evenly when the environmental humidity fluctuated, thus causing 'wrinkles' (undulation) to form. To reduce this stress and improve the overall aesthetics, the matboard was removed and the adhesive softened with moisture to carefully remove the backing paper from the drawing.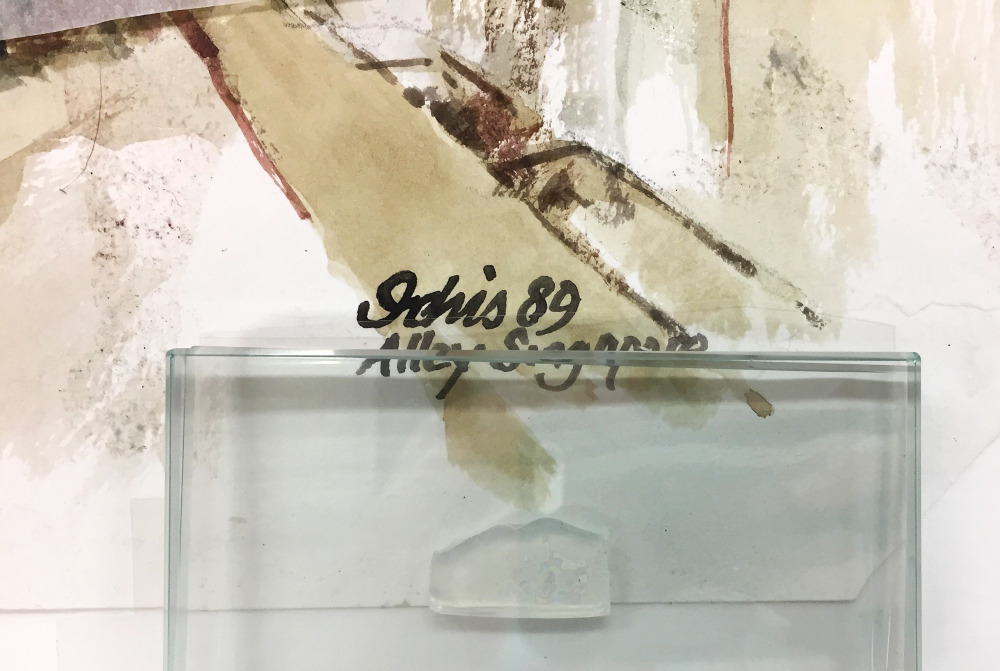 Using agarose gel to remove adhesive residue. Agarose is a highly purified form of agar, a jellylike food item that is familiar in this part of the world. Kampong Pasir Panjang, Singapore, 1965, Collection of National Gallery Singapore
This drawing was particularly memorable because not one—but two—hidden watercolour drawings were discovered during treatment! One was found on the back of Kampong Pasir Panjang (untitled and undated) and the other on the backing paper, titled Alley Singapore and dated 1989. This brought back fond memories of the Kinder Surprise chocolate—the joy of discovering the toy hidden within the chocolate shell. Moments like these are rewarding, and I feel privileged to be part of the conservation field, being able to uncover the secrets and stories behind the precious objects under our care.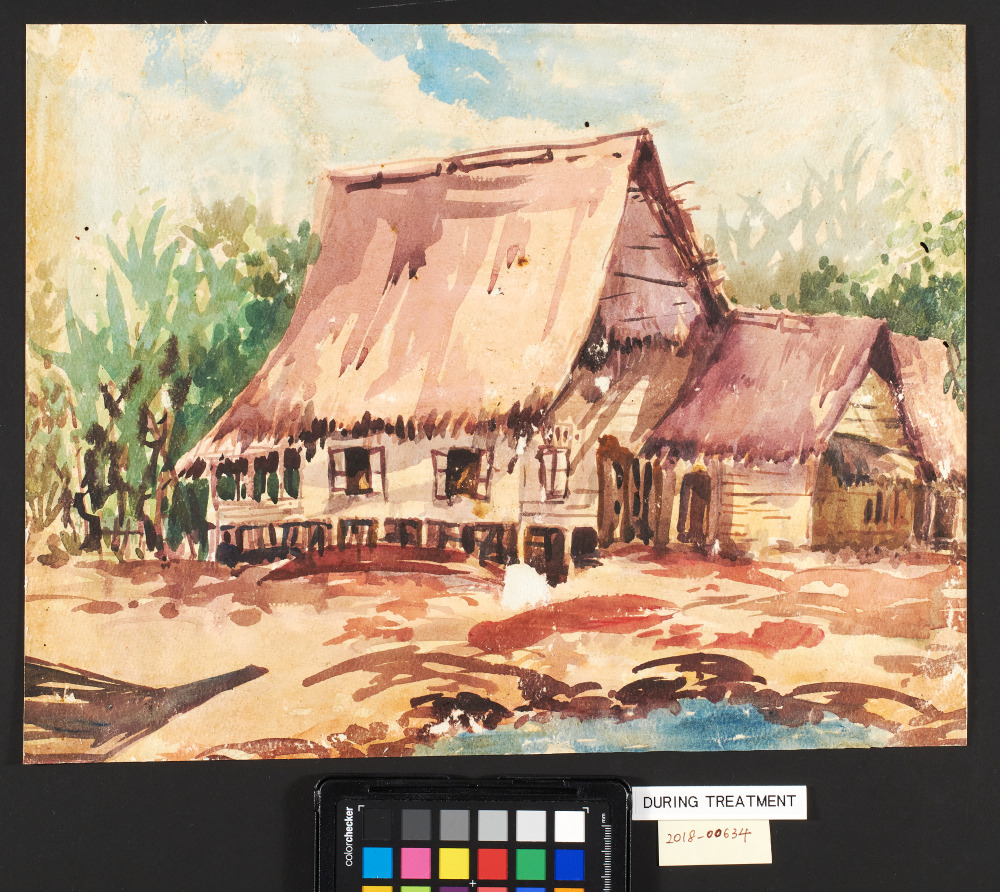 Two hidden watercolour drawings were discovered during treatment, one on the back of Kampong Pasir Panjang which is untitled and undated (above), and the other on the backing paper, Alley Singapore, dated 1989 (below). Treatment is ongoing. Kampong Pasir Panjang, Singapore, 1965, Collection of National Gallery Singapore