Qur'an, Yemen, dated AH 1184 (1770), ink colours on paper, leather binding. Collection of Asian Civilisations Museum.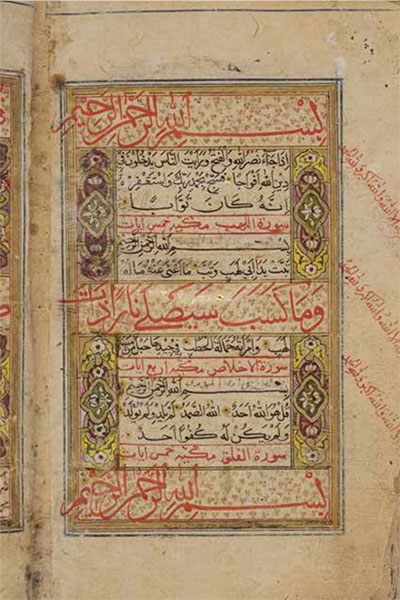 This Qur'an from Yemen has a tan morocco binding with a stamped medallion. Its manuscript has 13 lines of text where the first, middle and last lines are written in red Muhaqqaq script and the other ten lines are in black Naskh script. The Muhaqqaq and Naskh scripts are part of the six classical cursive scripts.
For Muslims, the Qur'an is the visual embodiment of the Word of God and is hence considered sacred. The pious desire to beautify the Word of God was a central factor in the development of calligraphy in the Islamic world. One interesting aspect of Islamic art is that the form of expression can be found in a variety of media—thus you can find calligraphy in manuscripts or as large inscriptions done in stone for buildings. Every page of this Qur'an has colourful, decorated headers and frames, and gold is used for chapter titles.
In Singapore, a large part of the Arab community has origins in the Hadhramawt region of Yemen. They arrived in Singapore from the early 19th century, when the Hadhramawt region was a British Protectorate. They were involved in the retail and wholesale trade, the Hajj industry and real estate development. A special group among the Hadhrami families are the sayyids who trace their descent from the Prophet Muhammad himself.
---
This is an extract from "The Singapore Story through 60 objects" written by Kennie Ting, Director, Asian Civilisations Museum and Peranakan Museum & Group Director of Museums, National Heritage Board. This article was first published in Cultural Connections Volume IV 2019 by Culture Academy Singapore.