Mortar and pestle belonging to the late Shirin Fozdar, Singapore, late 20th century, brass.
Gift of Shirin Fozdar, collection of Indian Heritage Centre.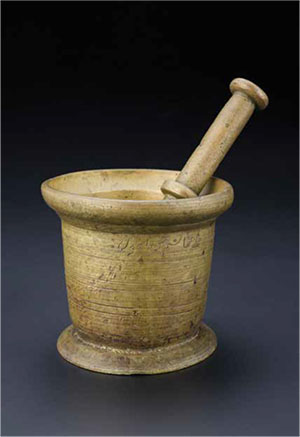 Born in India in 1905 to Persian parents of the Baha'i Faith, Shirin Fozdar was a staunch advocate of women's rights. She arrived in Singapore in 1950 with her husband, K. M. Fozdar. The Fozdars were among the first to bring the Baha'i Faith to Singapore. By 1952, there were enough Baha'is in Singapore to form the first Local Spirituality Assembly.
In 1953, Shirin was the force behind Singapore's first girls' club at Joo Chiat Welfare Centre. The club taught women English and arithmetic. She also played an important part in the formation of the Muslim Syariah court in 1958. She was elected the Honorary Secretary of the Singapore Council of Women (SCW) in April 1952. In her role as the Honorary Secretary of SCW she also played a key role in the drafting and establishment of the Women's Charter in 1961.
This is a mortar and pestle used by Shirin Fozdar. Mortars and pestles have been used since ancient times for the preparation of spices, food and medicine. In Singapore, mortars and pestles are used by all ethnic communities and is a fundamental implement used in the preparation of a variety of local Singaporean food.
---
This is an extract from "The Singapore Story through 60 objects" written by Kennie Ting, Director, Asian Civilisations Museum and Peranakan Museum & Group Director of Museums, National Heritage Board. This article was first published in Cultural Connections Volume IV 2019 by Culture Academy Singapore.