Miniature New Testament, Armenia, or Armenian diaspora, early 18th century, leather binding, paper with ink, colours and gold leaf.
Collection of Asian Civilisations Museum, gift of Paula, Lady Brown.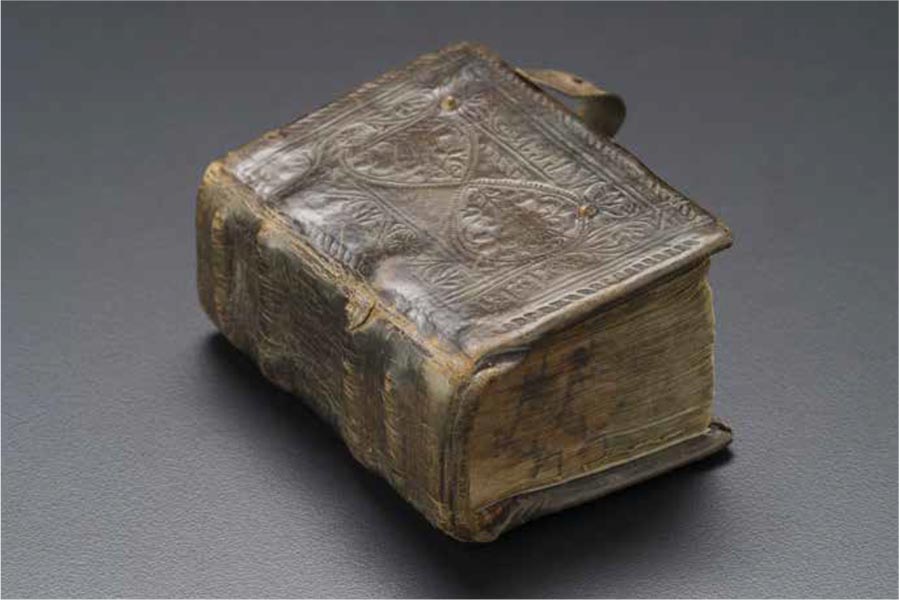 This miniature manuscript is written in Armenian. It contains the four gospels, supplemented by decoration in the form of illustrations, rubricated initials and borders, some in gold leaf. The most elaborate illustrations depict the four evangelists Matthew, Mark, Luke, and John, with the latter three represented by animals. The presence of the four gospels and absence of the Old Testament indicate that it is the New Testament rather than a complete Bible. Though mostly intact, the original title pages and binding have been replaced. It was probably made in Armenia or by Armenian communities in Western Asia in the early 18th century.
Armenia was the first country to adopt Christianity as its official religion in the early 4th century. The religion reached there at an early date; persecutions against Christians in 110, 230, and 287 were recorded by the Roman historians Eusebius and Tertullian. The first Bibles were translated into Armenian in the early 5th century by Mesrop Mashtots, who invented the Armenian alphabet in 406 AD, but miniature Bibles similar to this manuscript did not appear until the early 17th century.
The Armenian community in Singapore has always been small, with no more than 100 members living here at any one time. It includes prominent members such as the Sarkies Brothers and Agnes Joaquim (best known for successfully cross-breeding two species of orchid into a new hybrid, the Vanda Ms Joaquim, which was later chosen to be Singapore's national flower). The oldest Christian Church in Singapore is the Armenian Apostolic Church of Saint Gregory the Illuminator, completed in 1836. Armenians in Singapore and Southeast Asia have origins in Isfahan, in Persia (today's Iran).
---
This is an extract from "The Singapore Story through 60 objects" written by Kennie Ting, Director, Asian Civilisations Museum and Peranakan Museum & Group Director of Museums, National Heritage Board. This article was first published in Cultural Connections Volume IV 2019 by Culture Academy Singapore.