Kebaya, Straits Settlements and Indonesian Archipelago, late 19th–early 20th century.
Collection of the Peranakan Museum, gift of Mr and Mrs Lee Kip Lee.
The sarong kebaya was the fashionable dress of Malaysia, Indonesia and Singapore. While it is most often associated with Nyonya women today, it was prevalently worn by women of all ethnicities in the early to mid-1900s. This item comprises two individual pieces.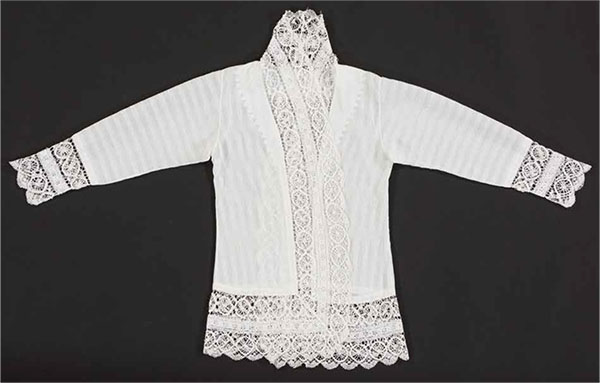 The kebaya is an open tunic with long sleeves, a collarless neck and front opening. It is a hip- length garment and is gently shaped to flatter the figure. It is fastened in the front by a set of three leaf-shaped or jewelled brooches (kerosang), usually connected by a chain. This kebaya is made from white translucent voile and decorated with lace, which is sewn onto the edges of the plain fabric. Such forms of kebayas were commonly worn from the 1920s onwards among Nyonyas in the Straits Settlements.
---
Sarong Lien Metzelaar, Java, Indonesia, late 19th–early 20th century. Collection of the Peranakan Museum.
Eurasian women in the Dutch East Indies were perhaps the first to wear white cotton kebayas trimmed with handmade European lace in the day. Being of a translucent material, this garment would have been worn with an inner, possibly long-sleeved undershirt.
The sarong is wrapped around the waist and functions as a skirt. This kain sarong (sarong cloth) features an array of motifs which includes humans, fans, flowers and umbrellas. It is made of Batik Belanda or batik made by the Dutch Eurasians in Indonesia. The maker of the batik was Lien Metzelaar, a young Dutch Eurasian lady whose atelier was active in the city of Pekalongan between 1880 to 1920. Metzelaar batik is distinguished by a signature motif of seven leaves on a straight branch alternating with four flowers on the border of the kain.
---
This is an extract from "The Singapore Story through 60 objects" written by Kennie Ting, Director, Asian Civilisations Museum and Peranakan Museum & Group Director of Museums, National Heritage Board. This article was first published in Cultural Connections Volume IV 2019 by Culture Academy Singapore.