Juvenile Malayan Tapir gaining adult colours (Tapirus Indicus), Sumatra, collected 1913, photo by Tan Heok Hui.
The former Raffles Library and Museum Natural History Collection, collection of Lee Kong Chian Natural History Museum.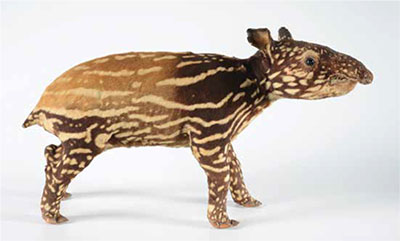 The Raffles Library and Museum Collection consists of historical documents, natural history specimens and objects amassed during the colonial period and held at the former Raffles Library and Museum (today's National Museum of Singapore). In the course of 1970s to the 1990s, the former Raffles Library and Museum Collection was split, with the natural history collection going to the present-day Lee Kong Chian Natural History Museum, the Southeast Asian ethnographic collection going to the present-day Asian Civilisations Museum, the art collection going to the Singapore Art Museum, and the historical and documentary collection going to the National Archives of Singapore and the present-day National Museum of Singapore. The intent of splitting the collection at the time was because the Singapore Government wished the National Museum of Singapore to function as a social history museum highlighting Singapore's history and multi-cultural fabric.
This juvenile Malayan Tapir was captured just as it was about to take on its adult colours, which explains a faint black and white layer over the typical spotted pelt of the tapir's young. The scientific name Tapirus indicus Desmarest was given to the Malayan Tapir in September 1819, just months after modern Singapore's founding. In the earlier part of the 19th century, Raffles and Farquhar were fighting over the credit for discovering the tapir. Raffles even went as far as to try to block Farquhar's account of the tapir from being published.
Unfortunately, back in 1818, Raffles had hired French naturalists to collect specimens for him. At some point, one of the naturalists, Desmarest copied and sent parts of Farquhar's as yet unpublished account to the renowned French zoologist Georges-Frédéric Cuvier. Using this plagiarised information, Cuvier published a short account of the tapir in March 1819. Using Cuvier's account, Desmarest then also published his own account, but goes a step further to coin a scientific name for the tapir, adding his name "Desmarest" to it for posterity.
---
This is an extract from "The Singapore Story through 60 objects" written by Kennie Ting, Director, Asian Civilisations Museum and Peranakan Museum & Group Director of Museums, National Heritage Board. This article was first published in Cultural Connections Volume IV 2019 by Culture Academy Singapore.