The Mace of the City of Singapore, Singapore, 1953, gold.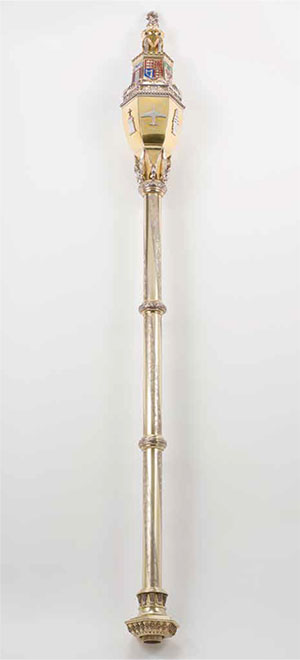 Prominent Chinese philanthropist Loke Wan Tho, founder of Cathay Organisation, presented this mace to the city of Singapore. The occasion was the granting of city status to Singapore by King George VI in 1951. The mace was made by Messrs Hamilton & Inches, Goldsmiths of Edinburgh, and designed by British sculptor Charles d'Orville Pilkington Jackson.
The design motifs were suggested by a committee consisting of Loke, university professors, and the staff of Raffles Library and Museum, which later became the National Museum of Singapore. The silver figures of a Chinese, Malay, Indian and European, linked by a garland of flowers, symbolise Singapore's multi-ethnic population. They stand atop a castle bearing the city's arms. Other motifs reference Singapore's ecology, culture and trade. Completed in 1953, the mace combines both ornamentation and political symbolism with the aim of creating a new sense of loyalty and pride for the people of Singapore at that time.
---
This is an extract from "The Singapore Story through 60 objects" written by Kennie Ting, Director, Asian Civilisations Museum and Peranakan Museum & Group Director of Museums, National Heritage Board. This article was first published in Cultural Connections Volume IV 2019 by Culture Academy Singapore.