Artist and Model, Liu Kang, Singapore, 1954, oil on canvas.
Gift of Shell Companies in Singapore, collection of National Gallery Singapore.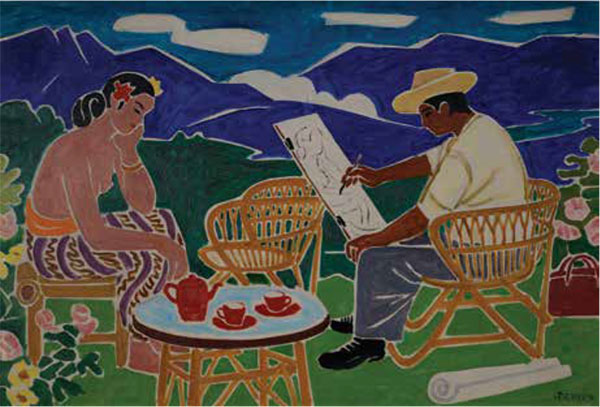 Cheong Soo Pieng, Chen Chong Swee, Chen Wen Hsi and Liu Kang are some of the artists most commonly associated within the development of a distinctive 'Nanyang style' in art. Having all moved to Singapore from China during the 1930s and '40s and sharing similar backgrounds in foundational art training in China, they were close contemporaries who were driven by a desire to develop their artistic styles and techniques to best capture their new surroundings in tropical Southeast Asia.
This desire led the four artists to plan a trip to Indonesia in 1952 in search of artistic inspiration. There, they travelled across the country for two months including an extended period in Bali. Having been inspired by the culture and the vibrant colours of Indonesia, the subsequent works they produced for an exhibition in 1953 displayed a clear intention to capture Southeast Asian subjects using both Western oil painting and Eastern ink painting traditions—a unique synthesis which would later come to be considered as a key characteristic of the Nanyang Style. Important works of all four artists are held in the collection of National Gallery Singapore today. For the purpose of this spread, the author has selected Liu Kang's Artist and Model, which depicts fellow artist Chen Wen Hsi sketching a woman during their trip to Indonesia, to represent this group of artists.
Born in Fujian Province, China, in 1911, Liu Kang attended the Xinhua Art Academy of Shanghai, where he learnt both Eastern and Western painting techniques. In 1928, he went to Paris where he was further exposed to art movements such as Fauvism and Post-Impressionism. Not only is he considered one of Singapore's key artists, he was also a leading figure in the Society of Chinese Artists and the Singapore Art Society. In 1970, he was awarded the Public Service Star for his contributions in the field of art.
Artist and Model was done in a style that would come to typify Liu's paintings following his settlement in Singapore in 1945. In this work, Liu eliminated the use of shadow and perspectival depth. Instead, he emphasised clearly defined forms with thick outlines and solid colours. With the resultant work recalling the visual aesthetic of batik painting, it is not surprising to learn that Liu was experimenting with the technique of batik painting having been inspired by his artist friend Chuah Thean Teng (based in Penang, Malaysia) during the 1950s.
---
This is an extract from "The Singapore Story through 60 objects" written by Kennie Ting, Director, Asian Civilisations Museum and Peranakan Museum & Group Director of Museums, National Heritage Board. Research for this article was supported by National Gallery Singapore. This article was first published in Cultural Connections Volume IV 2019 by Culture Academy Singapore.