About the Street Corner Heritage Galleries scheme
The Street Corner Heritage Galleries scheme is a collaborative effort between NHB museums, heritage institutions and community galleries, and local shop owners in their respective precincts to strengthen partnerships with communities and raise awareness of and foster deeper appreciation for heritage in everyday spaces.
The scheme allows NHB to work closely with local shop owners with at least 30 years of history in selected precincts to co-create "mini museums" that showcase the history and heritage of their respective businesses and trades. Located on site, these galleries will display historical documents, photographs and artefacts that tell the stories of these shops.
On top of providing funding, curatorial support and assistance in fabricating the showcases, NHB will also work with local shop owners to develop programmes such as talks, tours and workshops, and provide opportunities to participate in key NHB events such as the Singapore Heritage Festival and the respective CultureFests of the heritage institutions within their precincts.
Deep roots of a sweet street favourite: Bhai Sarbat Singapore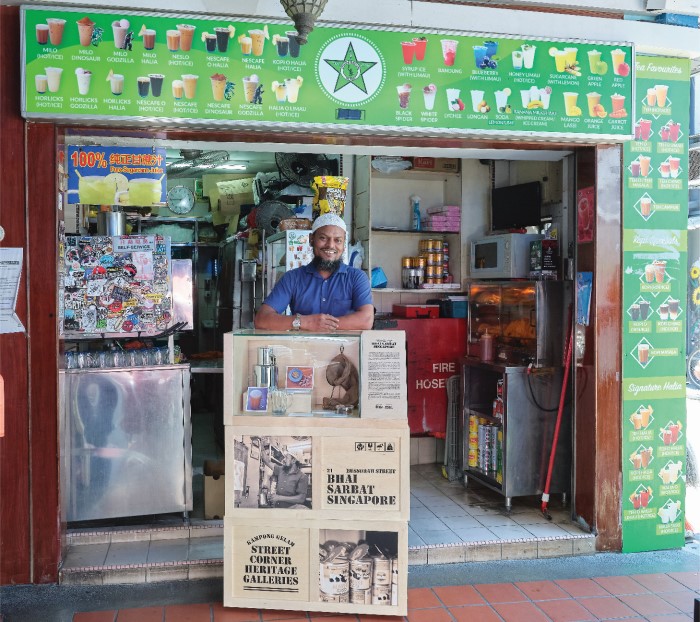 Sweet and spiced with ginger, teh sarabat (also known as teh halia) has long been a familiar, simple pleasure to quench one's thirst on a hot day. Bhai Sarbat has been offering teh sarabat and other local favourites to patrons since the 1950s when the beverage business was started by a migrant from India known colloquially as Firuz.
First operating as a becak ("cycle rickshaw" in Malay) stall, Bhai Sarbat settled into a shophouse in the 1970s. When current owner Mohammad Asgar bought over the business in 2018, he named the shop Bhai Sarbat ("Brother Sarbat" in Hindi and Urdu) after overhearing a customer referring to its colloquial name.
The shop's success is built on the popularity of teh tarik and teh sarabat, both pulled tea drinks with the latter usually including a ginger extract. In Arabic, Persian and Indian cultures, sharbat, from which sarabat is derived, is generally understood to be a sweet, usually syrup-based drink. However, the term was also adopted for pulled ginger tea in Singapore and Malaysia.
Teh sarabat and teh tarik are made with black tea and condensed milk, and Bhai Sarbat's tea masters demonstrate their individual flair using different pulling techniques. Pulled between two mugs, the varying techniques and lengths of the pull subtly change the temperature and taste of the tea while producing a frothy top layer.
To cater to evolving tastes, Asgar has expanded the drinks menu from 12 to more than 120 drinks, and roped in his son Zaki as a next-generation tea master. Today, a steady flow of new as well as regular customers continues to patronise the shop.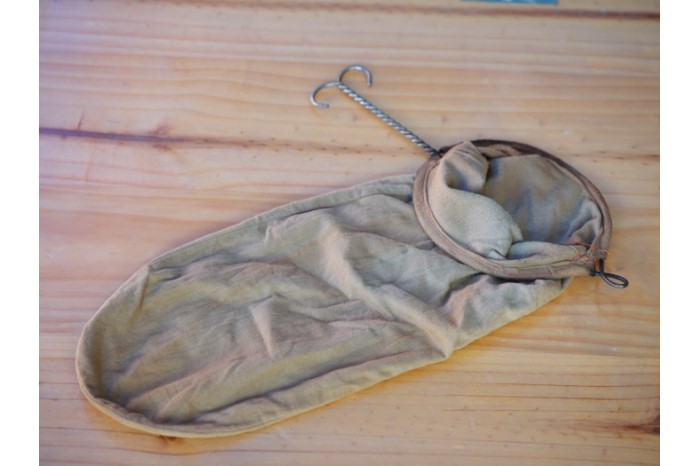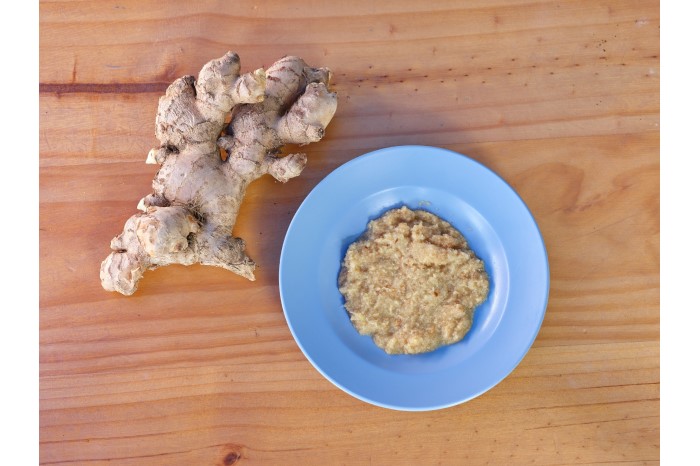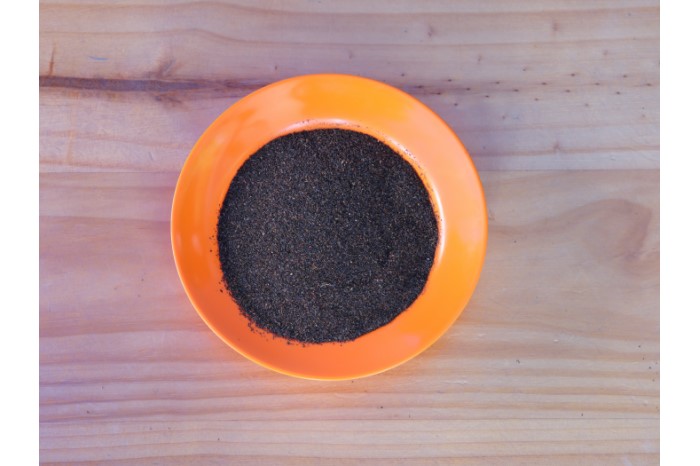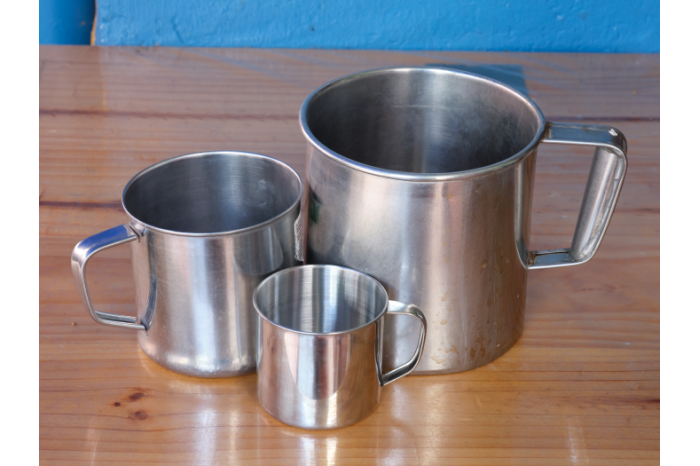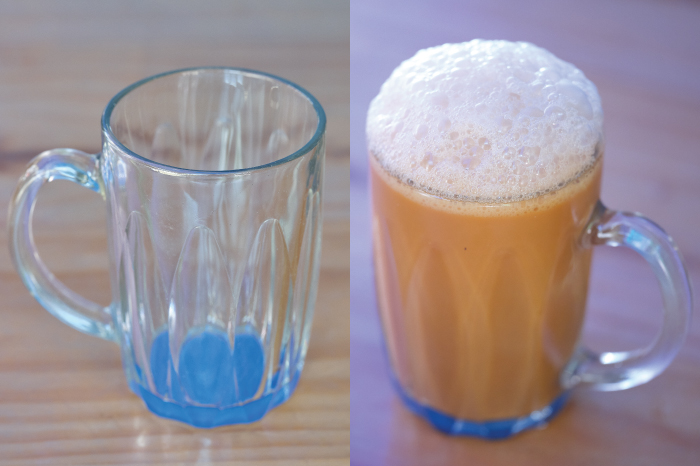 Attar through the generations: Jamal Kazura Aromatics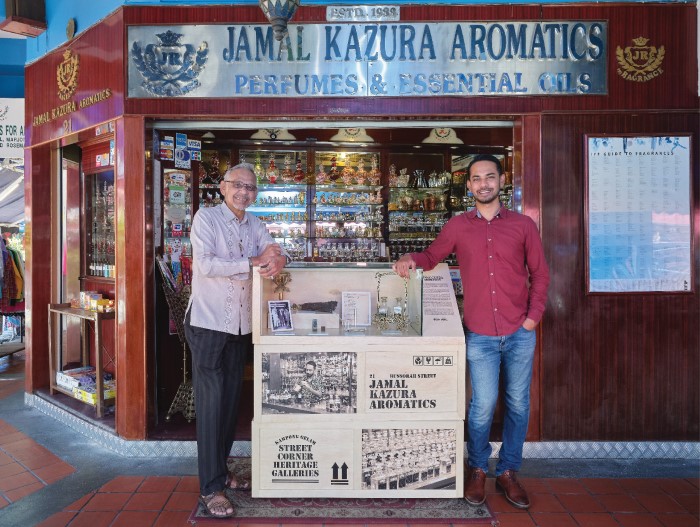 Since 1933, Jamal Kazura Aromatics has concocted an extensive assortment of perfumes encompassing a diverse variety of scents. The business was founded as Kazura Company by Mohamed Hanifa bin Mohamed Shariff, who had migrated to Singapore from South India via the Riau Islands.
Hanifa's first shop was located at 728 North Bridge Road, and in the early years, he sold a variety of items, including books, gemstones, apparel and perfumes. Many of his customers were pilgrims on the Haj and congregants at the nearby Masjid Sultan.
After taking over the business in the mid-1970s, the founder's son Mohamed Jamal bin Mohamed Hanifa renamed the business as Jamal Kazura Aromatics and focused on selling perfumes, essential oils and incense. The business also began specialising in non-alcoholic perfumes known as attar in Arabic. For centuries, attar has been a high-prestige item in Islamic communities worldwide, with some Muslims applying scents on themselves before prayers.
Using essential oils such as saffron, sandalwood and frankincense, Jamal blends and creates numerous distinctive perfumes, including the bestsellers "Symphony" and "Sultan". Jamal's children, now third-generation managers of the business, recall going to school wearing multifarious scents as their father would test his perfumes on them.
From the 1990s, the business broadened its perfume range to cater to evolving tastes and a multi-ethnic, multi-religious clientele, which includes Buddhists purchasing sandalwood incense and Christians buying frankincense. In 2009, the founder's grandson Johari Kazura opened Sifr Aromatics at 42 Arab Street, offering more bespoke perfumes and sustaining his family's heritage of craft and innovation.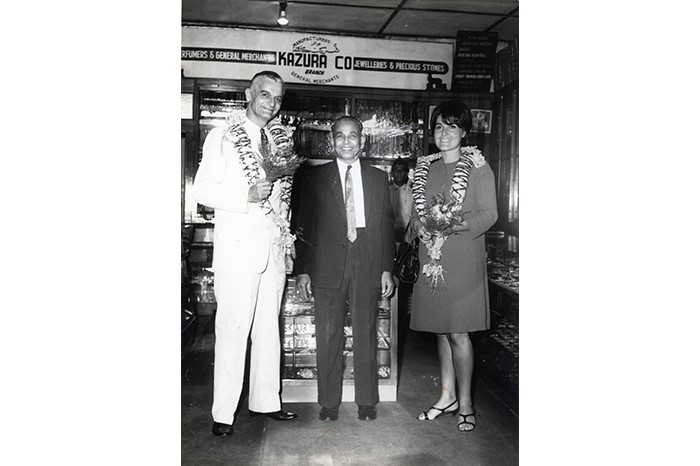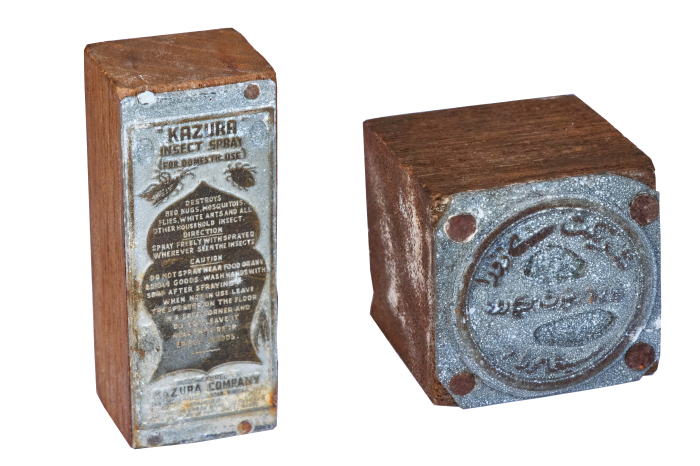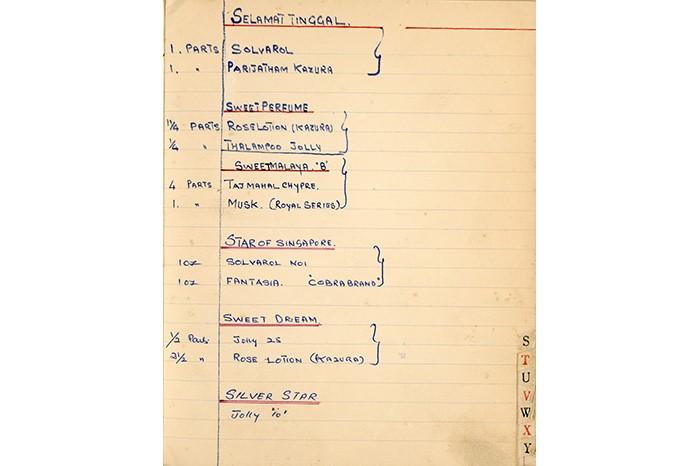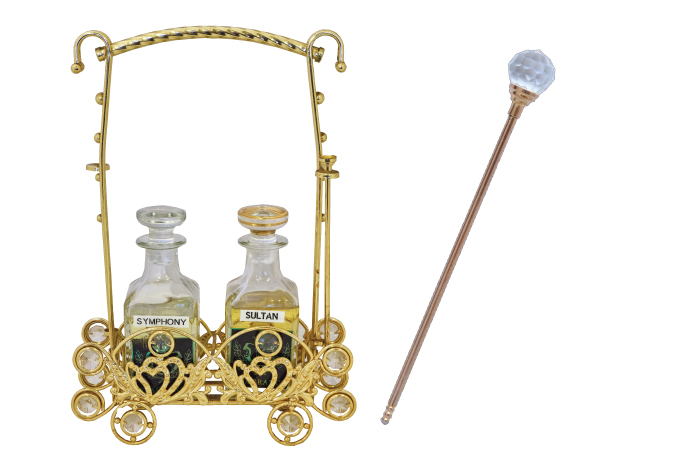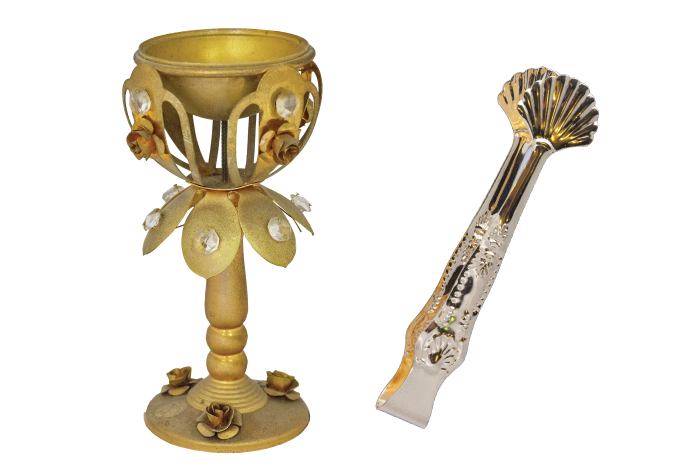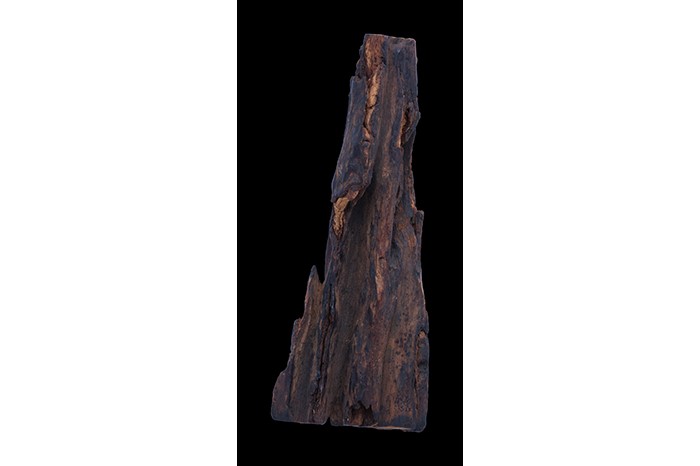 Heritage food, community and custom: Rumah Makan Minang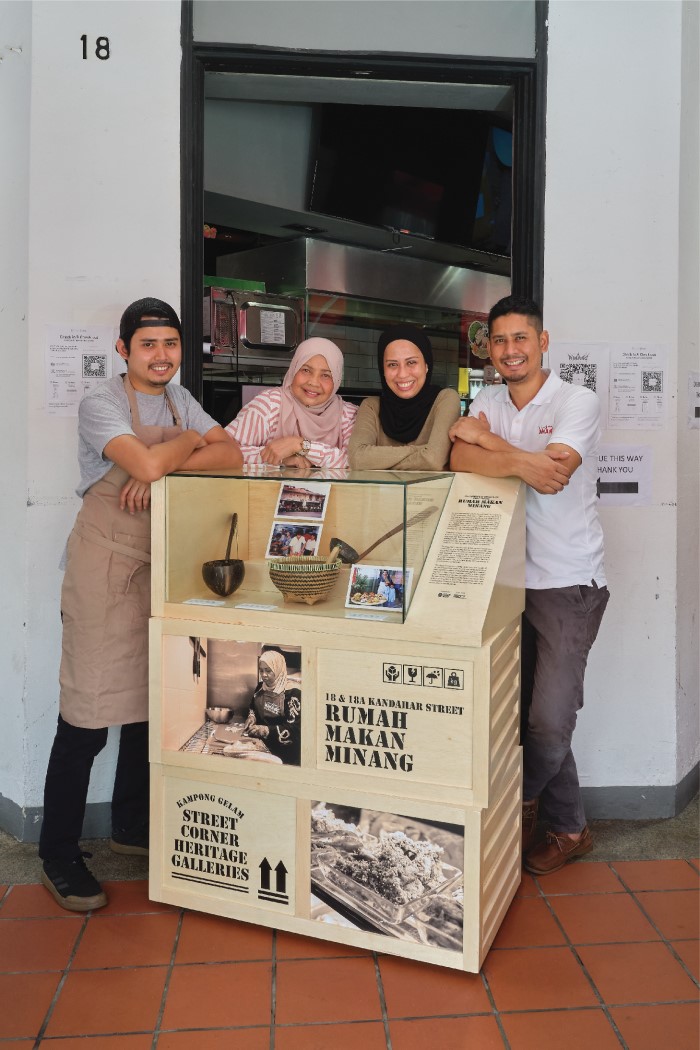 Established in the early 1980s, Rumah Makan Minang is one of the successors of the original Sabar Menanti restaurant. Growing up and working in the family-run Sabar Menanti stall, owner Zulbaidah binte Marlian had firsthand experience of how her mother Hajjah Rosemah binte Mailu exemplified the independent, strong female figures esteemed in Minangkabau culture. Following in her footsteps, Zulbaidah founded her own nasi padang establishment, Rumah Makan Minang, with her husband Mohamed Zin bin Harun.
One of the centrepieces of nasi padang cuisine is beef rendang, a slow-cooked dish of beef, spices and coconut which originated from the Minangkabau people but has also been adapted in other regional cuisines. Rumah Makan Minang's rendang is faithful to the drier, caramelised style served in Sungai Limau, West Sumatra, where Rosemah was born.
The restaurant's other popular dishes are ayam belado hijau (fried chicken with signature green sambal belado) and paru belado merah (fried cow lung with red sambal belado), whose main ingredients are cooked with sambal belado, a coarse chilli paste that is widely used in Minangkabau cuisine. Another characteristic of Minangkabau cuisine is the use of santan (coconut milk) and fresh grated coconut instead of kerisik (fried coconut paste).
The above-mentioned cooking techniques and recipes at Rumah Makan Minang bear the imprint of three generations, from Hajjah Rosemah and Haji Marlian to Zulbaidah and Zin, and their children, Hazmi, Syahidah, Ariff and Nazri. Under their charge, the business opened a central kitchen to ensure the consistency and quality of their food, and added a new branch at Tampines in 2017. Their rendang has also been showcased on Shangri-La Hotel's heritage menu, even as its recipe remains a family secret.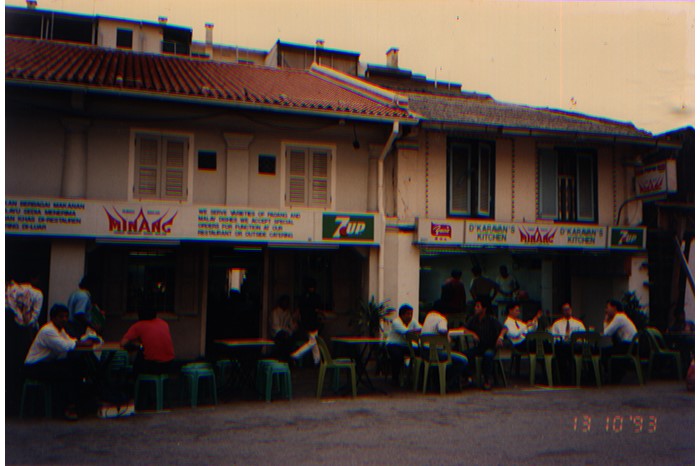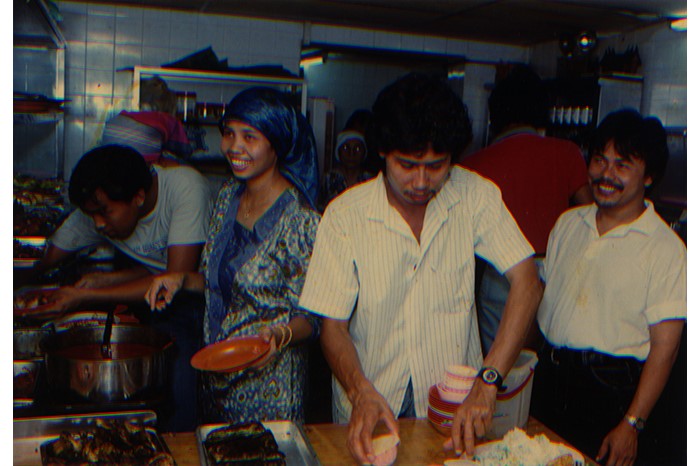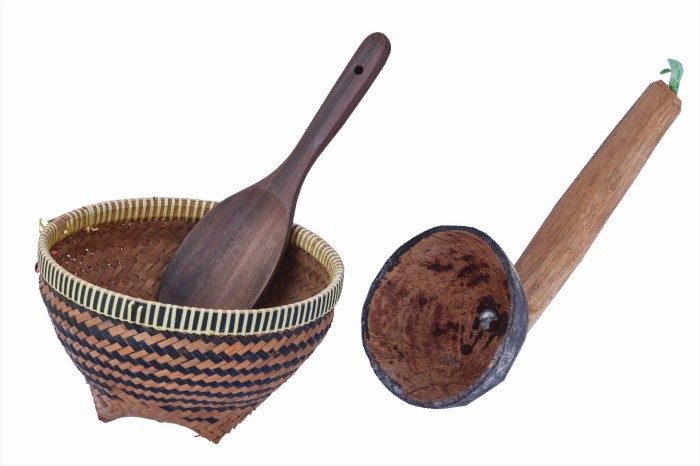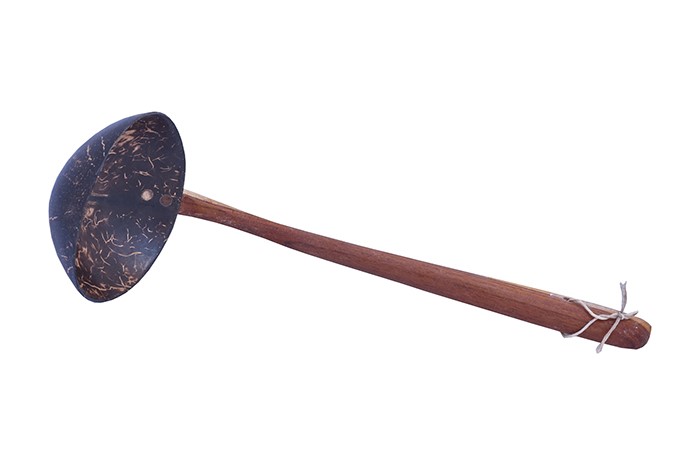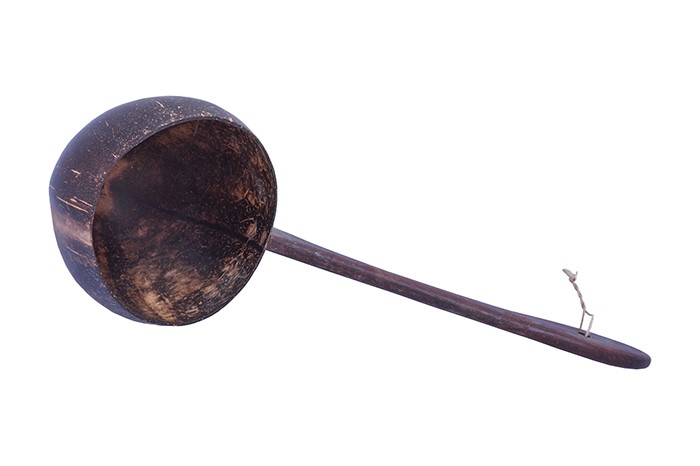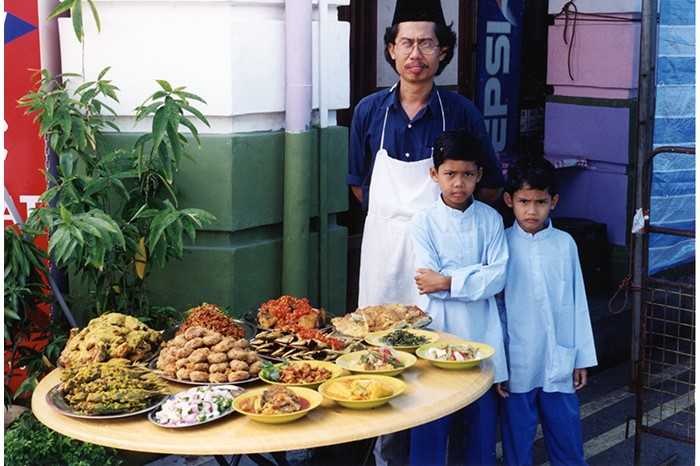 A nasi padang legacy: Sabar Menanti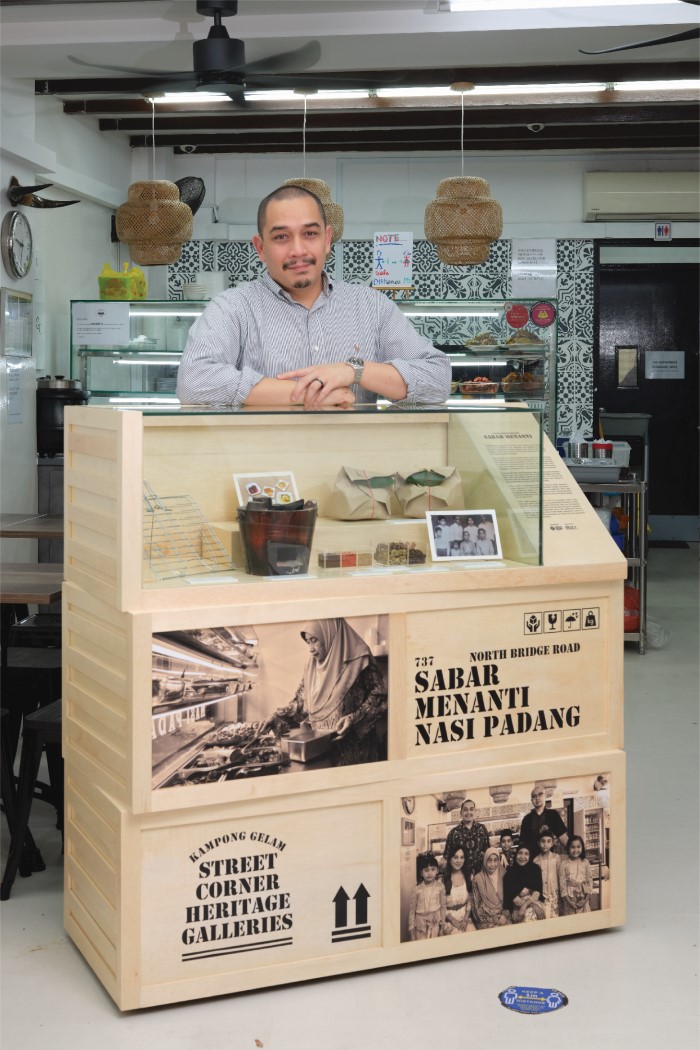 Continuing the legacy of one of the most well-known nasi padang restaurants in Singapore, this restaurant was founded as Sabar Menanti II in 1997 by Maryulis Bagindor binte Marlian, the eldest daughter of the original restaurant's founders Haji Marlian bin Athar and Hajjah Rosemah binte Mailu.
Sabar Menanti, the original establishment, started as an unnamed street stall in the 1920s. It was once colloquially known as nasi padang batu nisan ("tombstone nasi padang" in Malay) as it was located next to a prominent tombstone maker. The name Sabar Menanti, which means "wait patiently" in Malay, only came about in the 1960s when Haji Marlian's friend gifted him a signboard from a previous restaurant.
In her younger days, Maryulis and her siblings would gather firewood for the stoves and collect water from a public standpipe near Sultan Gate while their parents cooked. By the 1990s, the business had expanded into six restaurants in Kampong Gelam, each helmed by second generation members of the Marlian family.
Priding itself on preserving traditional flavours, Sabar Menanti's cuisine expresses its Minangkabau heritage through techniques such as charcoal grilling and the use of traditional spices and ingredients. These methods are apparent in their rendang and other favourites including ikan bakar (grilled fish) and ayam gulai (Padang-style chicken curry).
Today, Sabar Menanti remains true to its heritage, even as the restaurant seeks to appeal to a new generation of customers. When Maryulis' son Mohamad Iszahar Tambunan took over, he renamed the restaurant to reflect that it is the sole Sabar Menanti in operation, and has updated the restaurant's decor and added food delivery options. The other members of the family, meanwhile, continue to use traditional cooking techniques and recipes for the restaurant's array of nasi padang dishes.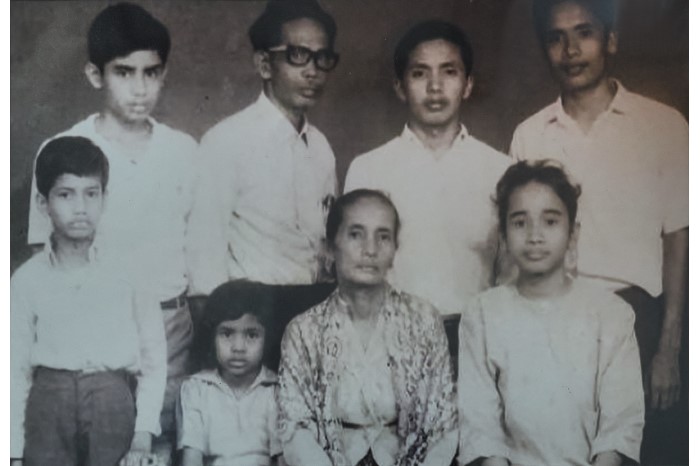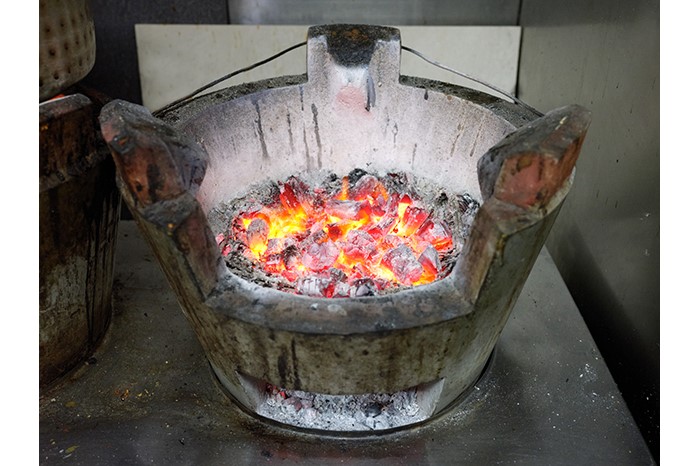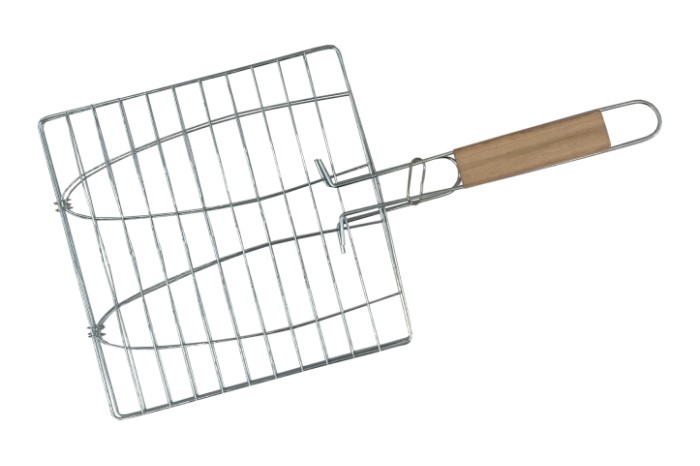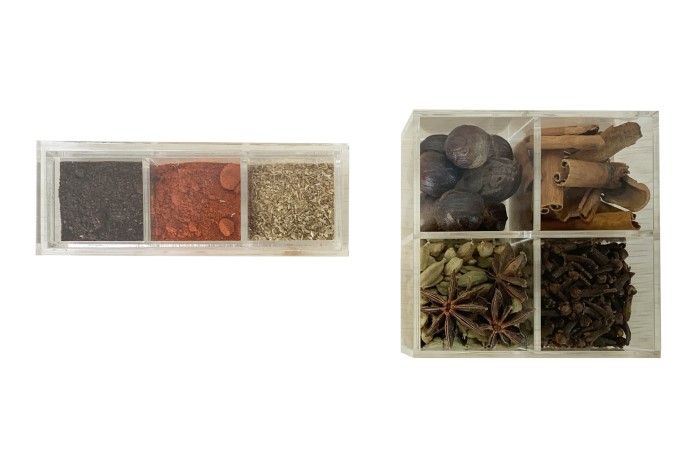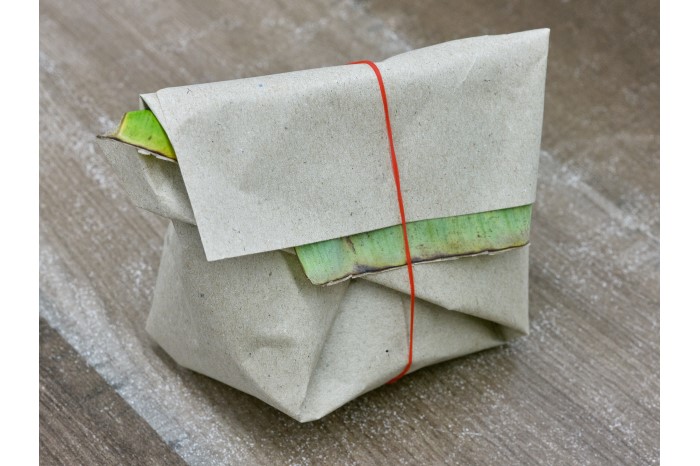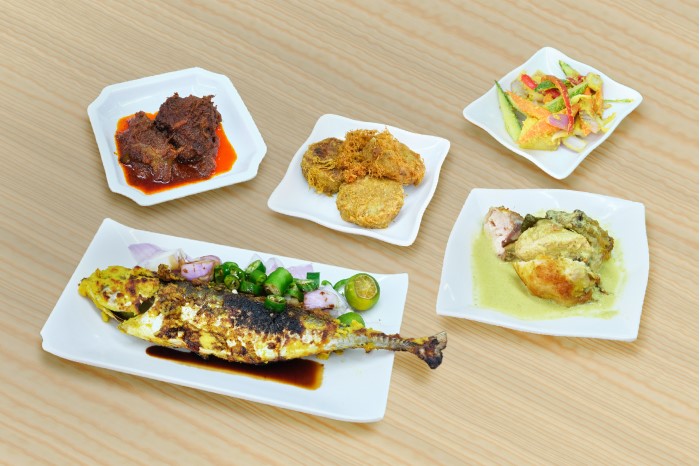 The house of small things: Sin Hin Chuan Kee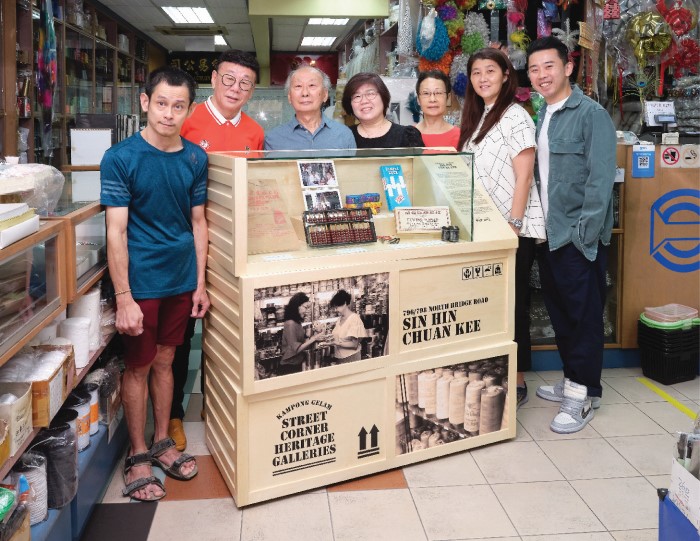 Sin Hin Chuan Kee's proprietors often describe the business as having grown together with generations of its customers. Founded in 1965 by Ng Koon Teng, an immigrant from Quanzhou, China, this family-run haberdashery and trading business boomed in part due to the import and export opportunities that Singapore enjoyed as a trading hub.
After working in a trading firm, Ng established Sin Hin Chuan Kee Trading Co in a shop at 47 Clyde Street, with his family roots reflected in the name "Chuan Kee", which translates to "remembering Quan(zhou)" in Hokkien. Capitalising on Singapore's position as an entrepot and trading hub, Ng sold thread, lace, buttons and assorted accessories to factories, tailors and traders. When Clyde Street underwent redevelopment in the 1970s, the shop relocated to Kampong Gelam.
Displaying an entrepreneurial zeal, Ng and his family sought out suppliers throughout Asia in the 1960s and 1970s, and sourced for products such as Flying Wheel sewing thread from China and later YKK zippers from Japan, both of which became cornerstones of their distribution business. Ng's successors, including sons Ng Cheow Kok, Ng Cheow Poh and their siblings expanded the business by finding new customers in India, Thailand, Malaysia and other countries.
During the economic boom in the 1970s and 1980s, traders from various countries could be seen queuing up outside the shop and paying cash for large orders of YKK zippers and other accessories. The shop's staff would then transport the goods to Boat Quay to be shipped across the world, or delivered to the buyers at various locations.
From the 2000s, the third generation of the Ng family, including the founder's grandsons Adrian Ng and Kenny Ng, grew the retail arm of their business and established an online storefront. These adaptations, among others, have helped sustain Sin Hin Chuan Kee and keep the business relevant to a new generation of customers.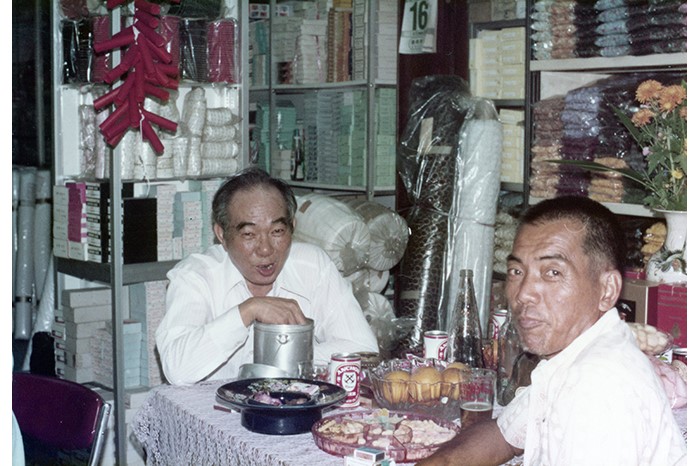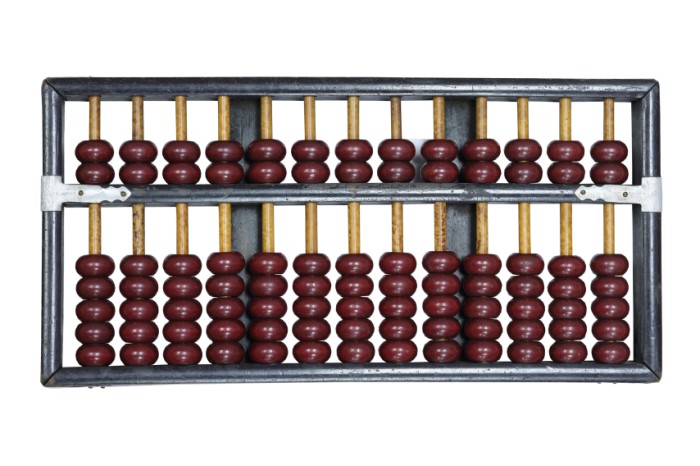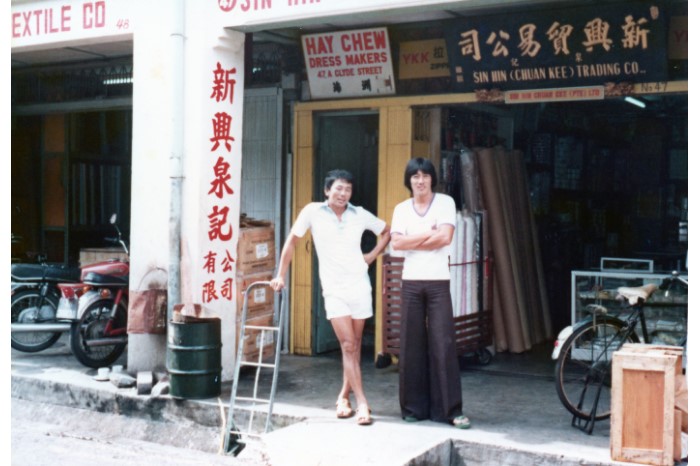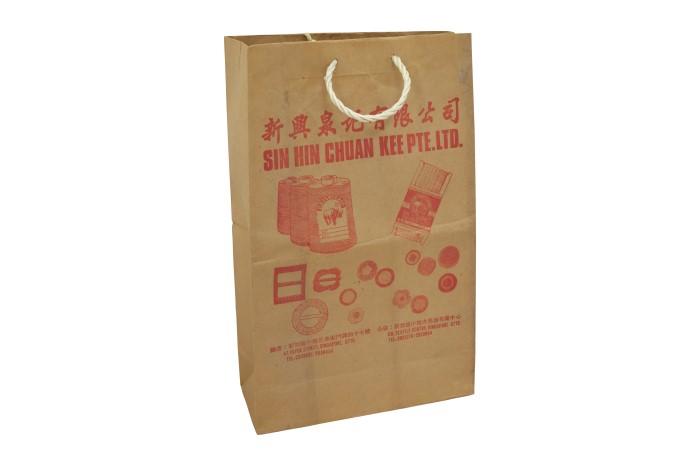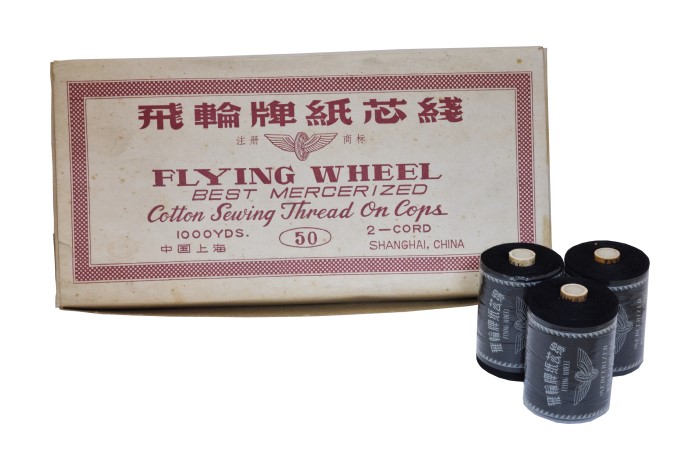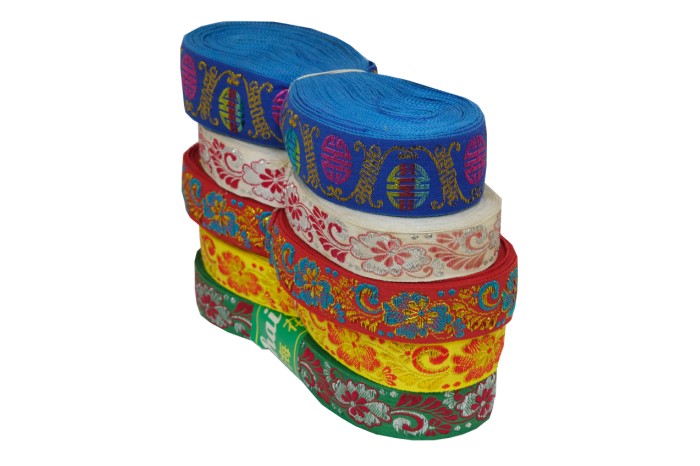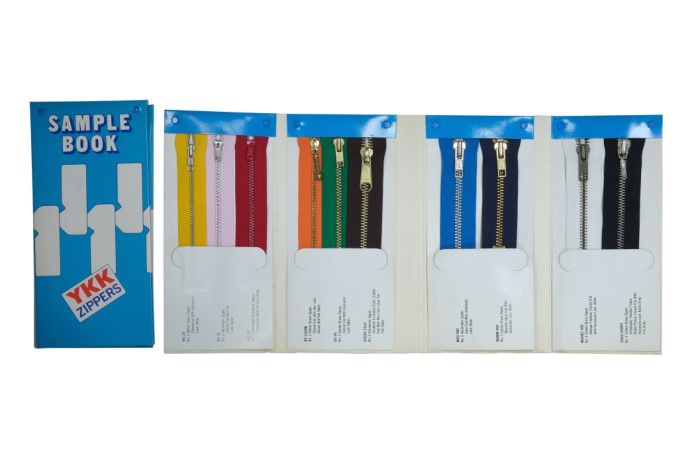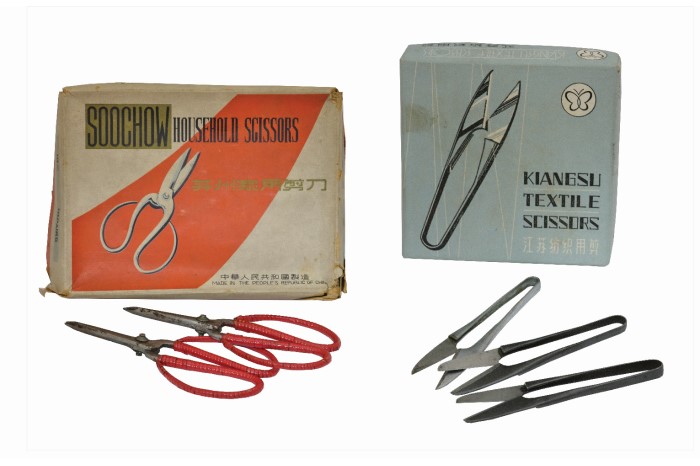 From Kampong Gelam to the Haj: V. S. S. Varusai Mohamed & Sons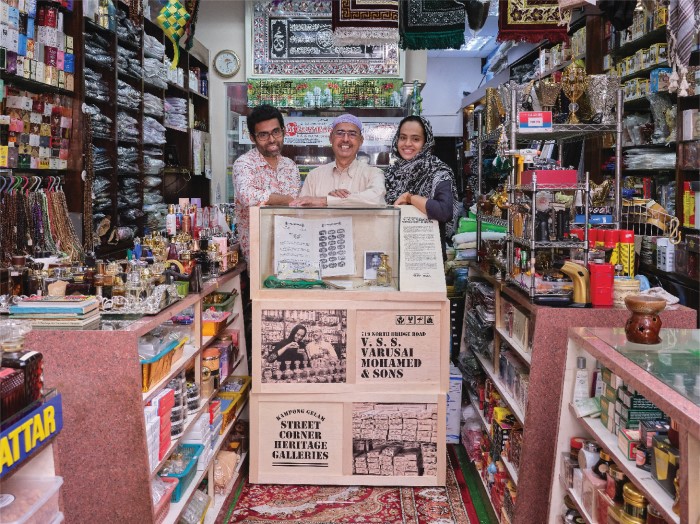 Since 1935, V. S. S. Varusai Mohamed & Sons has provided hundreds of thousands of Muslims with accessories that are useful for the Haj pilgrimage. The business was founded by Valanadu Sinnagani Syeda Mohamed Varusai Mohamed, a Tiruchirappalli, India-born migrant who arrived in Singapore from Rangoon, Myanmar.
Varusai Mohamed started his entrepreneurial career selling socks in Kampong Gelam, before setting up a factory at the nearby Crawford Court area to manufacture and sell steel baggage trunks and umbrellas. The product that the business is best known for, however, is a sturdy, practical belt used by Haj travellers, known colloquially in Malay as tali pinggang haji or simply as a green belt.
While on the Haj, pilgrims wear unstitched and seamless robes known as ihram, which are meant to signify the equality of all Muslims before God. During his own Haj journey, Varusai Mohamed noticed that many pilgrims were tying their money pouches and other possessions to their ihram using makeshift methods, and he was inspired to design a belt to carry money and necessities.
In 1935, Varusai Mohamed patented the Makkah Zam Zam Belt in the United Kingdom and proceeded to manufacture the belt in Singapore using quality components. At its peak, some 60,000 belts were exported to the Middle East each year. Varusai Mohamed's customers for the belts and other Haj accessories included pilgrims from Singapore, Malaysia and Indonesia, who made a stop at the Kampong Gelam area on their way to and from the Haj.
The second and third generations of this family-run business maintained its longstanding presence in Kampong Gelam, and have expanded the range of goods available to include ihram clothing, incense and perfumes among others. The latter two products in particular have helped Varusai Mohamed attract a multi-cultural customer base.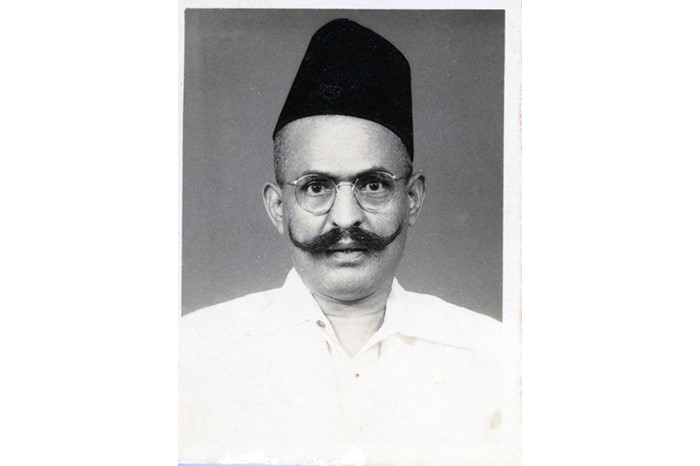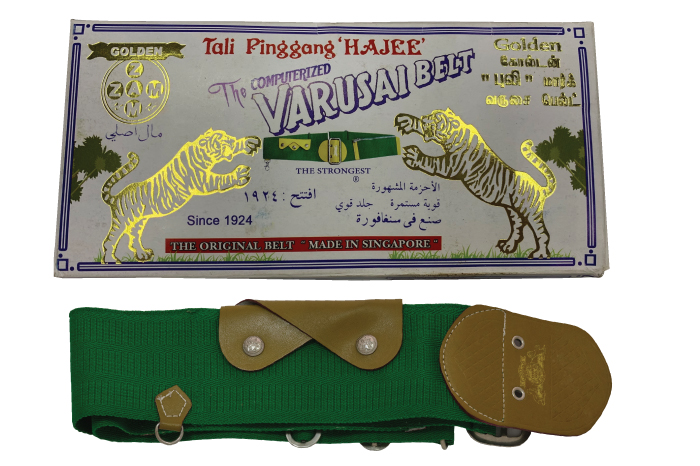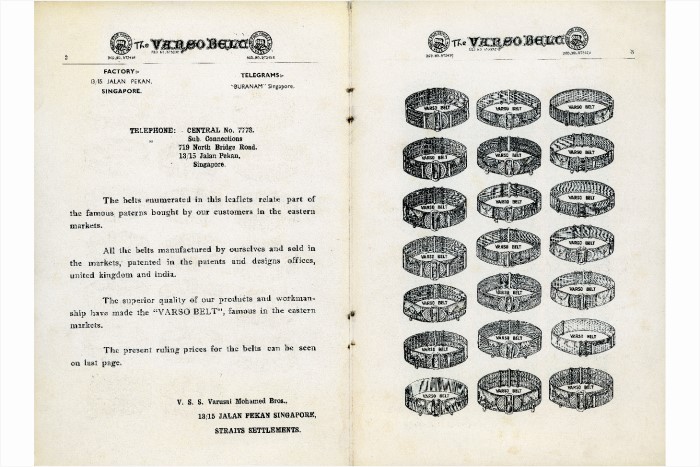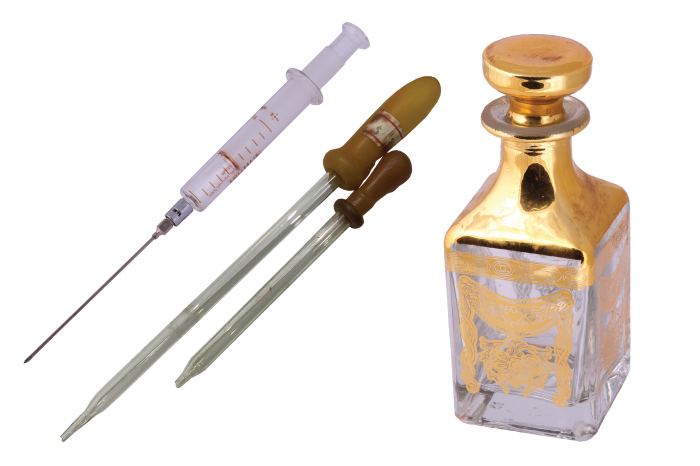 A tradition of charcoal and spices: Warong Nasi Pariaman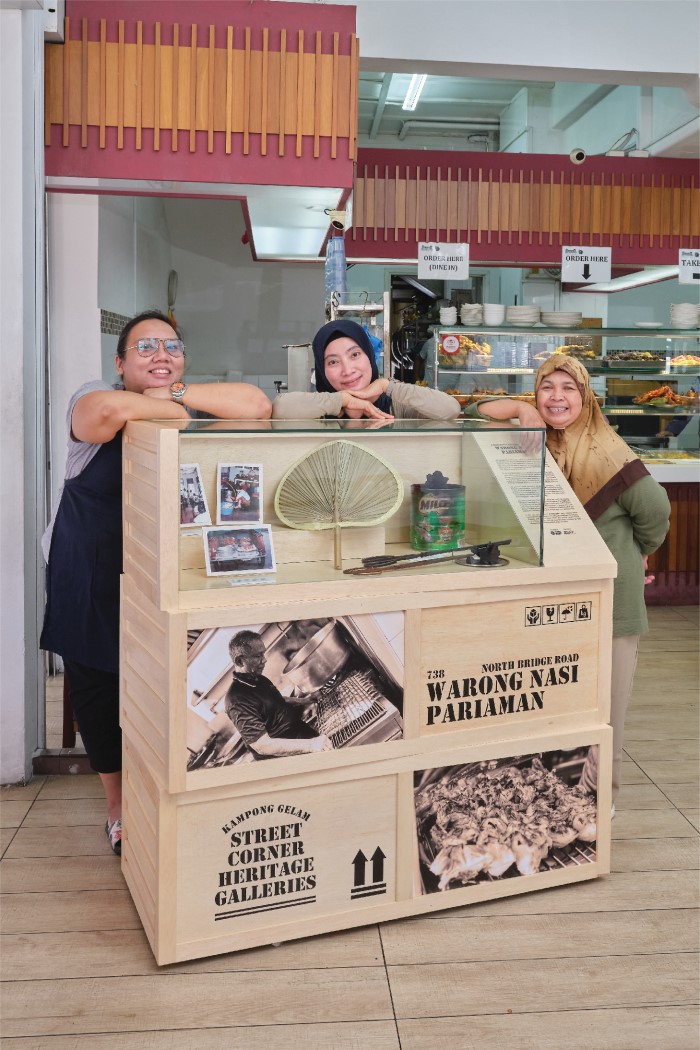 The Minangkabau tradition of merantau, or customary migration, has been linked to the widespread popularity of beef rendang throughout Indonesia, Singapore and Malaysia. A flavourful, slow-cooked dish that serves as a reminder of home for the Minangkabau migrants, rendang and other nasi padang favourites have been mainstays here at Warong Nasi Pariaman for decades.
Established by Isrin bin Ibrahim and his wife Rosna binte Zainal Abidin, Warong Nasi Pariaman has been serving nasi padang (also known as Minang cuisine) from this North Bridge Road shop since 1948. Having migrated to Singapore in the 1940s, Isrin and his family operated from a street stall before renting a shophouse and naming their business after their hometown of Pariaman, a city in West Sumatra, Indonesia.
The patriarch Isrin's insistence on quality ingredients, cooking methods and presentation continues to guide Warong Nasi Pariaman's cuisine in the 21st century. Under the charge of the founder's children Sudirman, Jumrin, Munaf and Nasrin, the restaurant specialises in nasi padang dishes including beef rendang (beef stew), ayam bakar (grilled chicken) and gulai nangka (jackfruit curry).
The rendang and ayam bakar here reflect the traditional cooking techniques of Minangkabau culture, with the former slow-cooked over a charcoal fire, in a stew that includes rempah (spice paste), coconut milk, onions, lemongrass and kaffir lime leaves. The latter dish, ayam bakar, is cooked in a coconut gravy before being charcoal grilled, and both dishes possess a subtle smoky flavour that many customers love.
In the 21st century, Isrin's granddaughter Yanty Sulastry Emrin represents the third generation of the family working in the business. Together with other longstanding nasi padang establishments in Kampong Gelam, Warong Nasi Pariaman continues to keep Minangkabau culinary traditions alive in the area.