TL;DR
Place heritage is not just about the built environment, but it also includes the intangible aspects—communities, ways of life, the natural ecology. All of us have a role to play as we collectively take on the stewardship of place heritage.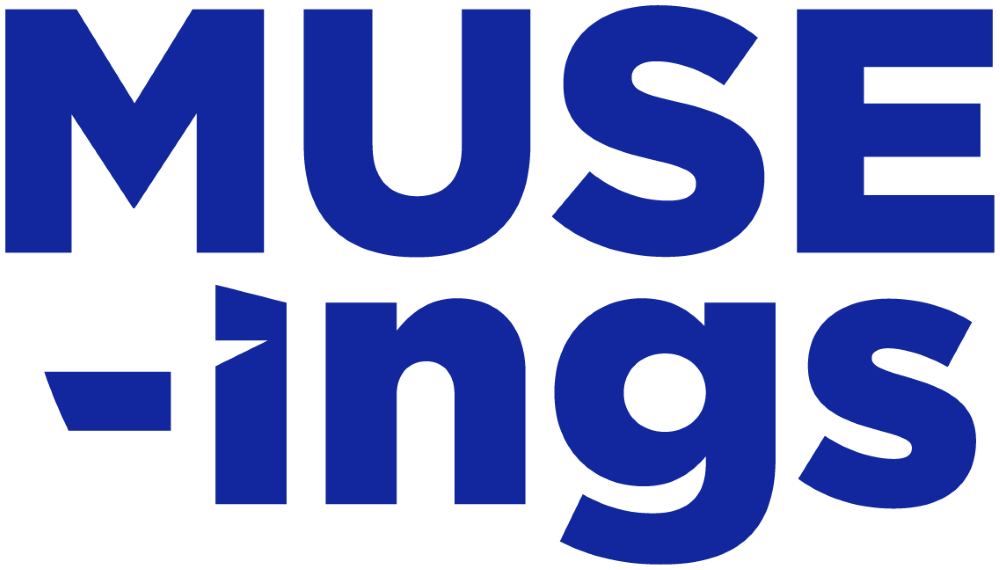 MUSE SG Volume 15 Issue 02 - July 2022
Text by Dr Johannes Widodo, Associate Professor, National University of Singapore
Read the full MUSESG Vol. 15 Issue 2
The city is a collective memory, a result of the contributions of all of its inhabitants accumulated over time.1 Place names, tangible features such as natural elements and architecture, and intangible aspects like history, events and communities—all of these form one's sense of place. On another, more personal level, we as the city's inhabitants ascribe meaning to a place with our memories of it. As such, decisions to keep or change a place, or even erase it, bear significant consequences—affecting one's sense of place and attachment to the locale.
Place Heritage: Beyond the Tangible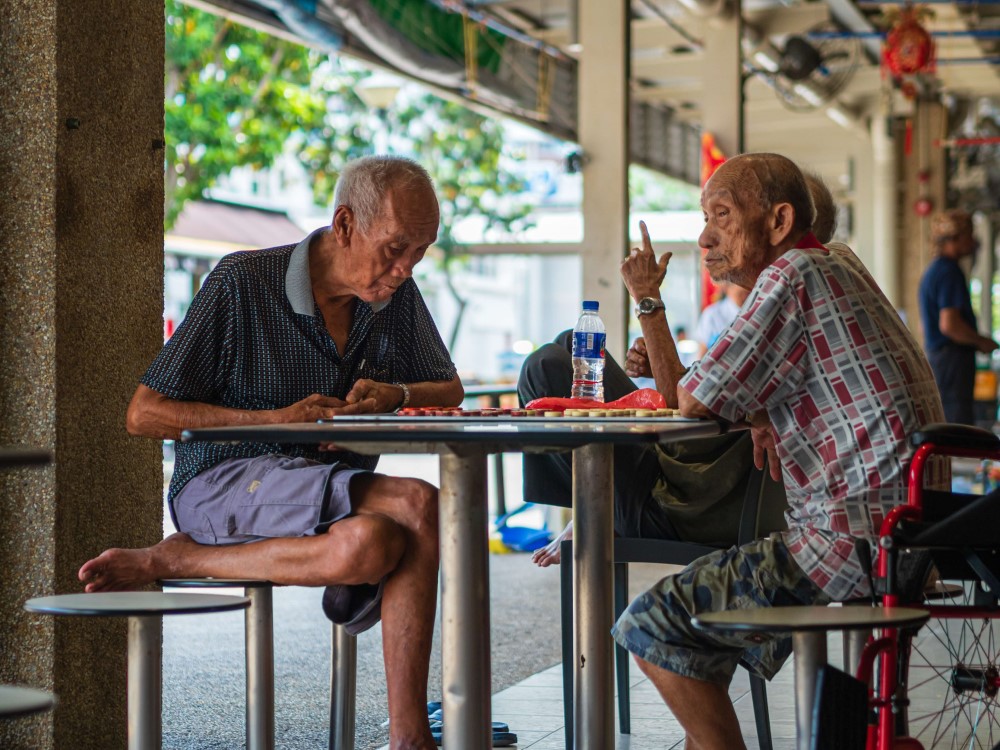 Two elderly men playing Chinese chess in a hawker centre. Place heritage comprises not just the built environment, but also communities that have formed organically over time in a particular locale. Image courtesy of Heng Lim/Shutterstock.com
Place heritage traditionally referred to buildings and sites, while heritage properties were mainly associated with monuments and buildings, without any relationship to their surrounding landscape.2 Today, the meaning of place heritage has been expanded to include the interaction between tangible and intangible aspects rooted in the cultural landscape, referring to a symbiosis of human activity and the environment.
Place heritage conservation therefore protects and upholds a set of values that the community has maintained for decades—historical, architectural, social, cultural, timelessness, economic and contextual.3 Part of it is retaining the 'authenticity' of a place, which helps people understand themselves and their place in society as a whole. In the process of place conservation, people collectively figure out what identity is, what a sense of belonging means, and recognise them. The authenticity of a locale's heritage is thus one of the most crucial factors in considering how everyone, including residents and visitors, can develop a genuine appreciation and attachment to a place from the past through to the present for the benefit of future generations.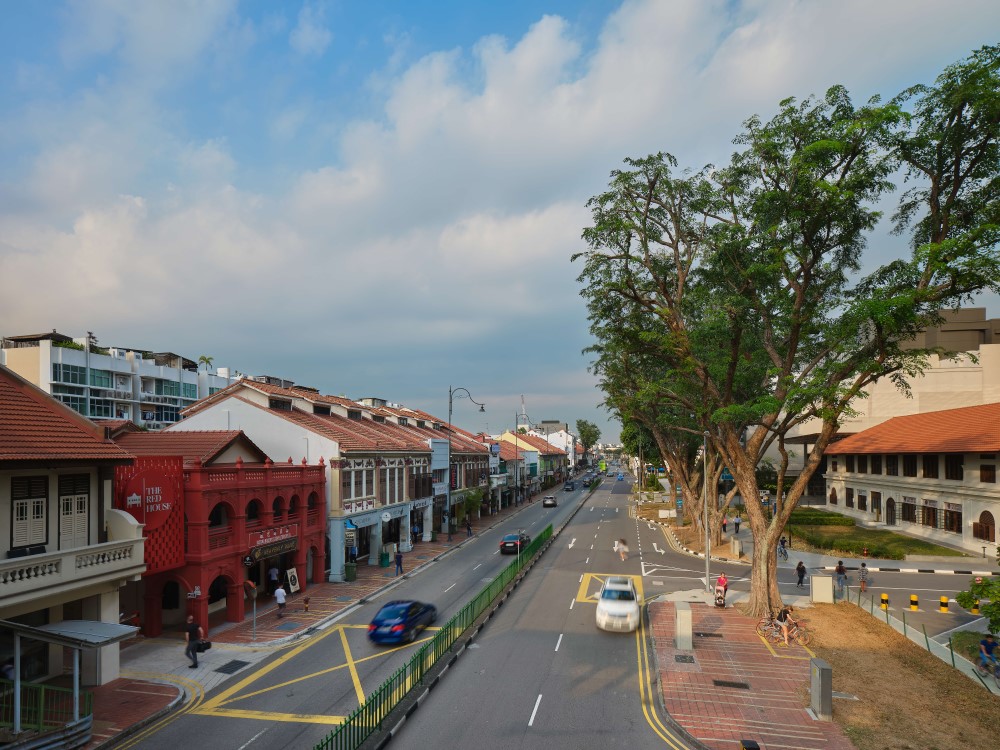 Shophouses along East Coast Road. The iconic red-brick building used to house Katong Bakery and Confectionery, or 'Red House Bakery', a popular breakfast spot for residents in the area. Established in 1925, Red House Bakery closed in 2003. Today, the refurbished shophouse is home to micro red | house, a modern bakery serving up sourdough loaves.
Safeguarding Singapore's Place Heritage
The priority of Singapore from its independence in 1965 to 1989 was economic development and housing. In those decades, the city-centre was radically transformed from a slum and squatter zone into a modern financial and business hub. However, understanding the importance of place heritage amid the need for development, the Urban Redevelopment Authority (URA) launched its Conservation Plan in 1989, which focused on physical conservation and city rebranding efforts.4 Conservation policies and guidelines at the time were inclined towards the conservation of the country's multi-ethnic and colonial built heritage.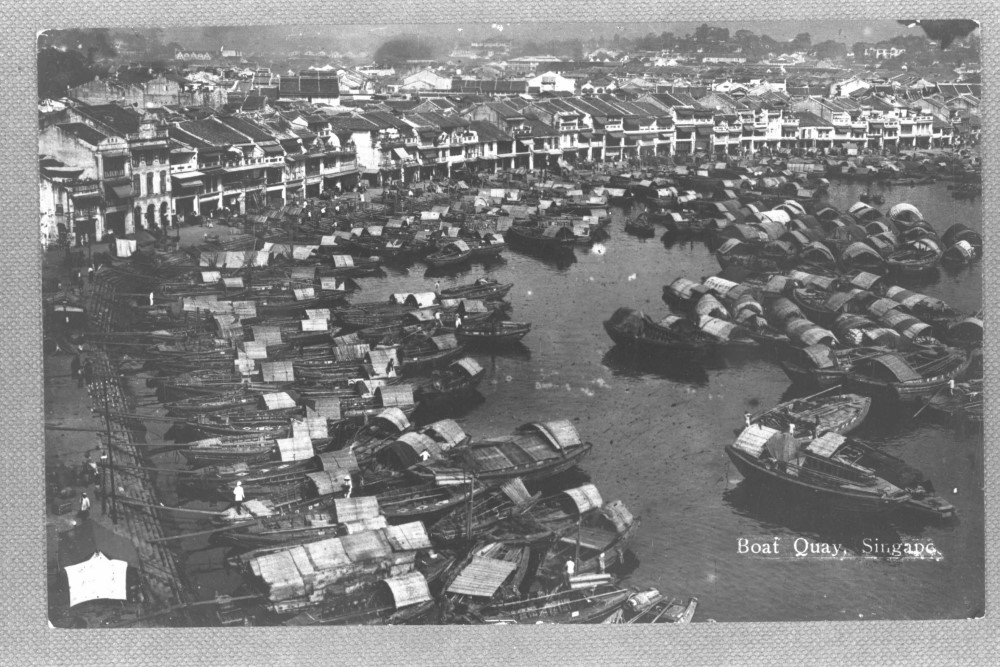 Boat Quay, c. 1930. Quays are manmade platforms built alongside or into water to allow ships to dock and unload cargo. Image courtesy of National Archives of Singapore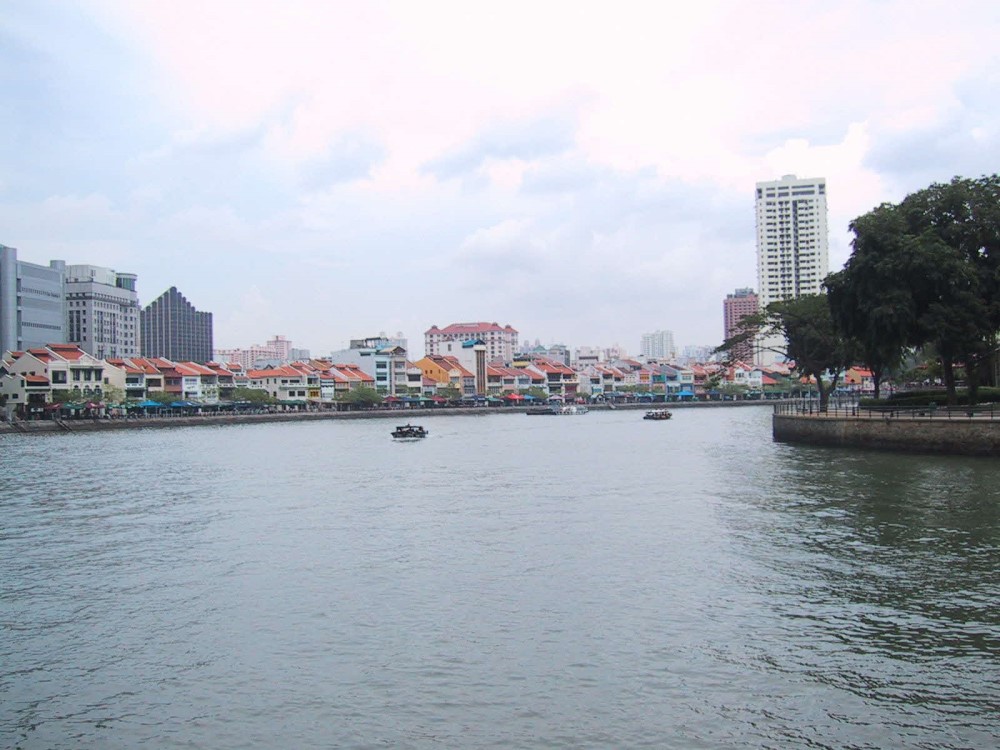 Present-day Boat Quay. Although the original functions of the harbour and its associated activities have changed, the place name that carries the memory of the past is still in use today. Image courtesy of author
Under the Conservation Plan, conservation status was granted to historic districts like Chinatown, Little India, Kampong Gelam and areas surrounding the Singapore River. Later, secondary settlements such as Joo Chiat and Geylang were also granted conservation status. While the conservation policy was geared towards protecting built heritage to preserve a distinctly 'local' flavour that would resonate with the people, a component of it was to drive tourism numbers.
URA adopted a stylistic classification for shophouse architecture for various conservation areas such as Chinatown, Kampong Gelam and Little India.5 This classification is defined according to linear periodisation, with meticulous stylistic descriptions of the architectural features: Early Shophouse Style (1840–1900), First Transitional Shophouse Style (early 1900s), Late Shophouse Style (1900–40), Second Transitional Shophouse Style (late 1930s) and Art Deco Shophouse Style (1930–60).
According to URA's conservation guidelines, the facades of shophouses are to be retained as a priority, with some flexibility in the building's interior to support adaptive reuse. Conserving the facades of old shophouses helped create a visual identity for these places, which were in turn also rebranded accordingly as 'Little India' and 'Chinatown' to impress upon tourists the identity of these historic areas.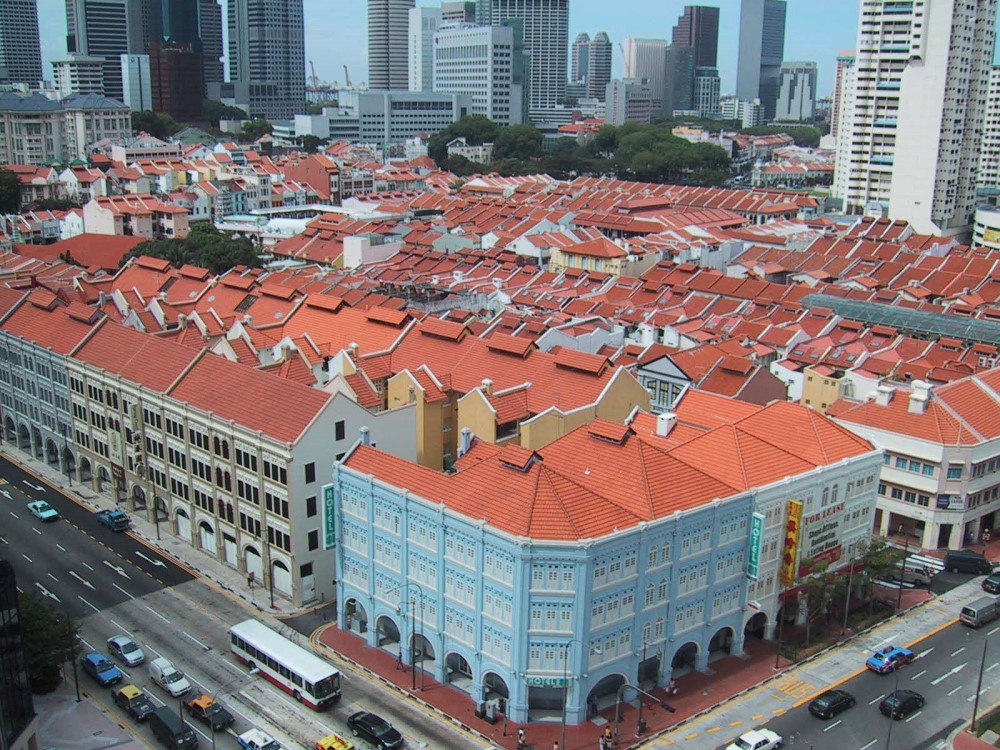 The former Singapore Improvement Trust flats built in the 1930s for customs workers in the Chinatown area have been repurposed for commercial activities, 2004. Image courtesy of author
Alongside the conservation work of URA was the former Preservation of Monuments Board, known today as the Preservation of Sites and Monuments (PSM), under the National Heritage Board. URA's mandate is to carry out conservation albeit allowing modifications to accommodate development, while PSM is the national preservation authority whose mandate is to identify structures and places of national significance and gazette these for preservation as national monuments. One of its functions is to ensure the full authenticity of the preserved buildings and sites.6
Due to the focus on the conservation and preservation of built heritage from the late 1980s to the early 2000s, little attention was paid to preserving existing communities, their ways of life or the sociocultural fabric. Thus, much intangible heritage was lost in those decades due to gentifrication as old businesses were driven out by market forces and communities relocated due to development. But this was to change in the new millennium, when a more holistic manner of conservation became the overarching framework.
The Urban Redevelopment Authority's stylistic classification for shophouse architecture in the conservation area of Little India: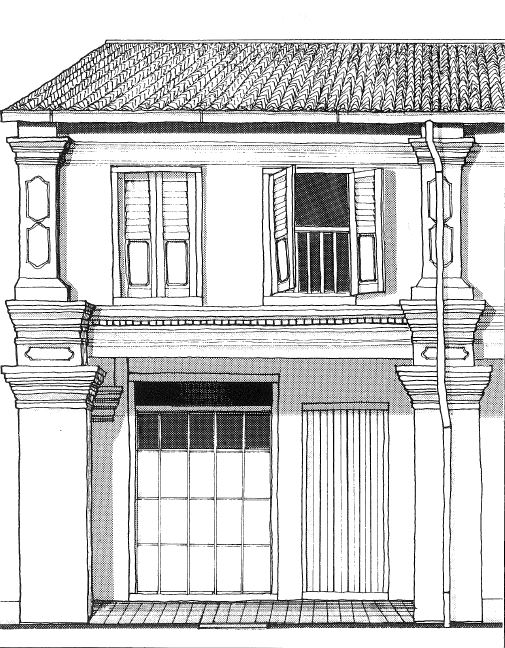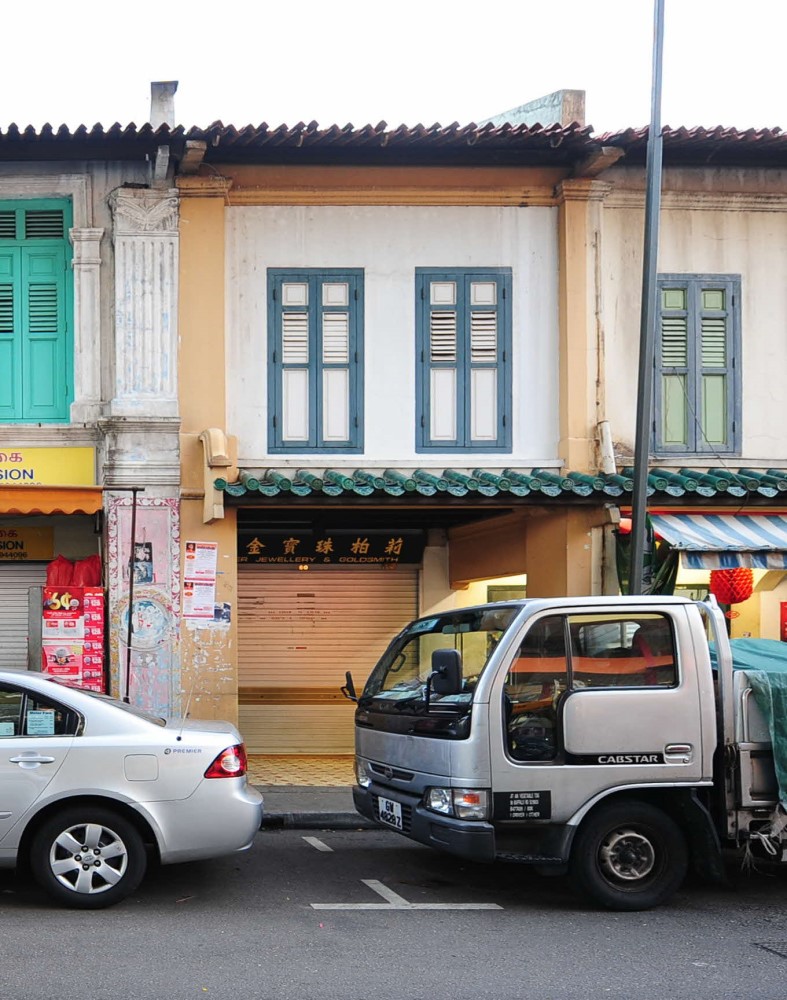 Early Shophouse Style (60 Buffalo Street)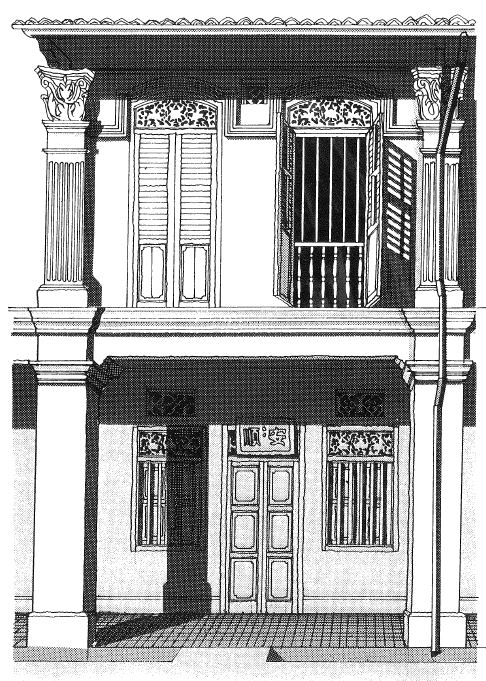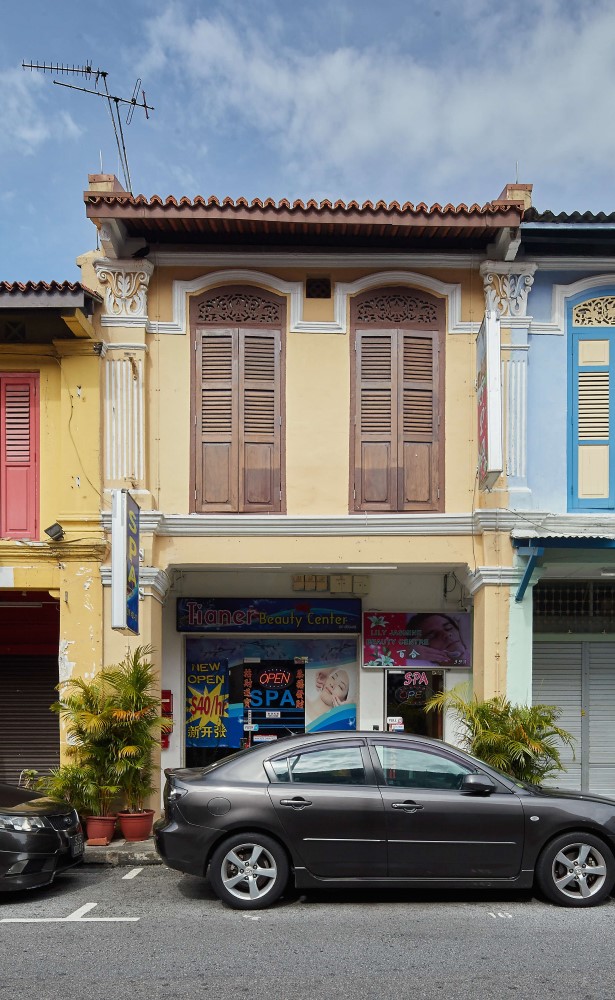 First Transitional Shophouse Style (39 Campbell Lane)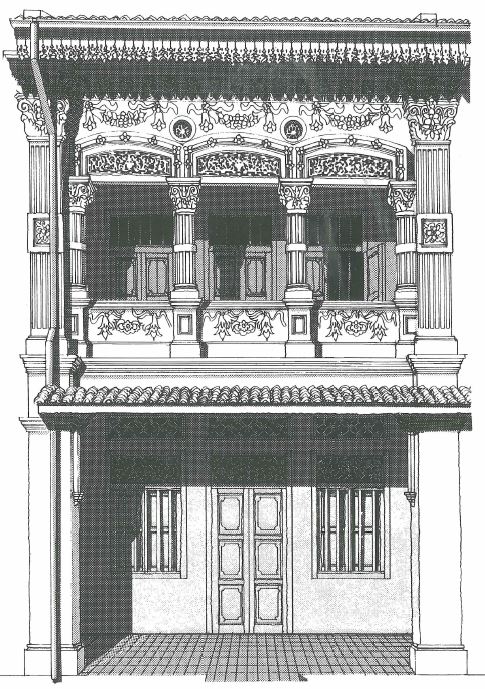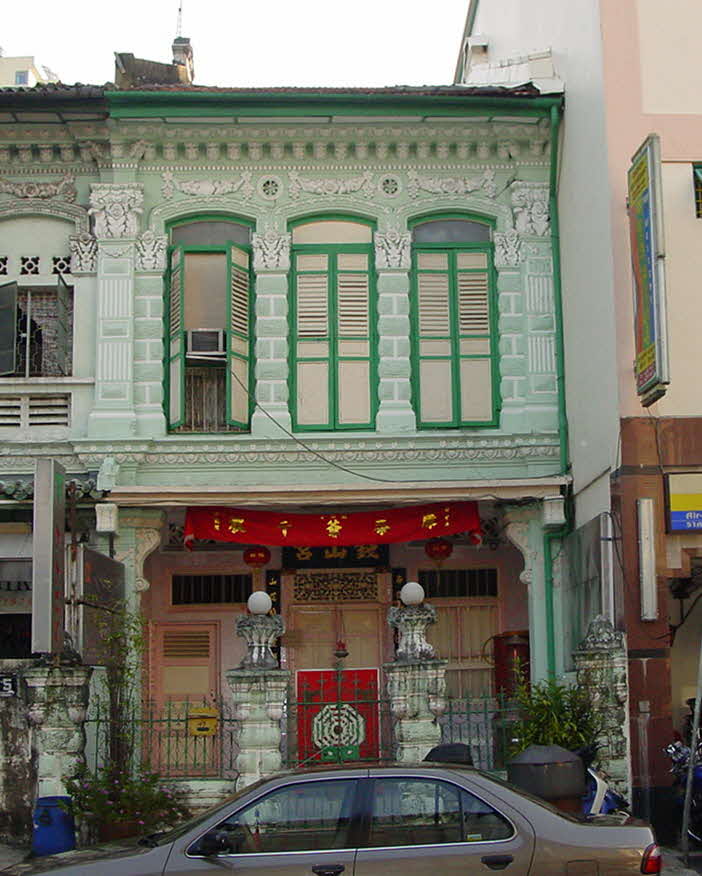 Late Shophouse Style (47 Desker Road)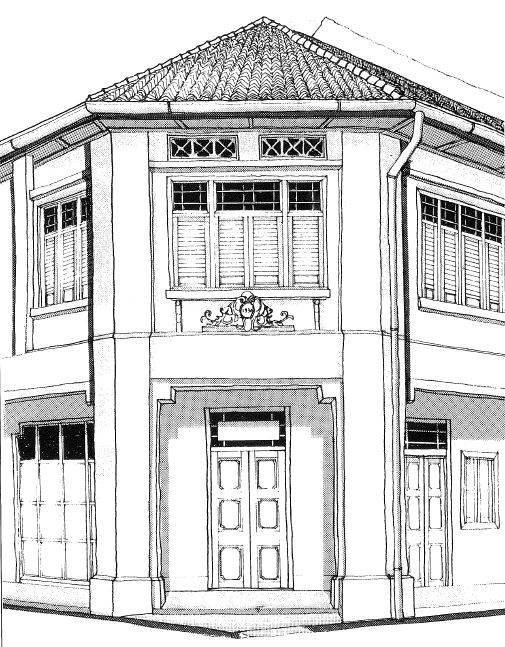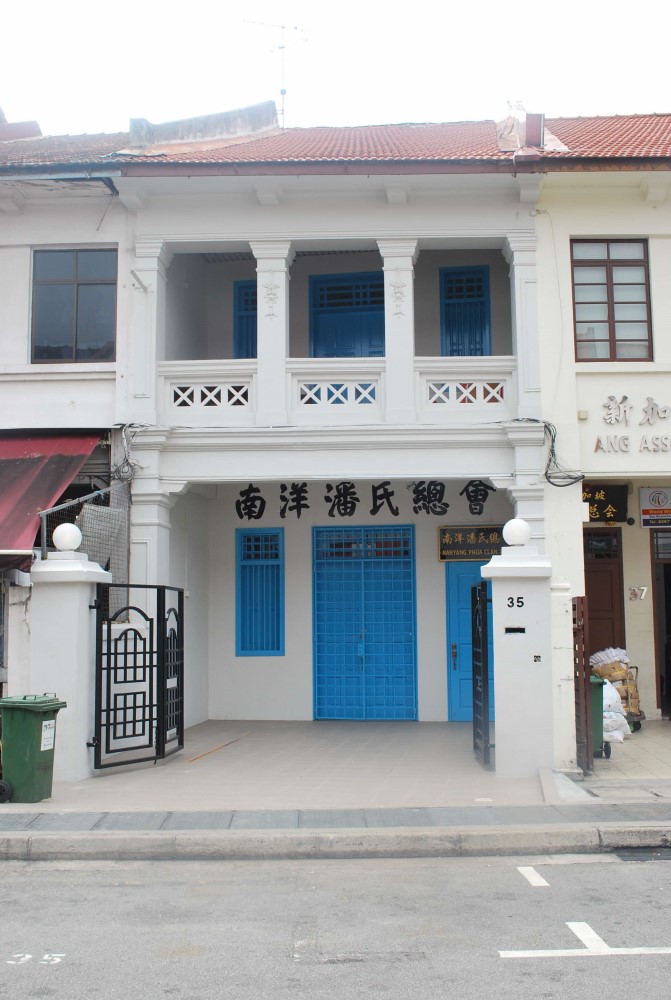 Art Deco Shophouse Style (35 Cuff Road)
Holistic Conservation
Changes in the political climate and public aspirations saw the government gradually shift from a top-down approach to a more participatory strategy for urban conservation in the early 2000s. This was partly to nurture Singaporeans' sense of ownership and stewardship of the city's architectural and place legacy. The public desired a more inclusive framework for conservation, where a balance could be struck between conservation and redevelopment. Government policy increasingly moved towards holistic conservation—an integrated, synergistic approach beyond physical structures to include communities and activities that contribute to a locale.
From August 2000 to May 2001, URA held public consultations in the urban planning process for the Concept Plan 2001.7 Ideas and contributions from the public were gathered through public forums, exhibitions and dialogues before the Concept Plan was finalised at the end of 2001. A similar process was implemented in the following year when the Master Plan 2003 was being drafted. Specifically, the Ministry of National Development appointed three subject groups comprising professionals, representatives from interest organisations and laypeople to study proposals relating to: (1) Parks and Waterbodies Plans and Rustic Coast, (2) Urban Villages and Southern Ridges and Hillside Villages, and (3) Old World Charm. The ideas and recommendations were incorporated in the draft of the Master Plan 2003.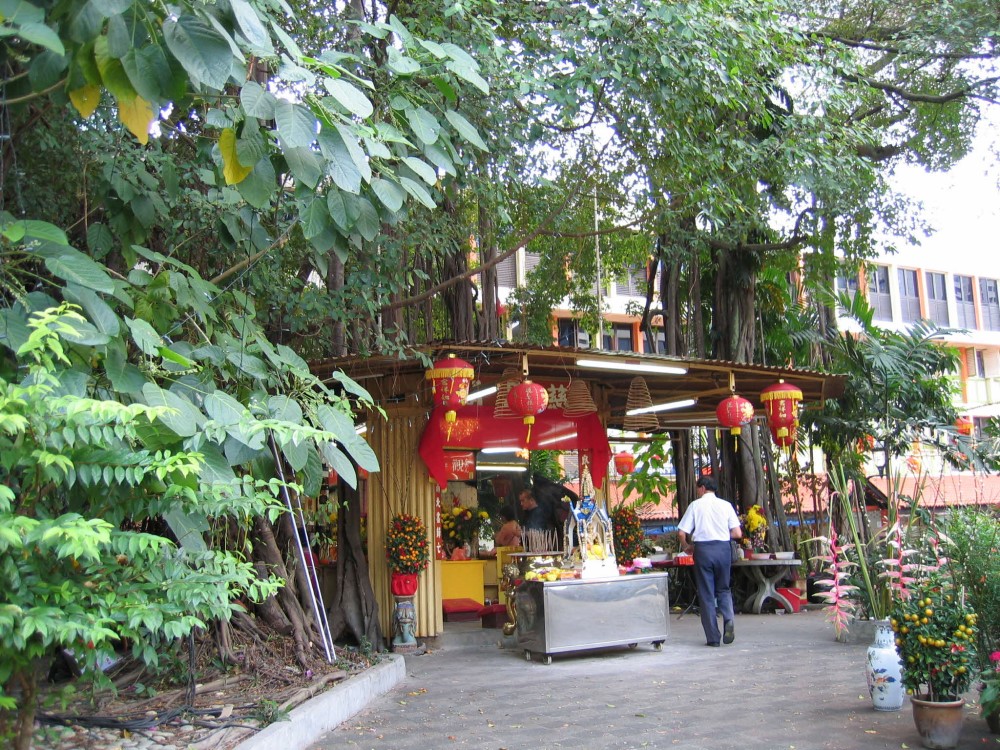 A Buddhist-Taoist makeshift shrine, popularly known as Ci Ern Ge, under an old banyan tree in Toa Payoh Central, 2005. The tree and the shrine were interwoven into the new urban fabric when the town centre was built around 1966–70. Image courtesy of author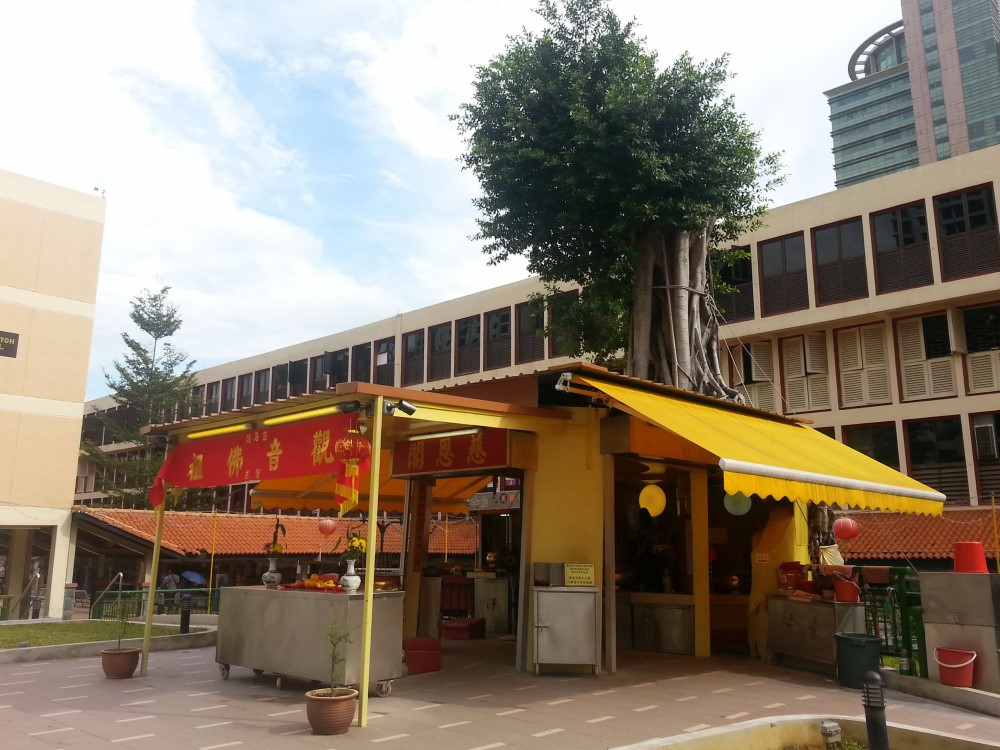 The restored Buddhist-Taoist shrine (photographed in 2022) in Toa Payoh after the tree collapsed due to a storm in 2013. The restoration was supported by the Singapore Toa Payoh Central Merchants' Association, against the initial plan to clear the shrine by the National Parks Board. Image courtesy of author
No longer were policymakers focused solely on built heritage; communities, trades, traditions and activities could all contribute to the 'old-world charm' of a place. Such a holistic conservation approach thus includes modern and less aesthetically significant structures. The framework is multidimensional, encompassing buildings, traffic patterns, streetscapes, open spaces, and views. Holistic conservation therefore necessitates multidisciplinary participation at both local and national levels, and it involves all conservation stakeholders—users, owners, heritage supporters and decision-makers.
Voices from the Ground: Heritage and Nature Advocacy
An impetus for the above-mentioned policy changes can be attributed to the active engagement with government bodies by heritage societies. The Singapore Heritage Society was established in 1986 as a non-profit organisation dedicated to preserving, transmitting and promoting Singapore's history, legacy and identity.8 The society advocated for the future use of the former KTMB (Keretapi Tanah Melayu Berhad) Rail Corridor and the Bukit Brown Cemetery, working together with the Nature Society (Singapore).
The Nature Society (Singapore) has a history that stretches back to 1921, and it is presently a nongovernmental organisation that promotes nature appreciation, the conservation of natural resources, and engagement in local, regional and global initiatives to preserve biodiversity.9 Its advocacy work has seen success in the now-conserved Sungei Buloh Wetlands Reserve and Chek Jawa in Pulau Ubin. In 2015, the Nature Society and the Singapore Heritage Society collaborated on Green Rail Corridor: A Guide to the Ecology and Heritage of the Former Railway Land—a comprehensive map of the former rail corridor that explores its diverse ecology and cultural heritage.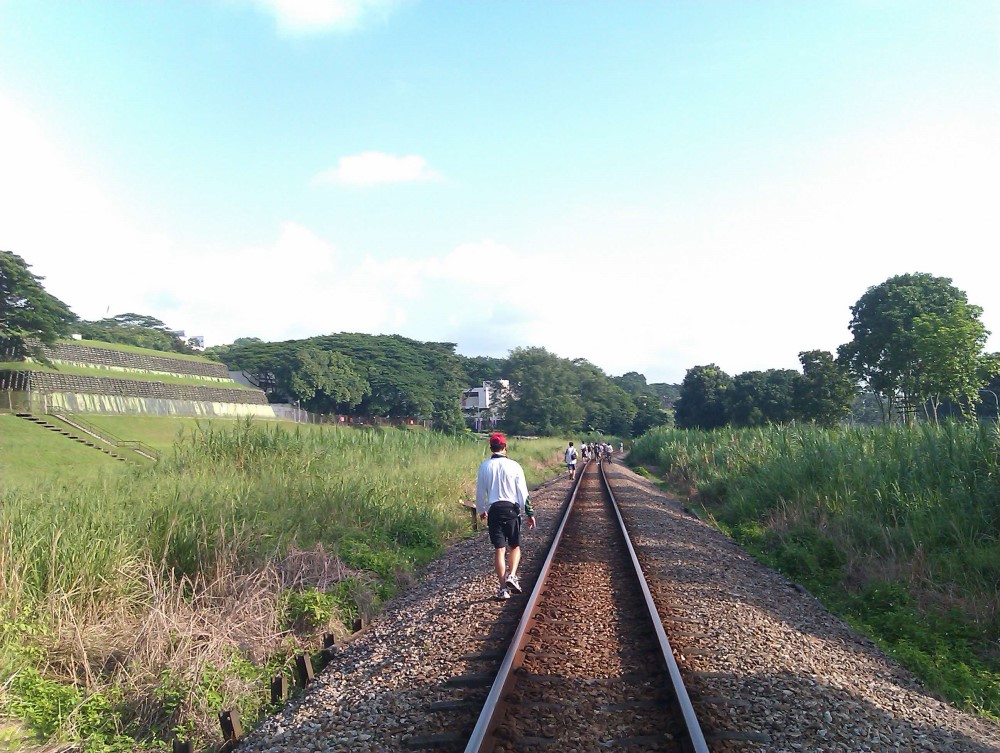 Visitors walking along the Rail Corridor before the removal of the rail, 2011. Image courtesy of author
Heritage advocates based online, particularly on social media, have also mushroomed organically within the last decade in Singapore. Today, we have social media groups and other online communities made up of individuals with a shared interest in place heritage: Facebook groups Tiong Bahru Heritage Trails10 and Heritage Singapore – Bukit Brown Cemetery;11 blogs 'Bukit Brown: Living Museum of History and Heritage'12 and 'All Things Bukit Brown: Heritage, Habitat, History';13 websites The Green Corridor,14 Wild Singapore15 and Singapura Stories;16 and many more.
In 2014, the International Council on Monuments and Sites (ICOMOS) Singapore was founded as a non-governmental organisation consisting of professional heritage practitioners who have worked closely on public and private projects pertaining to Singapore's heritage sites. ICOMOS is an advisory body to UNESCO which actively contributes to the implementation of the World Heritage Convention.
A more recent addition to the ground-up heritage landscape is the non-profit group Documentation and Conservation of Buildings, Sites and Neighbourhoods of Modern Movement, or Docomomo Singapore, established in 2021.18 Docomomo Singapore aims to create awareness among Singaporeans on the nation's modern built heritage. Besides research and advocacy work, it also works with partners to find creative, sustainable and inclusive ways to conserve and retrofit the modern built heritage of Singapore.
Social media's influence on the increasing interest in heritage and sense of belonging among the younger generation cannot be underestimated. It will continue to be an essential platform of engagement that can change people's perception of and their attachment to heritage places. Needless to say, the proliferation of heritage groups online and offline has greatly increased community involvement in heritage-related issues, contributing to a stronger shared ownership of Singapore's place heritage.
A Shared Responsibility
Although the National Heritage Board is the official custodian of Singapore's heritage, non- governmental organisations and other community movements are crucial in the stewardship of Singapore's heritage. It is the responsibility of everyone to preserve and celebrate the shared heritage of our diverse communities, as the integrity of the tangible and intangible heritage entrusted to us by past generations depends on us.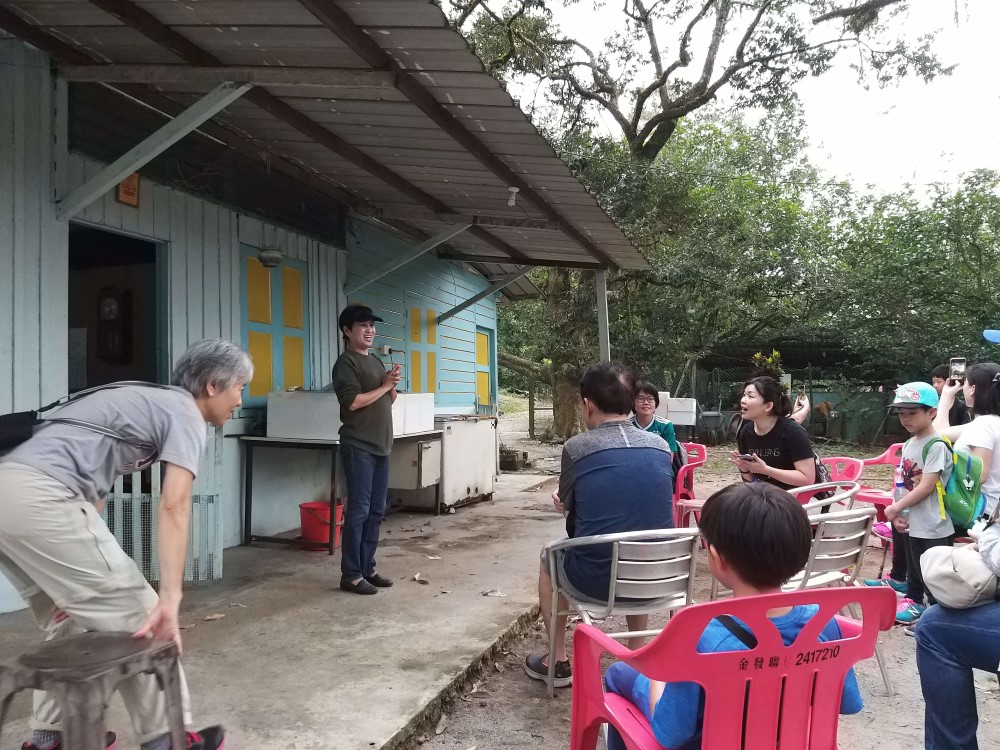 A resident of Pulau Ubin sharing stories about the community and place to a group of visitors, 2019. Image courtesy of author
Under our generation's stewardship, it may be destroyed, damaged, altered or abused; on the other hand, it may also be restored, repaired, maintained, conserved or preserved. Conserving our natural and cultural legacies is an act of managing changes, extending the past to the present and the future for the current and subsequent generations—and this requires the active involvement of everyone, not only the government.
The importance of the retention of identities through the preservation and conservation of natural and cultural heritage—especially place heritage—will become even more crucial as the development and redevelopment of our urban areas continually expand outwards to cater to the needs of a larger population and economic growth. But we must never forget that we need to preserve the people's memories, identities and sense of place for future generations. Heritage conservation is, after all, about the people.
1 Aldo Rossi, The Architecture of the City (Cambridge: MIT Press, 1982), 208.
2 Gamini Wijesuriya, Jane Thompson and Christopher Young, Managing Cultural World Heritage (Paris: UNESCO World Heritage Centre, 2013). Retrieved from http://whc.unesco.org/document/125839.
3 Eko Nursanty, The anatomy of place branding: Relating place transformation to community identity. Place Branding and Public Diplomacy, 2021, vol. 17, iss. 1, 19–35.
4 'Previous Master Plans', Urban Redevelopment Authority (website). Last updated 13 May 2022. Retrieved from https://www.ura.gov.sg/Corporate/Planning/Master-Plan/Previous-Master-Plans.
5 Urban Redevelopment Authority, Kampong Glam: Historic District (The Author: 1995); Urban Redevelopment Authority, Little India: Historic District (The Author: 1995); Urban Redevelopment Authority, Chinatown: Historic District (The Author: 1995).
6 In 2021, a law was enacted that facilitates the gazetting of historic sites like the Padang, which is not a building or a structure, as a national monument. Prior to that, preservation status was only granted to buildings and structures.
7 Presently known as the Long-term Plan, the Concept Plan is the macro-level blueprint for urban planning in Singapore that takes into account land use and infrastructure needs. The Master Plan, on the other hand, translates the long-term urban planning strategies of the Long-term Plan into more detailed plans for implementation. Reviewed every five years, the Master Plan is the statutory land use plan for the medium term over the next 10–15 years.
8 'About Us', Singapore Heritage Society (website), 26 November 2011. Retrieved from https://www.singaporeheritage.org/?page_id=1363.
9 'History of Nature Society (Singapore)', Nature Society (Singapore) (website). Retrieved 30 March 2022 from https://www.nss.org.sg/about.aspx?id=2.
10 My Tiong Bahru Heritage Trail [Facebook page]. Retrieved 30 March 2022 from https://www.facebook.com/groups/177683299032084/.
11 Heritage Singapore – Bukit Brown Cemetery [Facebook page]. Retrieved 30 March 2022 from https://www.facebook.com/groups/bukitbrown/.
12 Bukit Brown: Living Museum of History and Heritage (website). Retrieved 30 March 2022 from https://www.bukitbrown.org/.
13 All Things Bukit Brown – Heritage. Habitat. History (website). Retrieved 30 March 2022 from http://bukitbrown.com/main/.
14 The Green Corridor (website). Retrieved 30 March 2022 from http://www.thegreencorridor.org/.
15 Wild Singapore (website). Retrieved 30 March 2022 from http://www.wildsingapore.com/.
16 Our Stories, Singapura Stories (website). Retrieved 30 March 2022 from http://singapurastories.com/.
17 'Origins of ICOMOS Singapore', ICOMOS Singapore: International Council on Monuments and Sites | Singapore (website). Retrieved 30 March 2022 from https://www.icomos-sg.org/about-icomos-sg.html.
18 'Docomomo Singapore: About', Docomomo Singapore (website). Retrieved 30 March 2022 from https://www.docomomo.sg.