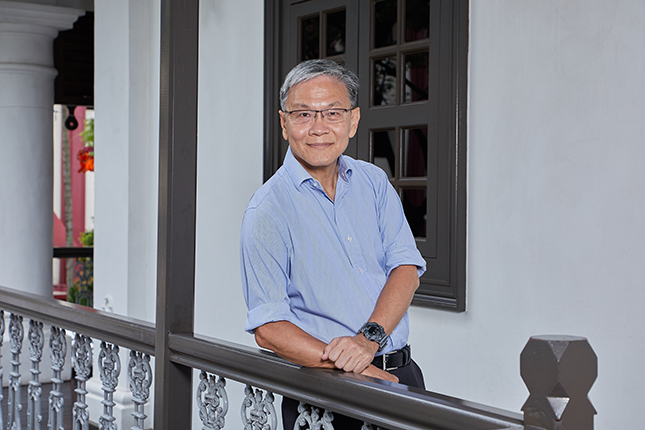 "When you are fast becoming a part of history, you better know more about history," says volunteer docent Tan Boon Piang with a laugh. Jokes aside, this is why the 61-year-old decided to become a history buff some two decades ago.
He attributes his earlier lack of interest in history to not being inspired enough as a student at Catholic High School in the early 1970s. Plus, he was taught Southeast Asian history in Mandarin, and that made studying for the examinations extra tough. "Imagine the Indian and Thai names translated into Chinese! Oh my, what a mouthful!" he exclaims.
When Boon Piang finally put his heart into studying history at the age of 40, he found out that few institutions would entertain a middle-aged man who just wanted to learn for the sake of learning. The exceptions were the Singapore Hainan Hwee Kuan, where he took a two-year course on China's history, and the Asian Civilisations Museum (ACM).
In 2006, while still working in the banking industry, Boon Piang answered the museum's call for volunteers to guide a special exhibition, On the Nalanda Trail: Buddhism In India, China and Southeast Asia. This led him to be invited three years later to join the museum's then newly-set up docent group. He could not have been happier to be given the opportunity to attend training courses by curators and academics. "Nowhere else would I get to study history for free!" Today, besides the ACM, the retiree also gives Mandarin tours at the Peranakan Museum, and the Sun Yat Sen Nanyang Memorial Hall.
As the museums hold special exhibitions periodically, the delightful talks and training sessions never end for Boon Piang. They also expose him to topics he had not anticipated enjoying as much as he did.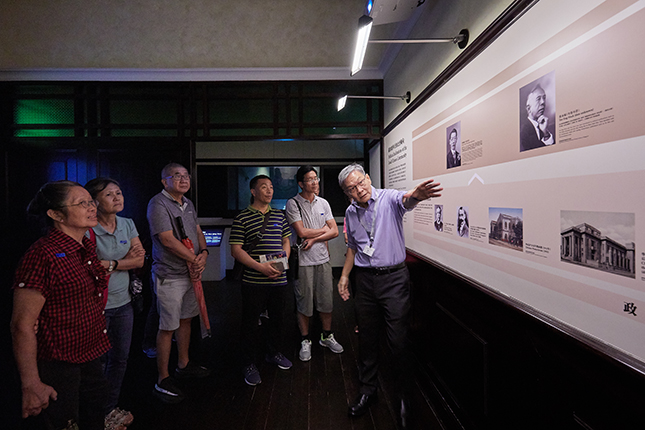 Pop culture links
Before ACM's Joseon Korea: Court Treasures and City Life exhibition, he had no inkling of Korean history, nor did he give his wife's favourite Korean dramas a chance. But he ended up looking at these to find connections between history and pop culture when he had to do research for the exhibition. For example, he found a book about the popular Korean television series Jewel in the Palace, which was based on the Joseon Dynasty.
On his tours, Boon Piang brought along a Korean banknote and eagerly pointed out to visitors that the same king featured in the museum's exhibition also appears on the banknote. This certainly worked with his wife who turned up for one of his exhibition tours.
"You can't go on and on about the artefacts," he explains. "You have to tell them that 'this was used by that character in the drama' to attract their attention."
Supportive family
Both his son and wife have been supportive of his interest, but it has usually only been in the form of moral support.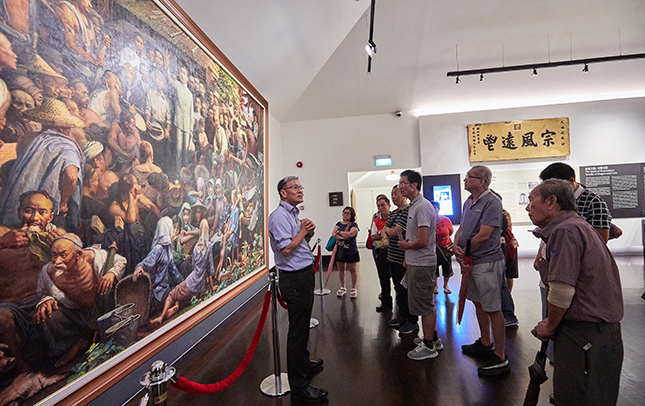 Their daughter, on the other hand, has been to all of Boon Piang's rehearsals. It was early on during such prep sessions that she pointed out his distracting mannerisms. For instance, she pointed out that she counted him saying "okay" 150 times in a single tour. She also advised him to condense the information he shared during a tour. "We are very close, so she dares to be brutally honest with me," he says. Thanks to his volunteering, the father and daughter have had many opportunities to bond at the museum.
But, now that she has grown up, the 26-year-old is not interested in tagging along for overseas trips with her dad. For instance, inspired by the Joseon exhibition, Boon Piang planned a trip to Korea. "My daughter said, 'I don't want to go Korea with old people! Korea… must go with young people!'" He is still amused by her audacity.
Fortunately, Boon Piang has made some very good friends with the other museum volunteers. They often travel together, inspired by the exhibitions they work on. They have even initiated a project to translate ACM's permanent exhibitions into Mandarin guide books. They have completed their third book, an effort which they laboured over for about six months.
Boon Piang recalls when an ex-colleague bumped into him at the museum and was curious why he would do tours for free. "Many people in Singapore wouldn't understand," he says. The answer for Boon Piang is simple: his newfound love for history, and the camaraderie he has forged with other like-minded volunteers.
By Sheere Ng