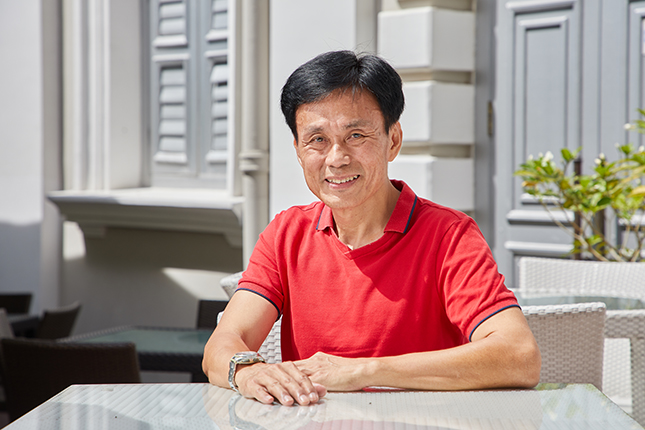 Pointing to the 19th century church bells, Pok Cheng San tells visitors that Boston bell maker Paul Revere gifted these bells to his son-in-law and first American Consul to Singapore, Joseph Balestier. The Mandarin-speaking docent then adds, "It was just a work trip, but Balestier's father-in-law bade him final farewell!"
The joke cracks up some 20 Chinese-speaking visitors to the National Museum of Singapore. In Mandarin, "gifting bells" is pronounced "song zhong", which sounds similar to the Chinese words for "seeing someone off at his funeral".
This is just one instance of how the 57-year-old brings to life the Singapore story during a two-hour long tour of Singapura: 700 years, an exhibition that retells the history of this city-state. One of 60 Mandarin Guides at the National Heritage Board (NHB), Cheng San gives regular tours at the National Museum of Singapore.
Cheng San's love for history began as a student at River Valley Government Chinese Middle School (now River Valley High School). He fondly recalls how his history teacher used to retell the past with so much gusto. While he did well enough to pursue a degree in history, his parents saved what little education funds they had for Cheng San's eldest brother instead. "People in their generation gave priority to the first male child," he says with resignation.
Making connections
Cheng San ended up putting himself through a part-time diploma course in business administration. He now works as a human resource manager at a waste wood recycling company. But, on his own time, he continued reading history books as a hobby.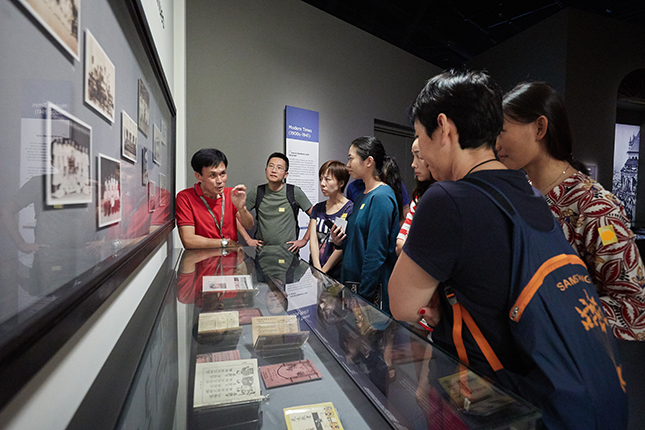 In 2012, when he heard NHB was recruiting docents, he immediately signed up to undergo the seven-month training on Singapore's history. Today, Cheng San is scheduler and research coordinator for NHB's Mandarin Docents.
In his opinion, good docents perform, rather than reel off facts about the exhibits. This is something he learnt from attending tours during his visits to museums in China. Their docents' masterful retelling of history had him staying on till the end of the tour despite his tired legs. It also set a benchmark for his own tours.
"I made a promise to myself to become as good as they are," he recalls. This is why he willingly spends months researching and building on the curator's work for his tours, and even tailors his delivery to audiences. "It's boring even for the musician if he performs the same piece every night," he says.
More importantly, he helps audiences see connections, something he found hard to do when he used to read history books for fun. "I took in information in fragments, so I couldn't see relationships between events when there were," he recalls. Today, Cheng San sees not only historical connections between museum artefacts, but also has developed the confidence to find clues about the past. Stopping at the painting View of Singapore from Mount Wallich on his tour, he draws the visitors' attention to details in the 19th century painting. Cheng San points out how Telok Ayer Market still stands today as Lau Pa Sat, and the sea it depicts has since been reclaimed to house today's thriving business district.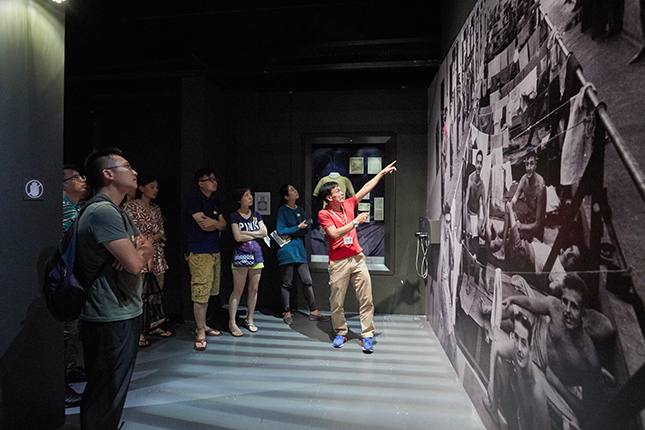 As the people who join his Mandarin-speaking tours are often tourists from China, Cheng San makes it a point to highlight common histories between Singapore and China. One of them is opium. After the British colonial government established and profited from opium farming and trading in 19th century Singapore, he tells those on tour, many Chinese immigrants became addicted to the drug. His listeners nod their heads sympathetically, reminded of China's Opium War and the resulting cession of Hong Kong.
Cheng San then ushers them to a section featuring prominent Chinese businessman Tan Kah Kee. He asks, "Who established the prestigious Xiamen University in Fujian?" A visitor in his 20s replies, "Chen Jiageng!"
Students in China, Cheng San knows, study about Tan Kah Kee, whose name in Mandarin is Chen Jiageng. But, the familiarity with Tan Kah Kee is an exception, adds Cheng San.
On his tours, he has encountered many tourists who are misinformed about Singapore, often through inaccurate facts they encounter online. This is another reason why he readily volunteers his weekends to give tours, offering more than the 12 sessions a year he needs to fulfil as an NHB docent. Beyond the joy of entertaining museum visitors with stories about Singapore's past, Cheng San says being a docent gives him the opportunity to carry out important work: guiding how visitors perceive this city-state, beginning with an accurate understanding of its past.
By Sheere Ng