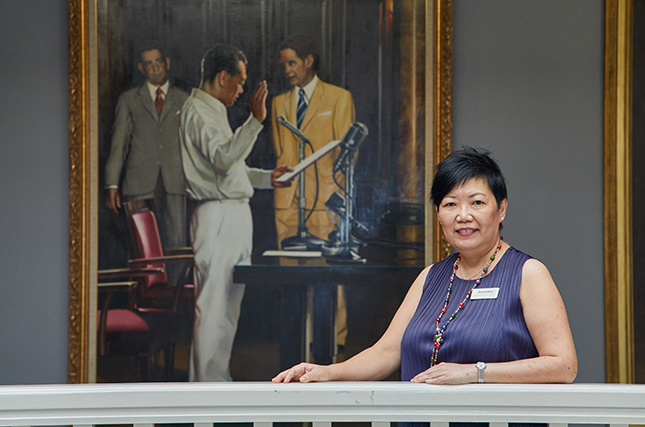 Visitors to a museum would expect to be taken into the depths of history. But, as Belinda Mock sees it, Singapore's past is very much breathing and alive.
At a tour of the Singapore History Gallery, the veteran docent does not shy from a personal script. Her father, like many first-generation Singaporeans, arrived by boat while escaping the Sino-Japanese war in China, Belinda shares.
That was why Japanese soldiers thought the local Chinese were anti-Japanese supporters during World War II in Singapore, she adds. They targeted Chinese males at Operation Sook Ching, which resulted in tens of thousands of deaths.
"I want visitors to realise that I'm not just presenting something that I read or heard about. My ancestors were part of Singapore's history. I am the end product of their experiences," she explained.
Belinda loves talking about the city-state's rise as a bustling metropolis. These are the final sections of the gallery, located at the National Museum of Singapore. "Many visitors are in awe of how Singapore is peaceful, multiracial, and successful even though it is a small country," she said.
She gives credit to the government for being able to change public perceptions when needed. For instance, there were student riots when the British first introduced national service in the 1950s. So, Singapore leaders took time to broach the subject after the country became independent, Belinda said. They eventually made national service compulsory in 1967.
There were attractive incentives for starting a military career—enough to convince Belinda, then a fresh jobseeker, to sign up. She became an officer with the Republic of Singapore Air Force.
"Visitors will look at me and think: 'Wow, you were an officer?' In the old days, people thought that the army was not a respectable way to make a living. Now, Singaporeans have grown to respect the military forces."
"It's my personal way of explaining that Singapore is successful because people have opportunities to do anything that they set their minds to," Belinda reflected.
A passion out of work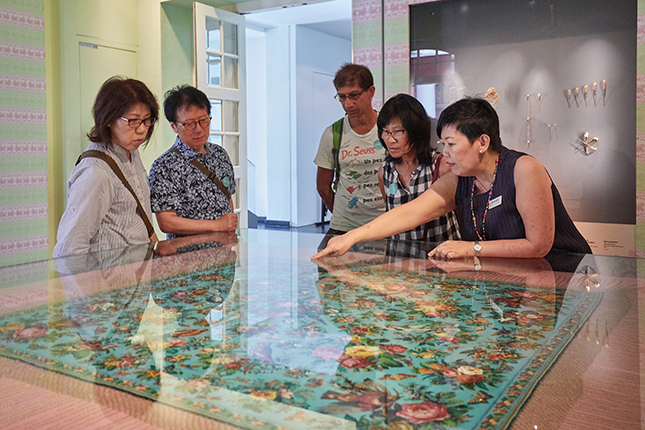 Today, Belinda does marketing for an IT company. She leads two tours every Saturday, at heritage institutions including the National Museum of Singapore, Former Ford Factory, Sun Yat Sen Nanyang Memorial Hall, and Asian Civilisations Museum. Sunday is her family day.
This has been the arrangement since 2004, when she started training as a docent with Museum Volunteers. The group is made up of around 200 English-speaking guides. Most of the members are Singaporeans holding full-time jobs, who share a passion for heritage, culture and the arts.
"As a museum docent, you get to learn about artefacts from the experts, before doing your own research for tours. For blockbuster exhibitions, an overseas curator may even come to Singapore to take us around," Belinda said.
At times, members organise trips to exhibitions' countries of origin. Notably, blockbusters are a chance for docents to get to know each other better and work as a team. "After an hour of guiding, we would probably lose our voices and go for afternoon tea or a drink," Belinda said. The group also holds a traditional "exhibition sending off" potluck.
In 2014, Belinda took a break from work. She spent a very busy year as the President of Museum Volunteers before returning to the workplace.
Preparation for any exhibition is a lengthy process. After doing research, Belinda comes up with a detailed tour paper with varying stops, depending on the age range of visitors.
"To keep dementia away, people always recommend playing mahjong. I'd say volunteer as a docent. Every few months, a fresh exhibition forces you to learn something new. It keeps your mind moving," she shared.
Museum culture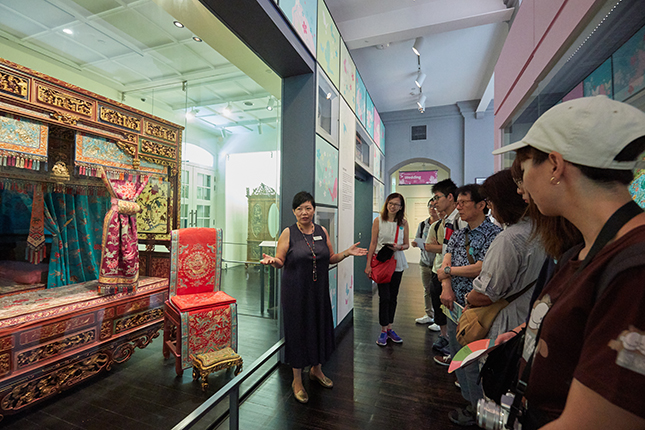 The rise in museum visitorship is encouraging for docents, Belinda said. When she first started, there were occasions where her tours had no takers. Now, she typically addresses a group of between 10 and 20 people on a Saturday.
"As Singapore develops and aspires to become a first-world nation, culture plays a large part. It is cool to be seen visiting museums. People like watching musicals and plays," Belinda said. "These activities have become part and parcel of life, more so than the previous generation. I am very fortunate to be able to witness this change."
Belinda inspired two of her colleagues at work to join the Museum Volunteers, and they are now actively guiding at the National Museum of Singapore. Beyond guiding, Belinda goes the extra mile by lingering after tours to talk to visitors. Some tourists ask her for food recommendations. Others need her help with directions, or recommendations for attractions to visit.
Belinda's advice for heritage lovers? "Try being a docent, especially if you love to share your experiences with others," she said. "At the end of the day, you can inspire people through the stories that you tell."
By Annabelle Liang