Established in 1997, Sri Warisan Som Said Performing Arts is Singapore's first professional Malay dance company. Since the 1950s, its founder and pioneer dancer/choreographer Madam Som Said has been building on centuries of tradition while also innovating through cross-cultural collaborations.
Watch: Stewards of Intangible Cultural Heritage Award - Sri Warisan
The Malay dance scene in Singapore had long absorbed influences, forms and techniques from regional royal courts, grassroots and popular movements, as well as styles from further afield including Indian, Portuguese and Arabic dances. In the 1960s, Indonesian choreographers helped fashion the course of modern Malay dance through their collaborations with multidisciplinary arts group Sriwana, and Nanyang University.
Madam Som, an alumnus of Sriwana before establishing Sri Warisan Som Said Performing Arts in 1997, was already accomplished in the regional dance styles. However, she was determined to create a dance identity that would reflect the lifestyles, values and heritage of Malays in Singapore. Hence, Madam Som drew from both the foundations of regional dance forms and the interactions of a multicultural society.
"My initial works were based on Malay customs, guided by the Islamic teachings and rich cultural values, with the use of symbolic props and gestures to portray Malay aesthetic values", the Cultural Medallion winner added. After a training stint at the Padepokan Seni Bagong academy, under Indonesian dance master Bagong Kusudiarjo, she added contemporary techniques that further evolved Malay dance here.
Today, the productions of Sri Warisan continue to be inspired by the heritage and traditions of Southeast Asia, such as the heroic Tun Fatimah of Malacca, and Radin Mas, the Javanese princess that gave her name to the area in Telok Blangah.
Innovating and safeguarding heritage
Sri Warisan's productions in the 21st century have included Onak Samudera - The Untold Dance Journey (2014), Bendahara - A Betrayal (2012) and Towkay Wayang - A Musical (2009). The group has also grown into a multidisciplinary collective, helping sustain the performing traditions of dance, bangsawan (opera), angklung (a Javanese music form) and wayang kulit (shadow puppet plays).
"We preserve (performing traditions) through teaching, conducting classes and workshops, and we promote them by performing, and we create (new works). When we create, we embrace the roots, but we create with platforms where we allow the youths to hold on to their traditions (while interpreting them) in their own way. This allows us to move forward (while) safeguarding our heritage", says Madam Som.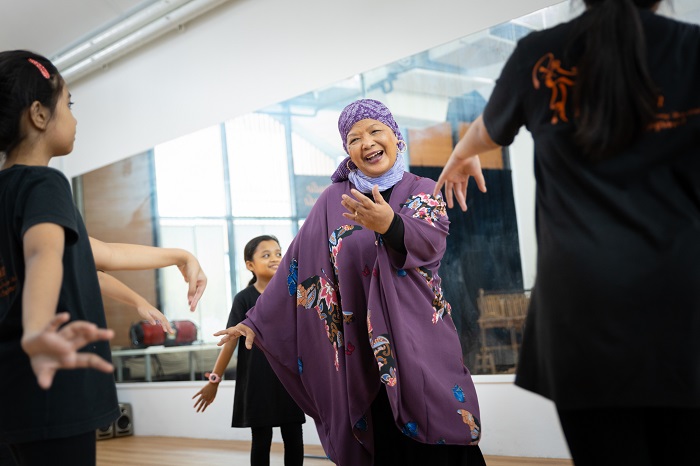 Mdm Som Said passing on her skills and knowledge in Malay Dance movements and techniques to young learners, 2020. Courtesy of National Heritage Board.
Her son Adel Ahmad, Sri Warisan's managing director and second generation practitioner, adds: "We want to make sure that (through) Malay dance, bangsawan, wayang kulit, dikir barat, angklung, (we can) reach out to everybody…(and that audiences) will be touched by and relate to these performing arts."
The changing tastes and perspectives of audiences have also led to necessary reinvention. Acknowledging that some may view traditional art forms like wayang kulit as staid and irrelevant to the current milieu, Adel and the Sri Warisan artists have introduced modern elements including digital graphics and animation to their productions.
Reaching out to the next generation
After taking over the management of the company in 2000, Adel set the goal of having Sri Warisan tour 100 cities over the next two decades. That intent was fulfilled four years ahead of schedule, in 2016. Of Sri Warisan's international scope, he says: "Our dancers learn something at every festival and use that knowledge to train others." He also focused on developing more dance teachers and trainers, ensuring that the company could expand its programmes to more schools and institutions.
Each year, Sri Warisan performs at more than 200 local and international events and festivals, while also conducting more than 3,000 courses and workshops. Their dance courses, tailored for different levels, encompass traditional Malay forms while also taking in dances from the Philippines, Indonesia, India and Thailand. The company also offers other lessons in other performing arts including wayang kulit, and their music workshops span forms such as angklung, kompang, dikir barat and Asian drumming techniques.
Since 1993, the group has also worked closely with schools and other performing companies through the National Arts Council Arts Education programme. Melding dance with cultural education, Sri Warisan's programmes in this area deepen the understanding of various aspects of our heritage, including cultural festivals, kampung life, Southeast Asian legends and epics, as well as place histories.
Continuing in the vital currents of collaboration and cultural intersections that characterised Singapore's post-independence dance scene, Sri Warisan has collaborated with other groups including Bhaskar Arts Academy, the Chinese Opera Institute, Singapore Indian Fine Arts Society (SIFAS) and the Singapore Chinese Orchestra. In 2002, Sri Warisan's dancers collaborated with SIFAS, Hua Yan Buddhist Society and the Chinese Opera Institute in The Fifth Lotus and travelled to India to perform the Ramayana with Apsaras Arts in 2009.
Madam Som says: "I hope that the future generation, while busy with promoting their own ethnic dance and moving towards contemporary [dance], will still find time to continue this legacy to work together as one across races."