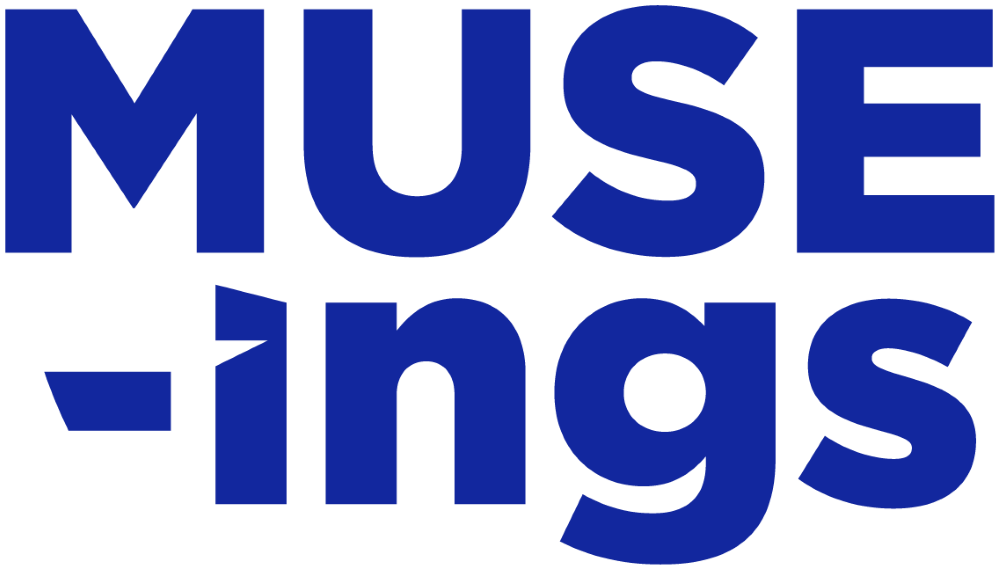 Read more about PSM's efforts to safeguard Singapore's built heritage in MUSE SG Vol 14, Issue 1.
Rebuilt: 1970s
Restored: 2017–18
The Sri Srinivasa Perumal Temple on Serangoon Road has roots dating back to 1855, when the original temple building was constructed. In 1851, a group of prominent Indian community leaders—such as Arunachala Pillay, Cootaperumal Pillay, Ramasamy Pillay, Appasamy Pillay, Chockalingam Pillay, and Ramasamy Jamidar—purchased a plot of land to build a temple dedicated to the Hindu deity Sri Perumal, also known as Vishnu. The Narasimha Perumal Temple, as it was known then, was rebuilt in the 1950s as it had fallen into disrepair, and the new structure, renamed Sri Srinivasa Perumal Temple, was completed in 1966.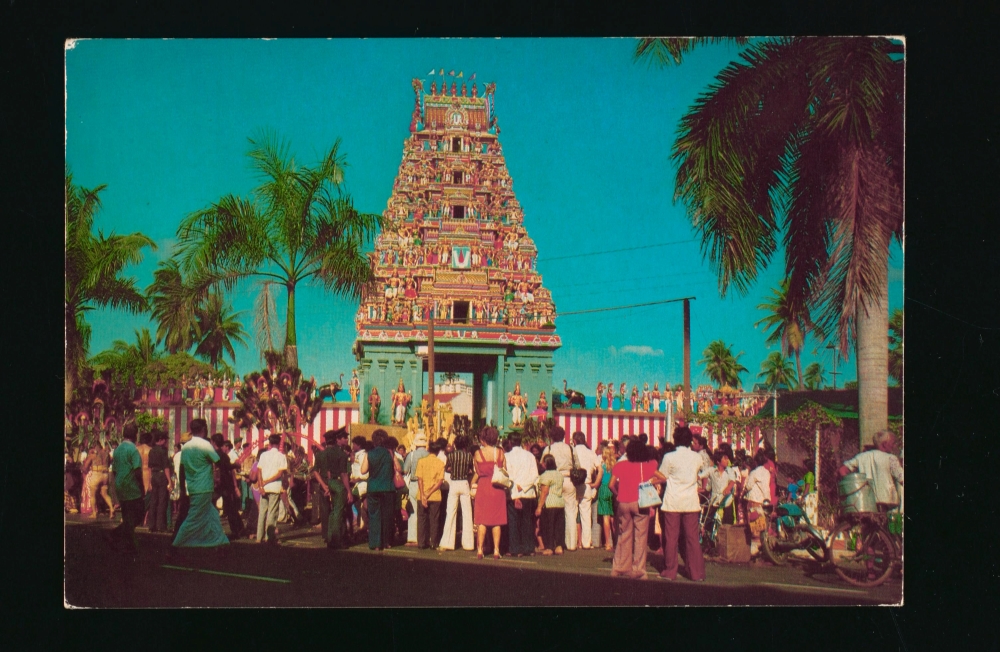 Devotees outside Sri Srinivasa Perumal Temple during Thaipusam, as pictured on a postcard dating to the 1960s–80s.
National Museum of Singapore Collection
The most iconic feature of the temple is the majestic five-tier gopuram (entrance tower) with depictions of Vishnu and other Hindu deities, visible from a distance. The prayer hall features exquisite relief carvings and mandalas in a striking array of colours. Located in the main sanctum, where only priests are admitted, is a statue of Srinivasa Perumal, and various avatars of Vishnu can be found throughout the temple.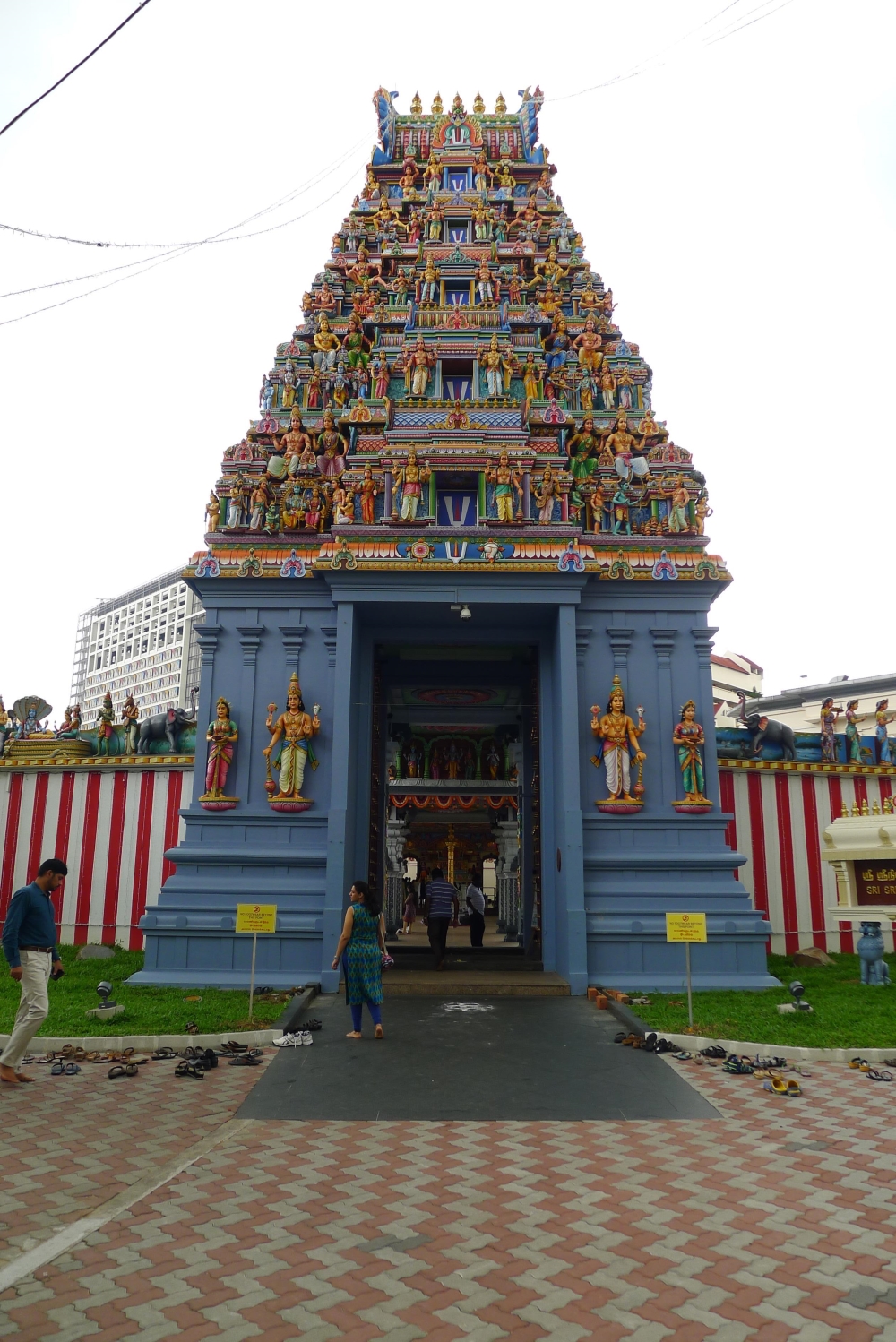 The majestic gopuram (entrance tower) of Sri Srinivasa Perumal Temple after restoration. As it is impractical to clean the gopuram regularly, a herbal concoction consisting of asafoetida, turmeric and lime powder is used to deal with unwanted vegetation growing on the structure.
In the last major restoration of the temple, carried out from 2017 to 2018, a notable aspect was the use of traditional natural treatments for various commonplace problems such as pests and weeds. Conservation experts from India had been invited to share their knowledge on these centuries-old methods for maintaining temple structures. Besides being safe, non-toxic alternatives for humans, the use of these treatment methods allows for the timely and consistent maintenance of temple structures, which in turn helps to avoid the hefty costs that may be incurred later when deterioration has gone too far and more extensive work is required.
The height of the gopuram makes it an attractive resting spot for birds, which in turn leave behind seeds of fruits that they consume. Over time, as vegetation accumulates on the tower, it causes damage to the structure. A natural solution to prevent unwanted vegetation is the use of asafoetida, turmeric and lime powder mixed into a paste. A cut or hole is made at the bottom of a weed or tree stem, and the paste is applied to the area. After application, the vegetation typically withers within two weeks. The use of such a method for vegetation removal proves particularly useful for the top of the gopuram where regular cleaning is very difficult.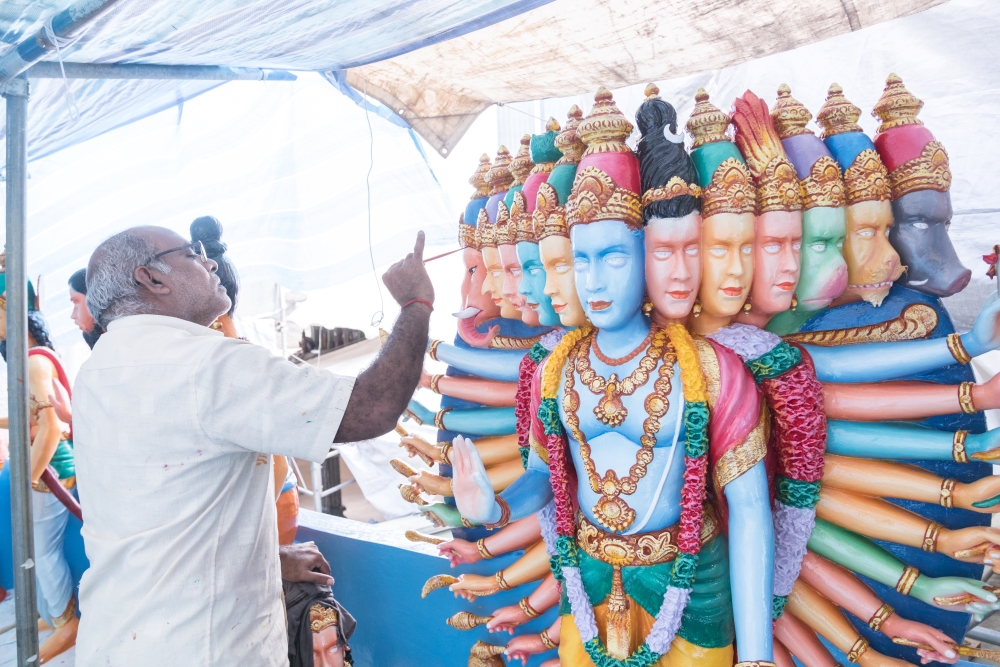 An artisan painting the sculpture of a Hindu deity during restoration.
Courtesy of Hindu Endowment Board
To treat pests, the naturally occurring boric acid is used as an insecticide against termites, silverfish and ants, among others. It can prevent wet and dry rot in timber; when used in combination with an ethylene glycol carrier, it can be applied on the surface of wood to prevent fungal growth and insect attacks. Protecting the wood with such preventive methods minimises the need to replace the timber due to deterioration, which is costly and labour-intensive.
About The Preservation of Sites and Monuments
The Preservation of Sites and Monuments (PSM) is a division under the National Heritage Board. Its primary role is to safeguard Singapore's built heritage by identifying monuments that are of "historic, cultural, traditional, archaeological, architectural, artistic or symbolic significance and national importance", and recommending them to the state for preservation. Gazetted National Monuments are accorded the highest level of protection by law. National Monuments comprise religious, civic and community structures, each representing a unique slice of history in multicultural Singapore. Read more about Preservation of Sites & Monuments, and National Monuments here.