TL;DR
Indian Muslim hawker stalls are commonplace in Singapore. Their innovative dishes are a staple, but what does it take to produce consistent and quality food day in and day out under sweltry conditions? At Tekka Centre, which has the record highest number of Indian Muslims stalls under one roof, the guardians of Indian Muslim food heritage share their daily experiences.
By Fanzura Banu (NTU History Programme)
What is considered authentic Indian Muslim food? Sometimes, I get this question from friends while eating at an Indian Muslim restaurant. This question is a tough one to crack as these restaurants might serve a wide range of South Indian vegetarian food items such as Idly and Thosai or even Thai cuisine and Western food to cater to a wide audience. To find authentic establishments that specialise solely on Indian Muslim food, one can head to the nearest hawker centre. There, we will be able to see our local Indian Muslim cuisine, which was born on the streets of Singapore and Malaysia.
To me, two distinct features of Indian Muslim hawker culture are fusion and innovation. For instance, dishes like Soup Tulang Merah were invented to reduce wastage of mutton bones at the end of the day, after the mutton is used for Mee Kuah and Mee Goreng. The element of innovation is evident even in the names of the food and drinks, ranging from Roti John to Milo Dinosaur. These relatively newer additions are often sold alongside iconic classics originating from India or Persia such as Biryani and Murtabak, to name a few.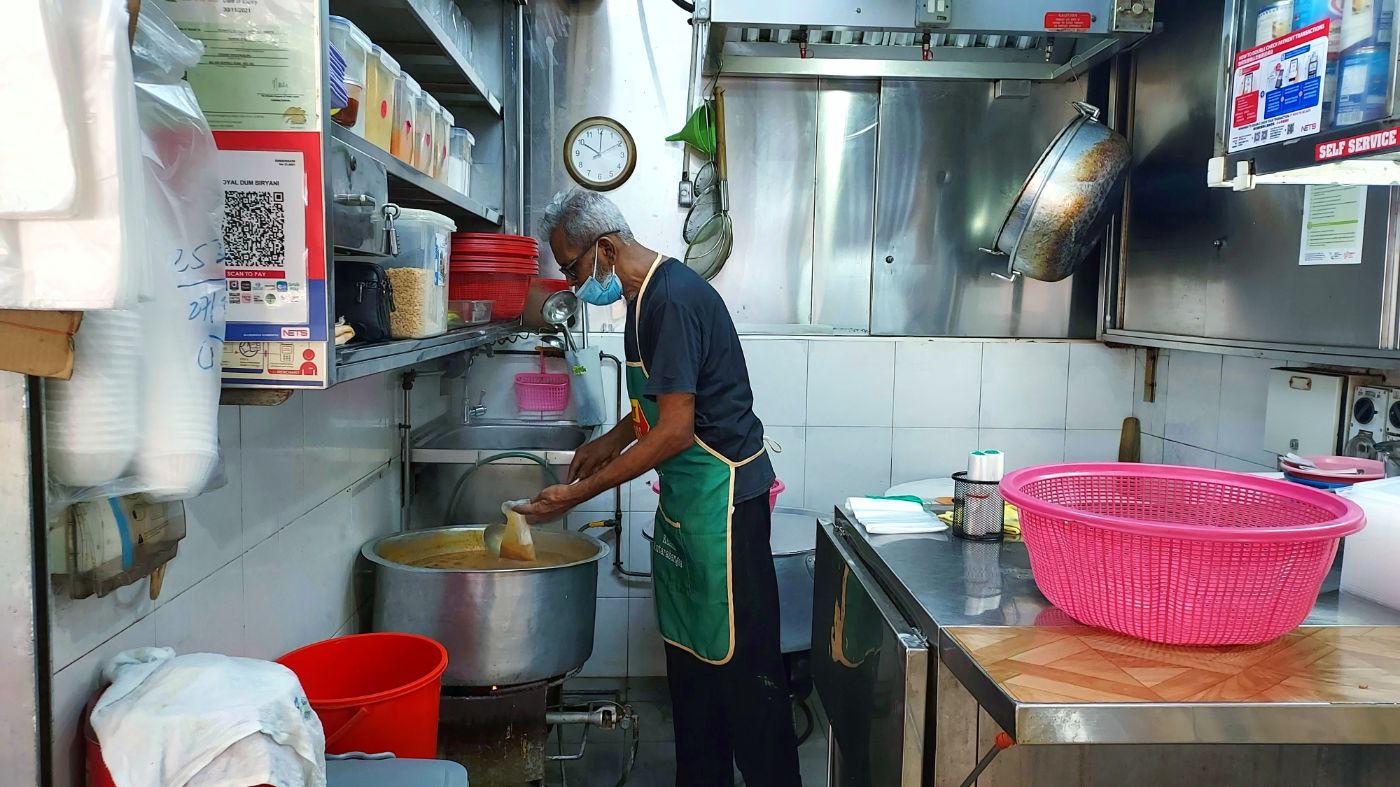 Mr Hamzah Hanifa packing Dalcha (lentil-based gravy) while he waits for the mutton to cook properly, 2021. Image credit: Fanzura
An under-explored facet to Indian Muslim hawker culture and its dishes — which have been sold for generations — is the story of labour and perseverance. To capture Indian Muslim hawker lifestyle in its element, I headed to Tekka Centre early one Tuesday morning. Previously known as Zhujiao Centre, Tekka now includes a wet market on the first floor and retail space for Indian clothes on the second floor. It was renamed in 2000 to honour the multi-ethnic history of the area — responding to the colloquial name "Teh Kah Kiah" (foot of the small bamboos) the market had amongst the Hokkien community. Prior to recent renovations, 31 out of 33 Indian hawker stalls were serving Indian Muslim cuisine or Indian-Muslim owned.
To my surprise, 9 am was not nearly early enough to catch these hawkers setting up their stalls. "I start at 4 am", shared Mr Hamzah, 63, of Royal Dum Biryani (#01-252)*, who typically starts at dawn to ensure that the food is flavourful and ready by 10.30am. Two interesting points I learnt while enquiring about Dum Biryani is that 'dum' refers to slow cooking with sealed lid to allow the meat and layered rice to be infused with its own spices and aroma. Secondly, the main chef within Indian Muslim stalls is called 'Bhandari', which has several meanings, among which include 'caterer' in Hindi or 'ship cook' in Tamil.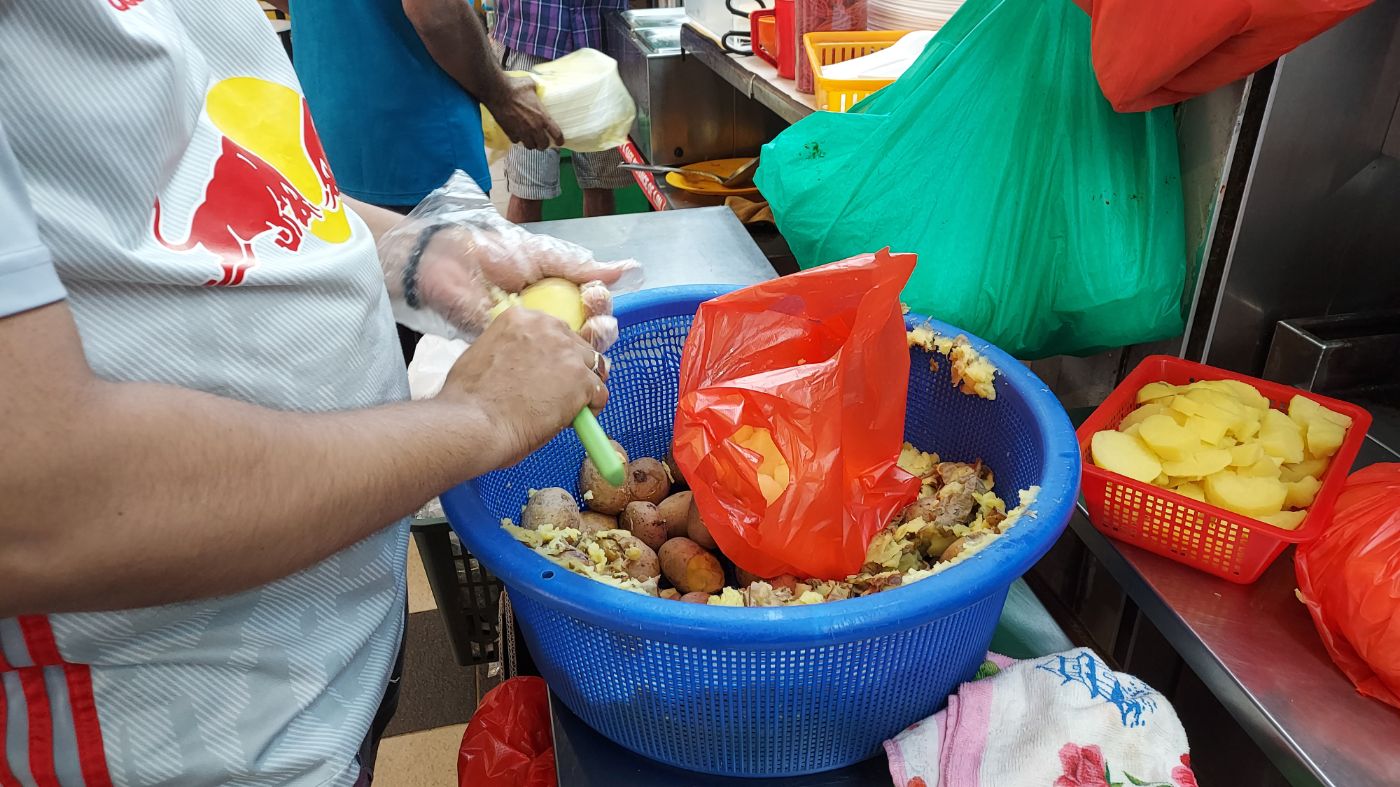 Potatoes being cut in preparation for Mee Goreng at Jaan West Coast (#01-249), 2021. Image credit: Fanzura.
Ms Zarina inside her stall, owner of Haji Johan Indian Muslim Food/Temasek Indian Rojak (#01-254), 2021. Image credit: Fanzura.
"Do your duty, don't fret over the result."
Next, I headed to Haji Johan Indian Muslim Food/Temasek Indian Rojak (#01-254), which is run by Ms Zarina. She too shared that before moving closer to her stall at Tekka Centre, she used to start preparation as early as 2am, similar to Mr Hamzah. As a single mother in the late 1980s, she turned to the food business as a source of income to support her sons. Since 1996, she has had her own stall and continues to enjoy cooking with the help of her trusted employee and her children. "I used to sell Thosai in the morning and used the profit to buy the ingredients for the lunch menu in the afternoon. I don't know anything else but work". When I asked how she keeps motivated, she smiled and said a Tamil proverb, "Kadameiyei sei, palanai yedhirpaakadhey" — do your duty, don't fret over the result.
On friendships, Ms Zarina and other stall owners shook their head with a sad smile. "There is no time to interact with other vendors. But there is an understanding. If you need to go somewhere urgently, the neighbouring stall-owners will be willing to keep an eye out for you" she said. Competition too, is said to be minimal since each stall has its own set of loyal customers.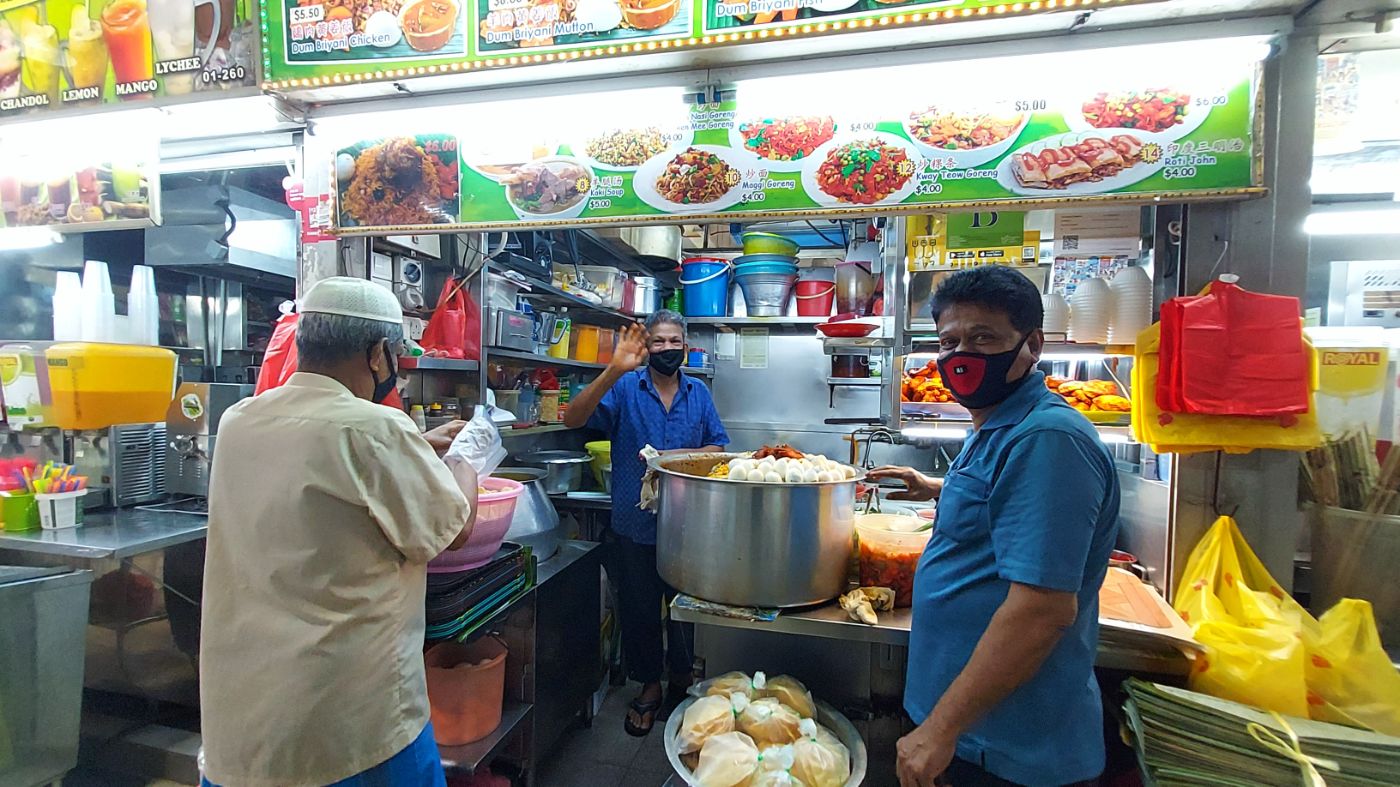 Friendly hawkers of Samad Tekka Dum Briyani (#01-261), 2021. Image credit: Fanzura.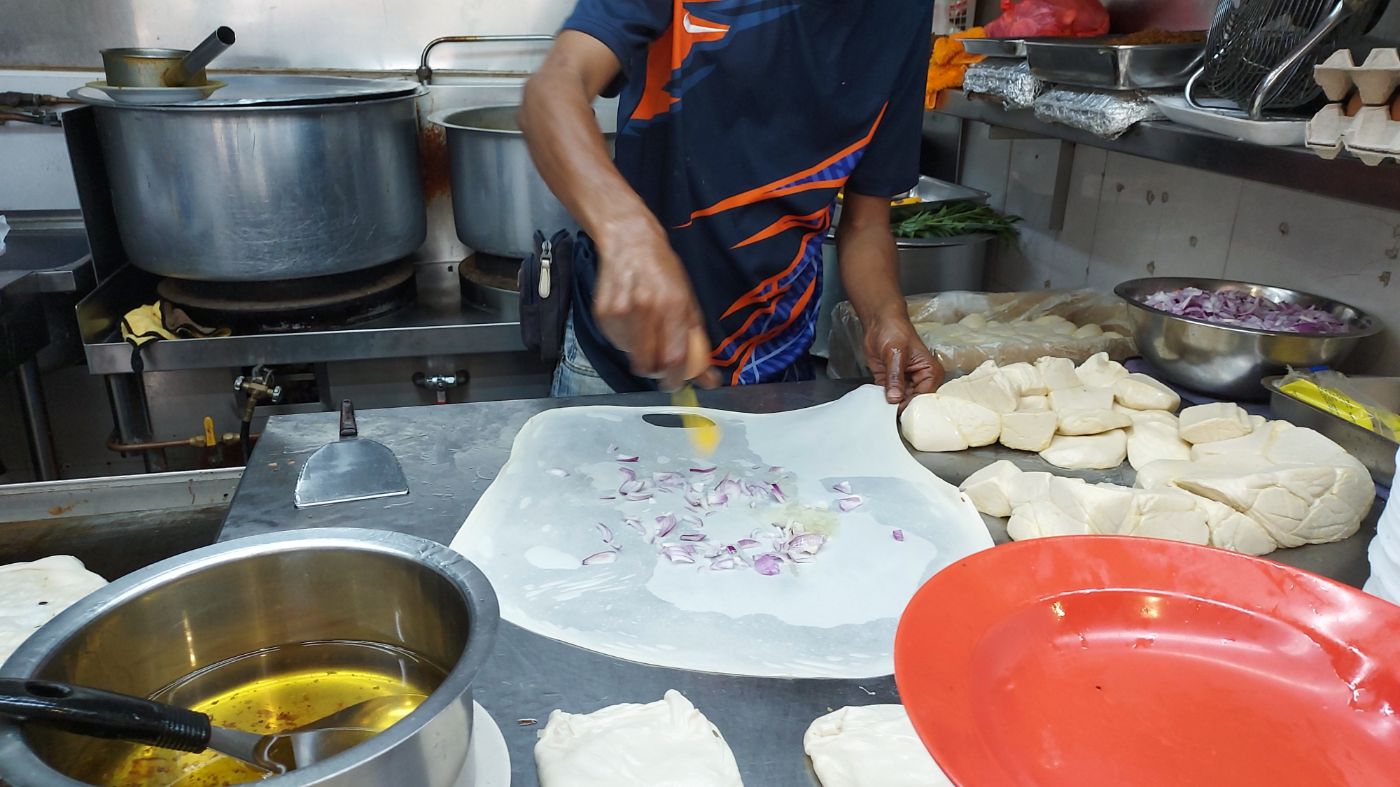 An egg being broken for Onion Egg Prata. To remain competitive, some stalls innovate with fancy fillings such as chocolate and kaya, 2021. Image credit: Fanzura.
An employee of Ar-Rahman Royal Prata (#01-248) who has worked at Tekka Centre for 40 years, showing a thumbs up sign, 2021. Image credit: Fanzura.
Other than the chefs, the cashiers and helpers also play a crucial part within the microcosm of a hawker stall. Often, employees prefer to stay in the same stall for decades for the sake of familiarity and comfort. Friendships are forged within the tiny space of the hawker store and the culinary expertise is passed down to children who show interest. It is also not uncommon for employees to set up their own hawker stall once learning the trade. Mr Majharudeen of Zham Zham Muslim food (#01-217), who has been working at Tekka since 1978, said that the most memorable day for him was during Circuit Breaker, when his Bhandari had to cook Biryani 8 times in a single day without break, with the 'takeaways only' rule eliminating the usual lull periods between lunch and dinner crowds. Some locals were also ordering takeaways in bulk for donation to migrant workers.
Like in Tekka Centre, Indian Muslim hawkers who have been working round the clock for generations can be found all over Singapore. Next time you visit West Coast Food Centre or ABC Brickworks, keep a look out for these stalls and the people who are keeping Indian Muslim food heritage alive.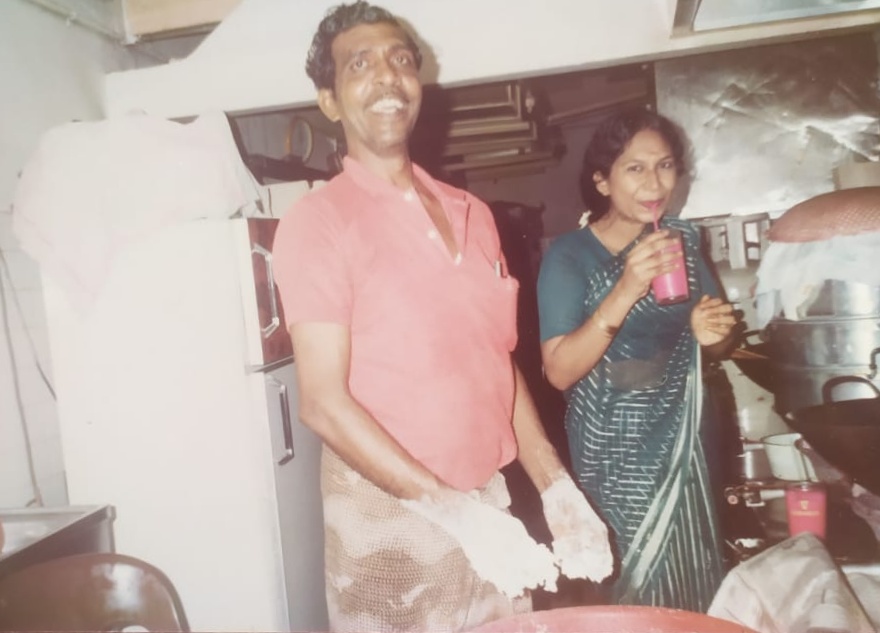 My mother taking a water break while learning how to cook from her late uncle, Mohamed Taha, who used to run a stall at the PSA Tanjong Pagar complex, 1989, Image credit: Fanzura.
*Royal Dum Biryani is no longer operating at Tekka, you can support them via their Facebook page
About partner
Fanzura Banu (NTU History Programme)
Fanzura Banu is an alumna of the NTU History Programme and is currently an associate editor of SOJOURN: Journal of Social issues in Southeast Asia.
The NTU History Programme strives to be a leading centre for researching and teaching interdisciplinary, Asian, and world/transnational history, while pushing innovative and immersive approaches to learning about and exploring Singapore's past and heritage. It welcomes students, scholars, and interested members of the public to join us in these endeavours! Find out more about our programmes, research, and events at https://www.ntu.edu.sg/soh/about-us/history or find us on Twitter (@NTUHistory)!
This photo essay was produced as part of the Singapore HeritageFest (SHF) 2021.